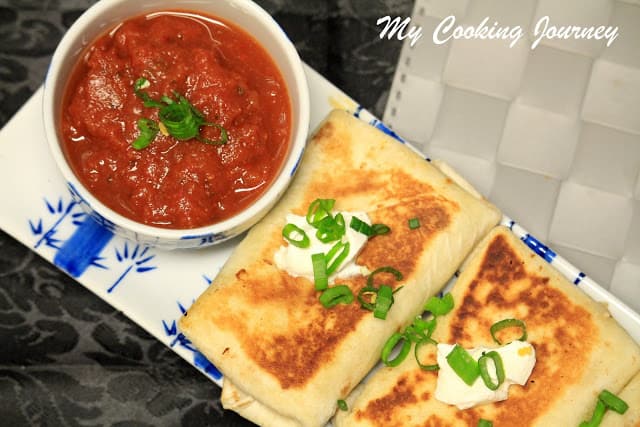 For the second day of tortilla dishes, I decided on the chimichangas. This is one of the dishes that we as vegetarians never got a chance yet to eat outside. Chimichangas are deep fried burritos that are stuffed with cheese, beans, rice and meat. The fillings vary depending on individual preference. They are then folded in to a rectangle and then deep fried.
Not being a big fan of deep frying and definitely not daring to fry the fully loaded burrito, I decided to pan fry them. My handy cast iron skillet was very useful and it enabled me to get a lovely crunch on the chimichangas. Folding the tortilla was a little tricky as I used medium tortillas. Once I got around to folding a couple of them, I got a hang of it.
My little one, who is not a big fan of Mexican food, loved this and asked me to pack for his lunch when school starts. Next year my little one starts kindergarten and he will be in school all day. I am already dreading what to pack in lunch for him, as he is my picky eater. At least for now, I have one dish lined up to pack for lunch. I served the chimichanga with salsa and sour cream as it pretty much was a well loaded one by itself.
Also I used the Spanish rice inside the chimichangas. You could also leave the rice from the filling and use it on the side instead.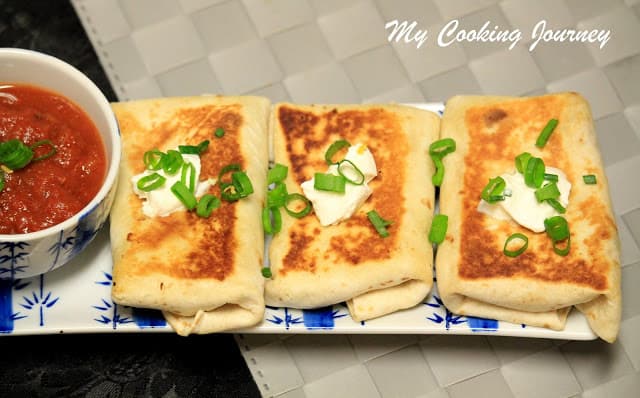 Preparation time – 10 minutes
Cooking time – 30 minutes
Difficulty level – easy
Ingredients to make Vegetarian Chimichangas – Makes 8 Chimichangas
Black beans – 1 cup (cooked or canned)
Onion – ¼ cup (finely chopped)
Bell Pepper – ½ cup (finely chopped)
Jalapeno – 1 tsp (deseeded and finely chopped)
Cumin powder – 1 tsp
Paprika or red chili powder – ½ tsp
Salt – to taste
Spanish rice – 1 cup (cooked)
Mexican blend cheese – 1 ½ cup to 2 cups
Oil – About 4 tbsp + 2 tsp
Salsa – to serve
Sour cream – to serve
Procedure to make Vegetarian Chimichangas –
In a pan, heat 2 tsp of oil and add the chopped onions. Fry it until translucent and then add the bell pepper and jalapenos.
Once the bell pepper softens a bit, add the black beans. I used the canned ones and in this case I drained it well, rinsed it a few times under running water and used it in the recipe.
Add the cumin, red chili powder and salt needed and mix well. Let it cook for about 5 minutes for the flavors to combine. Turn off the flame.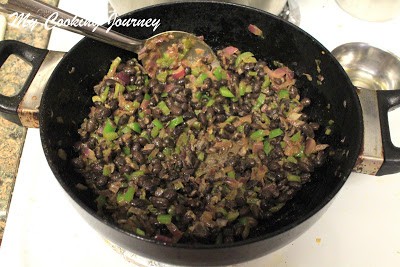 Cook the Spanish rice and keep it ready.
Warm the tortillas in the microwave for about 30 seconds. This step allows us to fold the tortillas with ease.
Place some cheese in the middle of a tortilla. Add a heaped tablespoon of Spanish rice and then add a tablespoon of black bean mixture. Top it with a little more cheese.
Fold the bottom half of the tortilla over the filling. Fold the two sides inside to cover the filling. Now fold the top side and make a rectangle. Make sure that the filling is sealed well inside.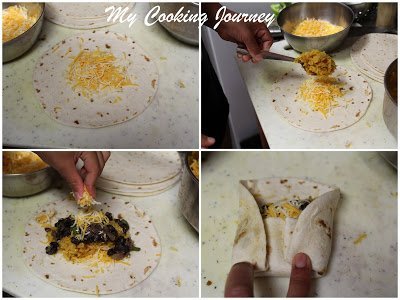 Meantime heat a cast iron skillet or a regular heavy bottom skillet. Add about a tablespoon of oil and let it get hot.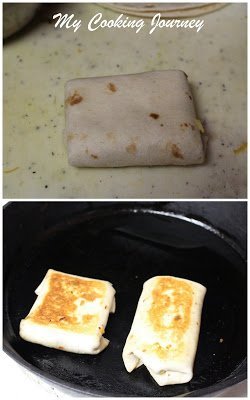 Place the folded chimichanga, seam side down and cook it until it is golden brown and crispy. Now flip over and cook the other side as well. I cooked 2 chimichangas at a time.
Serve the Vegetarian Chimichangas warm with salsa and sour cream!