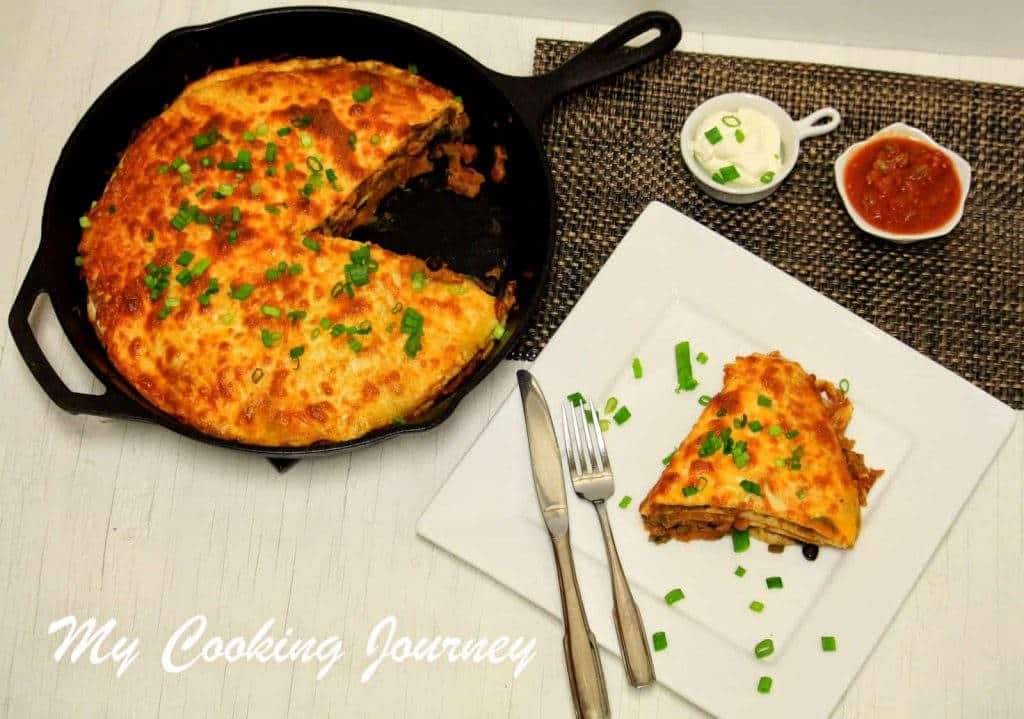 When deciding different recipes for the Baking series Mega Marathon, I really wanted to get many dinner menus in the theme. I always wanted to have a collection of casseroles for the ease of using the menu for weeknight cooking. These assembled ready to bake recipes are working out so well in my family that I have already included them in my regular menu planning. Now don't get me wrong, I am not a very organized person, so when I say my regular menu planning, it is usually just for the week and I plan that based on my kid's classes.
I assembled the casserole before I left for my evening class runs and about 15 minutes before I was to return home, I requested my husband (who was back from work by then) to preheat the oven and place the pie inside. Once we came back home, washed up and got ready for dinner, the dinner was waiting for us. Of course, kids could not eat right away since I had to click pictures, but it became a norm in my household. My kids and husband have stopped complaining and have learned to wait patiently until I finish my clicks as they know that how much ever they try, food will not be served before that.
I make enchiladas quite often and my kids like it. As much as I want to say that I would like to use fresh black beans to make the dish, canned ones are blessing in disguise. It saves lot time and planning. I do make sure that I rinse the beans as well as I can. If you are someone, who is better organized than me and has their menus planned out well, use fresh beans instead of the canned ones.
Also I used the store bought enchilada sauce for the recipe. I am working on making my own sauce from scratch and it will come out soon. Until then it has to be the store bought ones. The dinner was pretty filling and the pie served us (family of 4) quite liberally and I also had one large wedge left over for the next day. The baked pie refrigerated very well and stood up to reheating the next day.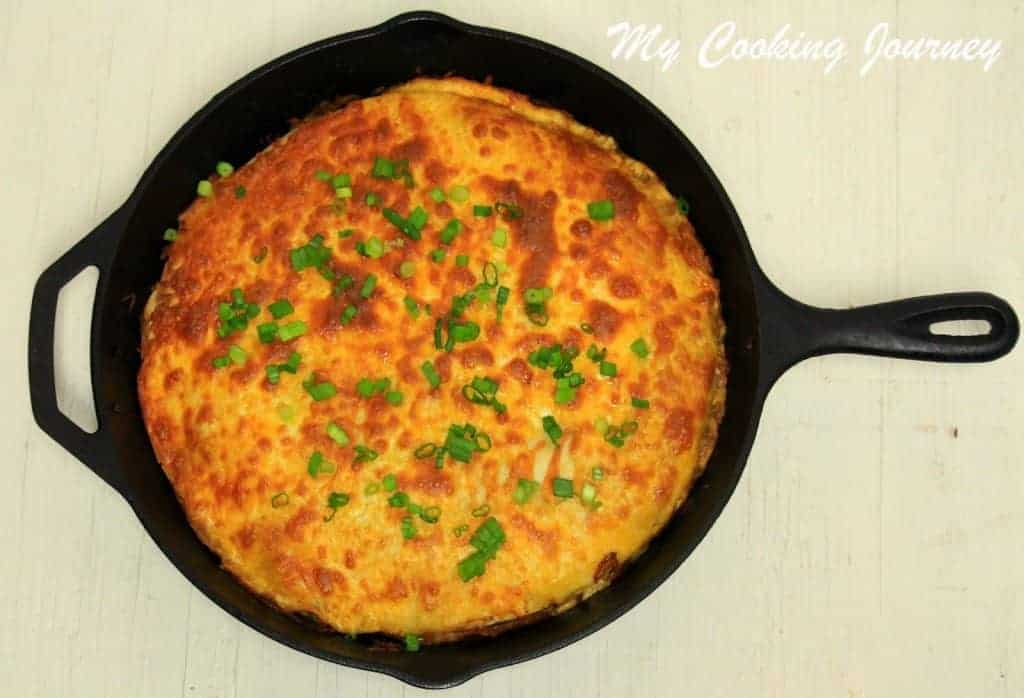 Preparation time – 15 minutes
Cooking time – about 1 hour
Difficulty level – easy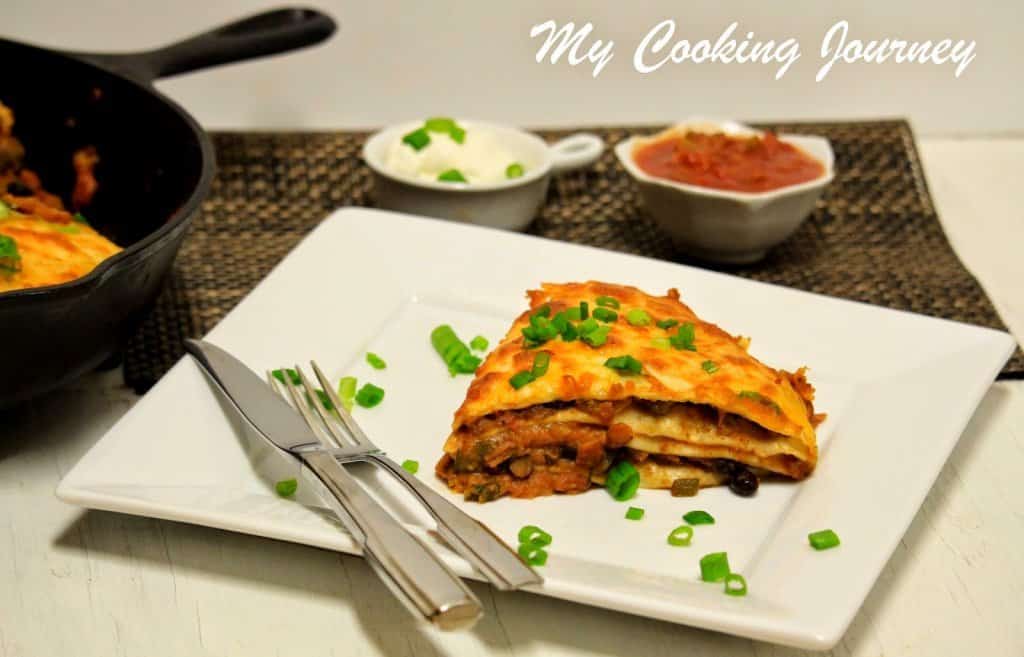 Ingredients to make Baked Mexican Tortilla Pie –
To make the black bean layer –
Onion – 1 medium (chopped finely)
Bell pepper – 1 small (chopped finely)
Tomato – 2 (chopped)
Jalapeno pepper – 2 tsp (finely minced)
Cumin powder – 1 tsp
Taco seasoning – 1 tsp (optional)
Black beans – 1 can (drained and rinsed)
To make the refried bean – sauce layer –
Refried bean – 1 can
Enchilada sauce – 1 can (10 oz) or about 1 cup
Diced green chilies – 1 small can (4 oz)
To assemble –
Tortilla – 5 (burrito size)
Mexican blend cheese – 1 ½ cup
Cilantro – ½ cup (chopped)
Scallions – to garnish
Salt – to taste
Oil – 2 tbsp
To serve –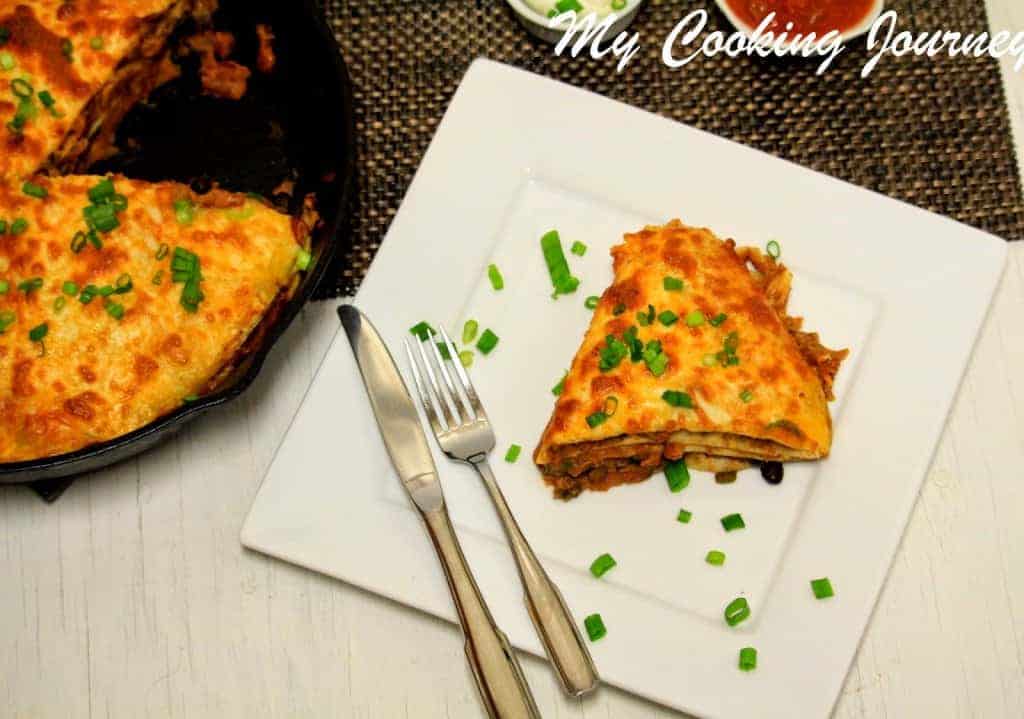 Procedure to make Baked Mexican Tortilla Pie –
To make the black bean layer –
In a large cast iron skillet, heat the oil and then add the onions. Sauté until the onions are golden brown and then add the jalapeno, bell pepper and a little bit of salt. Fry until the bell peppers are slightly soft.
Now add the tomatoes, cumin powder and taco seasoning and cook until the tomatoes are cooked.
Next add the drained and rinsed black beans and mix well. Cook until the mixture is well incorporated and is not too wet (about 5-7 minutes). Remove from flame and then add the chopped cilantro. Let it cool a bit.
Transfer the mixture to a bowl and wipe the cast iron pan with a paper towel. We will be using the same pan to assemble the pie.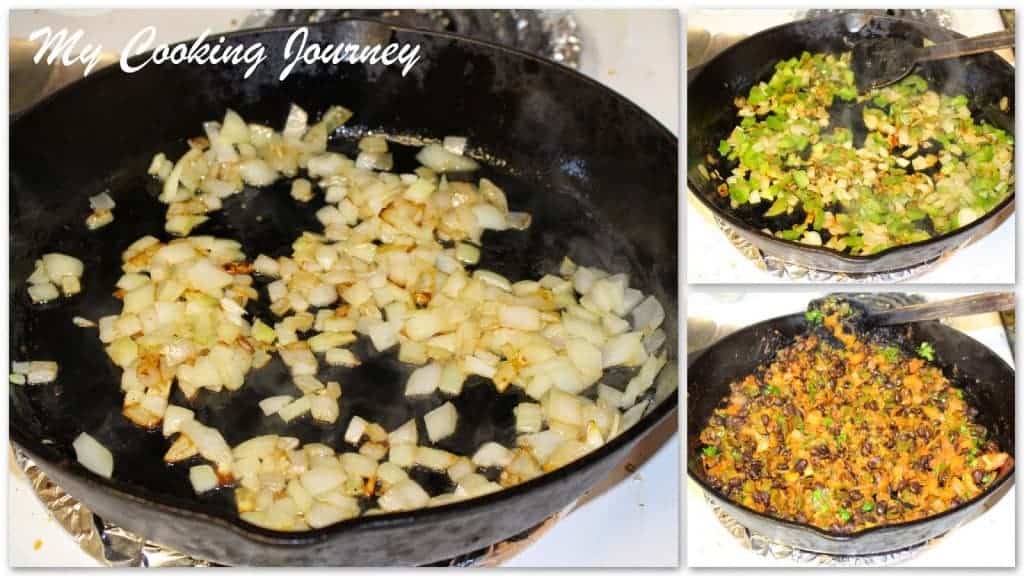 To make the refried beans – sauce layer –
In a medium sauce pan combine the refried beans, green chilies and the enchilada sauce.
Bring it to a gentle boil and then simmer for about 5-7 minutes until it thickens a bit.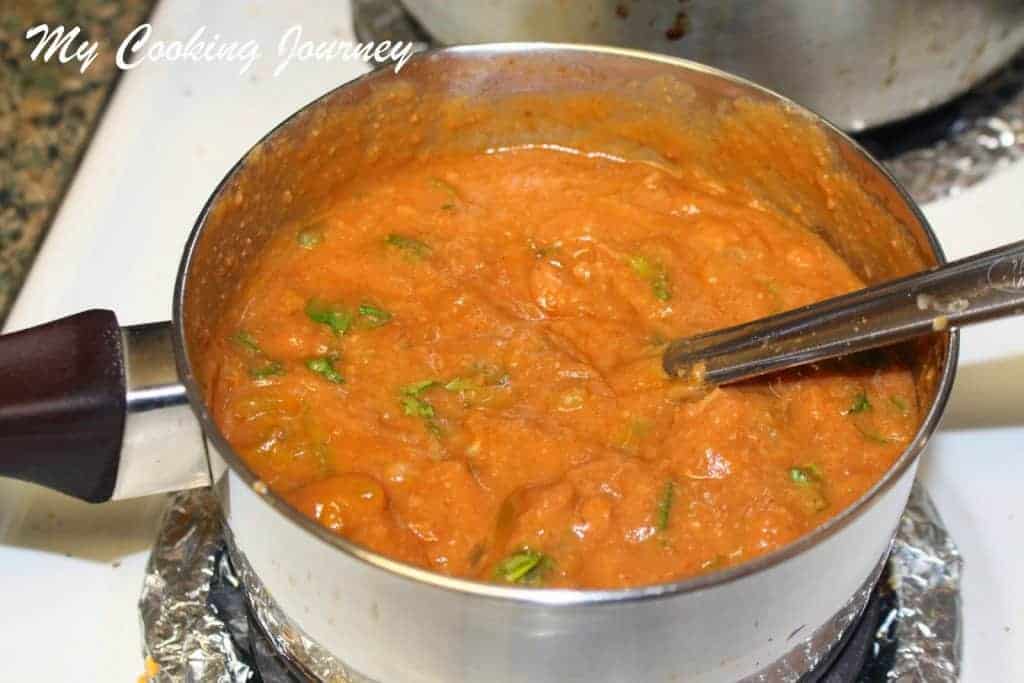 To assemble and bake the Baked Mexican Tortilla Pie –
Spray the cast iron skillet with cooking spray liberally. Make sure you get to the sides as well.
Layer one tortilla on the bottom of the pan and then add half of the refried bean/sauce mixture. Spread it around well.
Now place the 2nd tortilla on top of the sauce and layer it with half the black bean mixture. Spread it around.
Repeat the same layering once more, so there will be 2 layer of black bean and two layer of sauce. Place the 5th tortilla on top and then add the cheese evenly over that.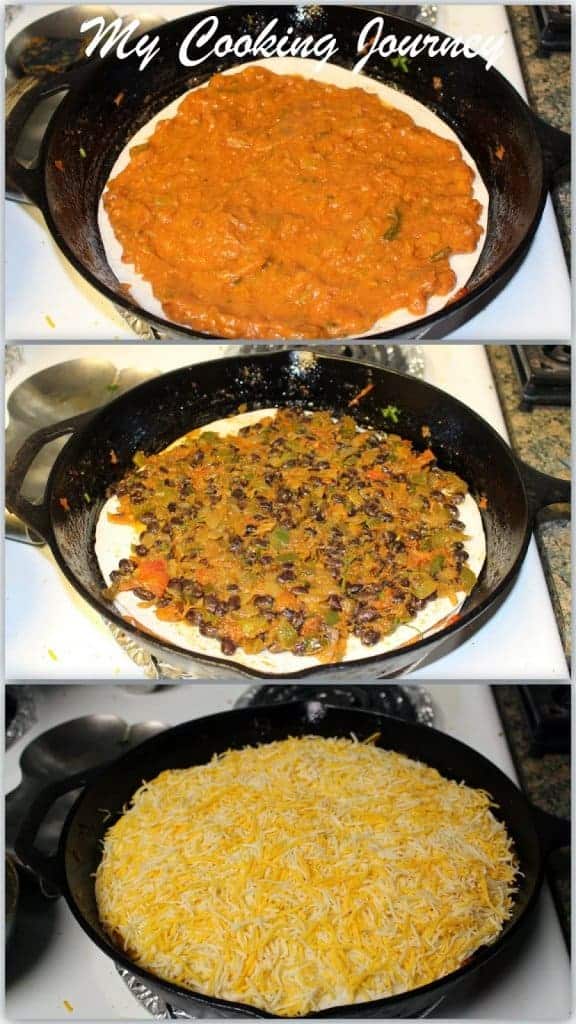 Cover the skillet with aluminum foil and bake in a preheated 350 F oven for about 25 – 30 minutes.
Remove the foil and then broil on high for about 2 minutes to brown the cheese on top. Garnish with scallions.
Let it cool for about 10 minutes before you slice the pie.
Serve with salsa and sour cream on the side!