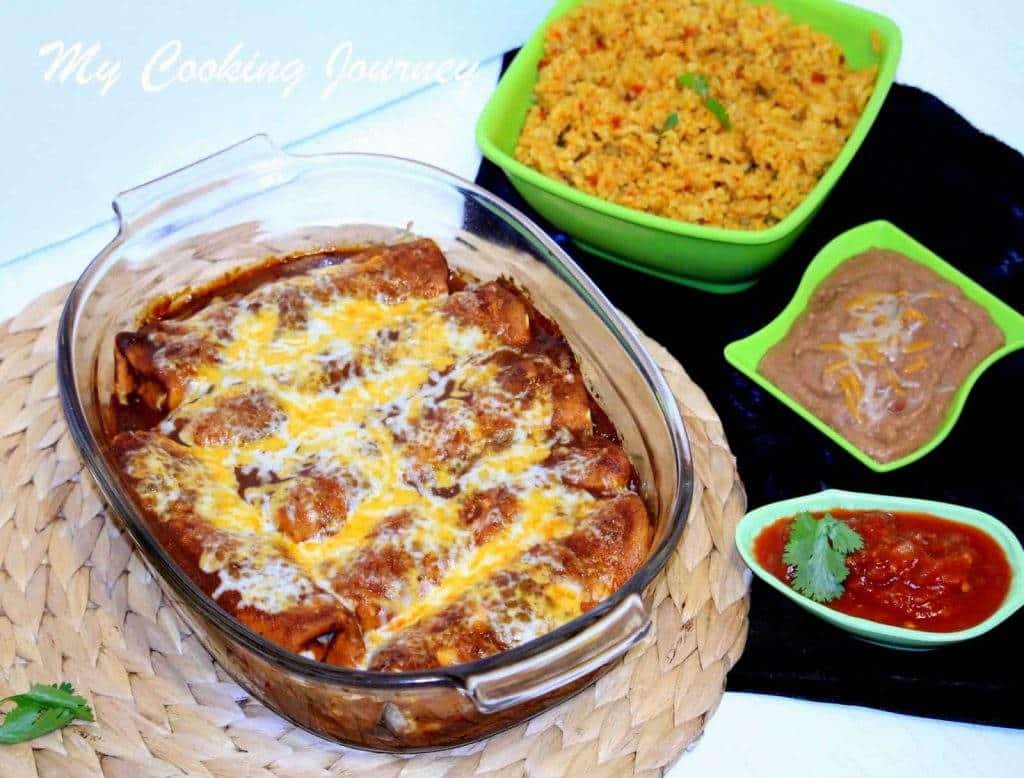 Enchilada is one dinner that makes its way into my monthly menu. Don't jump to the conclusion that I am a very organized person and have monthly menus. Thinking about it, I hardly even know what is cooking that night. I was just trying to say that enchilada is something I make often and it could be as often as twice or thrice a month. It is one of those quick casseroles that are easy to assemble early and then bake just before dinner.
Cheese enchiladas are very simple and it needs not much of planning. I usually just use the store bought enchilada sauce and refried beans, but soon I am going to be working on a sauce that closely resembles the flavor we like. We really like Mole sauce and it is something that I have always have in the pantry. There are only a couple of brands that are entirely vegetarian, so when shopping makes sure you read the labels.
Spinach enchilada is a great option when eating out and this is usually what we order in a Mexican restaurant. I had some frozen spinach in the freezer and also had some frozen corn. I just combined them and made a quick filling for the enchilada, topped it with some store bought sauce and then some cheese and baked it. Then I served the dinner with Spanish rice, salsa and refried beans.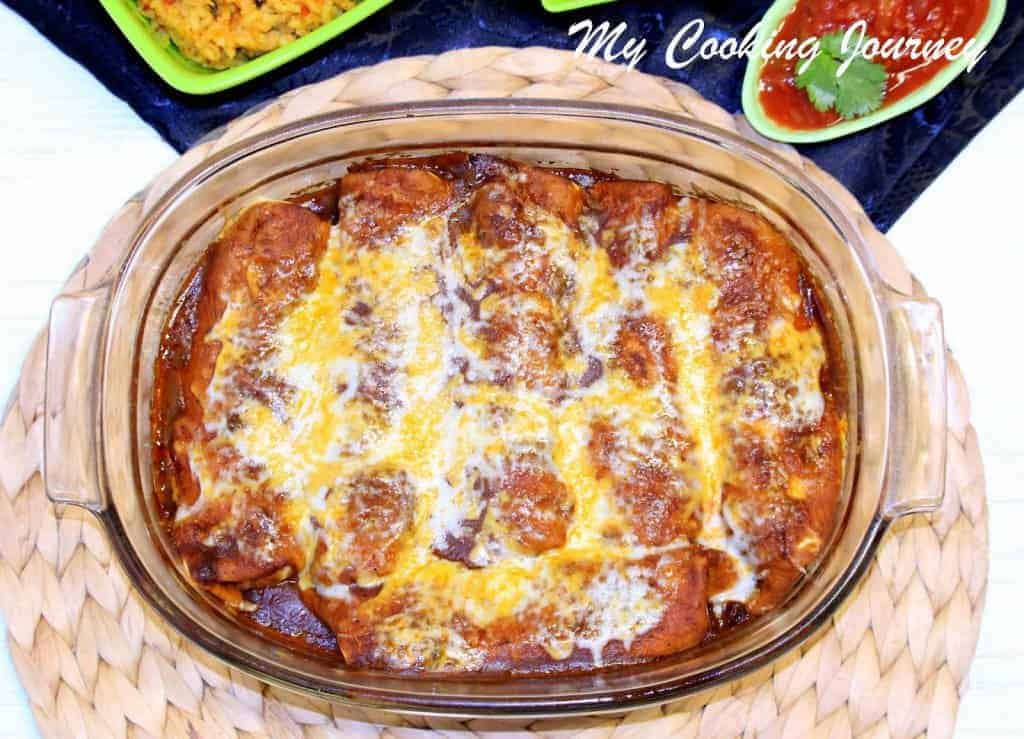 Preparation time – 15 minutes
Cooking time – 20 minutes plus about 25 minutes to bake the casserole
Difficulty level – easy
Ingredients to make Spinach Enchilada – Makes 8
Tortilla – 8 (medium size)
Enchilada sauce – 2 cups
Mexican blend cheese – 1 ½ cups
Spinach – 8 oz (thawed if frozen)
Onion – 1 medium (finely chopped)
Corn kernels – ½ cup (optional)
Jalapeno – 1 tsp (finely minced)
Cumin powder – 1 tsp
Taco seasoning – ½ tsp (optional)
Oil – 2 tsp
Salt – to taste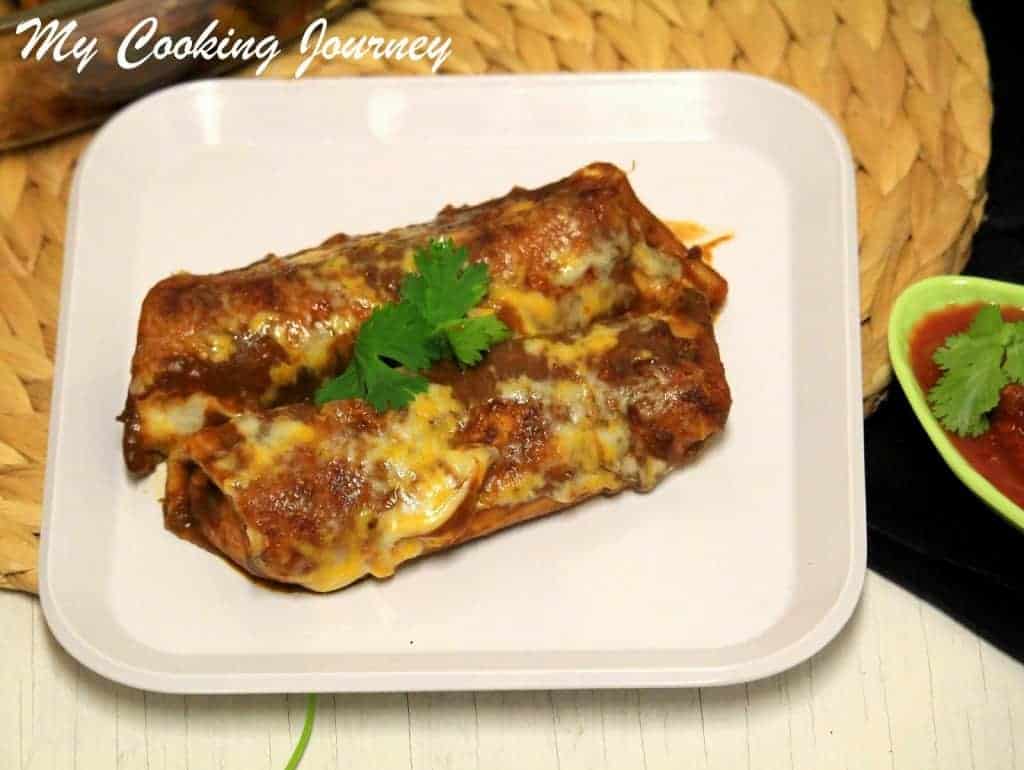 Procedure to make Spinach Enchilada –
To make the spinach filling –
Heat oil in a pan and fry the onions until translucent. Add the corn, jalapeno and spinach and mix well.
Let the vegetables cook for 5 minutes and then add the salt and cumin powder. If you are not using jalapenos, add about ½ tsp of chili powder at this stage. Mix well and let it cook until the moisture is all dried up and the filling is dry.
Let it cool down a bit.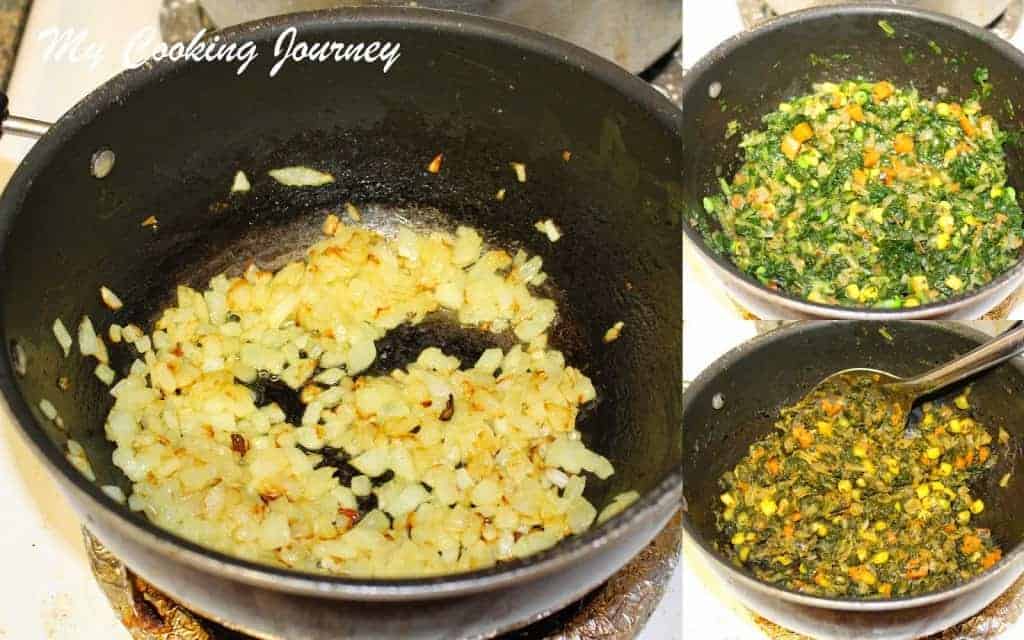 To assemble the Enchilada –
Prepare the enchilada sauce as per package instructions. Roughly divide the spinach filling into 8 parts. Grease a baking tray and keep it ready
Preheat the oven to 375 F.
Warm the tortillas in the microwave wrapped in slightly damp paper towels. This step enables the tortillas to get soft and this allows easy folding.
Working with one tortilla at a time, spread about a tablespoon of sauce over it.
Now add about 2 tbsp of cheese on one half of the tortilla. Add 1 part of the filling over the cheese.
Now roll the enchilada once over the filling. Fold over the two sides to form an envelope. Now roll the enchilada completely and place it seam side down on a greased baking tray. Refer to the pictorial below for folding technique.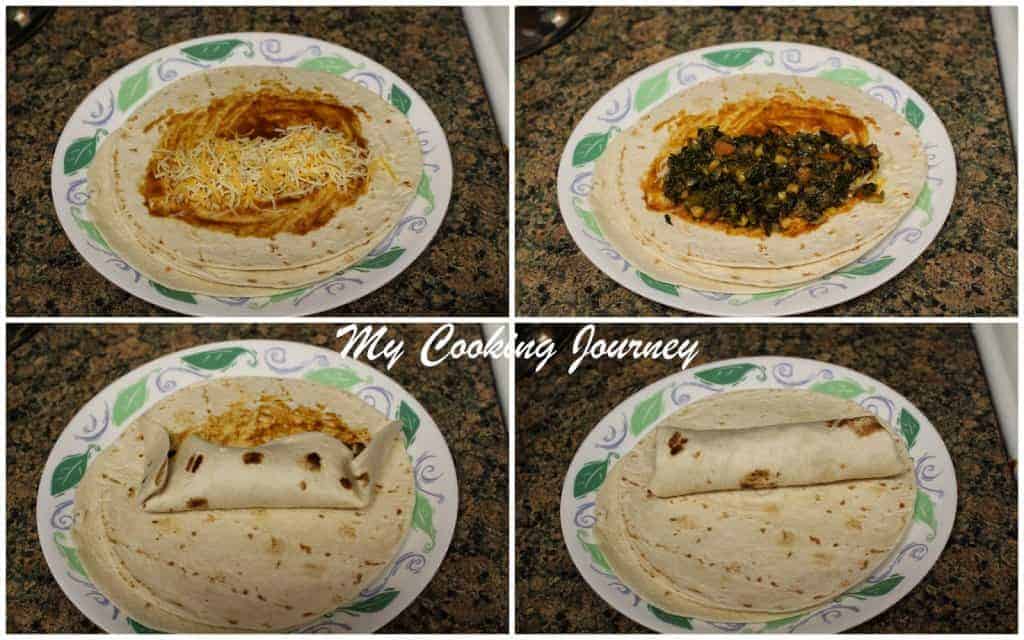 Repeat the same with the rest of the tortillas and place them on the tray.
Pour the remaining sauce evenly over the prepared enchiladas to cover them completely.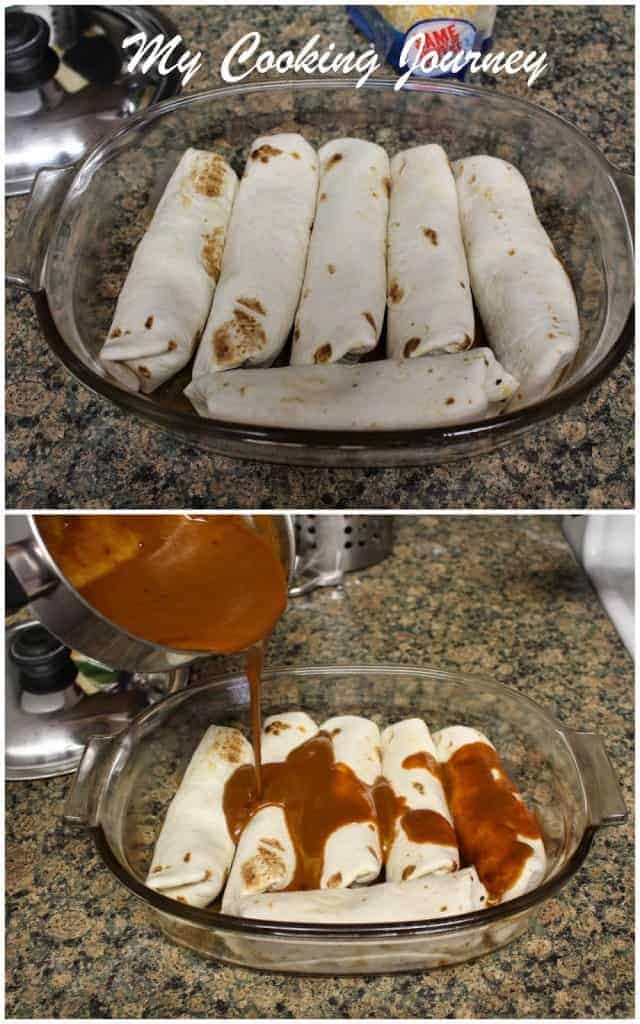 Cover with a foil and bake in a preheated oven for 20 minutes.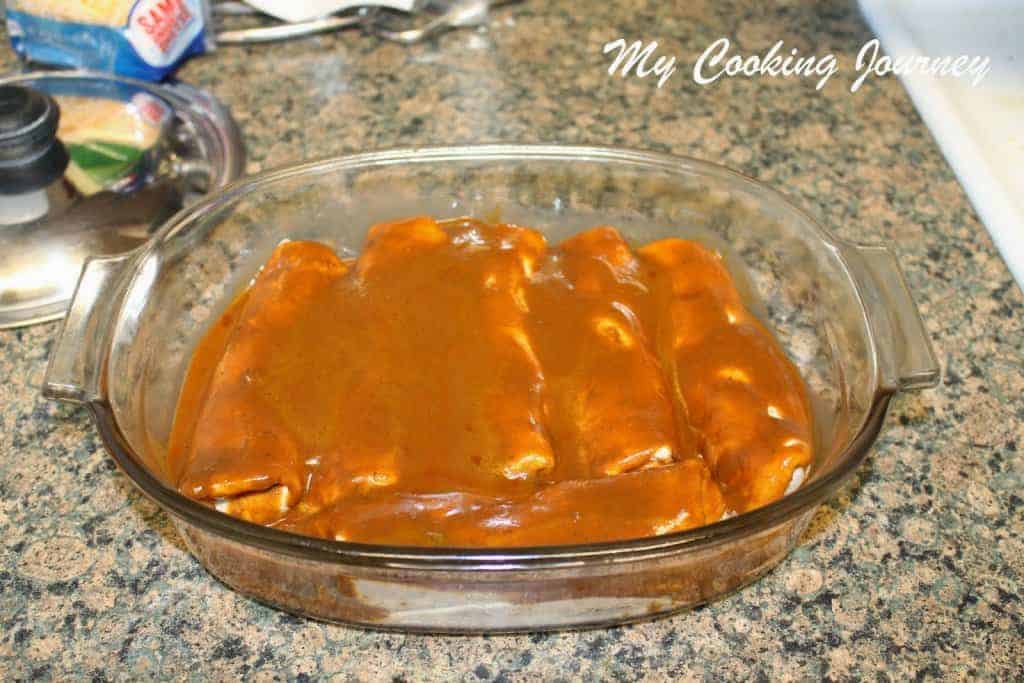 Now spread a little (or more) cheese over the cooked enchiladas and then broil to brown the cheese for about 2 minutes.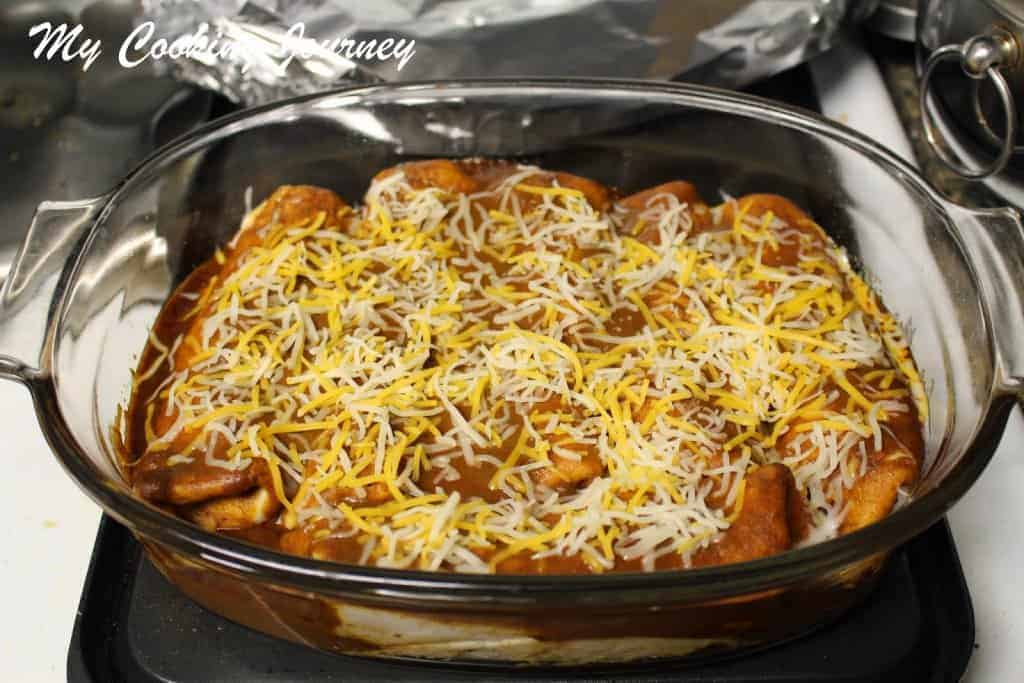 Remove from oven and let it rest for 5 minutes.
Serve with rice and beans.