This Mexican Rice recipe needs very basic ingredients that are almost always available in your pantry. The Spanish Rice can be used as a side for dishes like enchilada or can be used as filling for burritos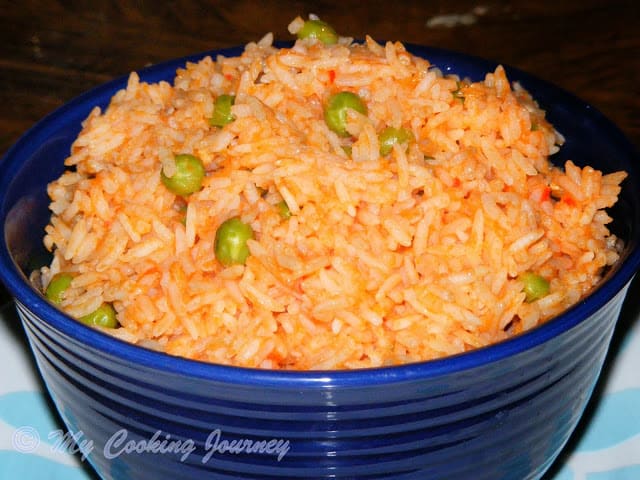 We are a big fan of Mexican food at my house and I do make some kind of Mexican dinner every other week. Almost every Mexican dish is served with a side of rice and beans.
I have never been able to get a recipe to make good Mexican rice and I have been using the store-bought readymade rice mix with Mexican seasonings.
This recipe of the Mexican rice that I tried from one of the books that I borrowed from my local library is by far the best Mexican rice I have made at home.
My kids mentioned that this tastes and looks like the rice that they serve at the restaurants. I think it was because of the amazing deep red color that the rice had.
I have always noticed that using canned tomatoes imparts a deep red color to the dish. This recipe needs very basic ingredients that are almost always available in your pantry.
Also the recipe used broth, but I used just water and I did not find much difference.
This recipe is from the book Mexican – Healthy ways with a favorite cuisine by Jane Milton. I am thinking of trying out few more recipes from this book and it will come your way as when I try them.
This is my entry for this week's cooking from a cookbook challenge. I served this for dinner with Enchiladas.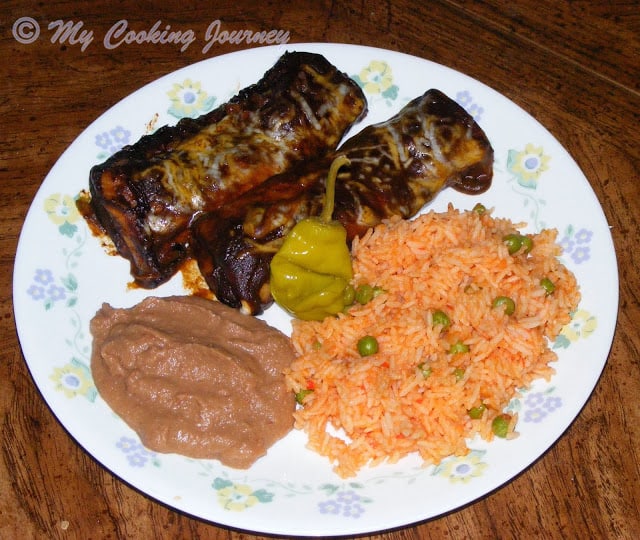 Preparation time – 10 mins
Cooking time – 30 mins
Difficulty level – easy
Ingredients to make Mexican Rice – (serves 6 as a side)
Rice – 1 cup (uncooked)
Tomato - 1-7oz can of chopped tomatoes in tomato juice
Onion – 1 small
Garlic – 2 cloves
Vegetable oil – 1 tbsp
Water or vegetable stock – 2 cups
Salt – as needed
Green chilies or any hot chilies – 2 or 3 (depending on how spicy you like your dish)
Green peas – ½ cup (I used frozen)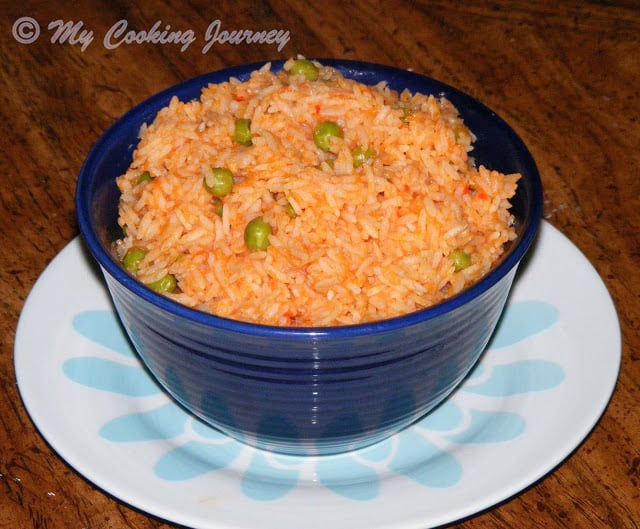 Procedure to make Spanish Rice –
Wash the rice and drain. Add boiling water to the rice and cover the bowl. Let it sit for about 10 mins. Now drain the rice and keep it aside.
Using a blender, grind the tomatoes, garlic, onion and 1 green chili into a smooth paste.
Heat the oil in a wide pan and fry the drained rice until it becomes light golden in color. Keep stirring to make sure that the rice does not burn.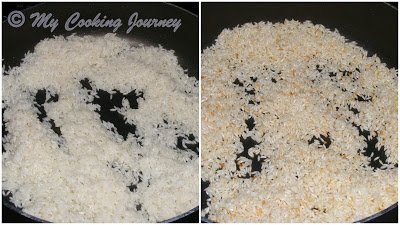 Now add the tomato mixture and mix well. Let it cook over medium heat until all the liquid has been absorbed.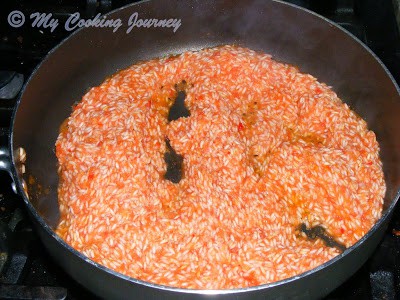 Now add the stock or water, remaining chilies, salt and green peas.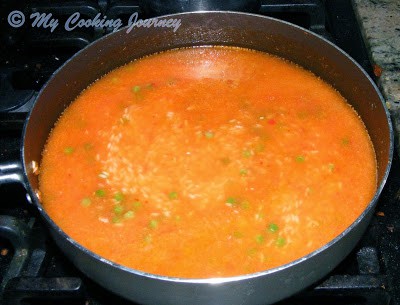 Cook the rice until all the liquid has been absorbed and the rice becomes tender.
Remove the pan from heat and cover with an air tight lid and let the rice stand for about 10 minutes. Fluff the rice and serve! Do not stir the rice too often when cooking because this may result in the rice to break down and become mushy.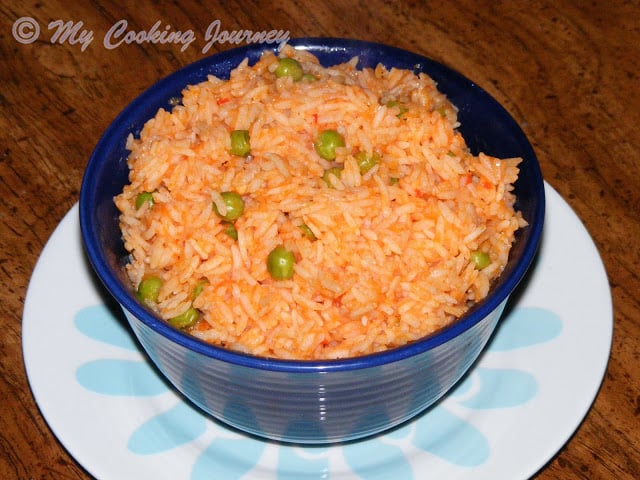 If you made this recipe and liked it, give a star rating on the recipe card or let me know in the comments below. You could also share it with me on Instagram using #MyCookingJourney and tagging me @sandhya.ramakrishnan. You could follow me and my recipes on Facebook |Instagram | Pinterest | Twitter
Recipe
Mexican Rice | Spanish Rice Recipe
This Mexican Rice recipe needs very basic ingredients that are almost always available in your pantry. The Spanish Rice can be used as a side for dishes like enchilada or can be used as filling for burritos
Print
Pin
Rate
Ingredients
1

cup

Rice

Uncooked

1-7

oz

Tomato

Can of chopped tomatoes in tomato juice

1

small

Onion

2

cloves

Garlic

1

tablespoon

Vegetable oil

2

cups

Water or vegetable stock

as needed

Salt

2 or 3

Green chilies or any hot chilies

Depending on how spicy you like your dish

½

cup

Green peas

I used frozen
Instructions
Wash the rice and drain. Add boiling water to the rice and cover the bowl. Let it sit for about 10 mins. Now drain the rice and keep it aside.

Using a blender, grind the tomatoes, garlic, onion, and 1 green chili into a smooth paste.

Heat the oil in a wide pan and fry the drained rice until it becomes light golden in color. Keep stirring to make sure that the rice does not burn.

Now add the tomato mixture and mix well. Let it cook over medium heat until all the liquid has been absorbed.

Now add the stock or water, remaining chilies, salt, and green peas.

Cook the rice until all the liquid has been absorbed and the rice becomes tender.

Remove the pan from heat and cover with an airtight lid and let the rice stand for about 10 minutes. Fluff the rice and serve! Do not stir the rice too often when cooking because this may result in the rice to break down and become mushy
Nutrition
Calories:
84
kcal
|
Carbohydrates:
14
g
|
Protein:
2
g
|
Fat:
2
g
|
Saturated Fat:
2
g
|
Sodium:
440
mg
|
Potassium:
67
mg
|
Fiber:
2
g
|
Sugar:
3
g
|
Vitamin A:
299
IU
|
Vitamin C:
11
mg
|
Calcium:
10
mg
|
Iron:
1
mg