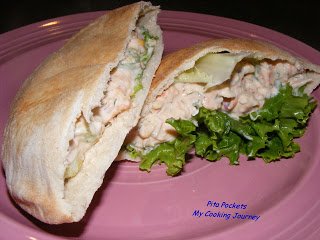 On one of those rare days when I had the privilege to leave my little one home, I was browsing through one of the cooking magazines in my Son's karate class. This Pita Pockets recipe caught my eye and I told myself, this could be a weeknight dinner idea for my family. It was quick easy and did not require too many ingredients. I made a quick shopping trip to the local farmer's market and got this recipe together for our dinner. I made few changes to the recipe and was able to make it in less than 30 minutes. This recipe is definitely going into my quick and easy weeknight dinner category. I clubbed it with a simple salad which almost used the same ingredients as the recipe.
The recipe was fun to work with, especially with little kids. My son loved to stuff the pitas on his own and that made me think it could be a very good lunch box option too.
Preparation time – 20 mins
Cooking time – none
Difficulty level – easy
Ingredients – Makes around 4 half pita pockets
6 inch pita pockets – 2 (cut into half)
Curly leaf lettuce – 4 leaves
Greek yogurt (Plain) – 6 tblsp
Mayo (Optional) – 2 tblsp (I did not use Mayo; instead I just used more yogurt)
Chick peas – 1 can (Drained and rinsed)
Lemon juice – 1 tblsp
Salt – ½ tsp
English cucumbers – ½ cup (Chopped)
Fresh dill – 1 tblsp (finely chopped)
Garlic – 1 clove (finely minced)
Carrot – 1 (Shredded)
Crushed red peppers – as needed (Optional)
Red onion (finely chopped) – 1 small (Optional)
Procedure -
Combine garlic, yogurt, Mayo, lemon juice, salt and chick peas in a bowl. Mash well with a potato masher until smooth. Stir in the dill and the cucumber.
Shred the carrot and combine it to the mixture along with crushed red peppers.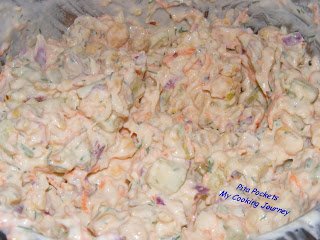 Line each pita half with 1 lettuce leaf and then stuff it with the chickpea mixture.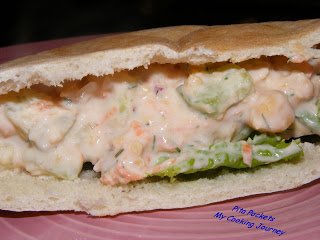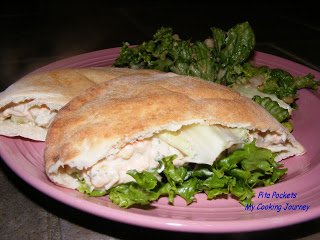 Enjoy!!!