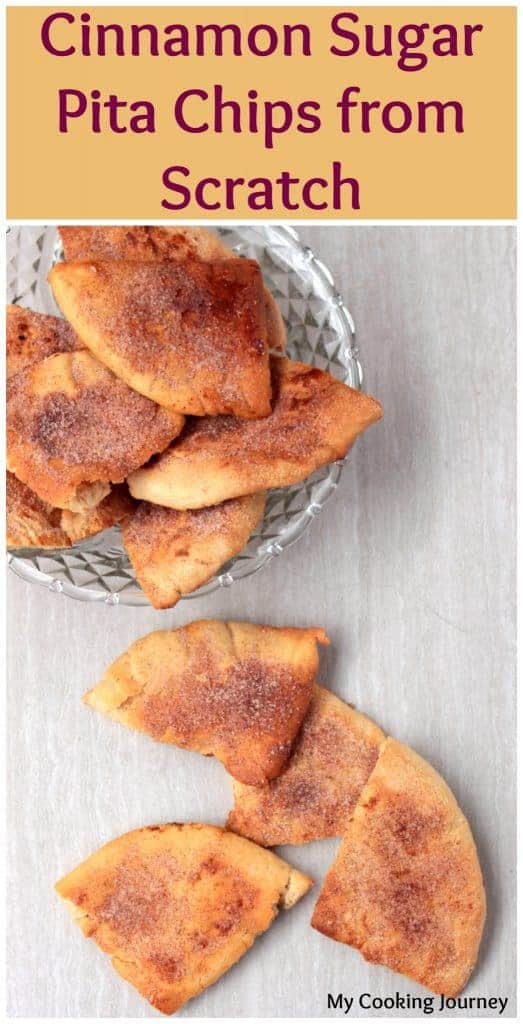 In every Mega Marathon, the alphabet X is one of the hardest choice and I invariably come up with a funky name for the dish. I have come with one proper name in the past when I made the Libyan soup, Xarba Arbija, when I had used the actual name of the dish. I have made xtra flavorful and this time I have Xtra crunchy Pita chips from the Mediterranean.
Making the pita chips was very interesting and I thought this was a wonderful evening snack. I had a choice to make it savory or sweet, but figured the kids would like the sweet version with the cinnamon sugar. The whole weekend was super busy with lot of social gatherings and activities, I was in a rush to make the recipe. I am already couple of days late with my posts and did not want to extend it any further. This is what happens when I am not organized. The first recipe that I made for the series was for the alphabet Z and I had nothing else made for the last week. I tried my best to bake to the best of my abilities, but I am still a day late in my post.
The pita chips became quite popular that they are available in stores now. Making them is very simple and I decided to give it a shot just like I had made Baked tortilla chips. The tortilla chips though was not entirely homemade and I had made it from store bought corn tortillas. The pita chips though, I have made from scratch and I am definitely going to make a couple of extra pitas from next time to make them into chips.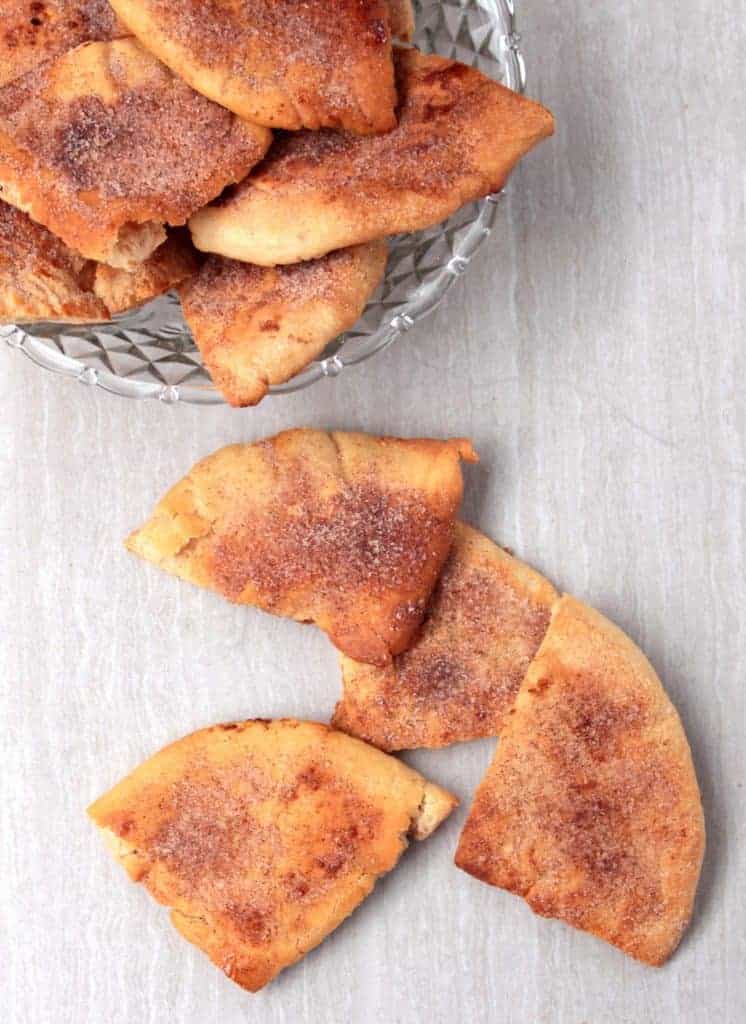 My other bakes in the A – Z Baking around the World Marathon –
A for Almond cookies from China
B for Bretzel Rolls from Germany
C for Chocolate Cupcakes with Chocolate Buttercream Frosting from USA
D for Danish Cookies from Denmark
E for Empanada from Argentina
F for Franzbrötchen from Germany
G for Grissini from Italy
H for Hot Cross Buns from England
I for Irish Freckle Bread from Ireland
J for Jan Hagel Cookies from Netherlands
K for Kiffles / Kiflis from Hungary
L for Lagana Bread from Greece
M for Monkey Bread from USA
N for Nazook / Nazouk from Armenia
O for Obi Non from Uzbekistan
P for PeynirilPoğaça from Turkey
Q for Quesitos from Puerto Rico
R for Rice flour Cookies from Persia
S for Sheermal from India
T for Tijgerbrood / Tiger bread from Netherlands
U for Umm Ali from Egypt
V for Vanillekipferl from Austria
W for Whole Wheat English Muffin Bread from England / America
Preparation time – 20 minutes plus 1 1/2 hours of rising time
Baking time – 5 minutes plus 20 minutes
Difficulty level – intermediate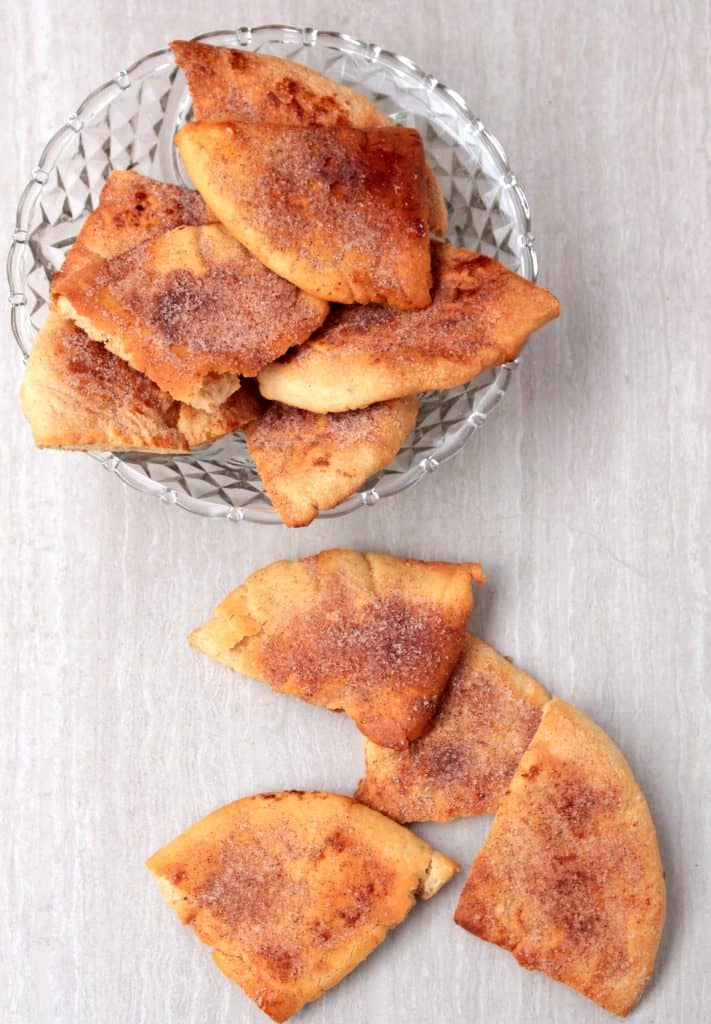 Ingredients to make Cinnamon Sugar Pita Chips – Makes about 16 large chips
To make Pita –
Whole wheat flour – 3/4 cup
Bread flour – 1/2 cup (can be substituted with all purpose flour)
Instant yeast – 1/2 tsp
Salt – 1/2 tsp
Sugar – 1 tsp
Oil – 1 tbsp
Lukewarm water – 1/2 cup to 3/4 cup
To make the chips –
Butter – 2 tbsp (melted)
Sugar – 4 tbsp
Cinnamon – 1 tsp
Procedure to make Cinnamon Sugar Pita Chips –
To make the dough for Pita –
I made the dough in my stand mixer. Combine the flours, instant yeast, sugar and salt in the bowl.
Add the lukewarm water and oil and knead until the dough starts pulling away from the sides of the bowl. Add a little more flour if needed.
Knead the dough for 6 to 7 minutes and then place it a greased bowl. Cover the dough with plastic wrap and then a kitchen towel and let it rise in a warm place until double in volume.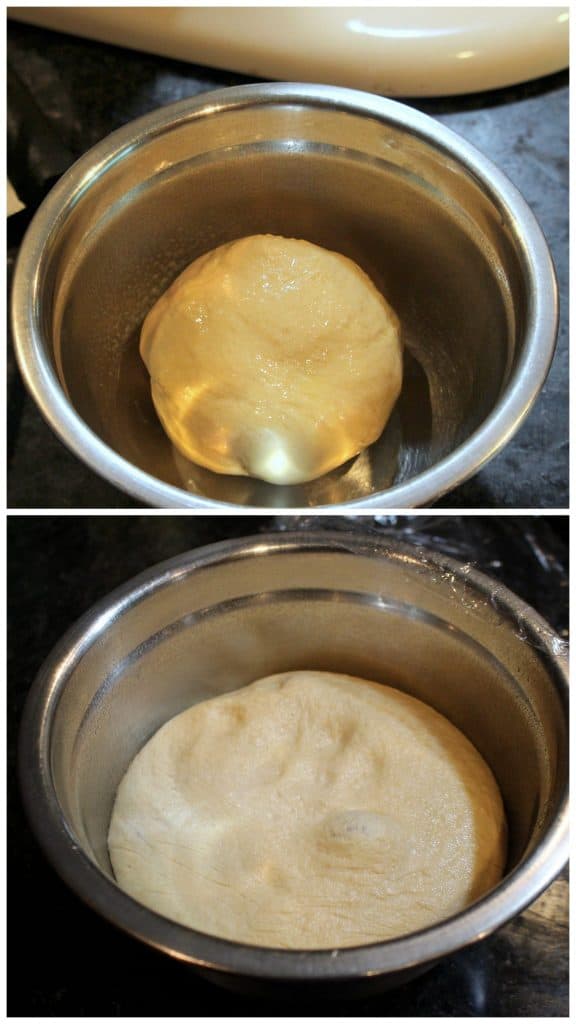 To make the Pita –
Preheat the oven to 450 F with a pizza stone inside the oven. If you don't have a pizza stone, we can make the pita in a baking tray. Only if using a pizza stone, place it in the oven when preheating.
Once the dough has risen, deflate it gently and then divide into 2 parts. Shape it into a ball and let it sit for about 10 minutes.
Roll each ball into a 8 inch circle.
Place the rolled pita on the pizza stone and let it cook for about 4 minutes. If using a baking tray, place the rolled dough on a un-greased baking sheet and place it in the oven.
Let it cook for 4 minutes and then flip to the other side and cook for a minute more. By now the pita would be puffed up and golden brown.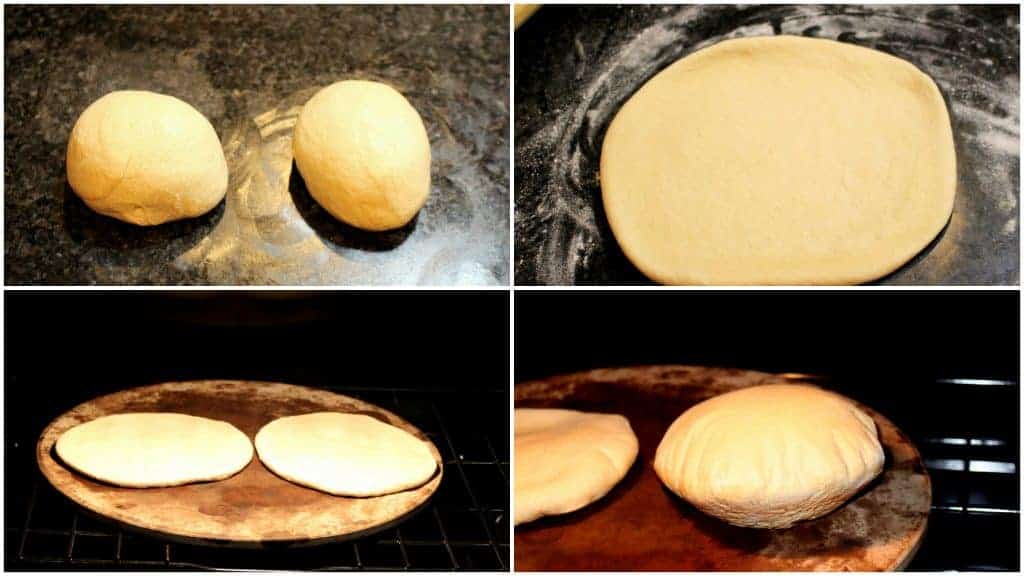 Remove the pita from the oven and let it cool on a rack completely.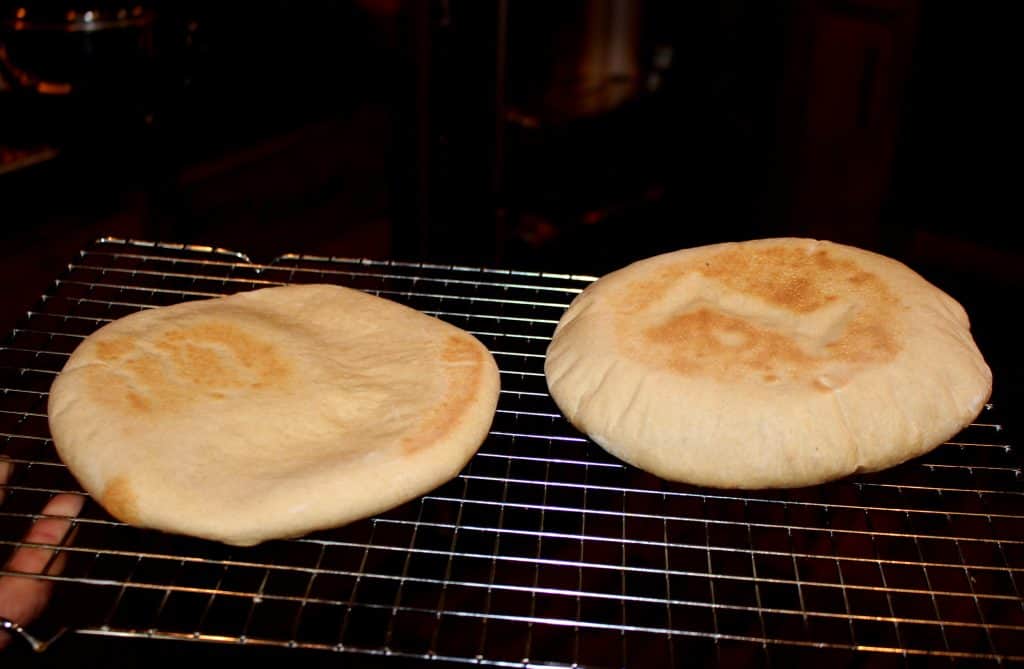 To make the Pita chips –
Preheat the oven to 375 F and line a baking sheet with parchment
Once the pita bread has cooled, carefully separate the two layer. The pita would have puffed up and we can easily separate the layers. I cut the pita in the middle and then separate the layers. Then split the halves again into wedges and this way you will get 8 wedges from each pita. Place the wedges on the prepared baking sheet.
Melt the butter in a bowl. Combine the cinnamon and sugar in a bowl.
Brush the top and bottom of the pita wedges with butter and sprinkle a generous amount of cinnamon sugar on both the sides.
Bake them for 15 to 20 minutes, turning the pita upside down once in between.
Cool the Cinnamon Sugar Pita Chips on a rack and serve!