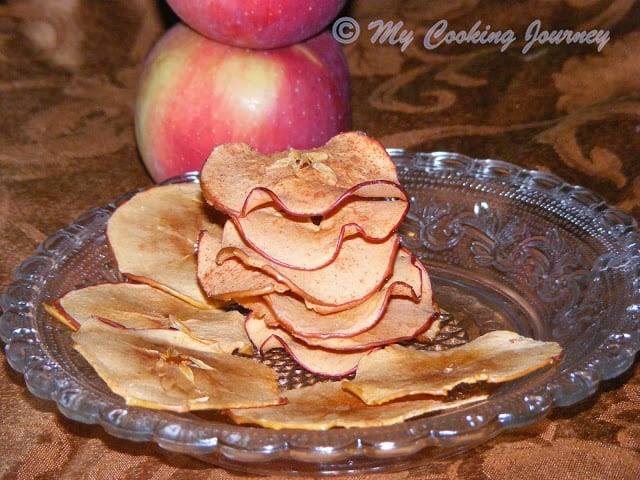 The other day, in one of my son's classes, I tasted Apple chips that a parent had bought from the nearby store. That was the first time, I have ever eaten chips made with apple and the best part was, these chips were baked. We just picked apples this weekend and with about 30 lbs of apples, I figured now is a good time to try these Baked Apple Chips . I should say these are more like dehydrated apples, but on the crispier side. The baking process intensified the flavors, so if you begin with a sweet apple, you will have sweet chips and if you bake a tart apple, the end result will be much tarter.
I looked through few websites and many of them had suggested using cinnamon sugar on the chips. I was not sure how I was going to like them. Hence, I baked two trays, one plain and one dusted with cinnamon sugar. I liked both of them. This recipe is for the third week of blogging marathon for which I chose the category Kid's delight – Nutritious food for sport enthusiasts. My son who has a very busy afternoon schedule always needs something to munch on in between his hops between different classes. In spite of cooking nonstop, I still run out of ideas on most days. I am looking forward to seeing many recipes during this marathon that are healthy as well as easy to carry with you.
This recipe absolutely needs no additional ingredients other than apples and an oven, but I would highly suggest/recommend that you use a mandolin to slice the apples. The apple needs to be sliced very thin and uniform and it is very hard to achieve using knife. Also you could add any choice of topping for the chips. i have used cinnamon sugar, but you could use salt and pepper, red chilli powder with salt or so on.
Preparation time – 10 mins
Cooking time – about 2 hrs to bake
Difficulty level – easy
Ingredients to make Baked Apple Chips– (makes about 50 chips)
Apples – 2 (any variety)
Mandolin – to slice the apples
Optional – Cinnamon sugar
Sugar – 2 tsp
Cinnamon – ½ tsp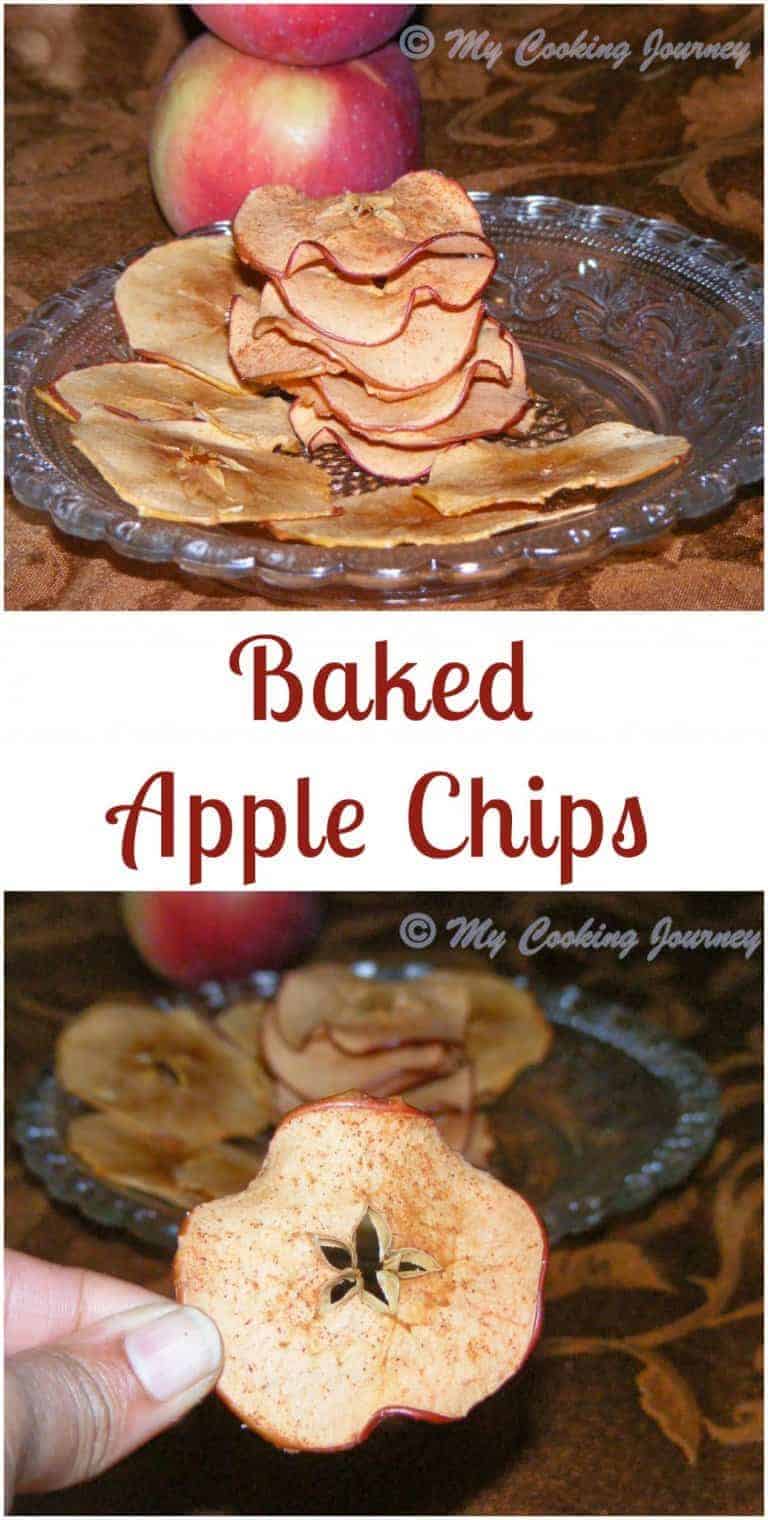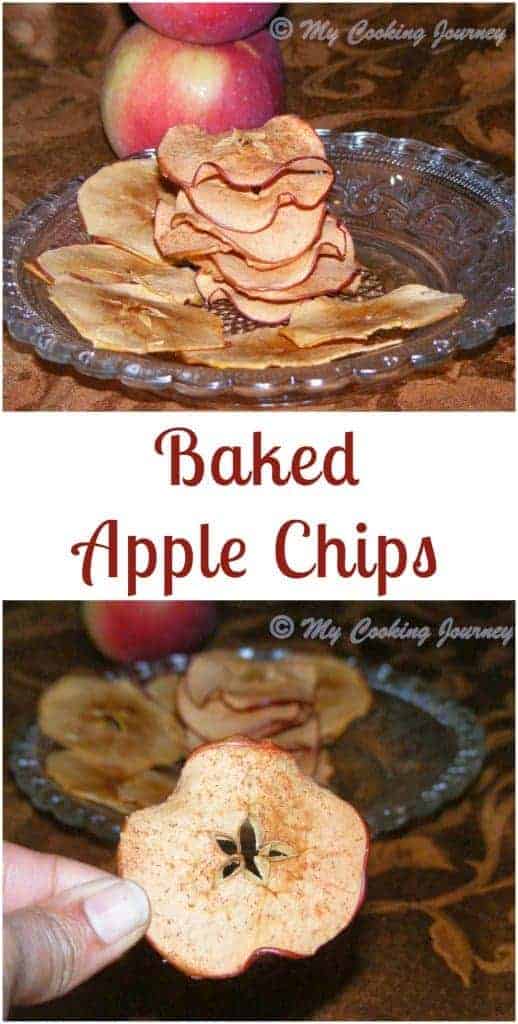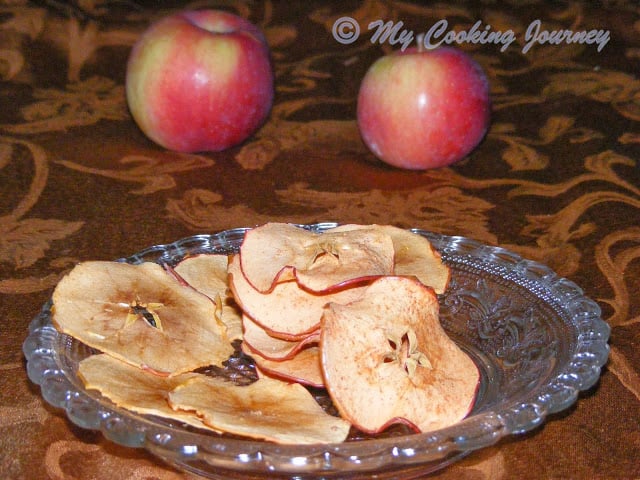 Procedure –
Wash the apples and remove the stem. Do not cut or slice the apples. Keeping them whole, run it through the mandolin to get a thin slice. Repeat until you have sliced most of the apple. Layer the slices on the baking tray that is lined with parchment.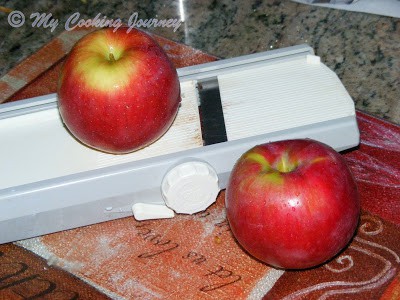 I prepared two trays. One of them I left the apple slices as is and on the other tray I sprinkled the apples with cinnamon sugar. To make the cinnamon sugar, combine the cinnamon and the sugar. Sprinkle them over the sliced apples.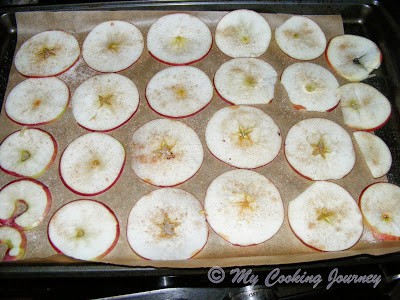 Preheat the oven to 225 F. Bake the chips for about an hour and then turn them over. By this time you would see that the apple slices are beginning to shrivel and curl.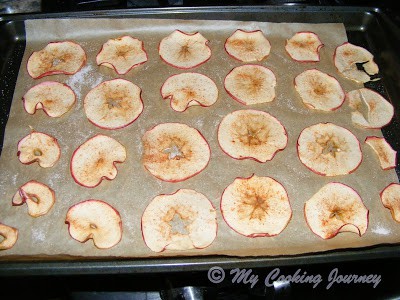 Bake them for half an hour to an hour more depending on the thickness of the slices. If the slices are too thin, they might need only 30 minutes. If they are slightly thicker, they might need an hour.
The chips would be still soft when you take it out of the oven, but will begin to harden once they are out.
Let them cool entirely and then store the Baked Apple Chips in an airtight container.