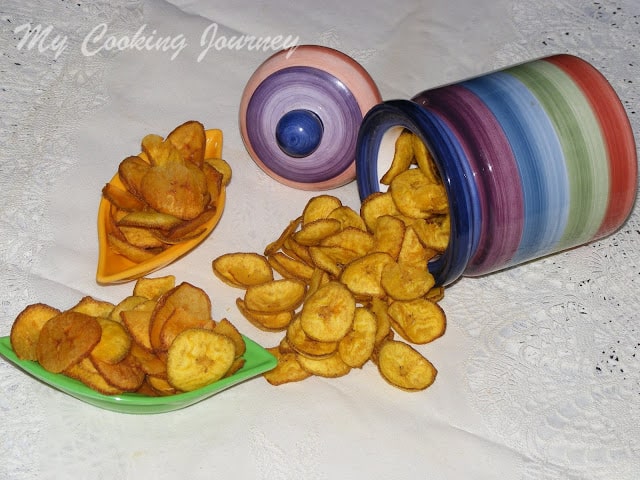 No South Indian Wedding meal is complete without these tiny yellow chips at a corner. I always used to wonder why they only serve a tiny bit of this chips and not a whole lot, because I could literally munch on these for the whole day. I love chips and this is one of my favorite kinds of chips. The store bought raw banana chips has a different flavor and texture compared to the ones we make at home. Making them is very simple provided we have the right tools. Having a mandolin is very essential for making these chips.
When making the chips my mother taught me pour turmeric powder and salt mixed in water directly into the oil. I am always amazed at how the oil does not splatter all over when we add this yellow salted water into the hot oil. Doing this when the chips are cooking, gives the chips the required salt and the yellow color. Also slicing the chips directly over the hot oil makes the chips not to clump with one another. If we slice it ahead of time, the banana slices could change color and also will stick to one another.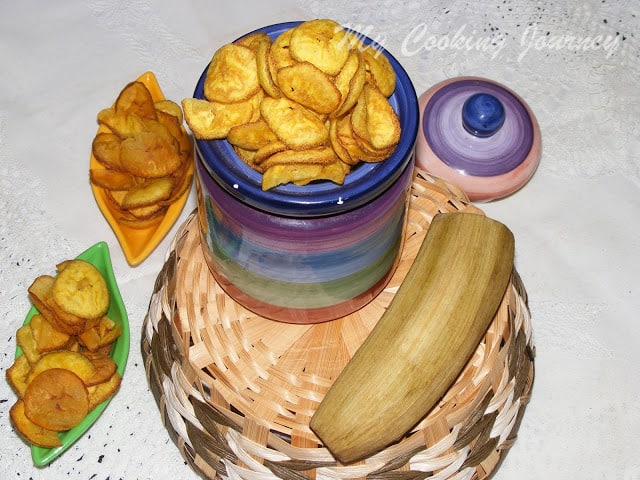 Ingredients to make Raw banana Chips –
Raw banana/Nenthrangai (long ones) – 4
Oil – for deep frying the chips
Turmeric powder – 1 tsp
Salt – 1 tsp
Water – ¼ cup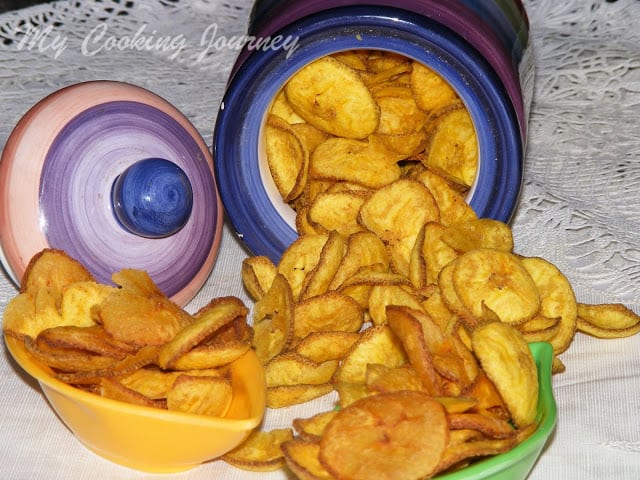 Procedure –
Peel the banana and wash it. Pat it dry on a kitchen towel and keep it ready.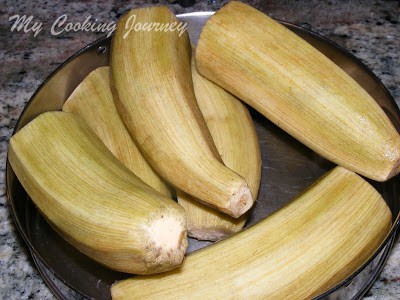 Add the turmeric powder and salt to the water and mix it well. Keep it aside.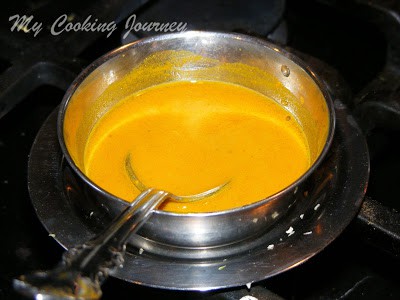 Heat oil in a deep pan and once the oil heats up start slicing the bananas directly over the oil. Hold the mandolin with one hand and slice with the other hand. Keep a safe distance from the oil. Make sure you adjust the mandolin slicing width thin, to get even thin chips.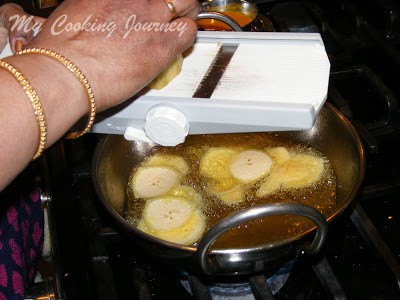 After slicing about ½ a banana, pour a tsp of the turmeric salt mixture into the hot oil. Make sure you spread it around and pour.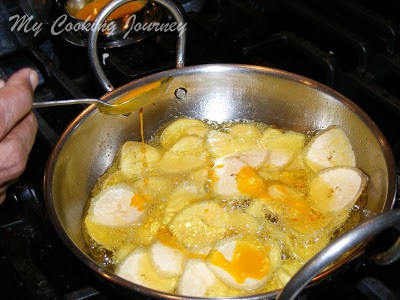 Mix it well and let the chips cook in medium high heat.
Once the sizzle of the oil stops and the sides of the chips appear golden brown, remove them on a paper towel.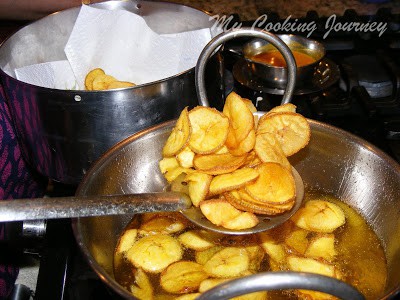 Repeat this with the rest of the chips and once completely cool, store them in an airtight container.
The chips will stay fresh up to couple of weeks (if it lasts that long).
Happy Munching!!!