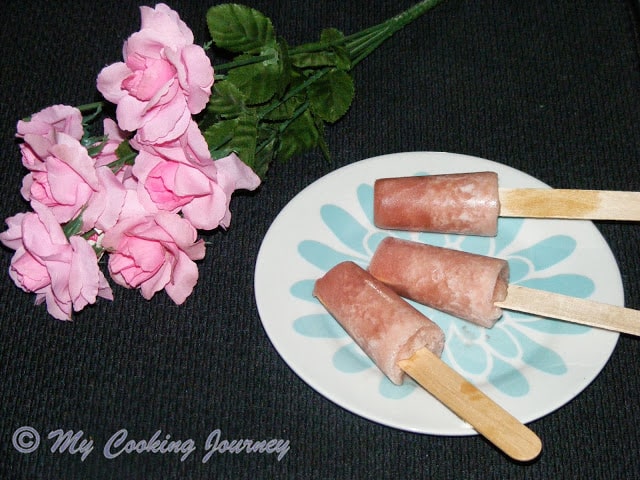 Kids always want variety when it comes to food. I have found that feeding my kids variety has always helped them appreciate food and they are not scared of trying out new flavors. After school snack are very important to keep them filled up for the rest of the evening as well as to get rid of the tiredness of school. I always believe that the snacks we provide them should be nutritionally filling as well. These Banana Freezer Pops were so cute when I saw them in one of the cook books that I had picked up from the library. I used bananas and cranberry juice in the pops, but you could go ahead and use any juice that you have in the refrigerator. To name a few combinations that works very well with bananas are orange juice and grape juice.
These Banana Freezer Pops are loaded with potassium from the bananas and Vitamin, C, E and K from the cranberry juice. Cranberry juice is also known to prevent UTI's. Make a few of these pops one day and enjoy them for the next couple of days. So this recipe goes in for my second day of BM, under the theme Kid's delight – After school bites.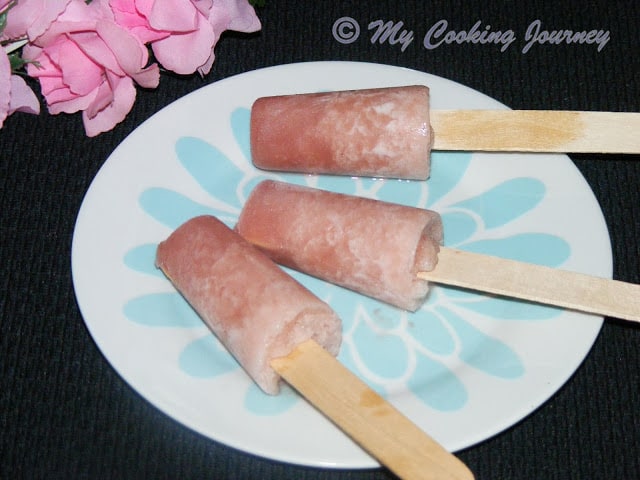 Preparation time – 5 mins plus at least 3 hrs to freeze
Cooking time – none
Difficulty level – easy
Ingredients to make Banana Freezer Pops – makes 8 small pops
Medium bananas – 2 ripe
Cranberry juice – ¾ cup
Water – ¼ cup
Honey – 1 tbsp
Vanilla – 1 tsp
Freezer pop molds or small foam cups
Wooden stick – 8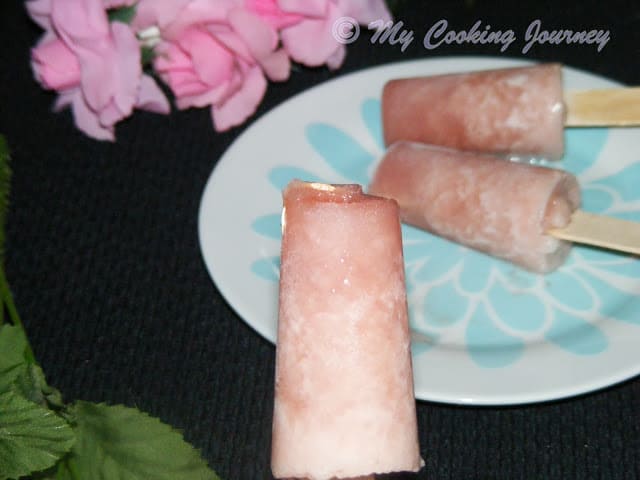 Procedure –
Peel bananas, break into chunks and add it to the blender jar.
Add the Juice, water, honey and vanilla to the jar and process until smooth.
Pour evenly into molds or small cups and cover the top with aluminum foil. Insert the wooden stick through the foil into the cup and freeze it for at least 3 hrs.
Remove the foil and slowly slide off the cups or molds and serve.