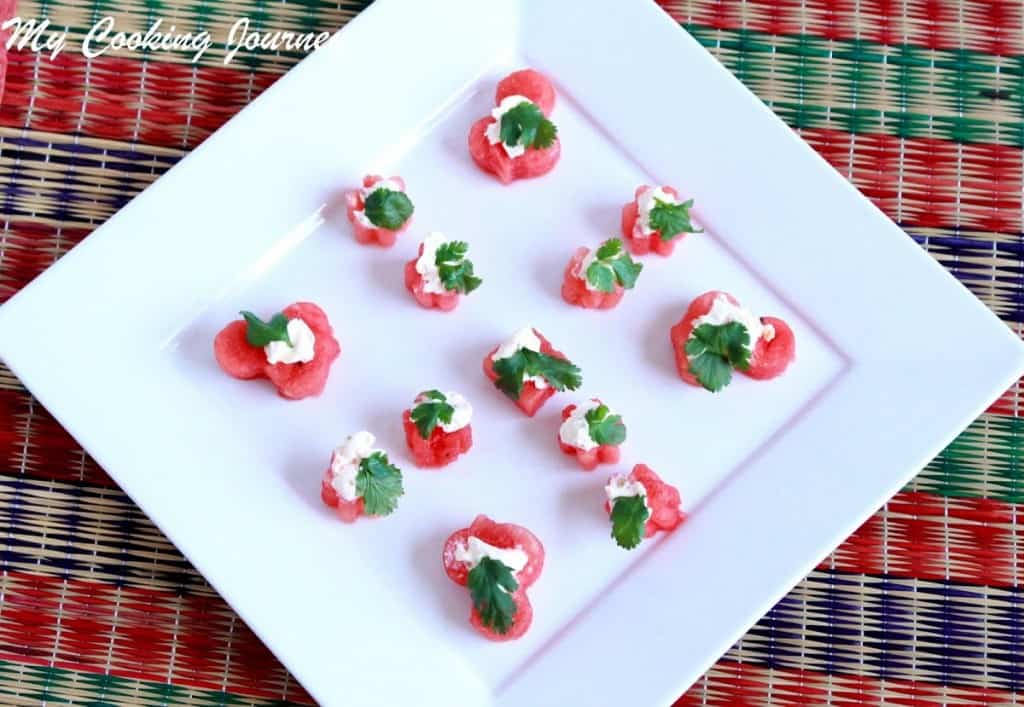 I love no cook recipes in summer months. Now that I am in an even warmer place, there are days when I don't feel like cooking anything because of the heat. When I chose the theme for Blogging marathon, I wanted to make some quick and easy summer friendly recipes. Last week, I brought home the summer edition recipe book from the local dairy store. The first recipe on the book was this watermelon bites that looked really cute.
Watermelon is in season and they are everywhere. We picked a whole melon during our weekly grocery trip and kids are enjoying the juicy watermelon. I wanted to make some cute shapes for the watermelon bites, but realized that all my cookie cutters are much large than I wanted. That is when I found my linzer cookie cutter that I had bought long back and never even opened. I used the tiny stamps from that kit and they looked really cute.
My first week's theme in blogging marathon is 'bite size appetizers', where I had to make appetizers that can be picked with one hand and eaten. This recipe is a perfect one for season as it combines the sweetness from the watermelon and the heat from the jalapeno cream cheese. It was a perfect bite and it made us keep going back to more.

Watermelon is a great fruit to use for juice. It is refreshing and very sweet and does not need much sugar most of the times when juiced. One of my other favorite drink to make with watermelon is this Watermelon Raspberry lemonade. It is so refreshing to serve in summer months. One of my other favorite easy drink to make with watermelon is this Spicy Watermelon Juice. I see it as a great alternate to Neer More (spiced Buttermilk) and love it on a hot summer day.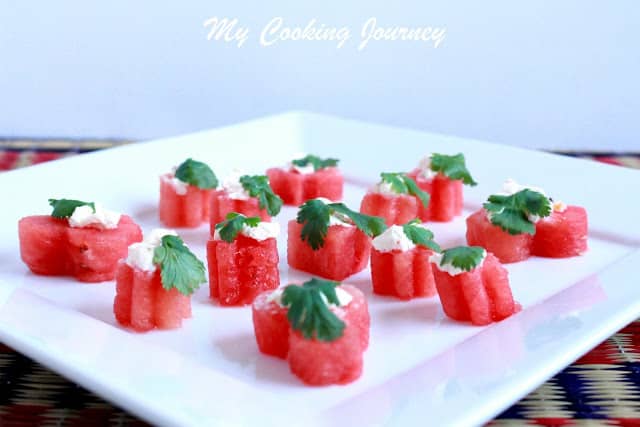 Preparation time – 15 minutes
Cooking time – none
Difficulty level – easy
Ingredients to make Watermelon Savory Bites –
Watermelon squares or shapes – as needed
Jalapeno cream cheese or any savory cream cheese – About ½ tsp per cube
Cilantro or mint – to garnish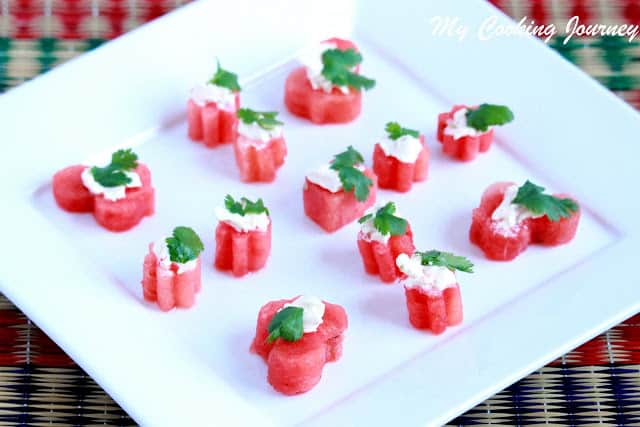 Procedure –
Cut out the different shapes or circles or cubes from the watermelon. I sliced the watermelon and then used cookie cutter to cut out shapes. You could also use a sharp knife and make cubes.
Smear about ½ tsp (more r less depending on the size of the watermelon cube) cream cheese on top of the melon.
Garnish with a tiny piece of cilantro or mint.
Assemble the Watermelon Savory Bites on a plate and if serving later, cover loosely with a plastic wrap and refrigerate.