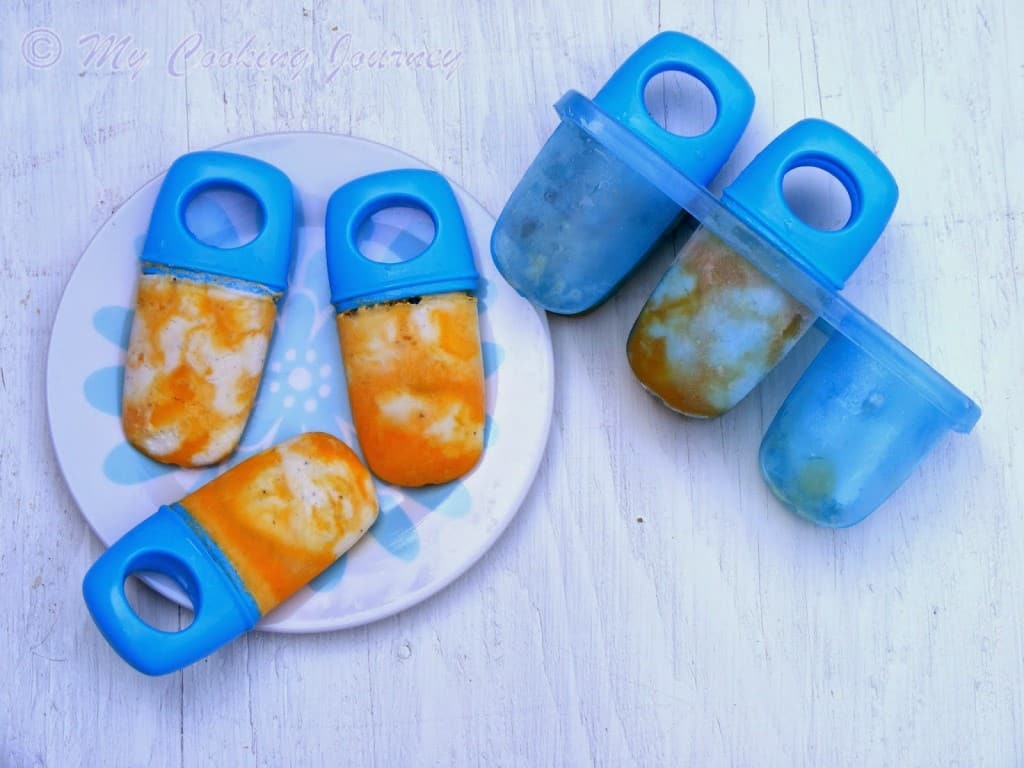 This week for the blogging marathon I chose to do Summer Special recipes and my first one under the series is this no cook, no mess (ok a little mess) creamy Popsicle that will bring your inner child out. I love the Orange bar stick ice cream back in India. I just like that little tanginess from the orange followed by the creamy vanilla ice cream.
Summer is almost here (a week more), but the temperatures are already rising. The local ice cream bar here has opened for ice cream and we went for our first ice cream outing last week. I always choose the Vanilla soft serve whereas my family goes in for all sort of wild flavors and toppings. This year the ice cream place has a new soft serve flavor, the orange creamsicle. That is when I was tempted to make some myself.
This recipe is very simple and all it needs is a good quality Vanilla ice cream, some Popsicle mold and orange juice. I made my first batch with fresh orange juice, but the color and flavor was very mild. It did not have the tanginess that I was looking for. So I tried this batch with store bought orange drink powder like Tang. I dissolved it in some water and made it slightly more concentrated than I usually would and then used it to make the creamsicle and this gave me the exact flavor I was looking for.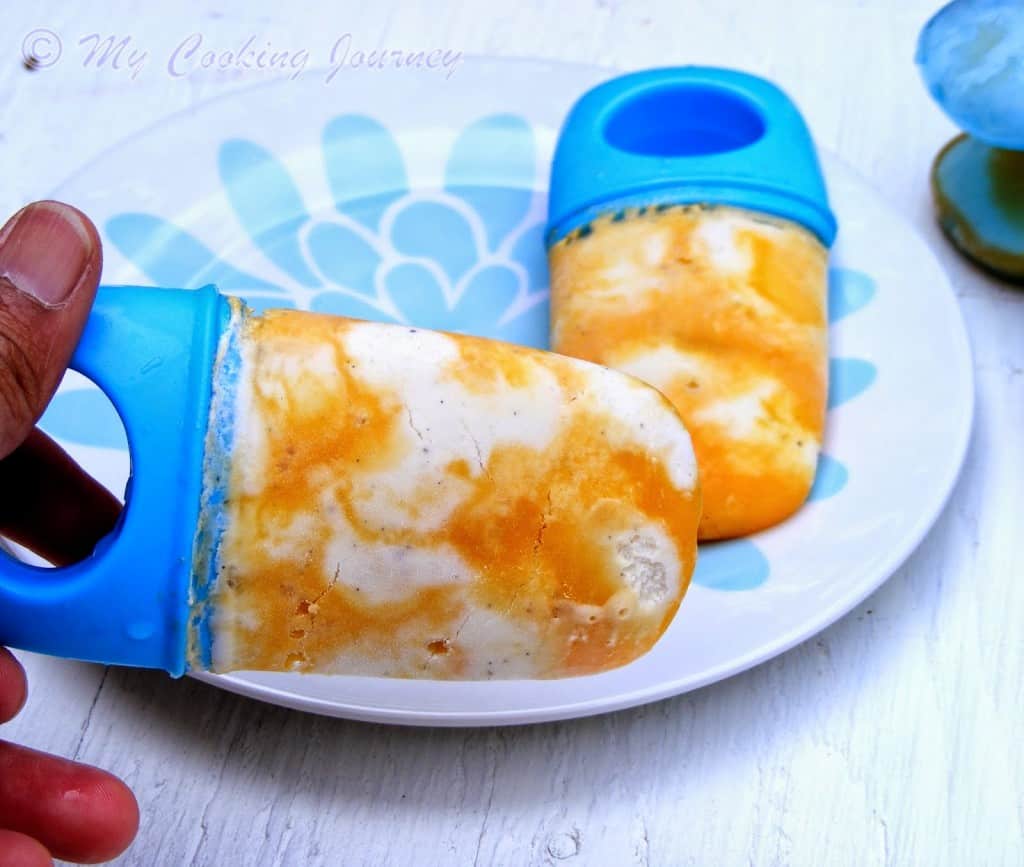 Preparation time – 5 minutes
Cooking time – none
Chilling time – about 4-6 hours
Difficulty level – easy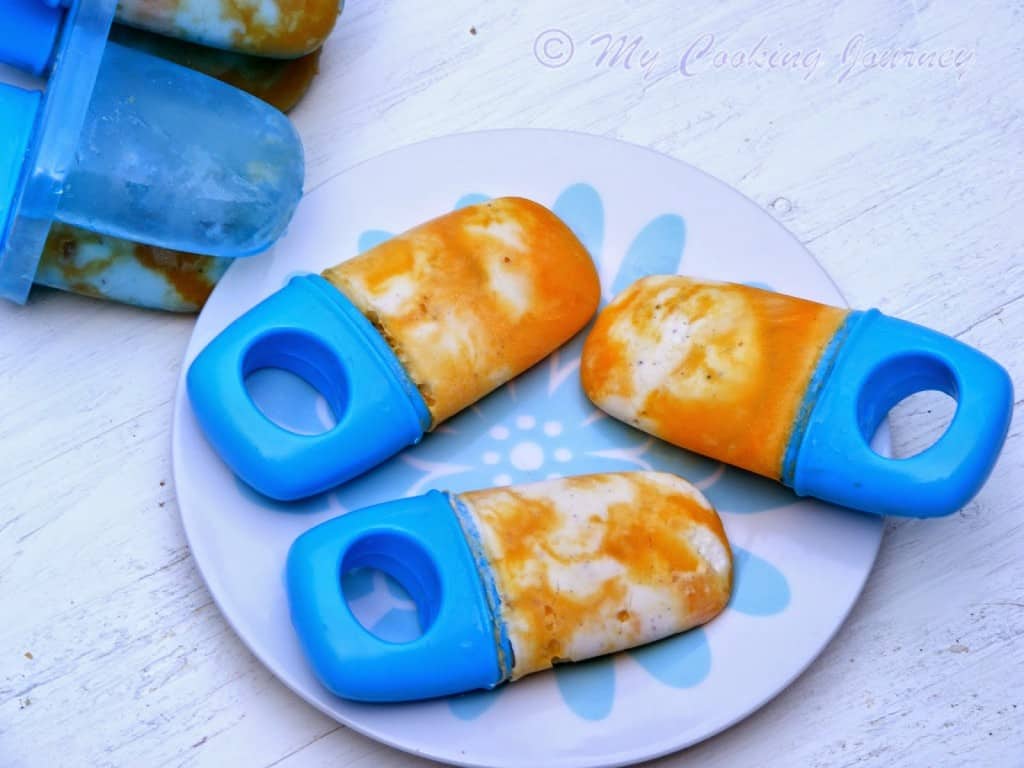 Ingredients to make Orange Creamsicle – Makes 6
Vanilla ice cream – about a cup (more or less depending on the size of the Popsicle mold)
Tang or any orange drink mix – 1 tbsp
Water – ½ cup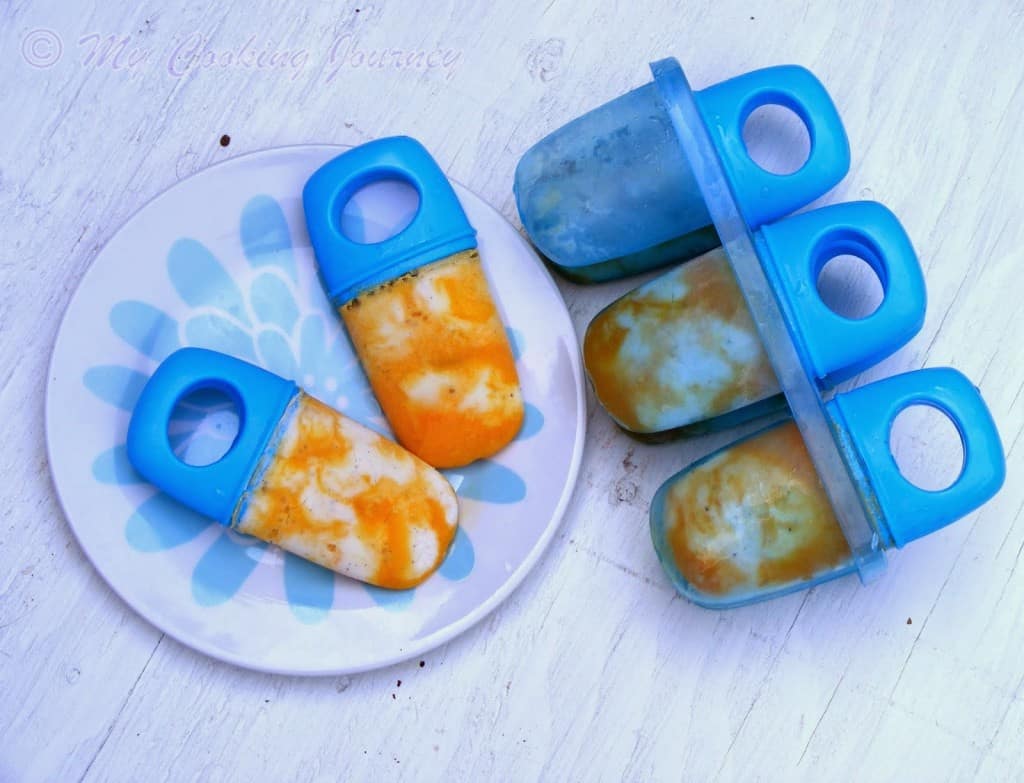 Procedure –
Wash and prepare the molds and keep it ready.
Using a small spoon, fill in the Popsicle mold with vanilla ice cream. Do not use big chunks of ice cream. Just spoon in small pieces of ice cream and make sure you don't press it down. We are looking for some space in between the ice cream.
Mix the orange drink powder with water and slowly spoon in 2-3 tablespoon of this mixture into the filled molds. Make sure that the drink fills up the empty space.
Now attach the Popsicle lids and return it to the freezer. This is where it gets a little messy. If the drink is a little too much, it might ooze out when we insert the Popsicle cap. So make sure that use only about 2-3 tablespoon of juice.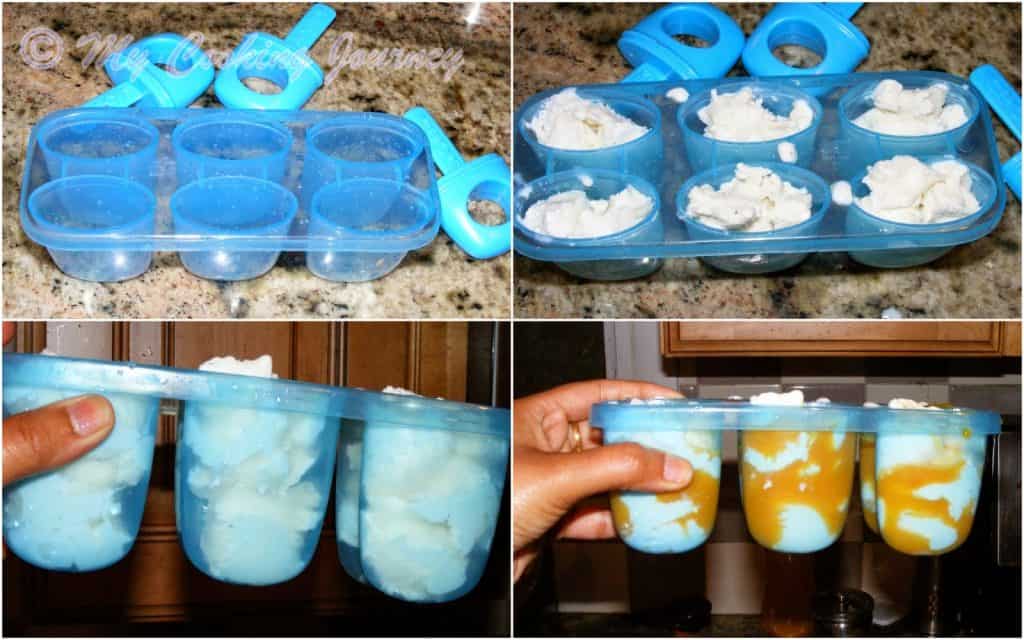 Freeze it for about 6 hours and then slowly unmold the Orange Creamsicle and enjoy.