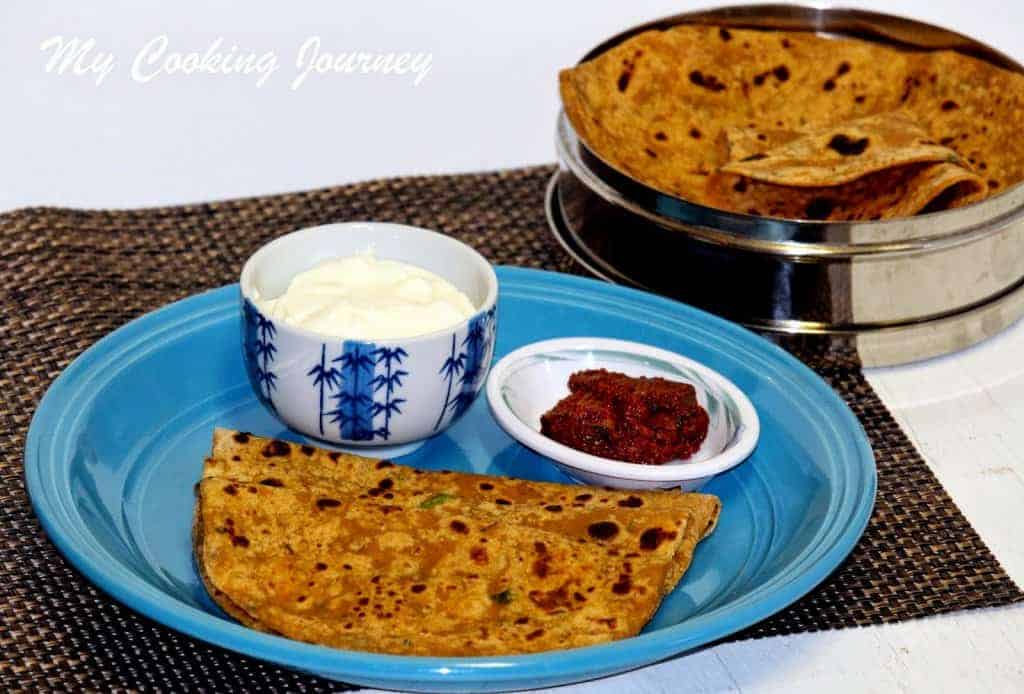 Parathas or Theplas are a perfect choice when you don't want to make a side dish in elaborate and just have a simple filling meal. My mother introduced me to this recipe after she ate it at my cousin's place. She mentioned that this would be a perfect paratha for my family as all of us like sweet potatoes and also because it is easily found n abundance here. Every time my mother comes from India, she gets very excited by seeing the perfectly sweet, sweet potatoes.
Sweet Potato Paratha is something that I make on weekends as brunch to keep us filled up and also get the dose of vegetables in our meal. All we need is some pickle and yogurt on the side. My boys love this with homemade Spiced Apple Jam.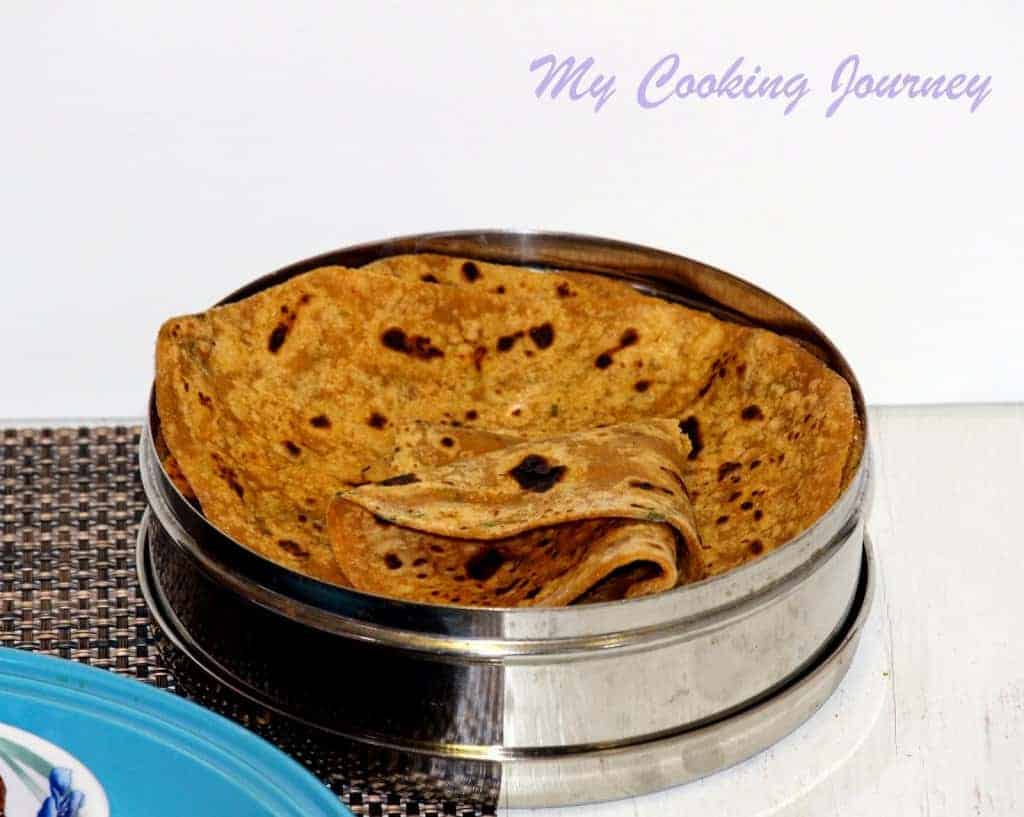 Check out my other Paratha recipes -
Avocado Paratha
Bikaneri Channa Dal Paratha
Mooli / Radish Paratha
Stuffed Methi Paratha
Aloo Methi Paratha
Gobhi Paratha
Aloo Paratha
Preparation time – 10 minutes plus about half an hour of resting time
Cooking time – about 2 minutes per paratha
Difficulty level – easy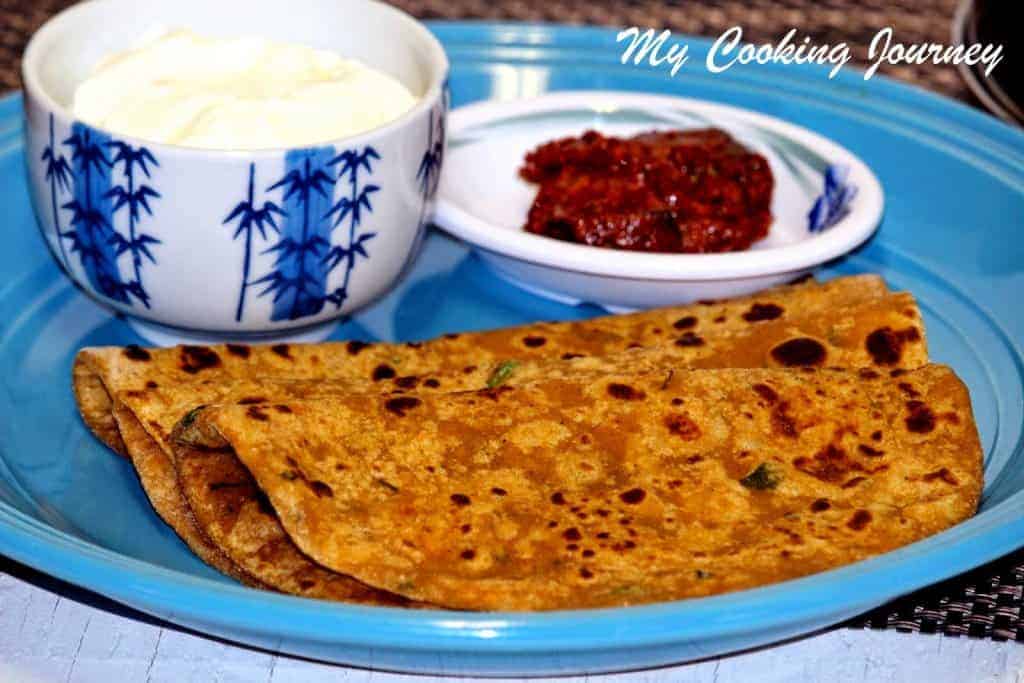 Ingredients to make Sweet Potato Paratha – Makes about 10 Parathas
Wheat flour – 3 cups
Sweet potato – 1 large or 2 small
Warm water – to make the dough
Red chili powder – 1 tsp (adjust based on our spice level)
Roasted cumin powder – 1 tsp
Amchur powder / dry mango powder – 2 tsp
Garam Masala – ¾ tsp
Salt – to taste
Oil – about 1 tbsp to make the dough plus more to make the parathas
Cilantro – A handful (finely chopped)
All purpose flour or wheat flour – for dusting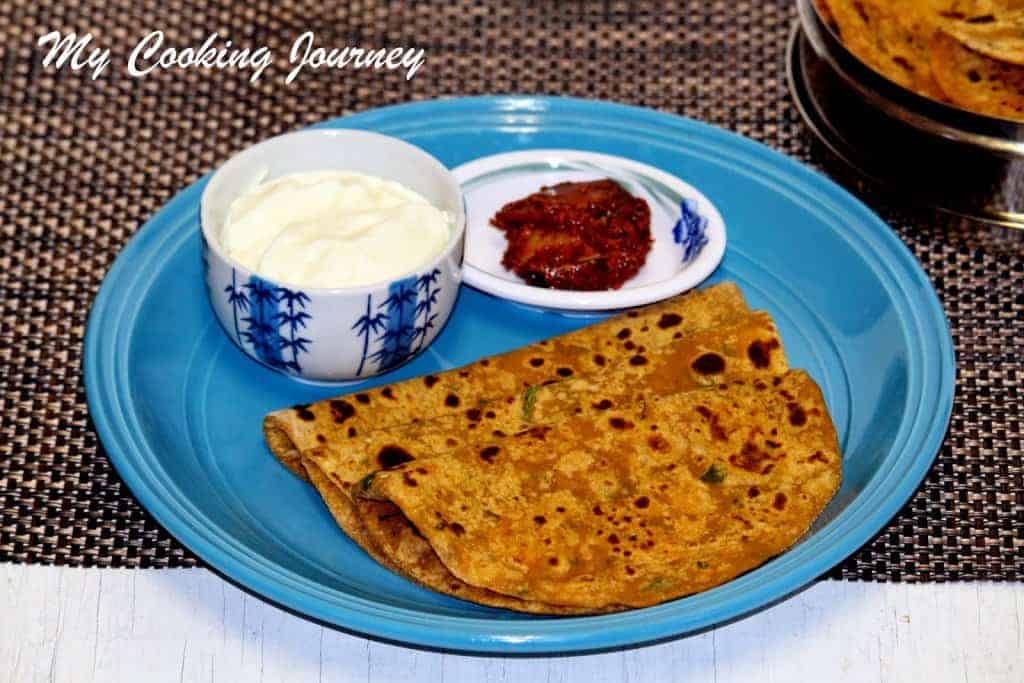 Procedure –
Wash and peel the sweet potato. Chop them into 1 inch pieces and cook it in the microwave until very soft and mushy. Make sure you use very less water when cooking the sweet potatoes. I usually just sprinkle some water and then cover it with plastic wrap (food grade) and cook it until soft.
Using a fork, crush the cooked sweet potatoes and make a paste.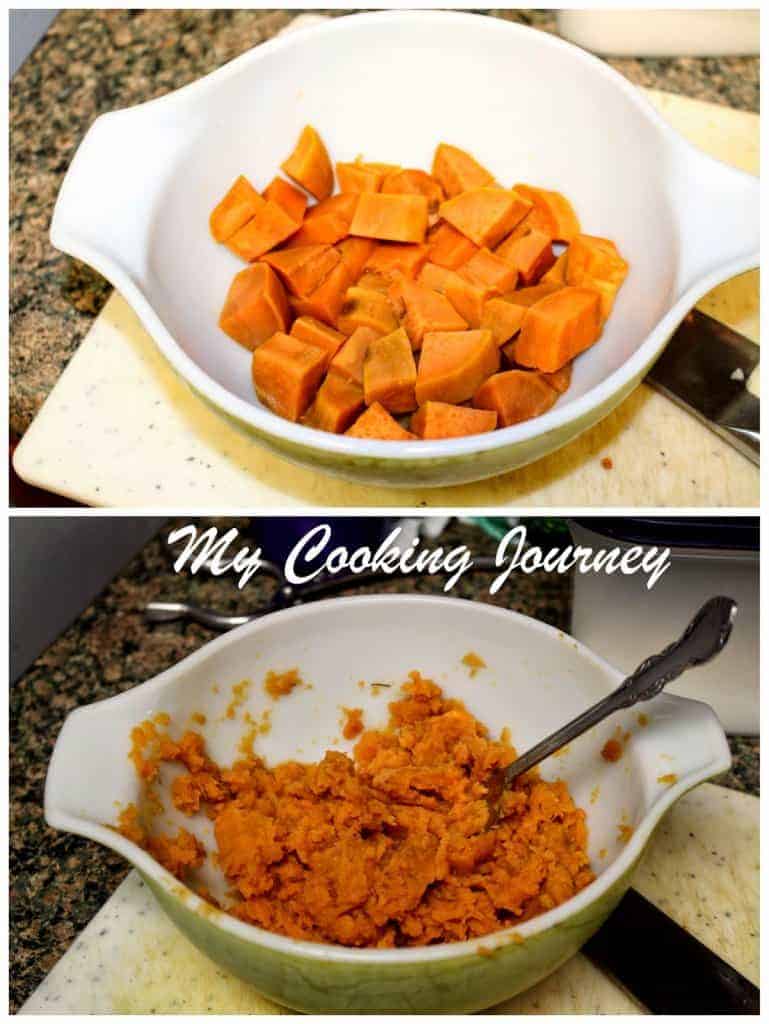 Add the crushed sweet potatoes and all the spices along with 1 tbsp of oil and cilantro and make soft dough adding just enough water. Knead the dough until soft and elastic. Rub some oil on the top of the dough and cover it with plastic wrap and let the dough rest for at least 30 minutes.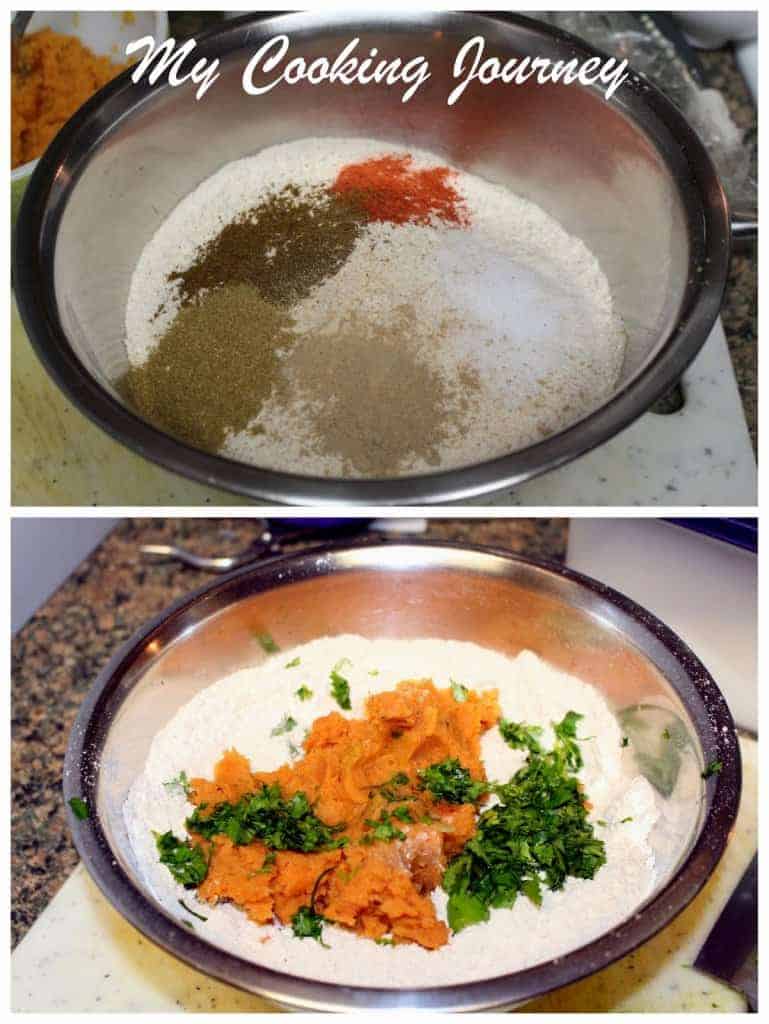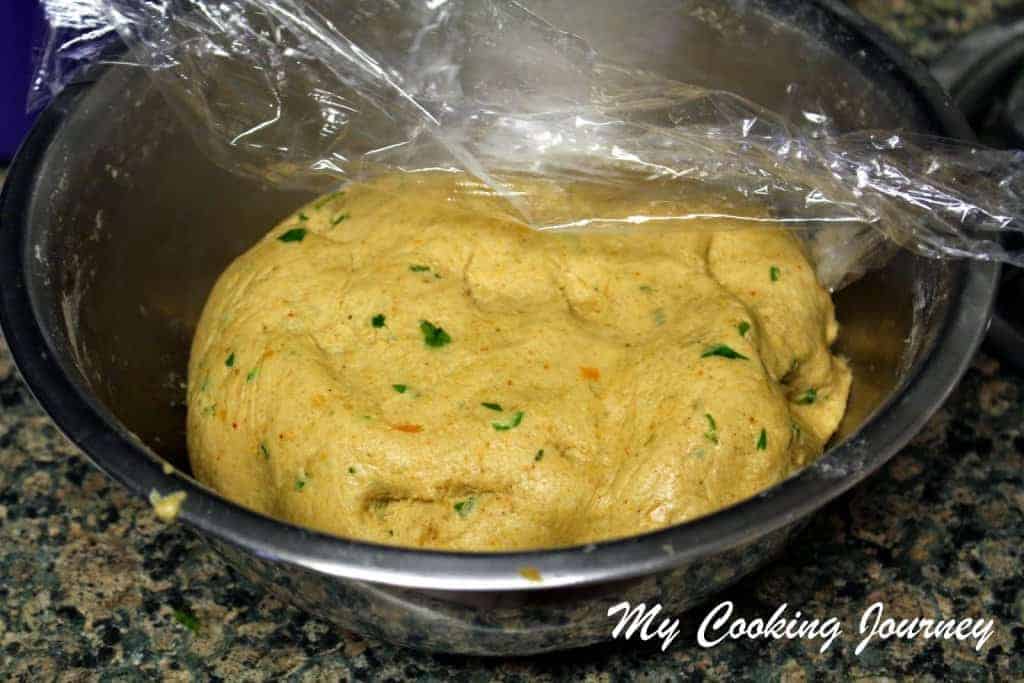 Make golf ball size balls out of the dough and roll them into a thin circle.
Heat a pan and cook the parathas applying a little bit of oil on both sides until golden brown.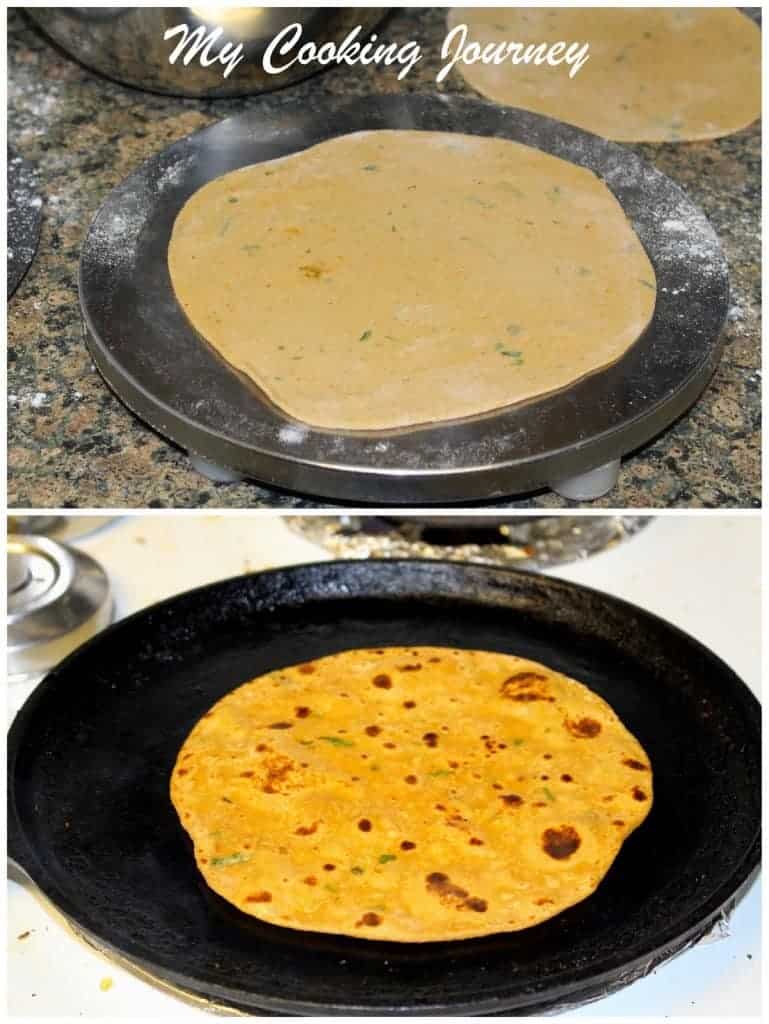 Repeat the same with the rest of the dough
Serve the Sweet Potato Paratha hot with pickle and Raita.