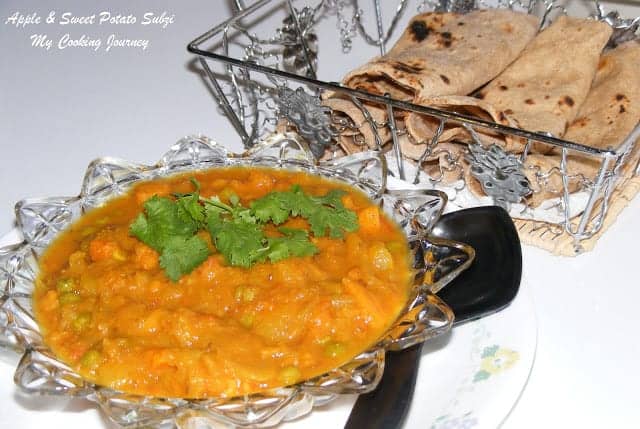 This Apple and Sweet Potato Subzi is another attempt from my side to keep up with the abundance of apples. Sweet potatoes are yet another ingredient that is used widely during this season. So I decided to combine the tartness of the apples with the sweetness of the sweet potatoes to create this gravy. The subzi was very good and paired beautifully with the multigrain pulkas that I made. Try this once and I assure you that you will go back to it again.
The apples in the subzi mimicked the flavors of bottle gourd/dhoodhi/lauki. At dinner, when I asked my 7yr old about what was in the subzi, he said, bottle gourds. That was how close it was in flavor and texture.
Also, check out my other Apple Recipes Here 🙂
Preparation time – 10 mins
Cooking time – 30 mins
Difficulty level – easy
Ingredients to make Apple and Sweet Potato Subzi – Serves 4
Sweet potatoes – 2
Apples – 2
Onions – 2 (chopped)
Tomatoes- ⅔ (chopped)
Green peas – ½ cup (optional)
Green chilies – 2
Ginger – 1 inch piece (grated)
Turmeric powder – ½ tsp
Red chili powder – ½ tsp
Dhania jeera powder – 1 tsp
Garam masala – ½ tsp
Cumin seeds – 1 tsp
Oil – 1 tbsp
Salt- to taste
Cilantro – for garnish
Procedure –
Peel and chop the sweet potatoes into 1 inch cubes. Wash them and cook them slightly until they are half cooked. I kept them in the microwave for about 3 minutes. You could also steam it for few minutes. Make sure that it is not cooked entirely; otherwise it will disintegrate once added to the subzi.
If using fresh peas, cook them and keep it aside. If using frozen peas, let it thaw in room temperature.
Heat oil in a pan and add the cumin seeds. When it sputters, add the onions and green chilies and sauté for 5-6 mins or until translucent.
Now add the ginger and fry for another minute and then add the tomatoes. Also add the turmeric powder, chili powder, dhania jeera powder, garam masala and salt. Mix them well and let it cook on medium heat until all the masala cooks (about 10 mins).
Peel, core and chop the apples into 1 inch cubes. Add the apples to the masala and mix it well. Also add the green peas (cooked or thawed) and this time. Cook them covered for about 8 minutes or until the apples soften a little bit.
Now add the partially cooked sweet potatoes and also add about a cup of water and bring it to boil. Simmer and let it cook for another 8-10 mins, until everything combines together.
Garnish with cilantro and serve the .apple and sweet potato subzi hot with rotis or pulkas!!