This is another attempt of creating an Indian recipe with apples. Earlier, I had made Apple pickle and Apple rasam to keep up with my idea of having an Indian flavor profile as a theme. Apple halwa was such a success with the boys. My younger kid, who is not a big fan of sweet deserts, loved this one. My husband related this to one of his favorite halwas, which is pumpkin halwa, also called as Gulkunthu in Tamil. Over all, I was very happy with what I made and this is opening up my imagination to come up with more apple recipes.
Preparation time – 15 mins
Cooking time – 40 mins
Difficulty level – medium
Ingredients to make Apple Halwa – Serves 6
Apples (any variety) – 4cups (grated)
Sugar – 2 cups
Ghee – 2 or 3 tbsp
Cardamom powder – 1 tsp
Saffron – few threads (optional)
Slivered almonds or cashews – to garnish
Procedure –
Peel the apples and grate them. In a non stick heavy bottom pan, heat about a tbsp of ghee and add the grated apples. Fry the apples until all the moisture disappears (about 12 mins).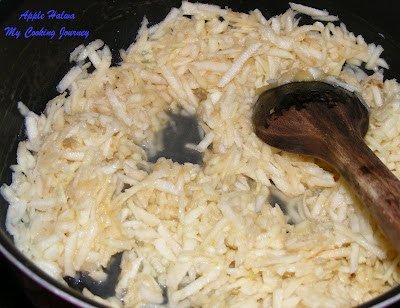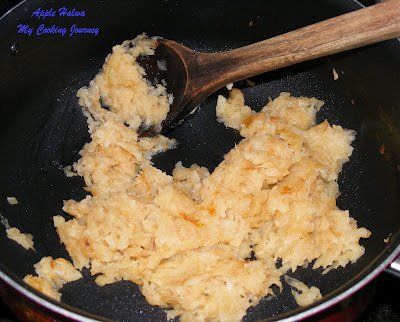 Remove the apples and keep aside. In the same pan, add the sugar and add about a 1 cup of water to it. Let it come to a boil and then lower the heat.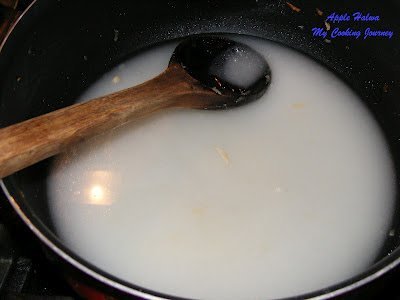 We are looking to get a one thread consistency for the syrup. This is a term that scares off most of the brave halwa makers. Keep cooking the syrup and once in a while use your ladle to drip some syrup. If the syrup drips as drops, then it is not ready yet. Once the sugar starts forming a thread like dripping action, you know that it is the right consistency. This takes about 10 to 12 mins.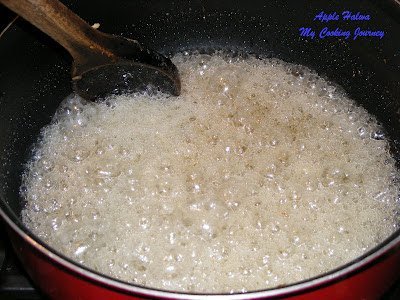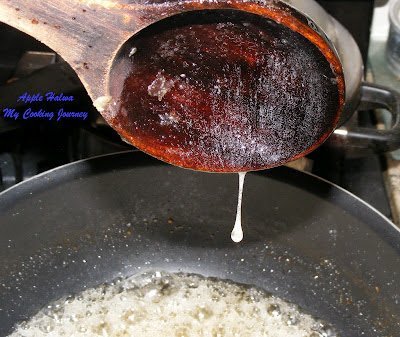 At this stage add the fried apples to the sugar mixture and mix well. Add the remaining ghee and keep cooking on medium high heat.
Once the apple halwa starts to leave the sides of the pan, you know that it is ready to be taken of the flame. At this stage add the cardamom and the saffron and give it one good mix before turning off the flame.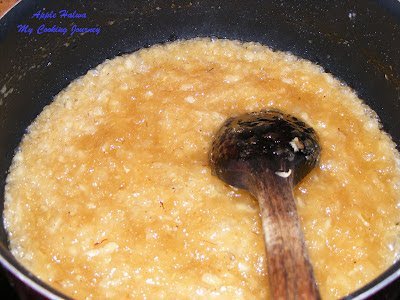 Serve the apple halwa warm or in room temperature, garnished with almonds or cashews.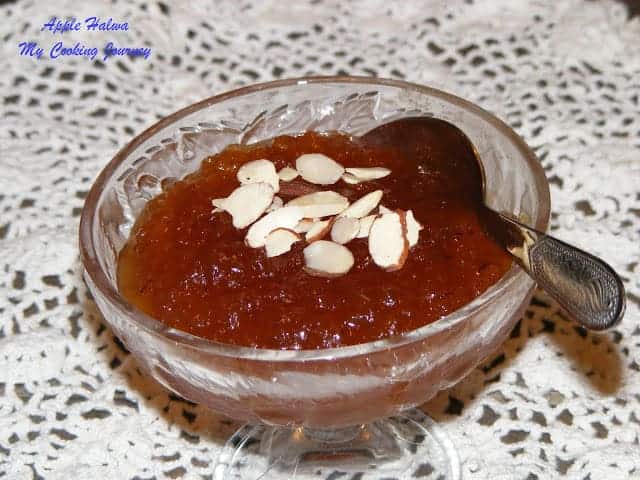 Notes –
I made the sugar syrup only to reduce the cooking time. If we add the sugar directly to the apple, it will take longer to cook and to come to the right consistency.
Before adding the sugar, taste the apples. If the apples are very sweet, the amount of sugar can be slightly reduced. The apples that I used were sort of tart, so this quantity worked well for me.