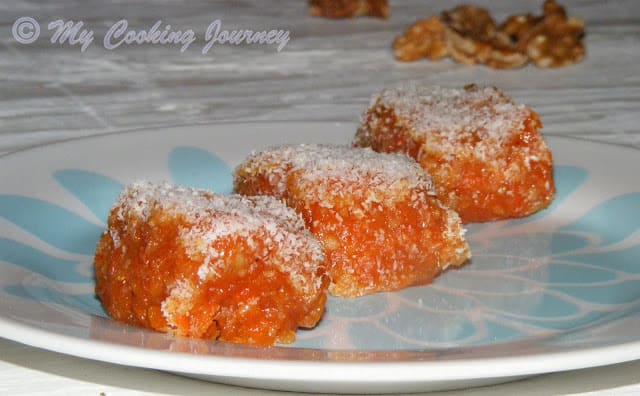 Recently I have been bringing home a lot of cook books from our local library. This recipe is from one such book that I brought home this week. The book is called the Turkish Cookbook – Regional recipes and stories written by Nur Ilkin and Sheilah Kaufman. This book has several recipes from various cities of Turkey.
This dessert Cezeriye is very popular in the city Mersin which is a large and busy port city that lies midway on the eastern Mediterranean coast of Turkey. This is the most famous local delicacy which is made from grated carrots and walnuts and dusted with fine coconut. The dish derives its name from the Arabic word, Cezer which means carrots. In southern Turkey, cezeriye refers to all the desserts prepared with carrots.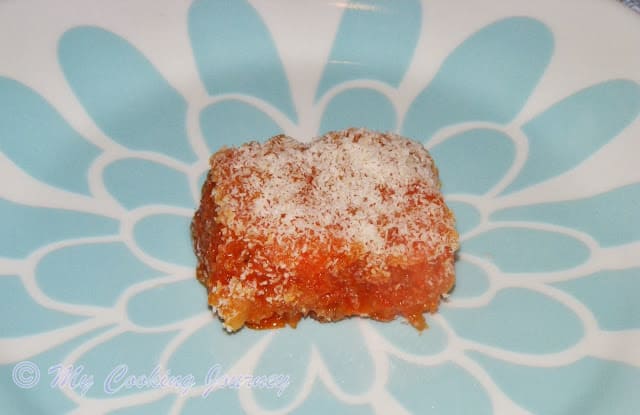 The carrots found in Turkey are reddish pink to purple in color and are very sweet. This dessert needs just few ingredients and tastes very creamy and delicious. I personally do not like nuts in any of the dishes I prepare. The only exception to it is any Mediterranean recipe. I don't only eat the nuts in this case but also enjoy eating them.
This recipe calls for coarsely chopped walnuts. I actually pulsed it a couple of times in a food processor and hence had sort of very finely chopped walnuts. This recipe closely resemble the carrot halwa, except for there is not dairy in the recipe. Coconut powder or finely ground coconut is available in Indian or Middle Eastern stores. If not easily available, you could make some by grating or shredding fresh coconut in a food processor.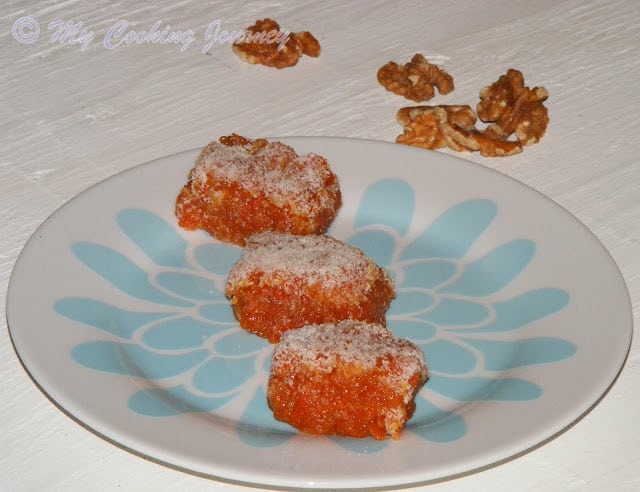 Preparation time – 10 mins
Cooking time – 1 hour
Difficulty level – easy
Ingredients to make Cezeriye – makes about 15 squares
Carrots – 1 lb (grated)
Sugar – 1 ½ cups
Cornstarch – 1 tbsp
Walnuts – 1 ½ cups (coarsely or finely chopped)
Coconut powder – ¼ cup
Water – 1 cup plus 2 tbsp
My other Middle Eastern / Turkish Dessert -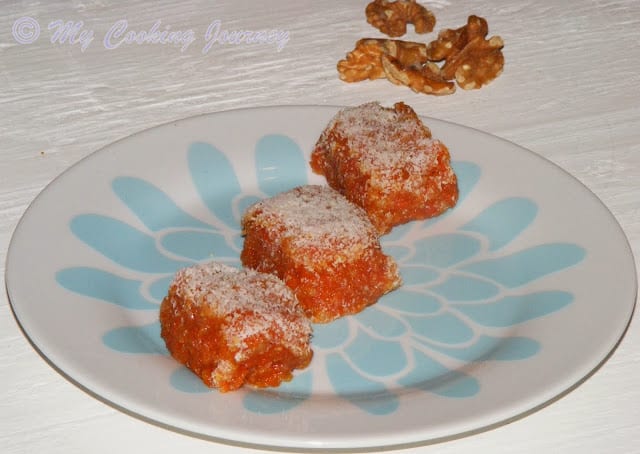 Procedure –
In a heavy bottom pan, combine the carrot, sugar and 1 cup of water.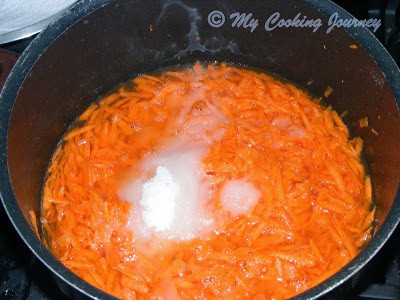 Cook over medium low heat until all the liquid has been absorbed. I cooked it covered for the first 15 minutes and then cooked it uncovered for about 30 mins. It might take longer, but cook until the liquid has almost disappeared.
At this stage add the cornstarch dissolved in 2 tbsp of water to the carrot mixture.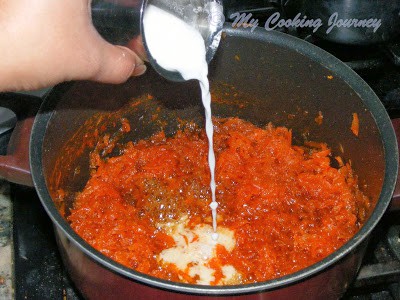 Mix well and using a potato masher, mash the carrots well.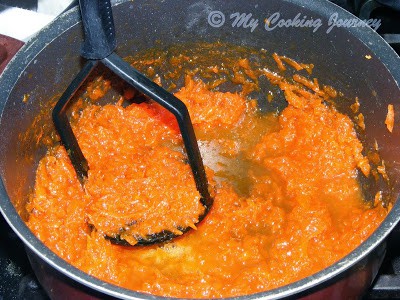 Now stir in the walnuts and mix. Remove from flame.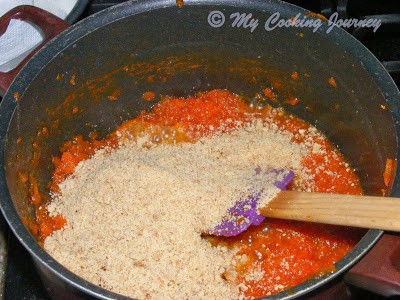 In a 5 x 7 Pyrex pan, spread about ½ of the coconut powder on the bottom.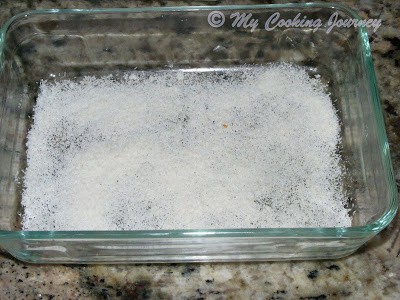 Now spoon the carrot mixture into the dish and spread evenly. Use a spatula or your finger tips to even it out in the top.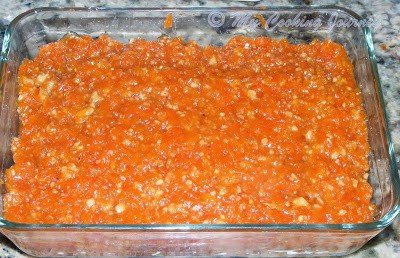 Now spread the remaining coconut powder evenly over the carrot mixture and keep it aside covered partially to cool. Let it cool in room temperature for about 3-4 hrs.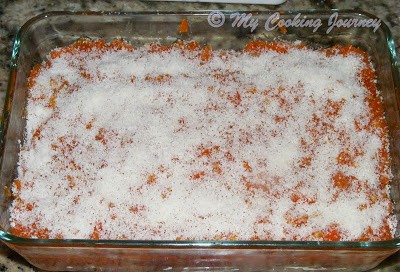 Now cut into 1 inch squares and serve! If preferred, sprinkle more coconut powder when serving.