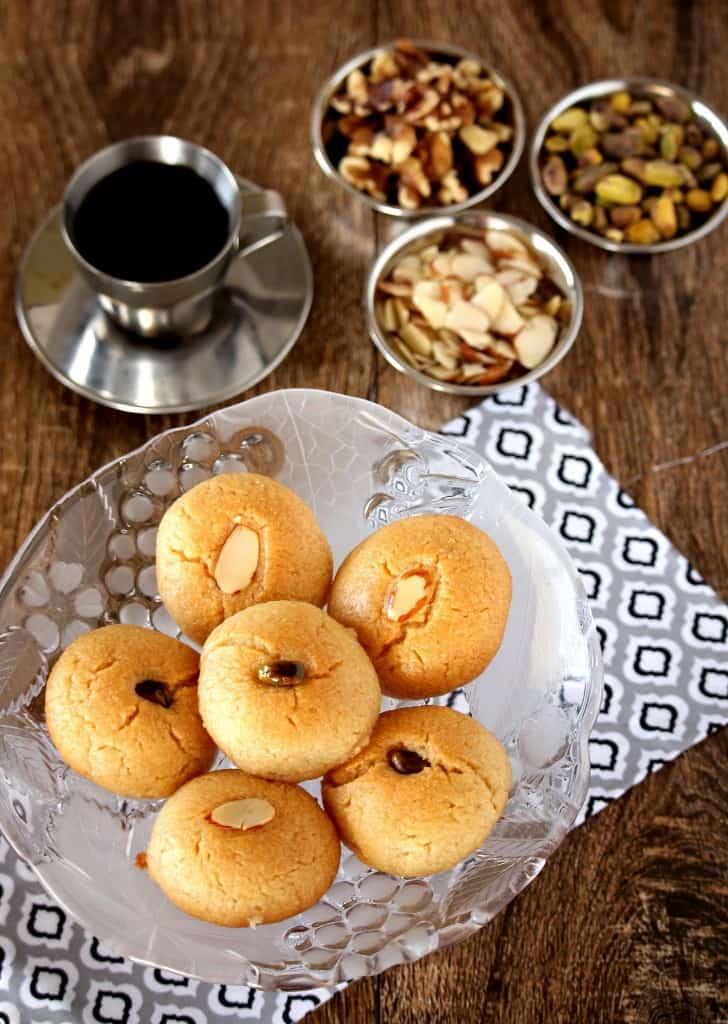 When planning to make Turkish recipe for the theme, I was very specific that I would only be making savory dishes. I had a lovely dinner recipe planned out, but things did not work out quite as well at home and I had to skip making it. Being a dessert loving family, one could not stay away from the Turkish sweet recipes for too long and I had to give up on my initial planning and made this delicious Sekerpare.
I was very reluctant about choosing a cookie recipe that is dunked into sugar syrup and was not sure how that was going to work. I am glad that I gave it a try and did not stay away from it as this was more of a very sophisticated and elegant dessert than just a cookie. The cookies once baked, soaks up all the sugar and takes over a soft and melt in the mouth texture.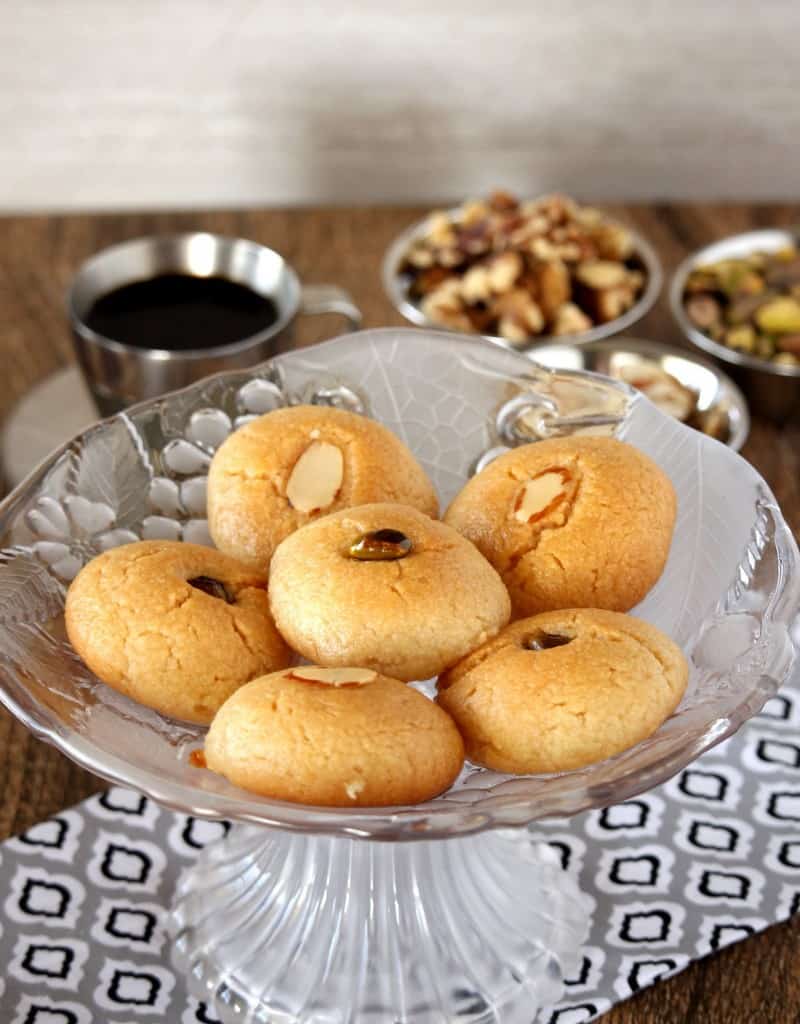 This dessert is quite heavy and large. The actual recipe had a bit more sugar in the syrup, but I chose to reduce it and that worked out quite well. The cookies were perfectly sweet with this measurement. If you want a very sweet dessert, then increase the sugar to 1 cup.
Preparation time - 10 minutes
Cooking time - 25 minutes
Difficulty level - easy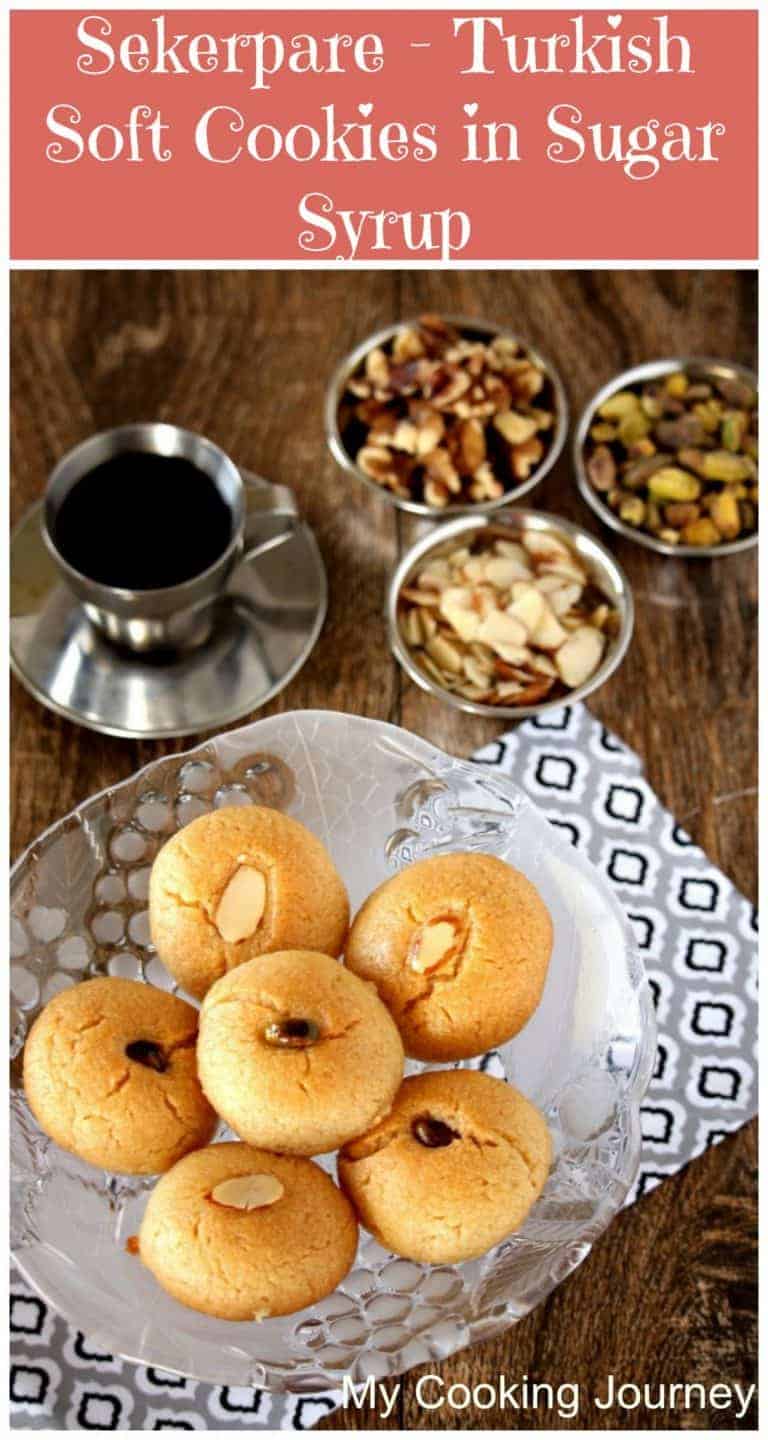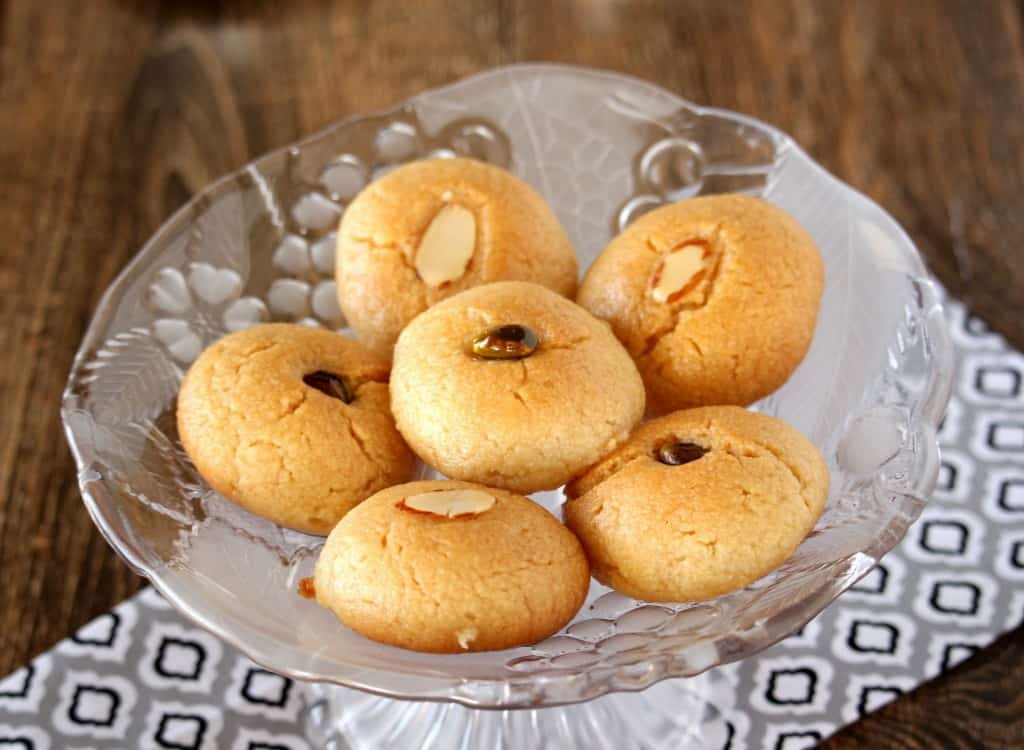 Ingredients to make Sekerpare – Makes 12
For the cookies –
All purpose flour – 1 cup
Semolina / Rava / Sooji – ¼ cup
Sugar – ¼ cup (fine)
Butter – 5 tbsp (softened)
Yogurt – ¼ cup
Baking powder – ½ tsp
Salt – a pinch
Pistachios / almonds/walnuts – to garnish
For the syrup –
Sugar – ¾ cup
Water – 1 cup
Lemon juice – 1 tsp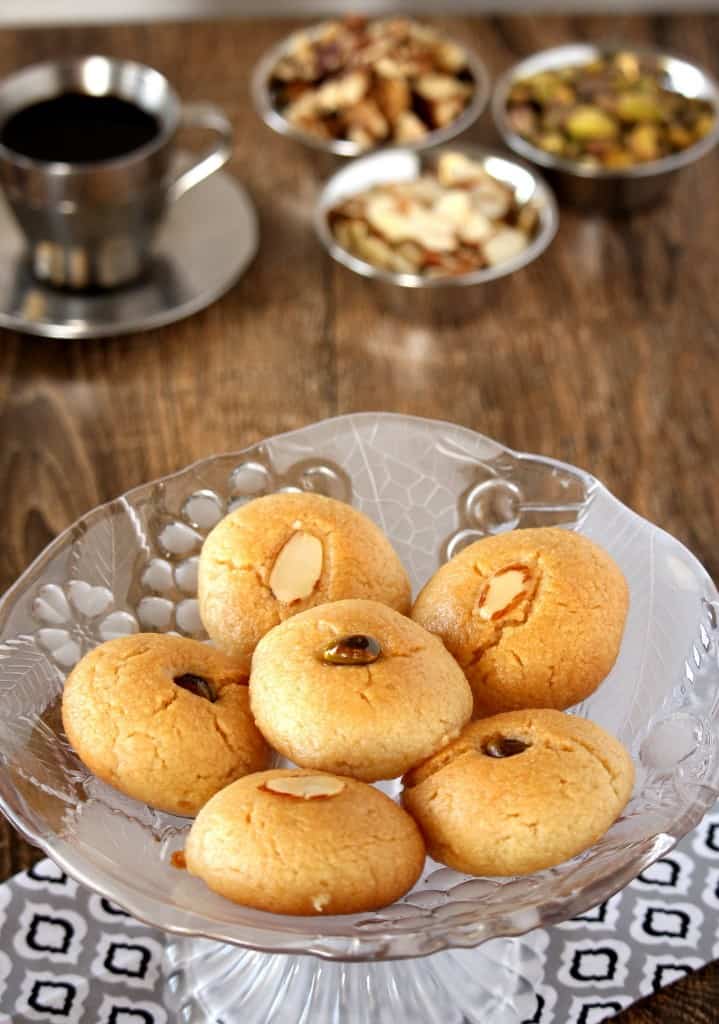 Procedureto make Sekerpare –
To make the sugar syrup –
Combine the sugar and the water in a saucepan and begin to heat them in low to medium heat.
Once the sugar melts and the syrup comes to a boil, add the lemon juice and let it boil for 5 minutes until it gets slightly syrupy.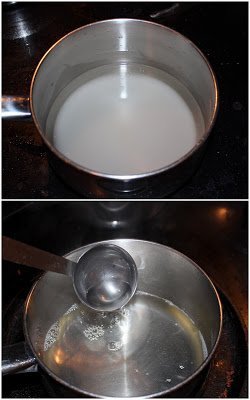 Turn off the flame and let the syrup cool down entirely to room temperature.
To make the cookies –
In a bowl, add the softened butter and the sugar and mix until well combined. Now add the yogurt and mix well. I used my whisk to combine them.
Now add the semolina, flour, baking powder and salt and mix together using your hands to form dough. You may add a little bit more flour or yogurt to make soft, non sticky dough.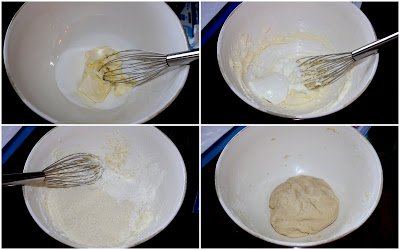 Preheat the oven to 350 F. Layer a baking tray with parchment.
Divide the dough to 12 equal balls and flatten them slightly with your hands and place them on the prepared tray.
Press an almond or pistachio on the cookie dough and bake them for about 25 minutes until they are slightly brown.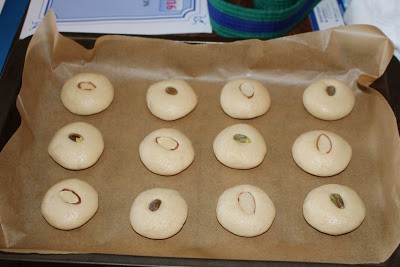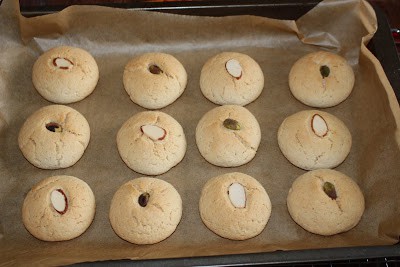 Remove the cookies on a tray and spoon the cool sugar syrup immediately over the warm cookies. Add all the sugar syrup and keep spooning the syrup on the cookies once in a while for few times. In about an hour, you will notice that the cookies have absorbed all the syrup.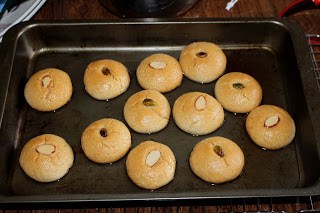 The Sekerpare store well outside for 2 to 3 days and can be refrigerated for a week.