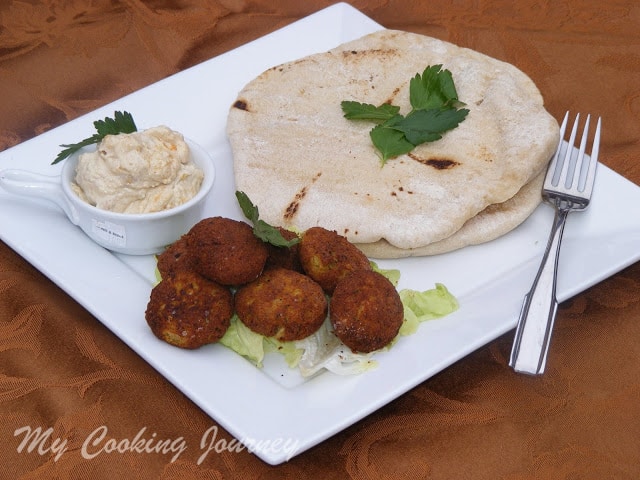 This week we celebrated our little ones third Birthday and it was a weeklong celebration. Celebrations at home on his actual Birthday, celebration in school and a little get together with friends. I like to have a theme when cooking for parties and for this one chose Middle Eastern food. We have a great Middle Eastern restaurant in our neighborhood which we love and we eat there often. So my kids are also used to the flavors.
I made these falafel from the recipe in the book Perfect Vegetarian. This is my post for the blogging marathon # 26 under the theme, cooking from a cookbook. This book has many simple and quick vegetarian recipes ranging from appetizers to desserts. The falafel recipe was really good and simple to make.
Falafel taste the best when made from fresh chickpeas. I made it from canned chickpeas as it says in the book, and it turned out pretty well.
Ingredients to make Falafel –
Canned chickpeas - 2 can (15 oz)*see notes if making from fresh chickpeas
Onion – 1 small (chopped)
Garlic cloves – 2
Hot Chili – 1 (optional)
Baking powder – 1 tsp
Fresh parsley – ¼ cup
Fresh cilantro – ½ cup
Cayenne pepper – ¼ tsp
Cumin powder – 1 tsp
All purpose flour – 2 tsp
Bread crumbs – 3 tbsp
Salt and pepper – to taste
Oil – for deep frying
To serve –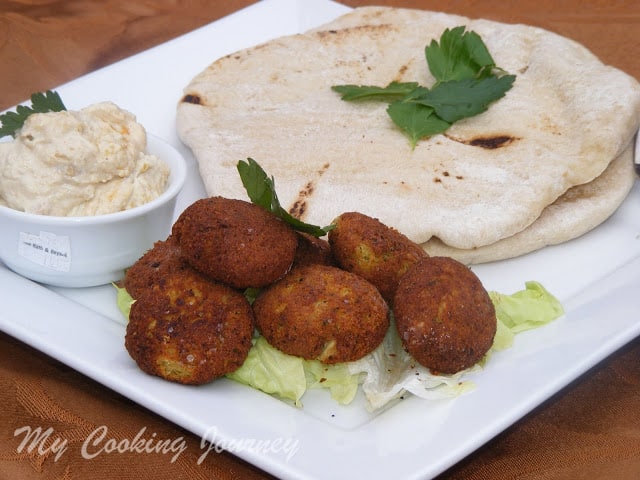 *Notes –
If using fresh chick peas – soak 1 cup of chickpeas in fresh water for at least 12 hrs. Drain all the water and use it to make the falafels.
I do not have step by step pictures of the whole process. I will update it when I make them again.
Procedure to make Falafel –
Drain the chickpeas from the can and wash it several times under running cold water. Then drain it and dry them for few minutes and add it to the food processor.
Along with it, add the onion, garlic, chili, cilantro, parsley, APF, bread crumbs, cayenne and cumin powder. Process them until it becomes a coarse paste. Then season it with salt and pepper and process it once more.
Now remove it from the food processor and transfer it to a bowl. Refrigerate the ground mixture for at least ½ hr. I realized from experience that it very important for the mixture to be chilled; otherwise they disintegrate in the hot oil when frying.
When the mixture is refrigerating, heat oil in a deep pan over high heat.
Remove the mixture from the refrigerator and add the baking powder to it. Mix it well.
Form small patties from the mixture and drop it into hot oil. Drop up to 3 or 4 into hot oil at one time. Without disturbing, let it fry until golden brown. Remove with a slotted spoon and drain on a paper towel.
Once the excess oil is drained remove it on a cooling rack so that it retains its crispness. If left in the paper towel too long, they become soft, so remove them after a minute or two.
Repeat the same for the rest of the mixture.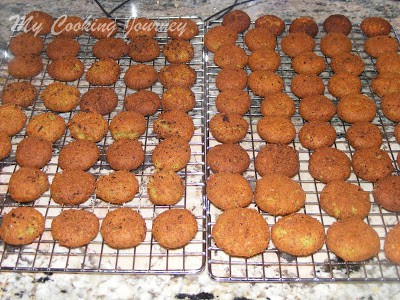 To serve –
The Falafel can be serves as an appetizer as is with some yogurt sauce.
I served them inside pita bread with hummus.
Notes and observations –
Fresh chick peas works well than canned.
The ground mixture has to be refrigerated before frying, otherwise they disintegrate when frying.
If you find them disintegrating, refrigerate the mixture for few more minutes or add more bread crumbs for binding.
Make sure to transfer it to a cooling rack to retain its crispness. Leaving it too long in a paper towel lined plate would make them soft.