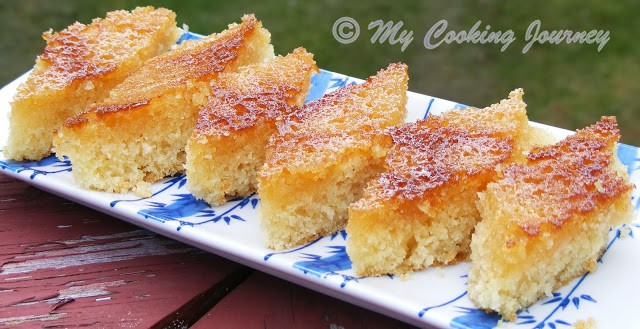 When deciding the dishes for the alphabets for the month long marathon. I somehow missed the alphabet H. I did later come up with few recipes to make, but never got around to make it. That is when the HBC host of the month Shama Nagarajan came up with this month's bakes. The Honey drizzled semolina cake caught my attention and I really wanted to try it out. Also the reveal date for the HBC and the BM's alphabet H date was on the same day (Am I luck or what?). So that is how my recipe for the H was finalized and made.This Honey Drizzled Semolina Cake was so simple to make with very minimal ingredients. I never thought that the Semolina (Rava) cake could be this soft and spongy. To add on to that the honey syrup on top of the cake was truly amazing. Thanks to the HBC host to recommend this recipe.
I halved the recipe and made it in a 9 inch round cake pan. The original recipe yielded a cake that was made in a 9 by 13 pan. The recipe is adapted from Yummly.com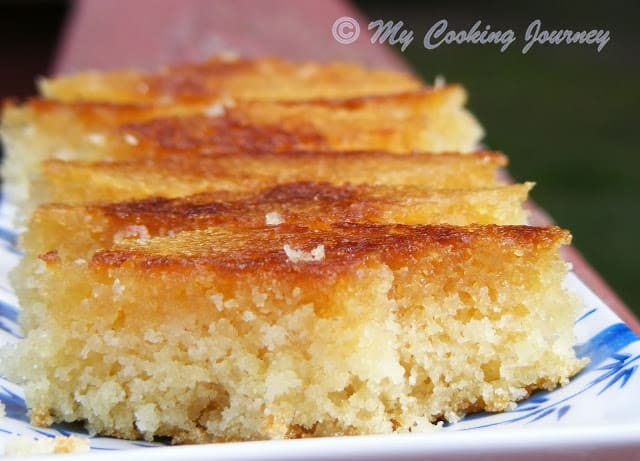 A-Z marathon – Alphabet H
Category – baked
Ingredients to make Honey Drizzled Semolina Cake – makes a 9 inch round cake
Unsalted butter (softened) – ½ stick (4 tbsp)
Sugar – ½ cup
Egg – 1
Milk – ¼ cup
Vanilla extract – ½ tsp
Fine Semolina (white or yellow) – 1 cup
Baking powder – ½ tsp
Baking soda – ½ tsp
Salt – a pinch
For the syrup –
Sugar – 1 cup
Honey – ¼ cup
Water – ½ cup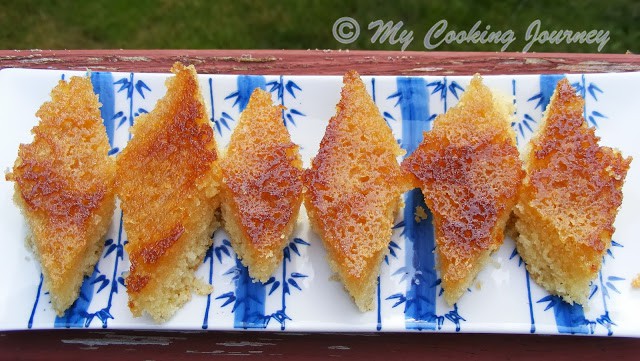 Procedure to make Honey Drizzled Semolina Cake –
Preheat the oven to 350 F. Grease a 9 inch round pan and layer it with parchment. Also grease the parchment paper and keep the pan aside.
Cream the butter and sugar using a handheld mixer (for this quantity the stand mixer was too big). Then carefully beat in the egg and the sugar. Add the vanilla and mix well again. At this stage the mixture will look curdled, but do not worry.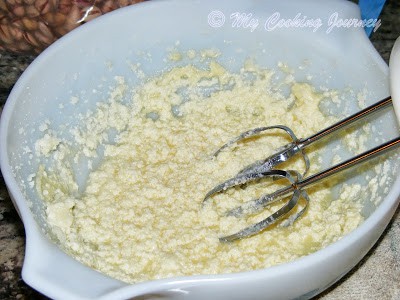 In another bowl, whisk together the semolina, baking powder, baking soda and salt. Sprinkle this over the butter egg mixture and beat just until smooth.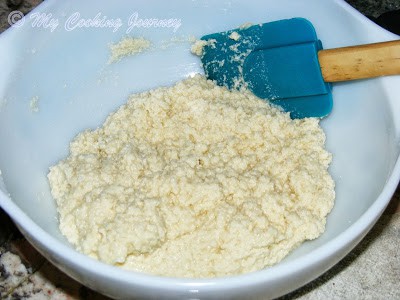 Pour the batter into the prepared cake pan and bake for 20 -25 mins, just until the cake is firm and slightly brown and the edges start to pull away from the pan.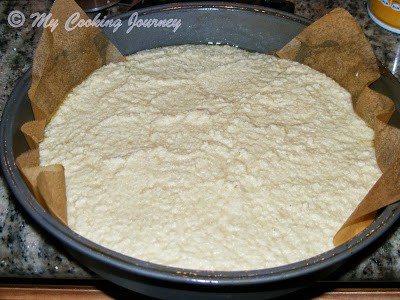 Make the syrup –
when the cake is baking, combine all the ingredients mentioned for the syrup in a small sauce pan and mix well. Bring it to boil over medium heat stirring occasionally. Once the mixture boils, simmer for about 5 mins to let the syrup thicken a bit.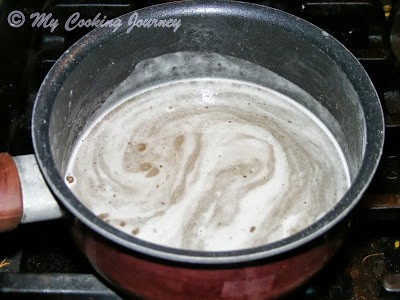 Once the cake is out of the oven, evenly pour the syrup over the hot cake. Stop when the cake can absorb no more and then pour again. This way, use the entire syrup to evenly cover the cake.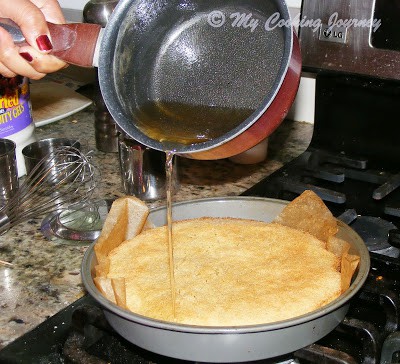 Let the cake cool completely in the pan and then slice and serve!