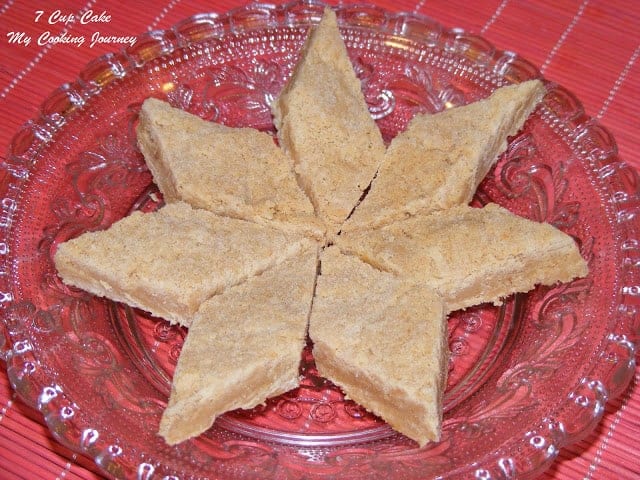 The Diwali season is around the corner and it is time to make all that sweets and snacks. If this is you first time trying a burfi, then 7 Cup Cake would have to be it. This burfi, I would call it a starter burfi, since it involves very less complicated procedures. This recipe does not involve you testing for the string consistency of the sugar syrup or even better you don't even have to make sugar syrup.
The recipe got its name for the reason that when you add the amount of ingredients added, it comes to 7.The ingredients needed to make the recipe are also very straightforward and should be easily available in the pantry. Give it a shot and you cannot go wrong.
When I say I used one part of the ingredient, it means it equals the measure 1. So when adding the ingredients, make sure you use the same measure cup for all the ingredients. I will be using a ½ (half) cup measure through the recipe. This half a cup measure would be my one part.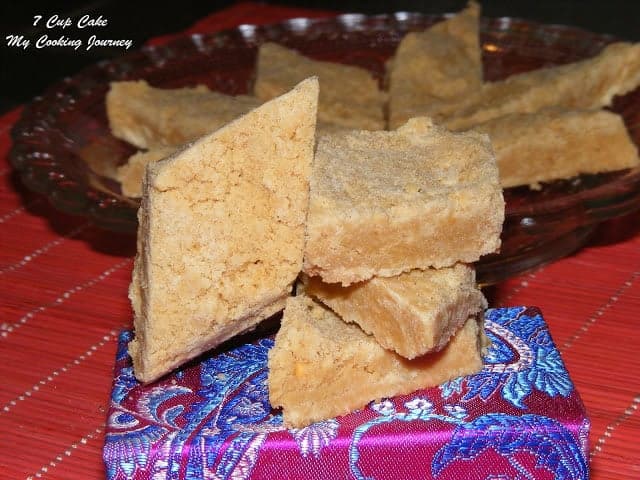 Preparation time – 10 mins
Cooking time – 30 mins
Difficulty level – easy
Ingredients to make 7 Cup Cake – (makes about 20 pieces)
Kadalai maavu/Besan/chick pea flour – 1 part
Coconut (grated) – 1 part
Milk – 1 part
Ghee – 1 part
Sugar – 3 parts
Do the math and they would equal 7 parts.
Procedure –
Grease a large plate or a cookie tray with about a tsp of ghee and keep aside.
In a non stick pan, fry the besan/kadalai maavu for few minutes until the raw smell goes (about 8 minutes).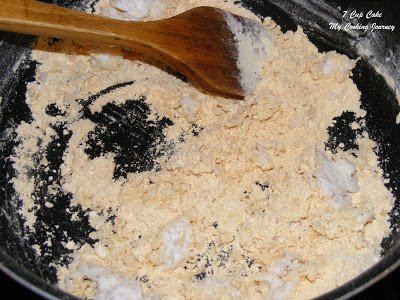 Now add all the other ingredients into the fried flour and mix well.
Keep mixing and you will notice that the mixture liquefies and then as you keep cooking it will become thick.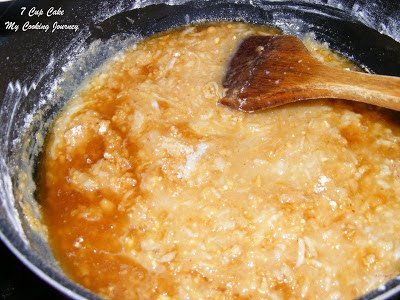 Once you notice that the corners of the mixture are bubbling and it starts leaving the sides, transfer it to the greased plate and flatten them as best as you can.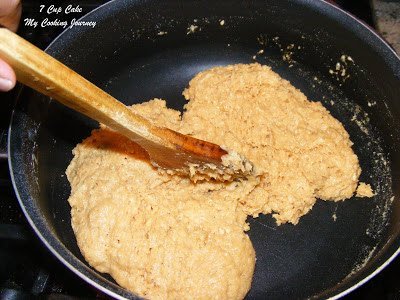 In a few minutes, when still warm, cut the burfi into desired shape and leave it to cool in the plate.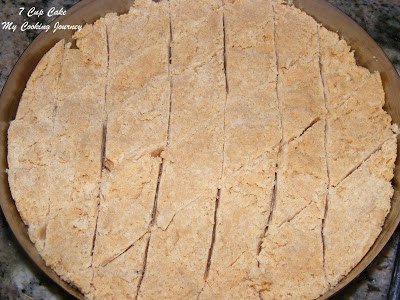 When cooled completely, remove the 7 Cup Cake and store it airtight.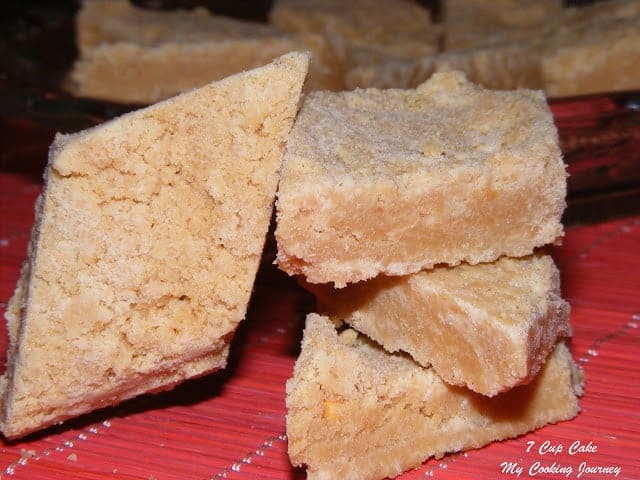 Notes and observation –

My mother advised me to fry the kadalai maavu for few minutes to get rid of the raw smell, which sometimes might be a little too strong. If you want to, you could make the burfi without frying the besan, but frying definitely makes it more aromatic.