Festivals are not complete without traditional sweets. This Badam Burfi | Badam Katli | Almond Burfi is one of the ever favorite dessert and loved by kids are adults alike.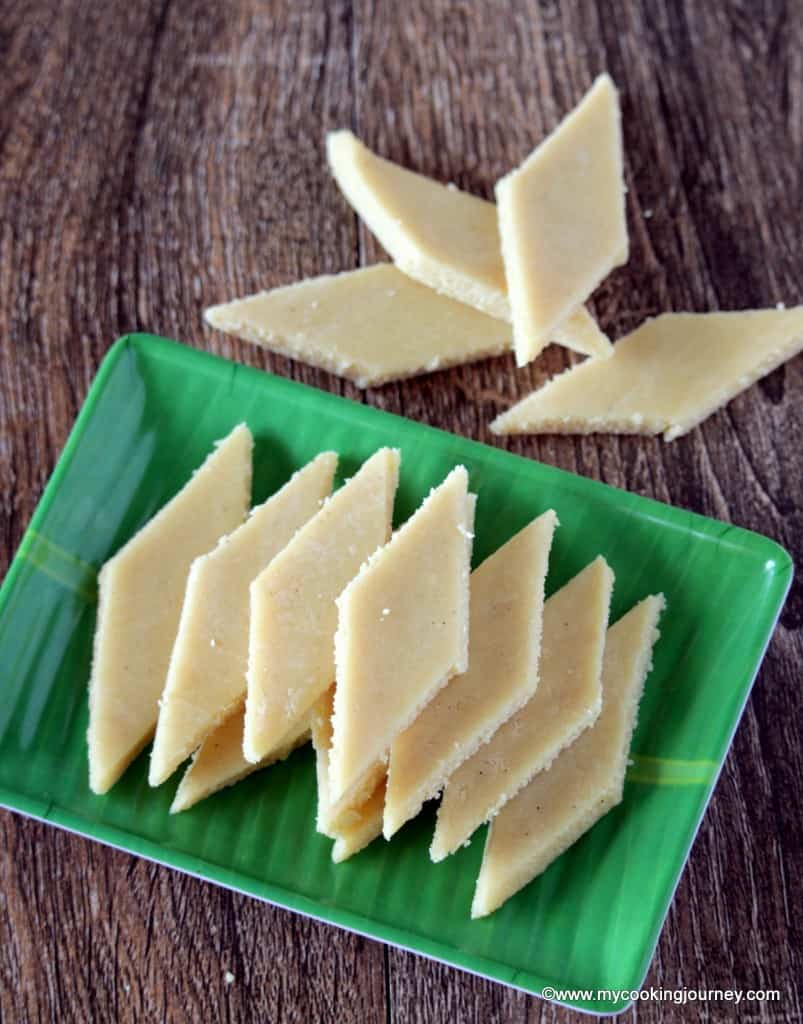 Making burfis always gives me a jitter. Having said this, I make burfis very often as my kids love it and yes, I have made blunders, but I have had many successes too. The best part about burfi (or how I see it) is, if the end part does not turn out the texture you want it to be, it can be called halwa. Rarely have I gone beyond the cooking stage for burfi and made it crumbly, but many times I have cooked it under and made it as halwa. Halwa or burfi, the flavors are there and it is eaten in no time.
This time though when I chose to make Badam Burfi / Katli for B, I had to be very careful about the texture and I wanted it to turn out to be burfi as I already have blogged my Badam Halwa before. When looking for recipes, Kalyani was kind enough to guide me and also point me to this recipe from Nisha Madhulika's site. I followed the recipe pretty close except for increase the quantity of the sugar. I would like to add a little bit more next time when I make it as this quantity yielded a moderately sweet katli and my sugar loving boys would have liked it a bit sweeter.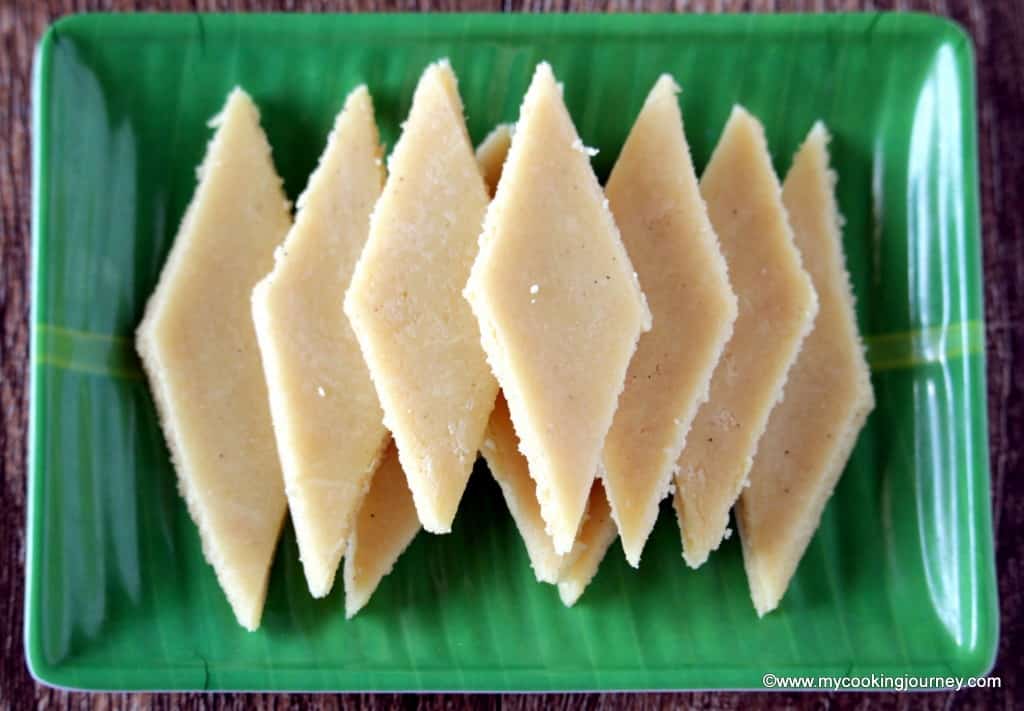 Unlike many other burfi preparations, this one was much easier as there was no sugar syrup consistency involved. Using powdered sugar helped in getting a lovely texture. The burfi also cooked fairly quickly. The best part is, if the katlis turn out too soft, we can return the mixture to the heat again and cook for a little bit more to get it right.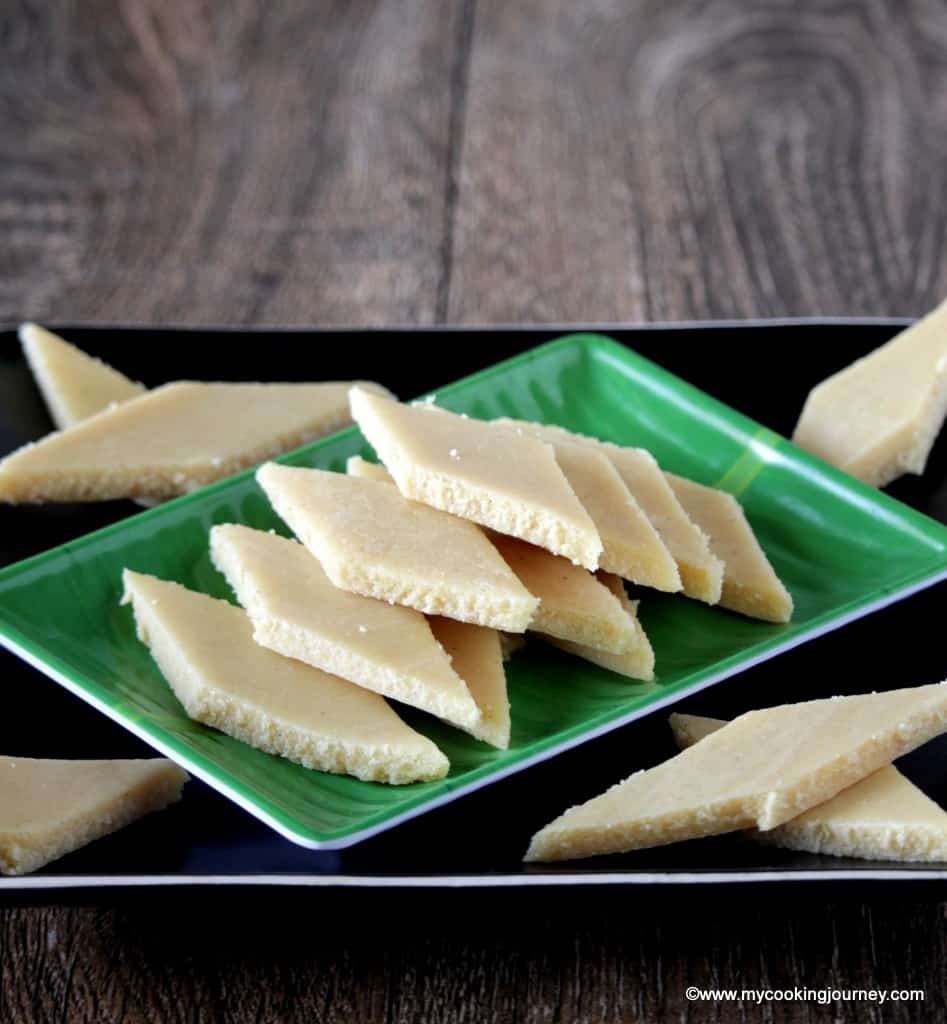 Check out my Kaju Katli recipe here.
My other recipes in this series –
A – Athirasam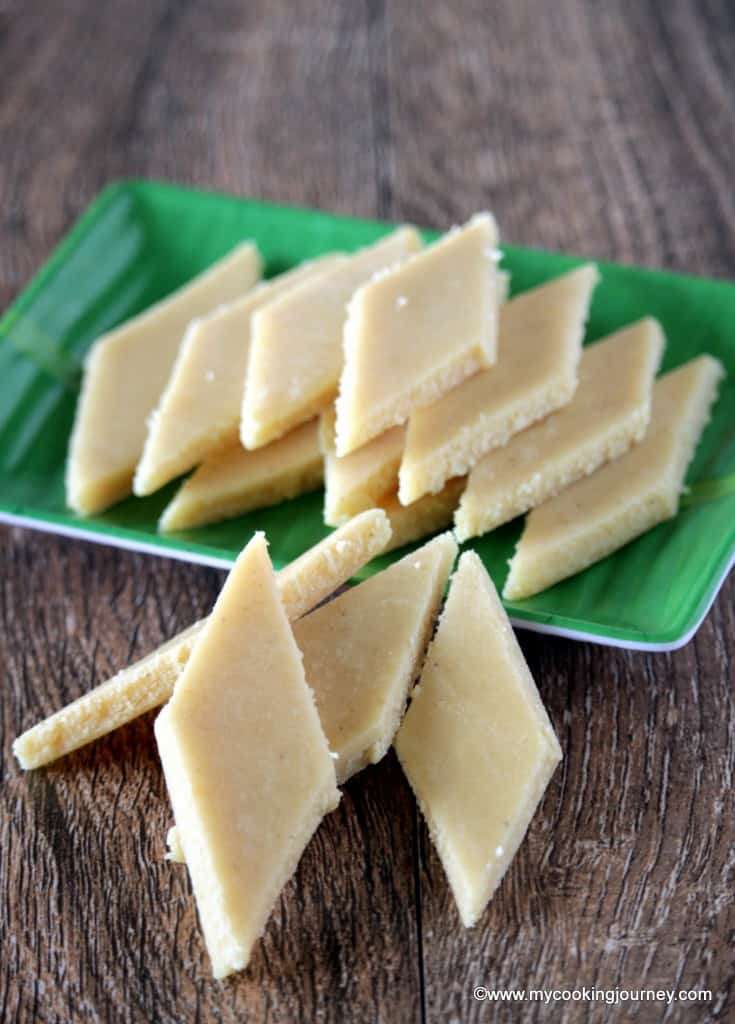 Preparation time – 10 minutes plus couple of hours of soaking time
Cooking time – 20 minutes
Difficulty level – medium
Recipe adapted from – Nisha Madhulika
Ingredients to make Badam Burfi | Badam Katli | Almond Burfi– (makes about 35 pieces)
Almonds (whole) – 1 cup
Powdered sugar – 1 ½ cups (makes medium sweetness)
Nei / ghee – 1 tbsp plus more to grease
Milk – ½ cup
Saffron threads – few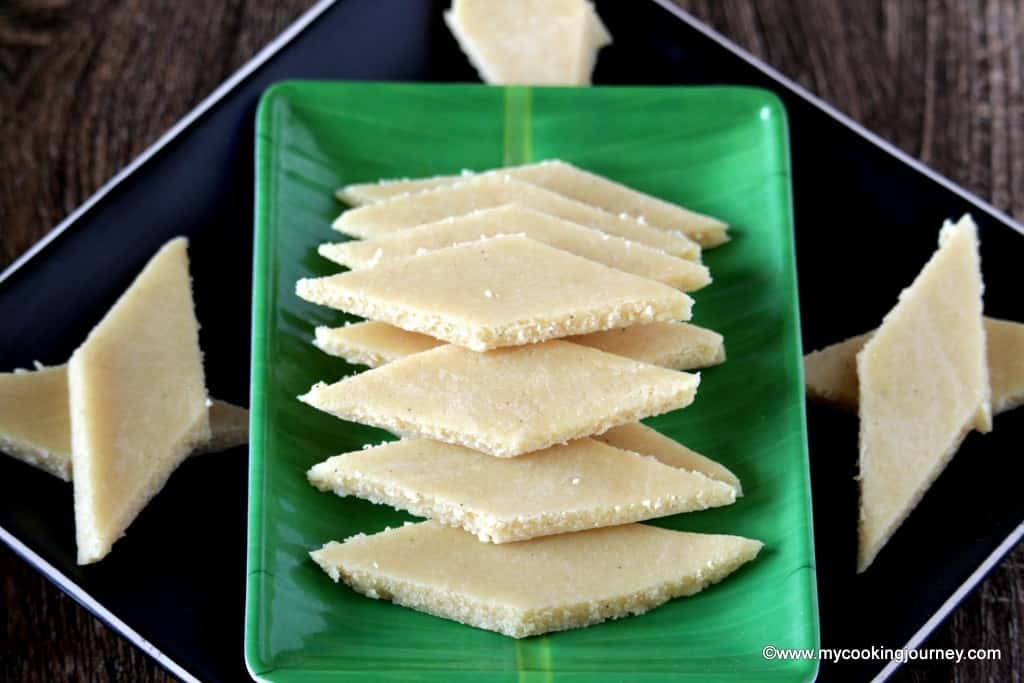 Procedure to make Badam Burfi | Badam Katli | Almond Burfi–
Boil water and soak the almonds in simmering water. Turn off the flame and let it sit for about 30 minutes. I use a hot pack / hot case to soak my almonds.
After half an hour, remove the almonds from the water and peel its skin. The almond skin would come out very easily.
Now again soak the peeled almonds in hot water for about 2 hours to soften it. This step is very important to make sure that we can grind the almonds very smooth. If we do not soak the almonds for the second time, we won't be able to grind it smoothly and the katli will turn out little granular.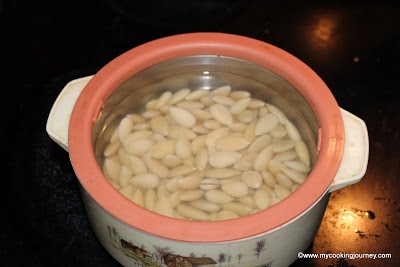 Warm the milk and add the saffron thread to it. We will need all the ½ cup of milk, so I warmed the whole milk and then added the saffron to it.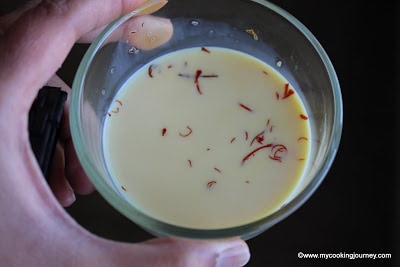 After the second soaking, drain the water and transfer the almonds to the blender / mixie jar. Slowly add the saffron milk and grind the almonds to a very smooth paste. Make sure the mixture is neither too thick nor too thin. It should be well ground. If needed add a little bit more water or milk.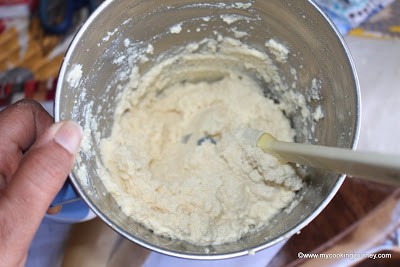 In a heavy bottom (preferably nonstick) pan, Heat 1 tbsp of ghee and add the ground almond paste and the powdered sugar.
Stir well and cook the mixture over low-medium heat until it becomes a mass and starts to leave the sides of the pan and clinging to your ladle/spatula. The best past I noticed about this was you need to get it really stiff. So, don't worry about losing the right stage and if it will become too crumbly. For the katli to set well it needs to become quite a solid mass in the flame.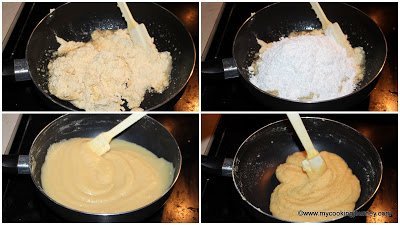 Now turn off the heat and let it cool down until it is warm enough to handle.
Grease your hands with little ghee and knead the mixture well. This ensures that the katli is very smooth without any chunks.
Shaping the Katli –
Layer a piece of parchment over the work surface and grease it with a little ghee. Place the kneaded dough on the greased parchment and roll with a greased rolling pin. Roll until it is about ½ cm to ¾ cm thick.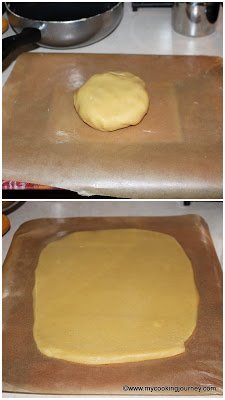 Let it sit for about 20 – 30 minutes to set.
Using a ruler and a pizza cutter cut the katlis into desired shape and carefully remove them.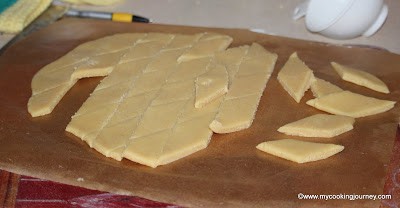 The katlis are ready to be served. Store in an air tight container. The katlis have a longer shelf life and can be refrigerated for up to a month.
Notes and Observations –
Double soaking the almonds really helps in grinding it to a smooth texture. I am going to use this method when making badam kheer as we all prefer it smoother.
The cooking process is very quick and does not need lot of stirring.
When kneading the dough, take a small piece and flatten it. See if it sets well. If not, return the mixture to heat and cook it a little more. You can be fearless about how long you cook it. The katlis tend to be on the chewier side if you cook it less, so make sure you cook it until you can no longer stir. If you missed the stage and removed it too quick, return it to pan and cook it again for few more minutes.
The katlis had better texture a day after it was made.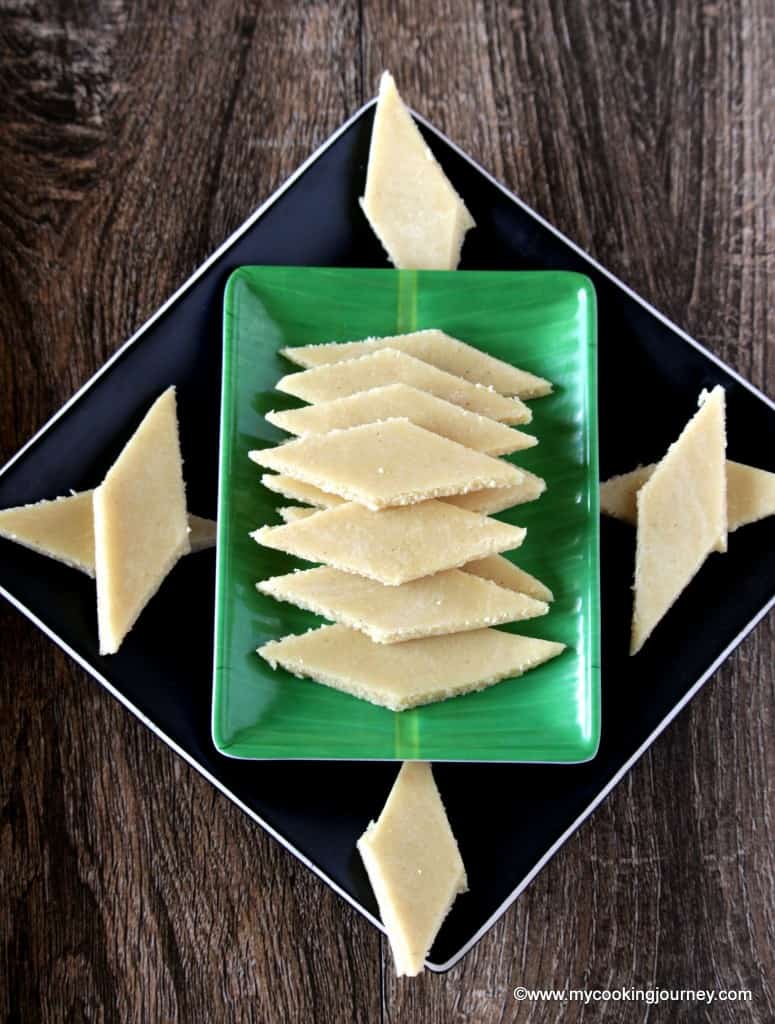 If you like the recipe, don't forget to pin it to save for later –