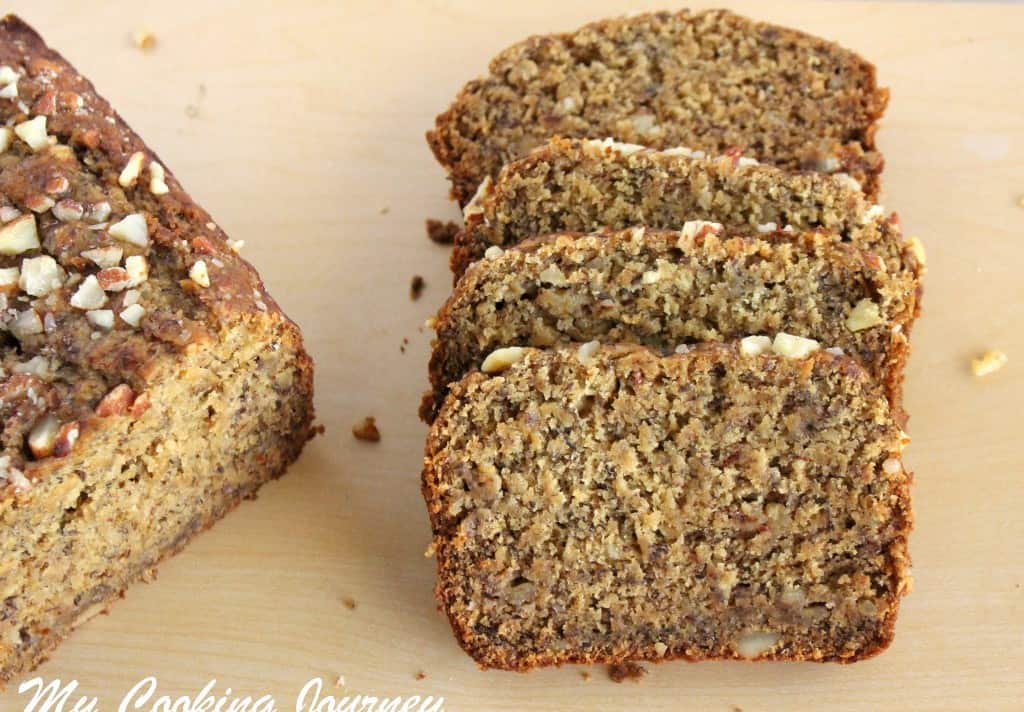 Schools have begun and so is all the lunch and snack packing. Until this year it was just my older one and my husband who were taking packed lunches and snack, but this year my little one also started his full day of school. My little one with big taste buds requires variety not only in lunch but also in snacks.
I love quick breads as they make up for a wonderful and filling snack. Most of the times, banana is my first choice of fruit in a quick bread for two reasons. One, it gives lots of moisture and natural sweetness to egg less bakes and two, I always have an abundance of over ripe bananas. It was the same story last week, when I had lots of bananas left over after all the poojas and celebrations. So, I decided to make this Banana Almond Bread .
My usual recipe for banana bread is the one in which I use oil instead of butter as fat. I also make a banana and pineapple muffins which uses oil as the fat along with buttermilk. This time though I wanted to try using butter and yogurt. The bread was really soft and tender and was very soft and spongy. I also used almonds as I had lots of it in the pantry. Couple of days after I baked this loaf, I made a batch of mini muffins using the same recipe. I included some dried cranberries in my muffin along with the almond and we loved the tartness of the cranberries.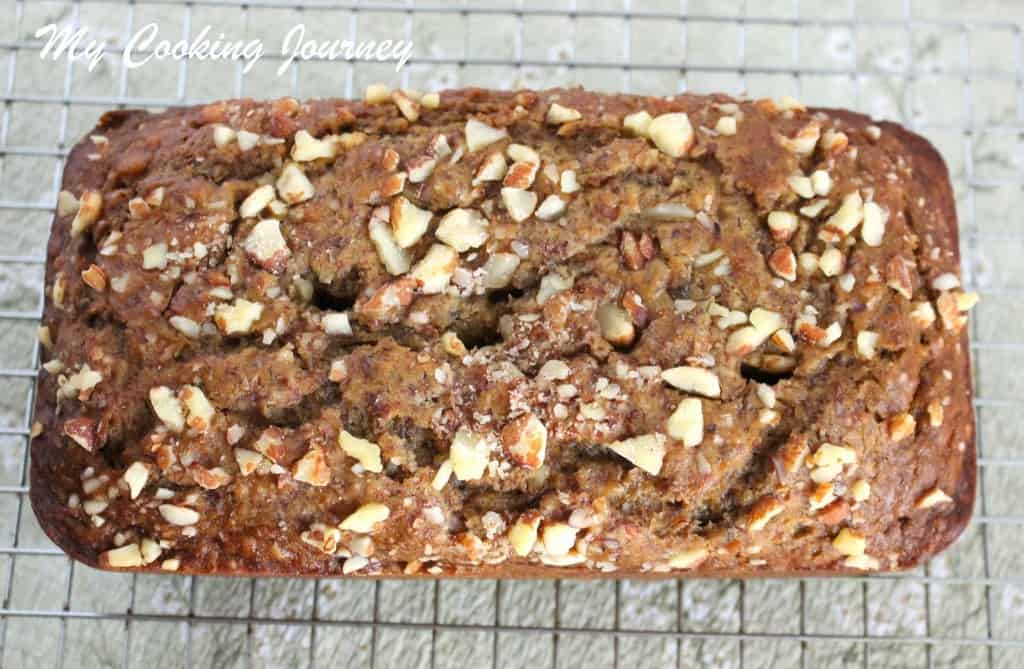 Preparation time – 15 minutes
Cooking time – 40 minutes
Difficulty level – easy
Ingredients to make Banana Almond Bread – (makes one standard loaf pan) or 24 mini muffins or 12 regular muffins
All purpose flour – 1 cup
Whole wheat flour – ½ cup
Flax meal – 2 tbsp
Bananas (ripe or over ripe) – 3 (mashed)
Brown sugar – ¾ cup
Milk – ⅓ cup
Butter – 4 tablespoon (melted)
Vanilla extract – 1 tsp
Baking soda – 1 tsp
Baking powder – 1 tsp
Almonds – ¼ cup (whole)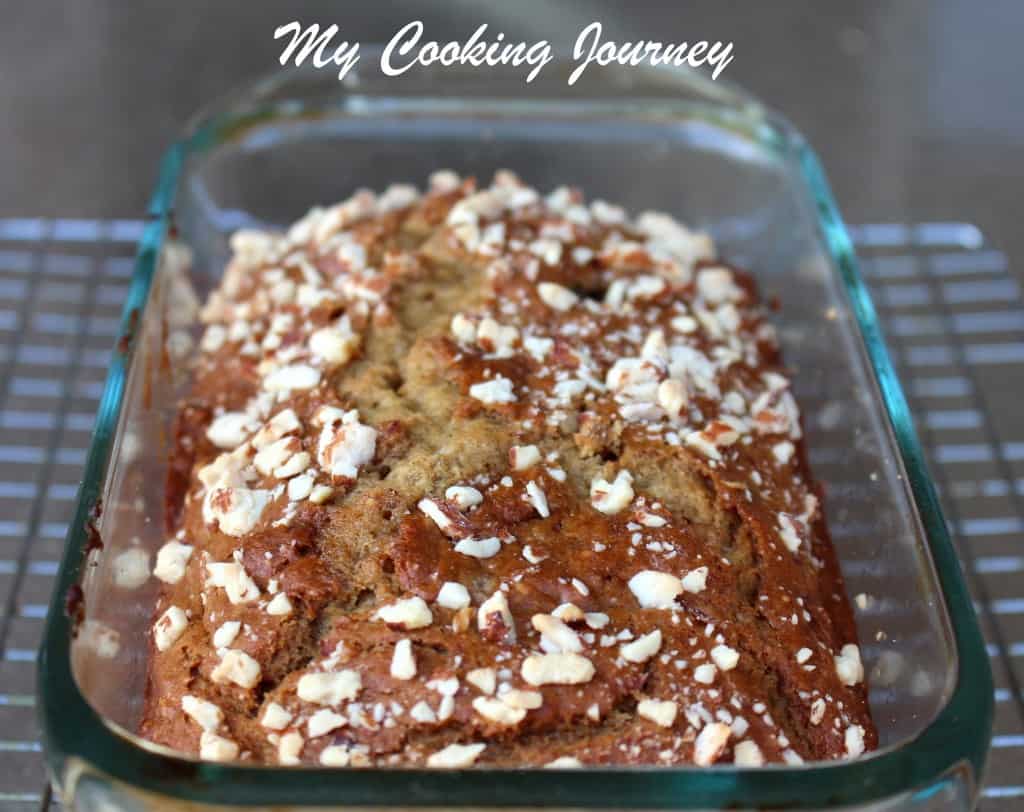 Procedure –
Using a food processor, pulse the almonds and chop it into small pieces. You can also use your knife and chop the almonds.
Prepare a standard loaf pan by spraying cooking oil and lining the bottom with a parchment paper.
Preheat the oven to 350 F.
In a bowl, sift the flours, baking soda and baking powder and keep it aside. Also add the flax meal powder to the dry ingredients and mix well.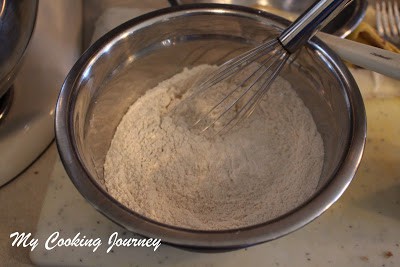 In a large bowl (I used my mixer), add the melted butter and brown sugar and beat it until it becomes light and frothy.
Add the mashed bananas, milk and vanilla extract and mix well.
Now add the flour mixture and mix gently. Also add the almonds (reserve about a tablespoon to sprinkle on top) and mix to combine. Do not over mix the mixture as the bread will become dense. Just mix enough to combine.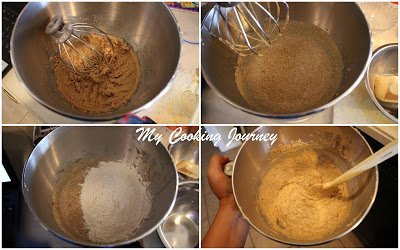 Pour the batter into the prepared loaf pan and bake for about 30 – 40 minutes. Check with toothpick to see if it comes out clean.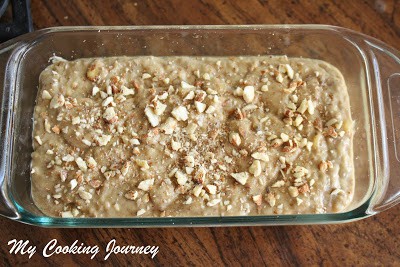 Cool for about 10 minutes in the pan and then cool completely on a rack before slicing the Banana Almond Bread.