Making vazhaipoo vadai has been my long time wish and finally this mega marathon gave me a chance to make it. Living in US, we don't get many opportunities as in India to cook with this vegetable. Whenever I get the vazhaipoo, I end up making the vazhaipoo paruppu usili as my husband loves it. The only thing that is cumbersome about this vegetable is prepping it. It takes a while to remove the flowers and prepare it for cooking.
I usually prep the vazhaipoo the night before I cook with it. This way it saves me a lot of time in the mornings. Also I make sure to get the help from my husband. I get all the chores done in the kitchen and then we sit with a big newspaper/liner on the floor and start working with the vegetable. This also means we get to watch a Netflix series together. To see how to clean the vazhaipoo, check out my post here.
I soak the vazhaipoo in diluted buttermilk until ready to use. This helps in slowing down the oxidization process. Coming to the vadai, Masala vadai is my ever favorite and adding vazhaipoo makes it even more delicious.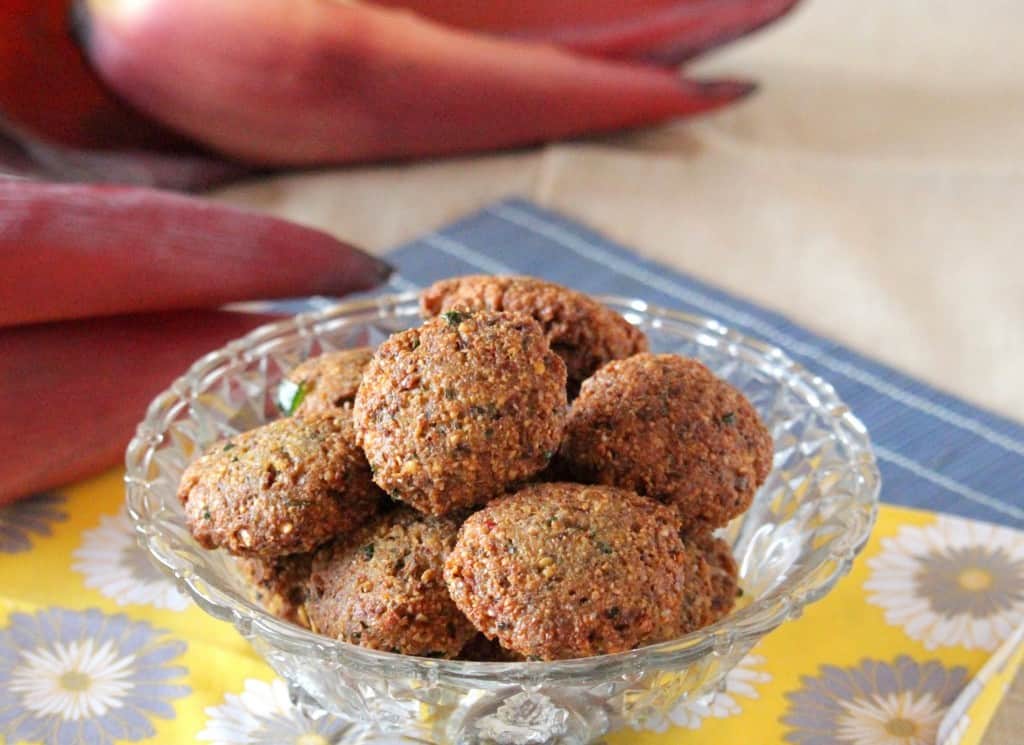 My other recipes from this series -
A - Athirasam
B - Badam Burfi
C - Chettinad Masala Cheeyam
D - Dosai Milagai Podi
E - Ellu Urundai
F - Fruit Kesari
G - Godhumai Rava Pidi Kozhukattai
H - Homemade Rice flour
I - Inji Marappa
J - Jevvarisi Thengai Paal Payasam
K - Kancheepuram Idli
L - Lemon Pickle
M - Manapparai Murukku
N - Nokkal
O - Oothappam
P - Pattinam Pakoda
Q - Quinoa Dosai
R - Ragi Idiyappam / sevai
S - Semiya Pakoda
T - Thaen Mittai
U - Ukkarai
Preparation time – 40 minutes plus couple of hours to soak the lentils
Cooking time – 30 minutes
Difficulty level – easy
Ingredients to make Vazhaipoo Vadai – Makes about 25 small vadais
Vazhaipoo / Banana flowers – 1 ½ cup (cleaned and chopped)
Yogurt – 1 tbsp (diluted in about 3 cups of water)
Kadalai paruppu / chana dal – 1 cup
Thuvaram paruppu / Tuvar dal – ¼ cup
Pottu Kadalai / Roasted gram – 2 tbsp
Red chilies – 4
Green chilies – 2
Fennel seeds – 1 ½ tsp (crushed slightly)
Onion – 1 (chopped finely)
Perungayam / Asafetida – 1/8th tsp
Salt – to taste
Curry leaves – few
Cilantro – a handful (chopped)
Oil – to deep fry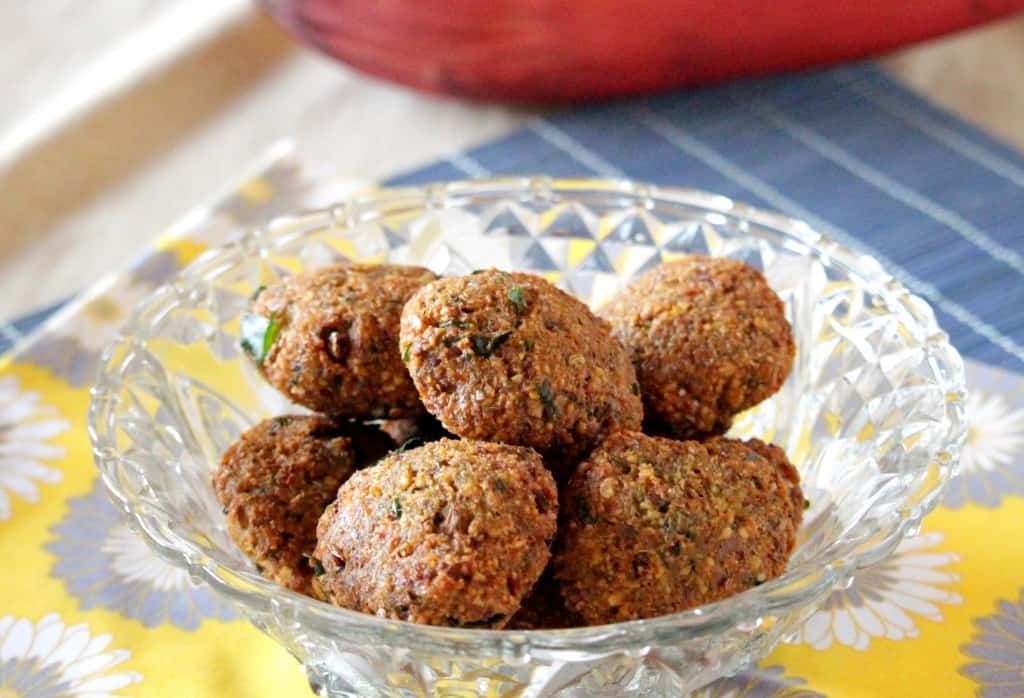 Procedure to make Vazhaipoo Vadai –
Wash and soak the lentils in water for about 2 hours.
Clean and remove the flowers from the stalk. You can refer to my post here on how to clean and remove the flowers. Chop them into fine pieces and keep them immersed in diluted buttermilk until ready to use. To make the diluted buttermilk, mix the yogurt in about 3 cups of water and use.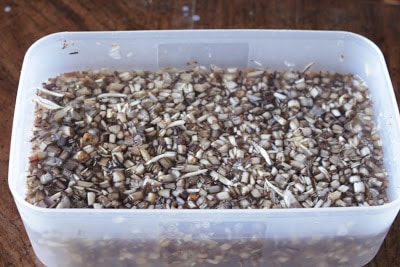 In a food processor, add the soaked and drained lentils, green chilies, red chilies, salt and asafetida and pulse few times to make a coarse paste.
Now add the chopped vazhaipoo (drain well before adding), onion, cilantro and fennel seeds and pulse couple of times to combine.
Remove the vadai batter in a bowl and add the curry leaves. Mix well.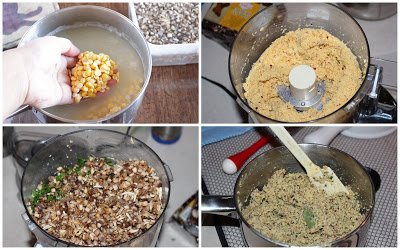 Meanwhile, heat the oil to deep fry the vadais. Make small balls out of the batter and flatten it slightly. Gently slide it into hot oil and fry until golden brown. Do not have the flame too high as the vadai will become too dark on the outside and inside will remain raw.
Drain them on a paper towel lined bowl and serve hot with chutney or sauce.