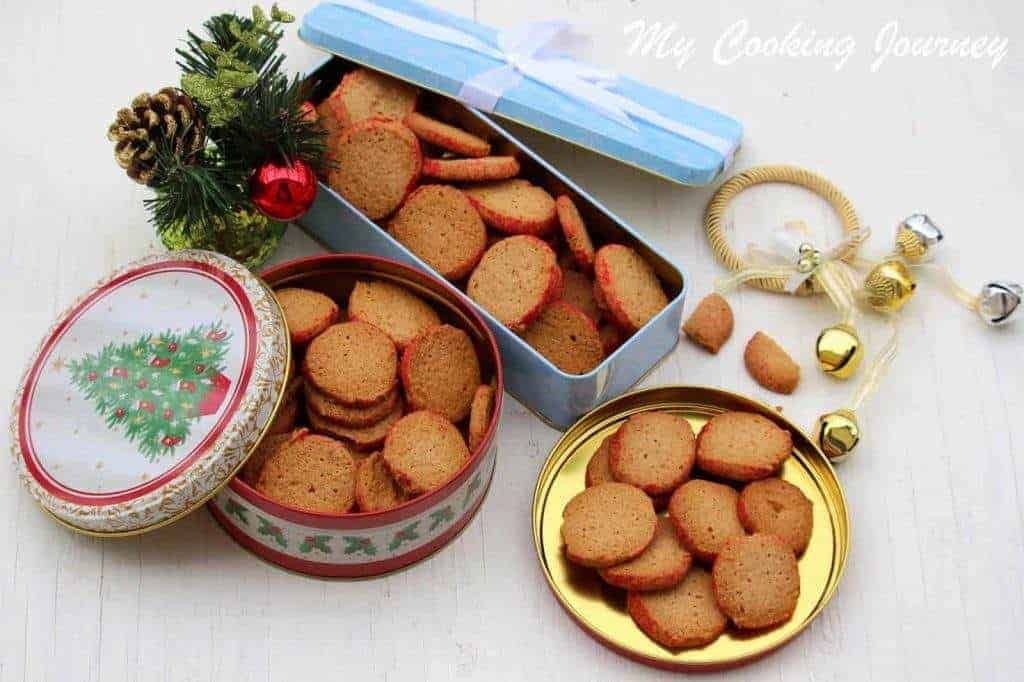 For the third week of Blogging marathon, I chose the theme 'Kid's Delight – Holiday special recipes for Christmas and New year'. I am hosting this month's kid's delight event and this theme was something I was really looking forward to. It has become a holiday tradition in our family to bake tons of cookies every year during this time to distribute among friends, schools and other kid's classes. I choose about 5 to 6 different cookies to be baked and out of those, I make sure that few are something that I have already made and few are new recipes. This week I am going to be blogging about the 3 new cookie recipes that I made this year.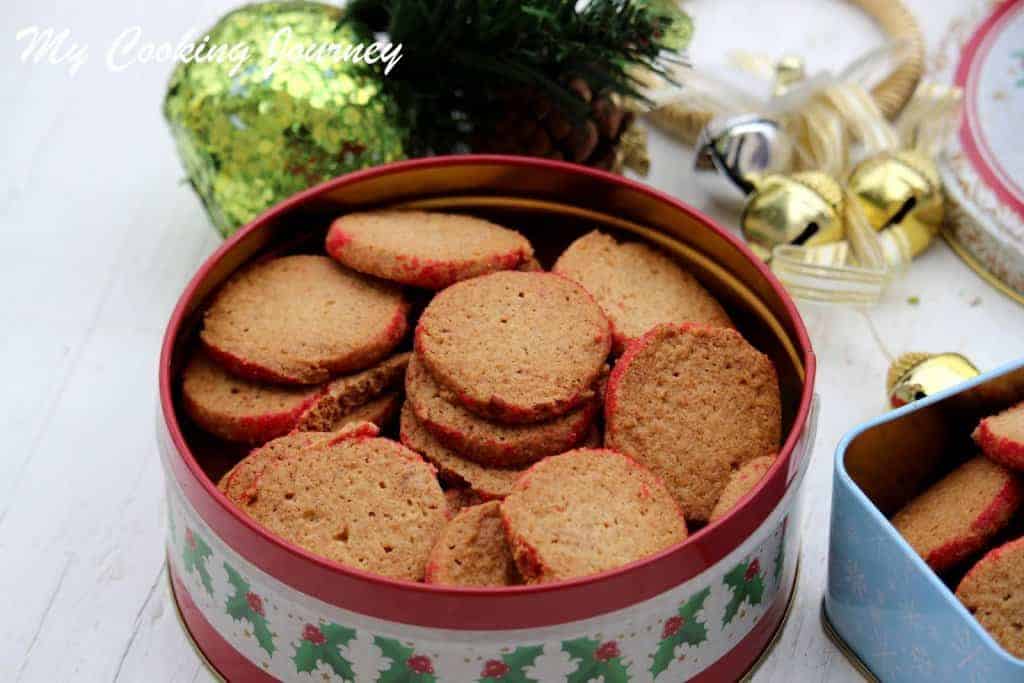 The first one for today is my favorite. This French style butter cookie is made with oat flour and rice flour along with almond powder and it has not a bit of all purpose flour or wheat flour. I have never made a cookie before without wither of the two staple flours, so as soon as I saw this recipe in a magazine, I got very excited and decided I will be trying this for sure.
When the recipe called for oat flour, I googled it and found that it is available in the stores. When I read further, all that is in the oat flour is oat grounded to a fine powder. So I made this at home using the Indian blender (any powerful blender or a coffee grinder would work great). I made this cookie dough using the food processor, but you could make it by hand as well.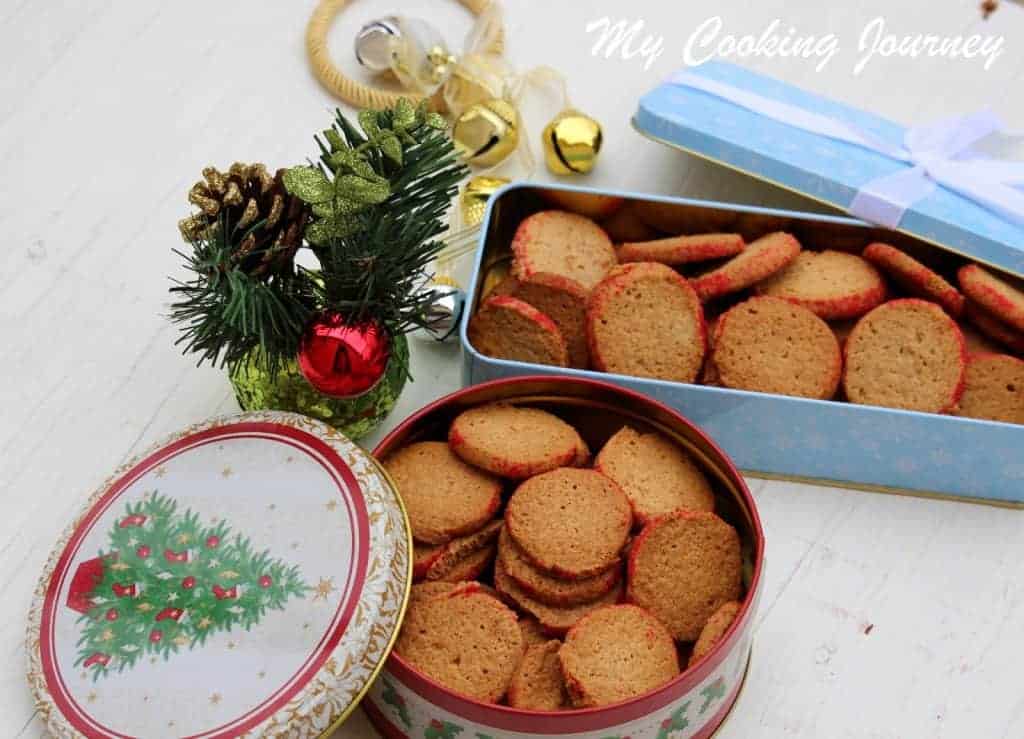 This year I made around 800 cookies in total to be distributed and that is the most I have ever made. I hardly have any left at home for kids to eat, so I will be making a couple of cookies including the traditional sugar cookies next week when kids are home from school.
Preparation time – 15 minutes plus 4 hours to chill the dough
Cooking time – 20 – 25 minutes per batch
Difficulty level – easy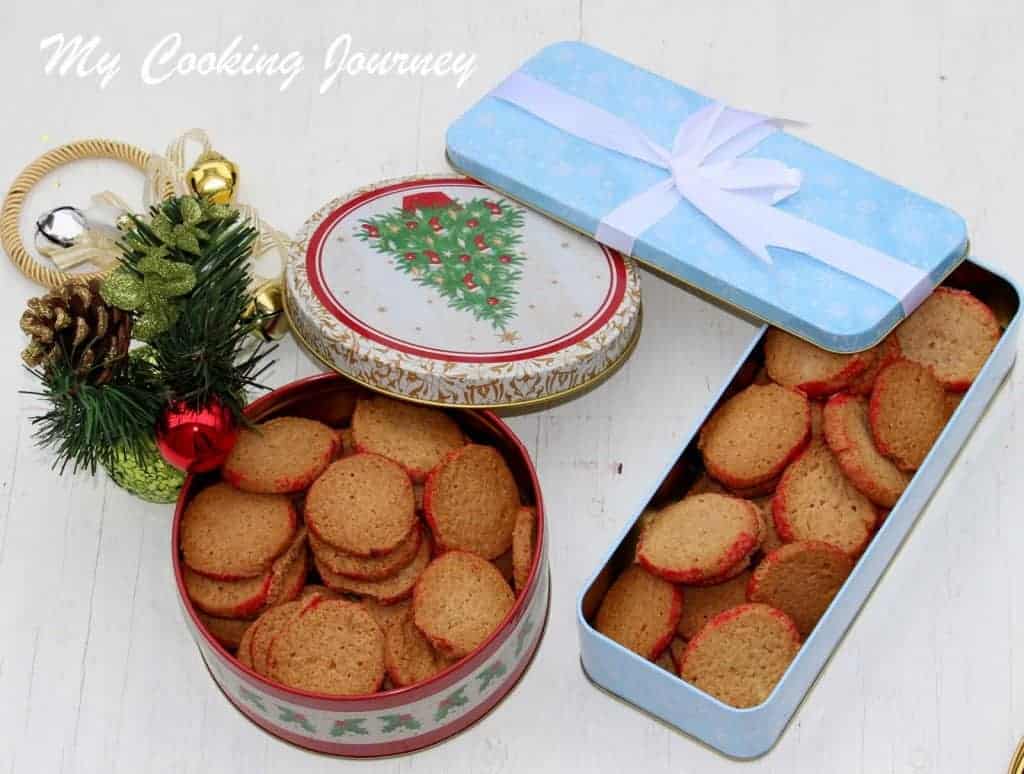 Ingredients to make Oat Flour and Almond Sables – Makes about 36 cookies
Whole almonds – ½ cup (I used the almonds with skin)
Oat flour* – 1 ¼ cup + 2 tbsp
Rice flour – 1/3 cup
Granulated sugar – ¼ cup + 2 tbsp
Almond extract – ¼ tsp
Salt – ¼ tsp
Baking soda – 1/8th tsp
Cream cheese – 2 oz (at room temperature)
Butter (unsalted) – ¾ cup or 1 ½ sticks (softened)
Coarse sugar (I used red color coarse sugar) – 3-4 tbsp (for rolling the cookie dough)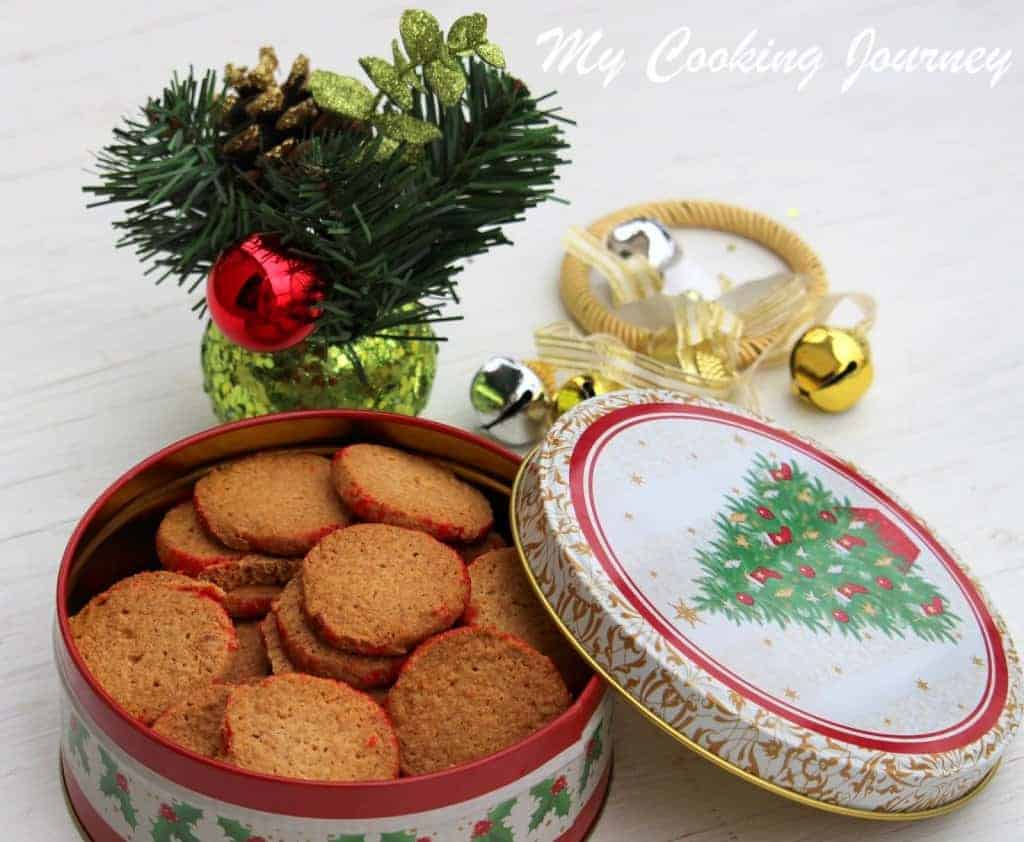 Procedure to make Oat Flour and Almond Sables –
To make the oat flour –
Use a high speed/powerful blender or a coffee grinder and grind the oats in batches until a smooth powder forms. I used about 1 ½ cups of oats to get the required oat flour.
In a food processor, add the almonds and about 2 tbsp of rice flour and pulse it form a powder. The rice flour helps in not making the almond too oily. Instead of running the food processor on high, pulse it in short intervals to prevent the almonds from becoming too oily.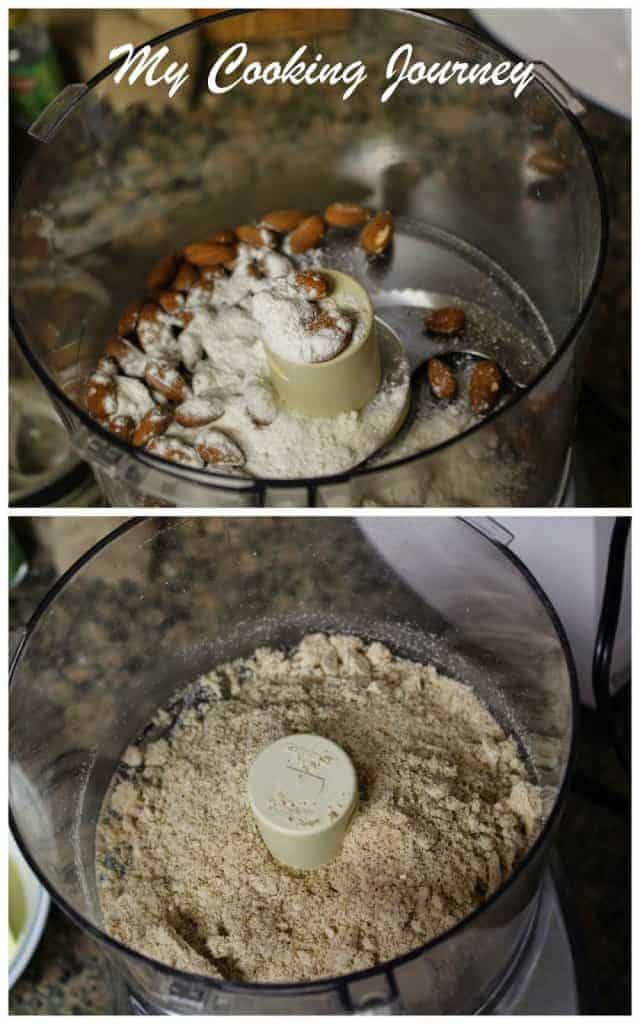 To this add the remaining rice flour, oat flour, sugar, baking soda and salt and pulse to blend.
Now add the almond extract, butter and the cream cheese (both cut into small chunks) to the flour mixture and pulse until a smooth dough forms. Do not work it too much as the cookies will become too crumbly.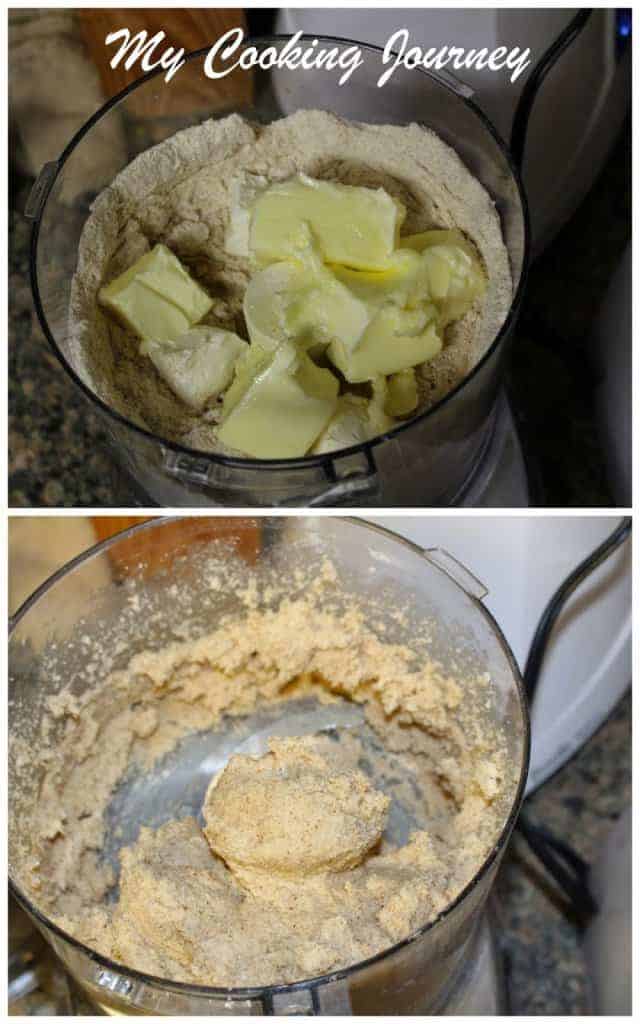 Turn the dough on a parchment paper and roll it into a 2 inches wide log. Chill the dough for at least 4 hours or overnight if possible.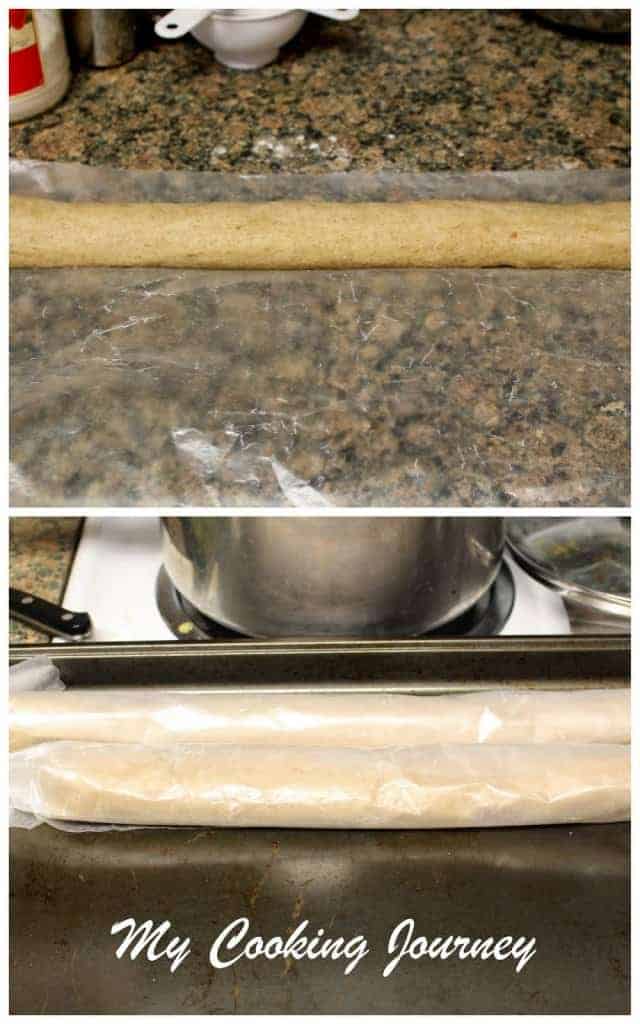 When ready to bake, preheat the oven to 325 F and line two baking sheets with parchment.
Unwrap the chilled dough and roll it in coarse sugar. I used the color sugar to roll my dough in.
Use a thin sharp knife and cut the log into ¼ inch thick slices. Try to keep the thickness uniform.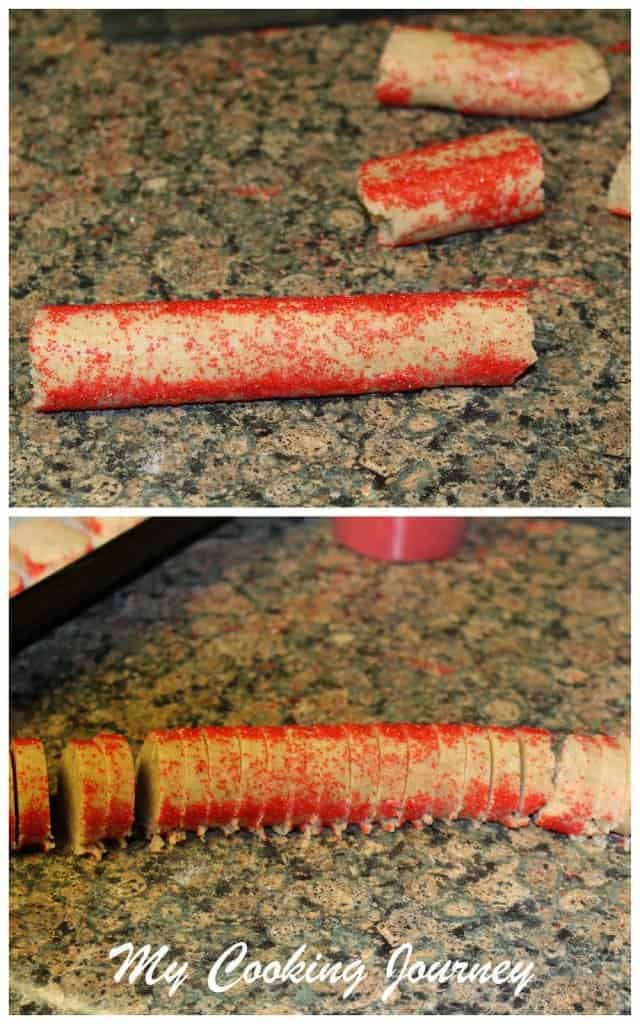 Place the cookies about an inch apart of the tray and bake for 20 – 25 minutes rotating the tray top to bottom and front to back. Bake until the cookies are golden brown at the edges.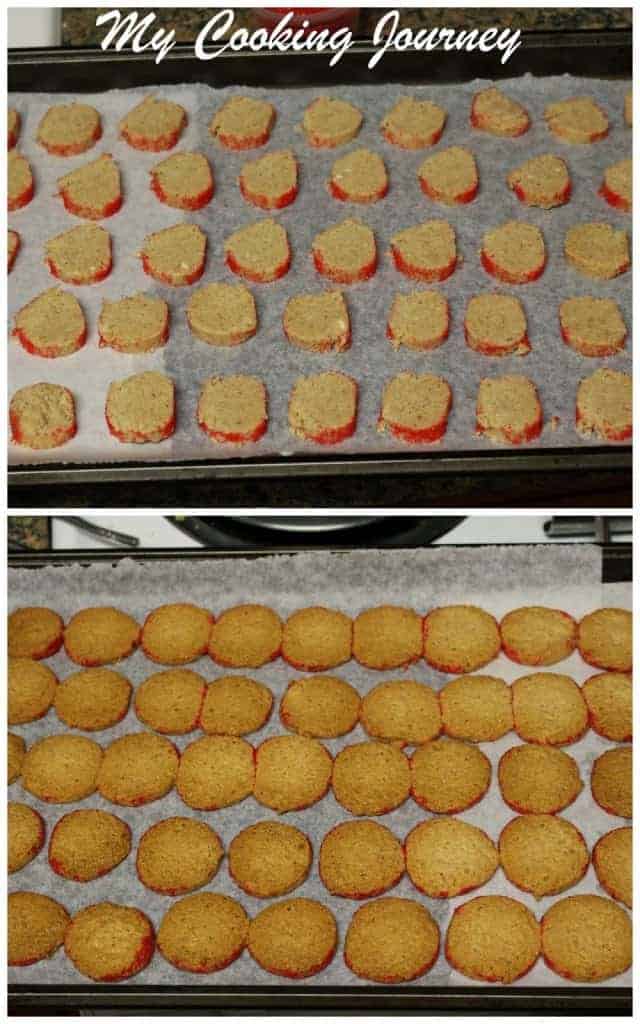 Set the pans on cooling racks and cool completely. Store in an airtight container to retain the freshness.
The cookies store very well for about 2 weeks at room temperature.