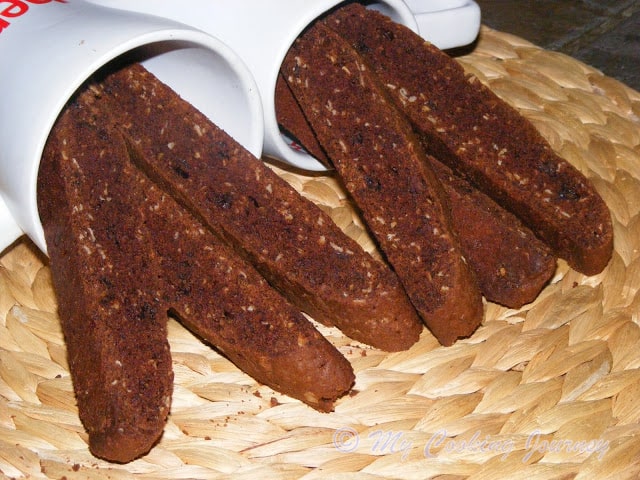 My husband is a big fan of biscotti's and he also loves chocolate. I on the other hand see the biscotti's as just another cookie and chocolate – not a big fan of. When Priya Suresh came up with this month's Home Baker's challenge Biscotti recipes for the month, I wanted to make a couple of them for the sake of my husband. I loved the way these chocolate ones looked with tiny specks of oats all over them. This recipe also happens to be egg less, so wanted to bake it for few of my readers who wanted egg less recipes.
Biscotti's are Italian cookies that are baked twice to make them extra crunchy. I do have a walnut biscotti recipe that I have in the blog, so take a look if you want to make something with nuts. The biscotti's have a long shelf life because of the fact that they are baked twice which gets rid of maximum moisture in them. This is also the reason they are very crispy.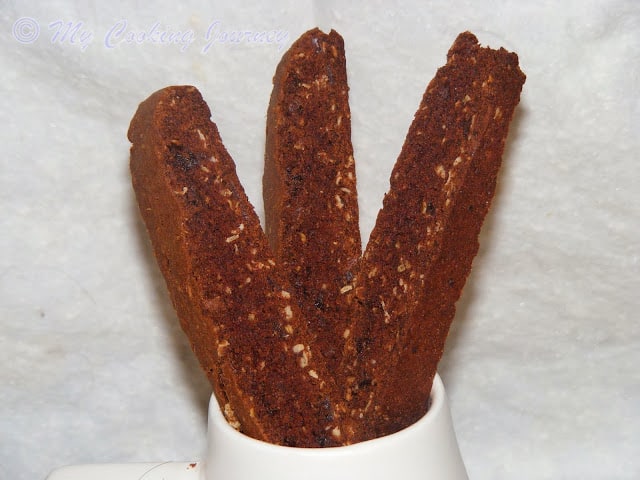 Preparation time – 10 mins plus 15 mins cooling time
Cooking time – 40 mins
Difficulty level - easy
Ingredients to make Oats and Chocolate Biscotti – makes around 20
All Purpose flour – 1 ¼ cup
Rolled oats – ½ cup
Cocoa powder – 1 tbsp
Bitter sweet chocolate – ¼ cup
Chocolate chips – 2 tablespoon (I used mini chips)
Confectionary sugar – ¾ cup
Baking soda – ½ tsp
Baking powder – 1 tsp
Butter – ½ cup (room temperature)
Vanilla extract – 1 tsp
Salt – ⅛th tsp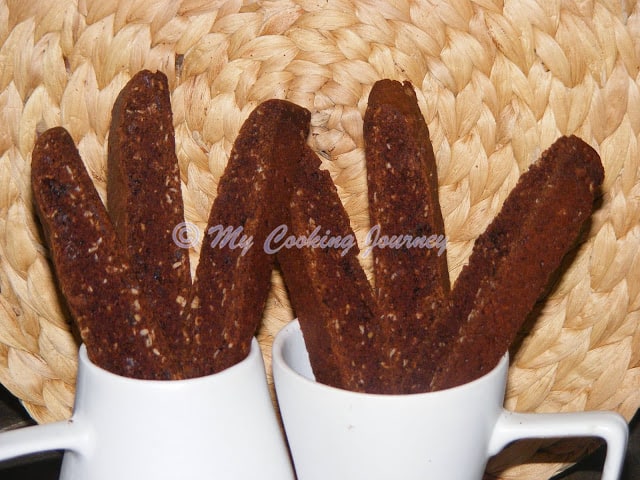 Procedure –
In a microwave safe bowl, melt the bitter sweet chocolate and whisk it well to dissolve all the lumps. You could also melt the chocolate over the stove top over a double boiler.
Combine all purpose flour, oats, baking soda, baking powder, cocoa powder and salt in a bowl.
In a stand mixer or using a hand mixer, beat the butter and the sugar until it turns smooth. Now add the melted chocolate, vanilla extract and give it good mix.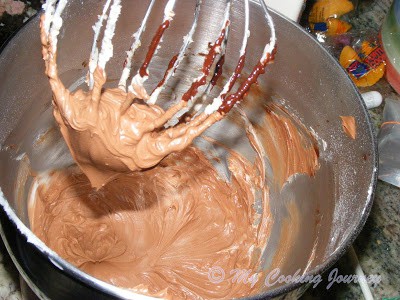 Add the dry ingredients, chocolate chips and mix it slowly to form dough. If the dough appears sticky, add a tablespoon or more of flour. If the dough appears too crumbly, add a tablespoon or so of milk until it forms stiff dough.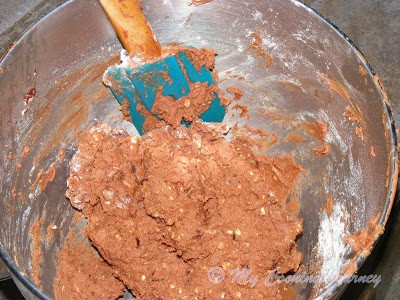 Form the dough as two logs and place it on a parchment lined baking sheet. I made the logs about 7 inches long by 3 inches wide.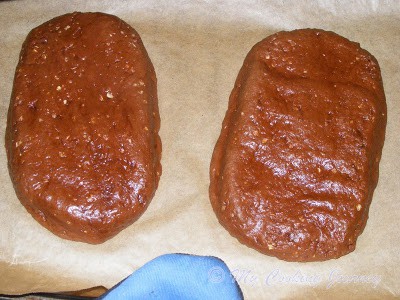 Bake in a preheated 350 F oven for around 25 mins.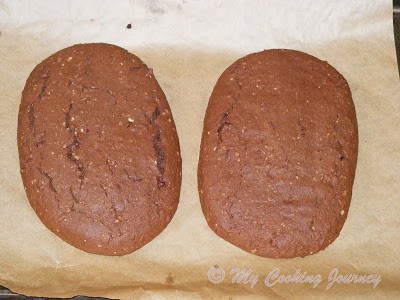 Now take the logs out and after 5 mins place it a cooling tray. The logs would be very soft to touch as soon as you take them out of the oven. Leave to to harden in the tray for about 5 mins and then transfer it to the cooling rack.
After 10 mins, slice the logs diagonally to about ½ inch in thickness. Arrange them on the baking sheet cut side down and bake for 5 mins. Flip it over and bake for 5 more mins.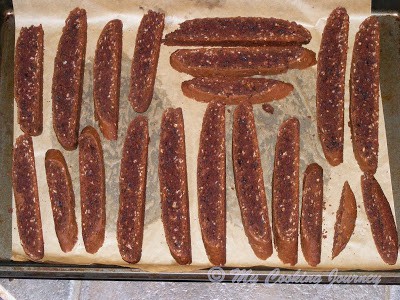 Remove from oven and cool it entirely on the cooling rack.
Store the Oats and Chocolate Biscotti in an airtight container.