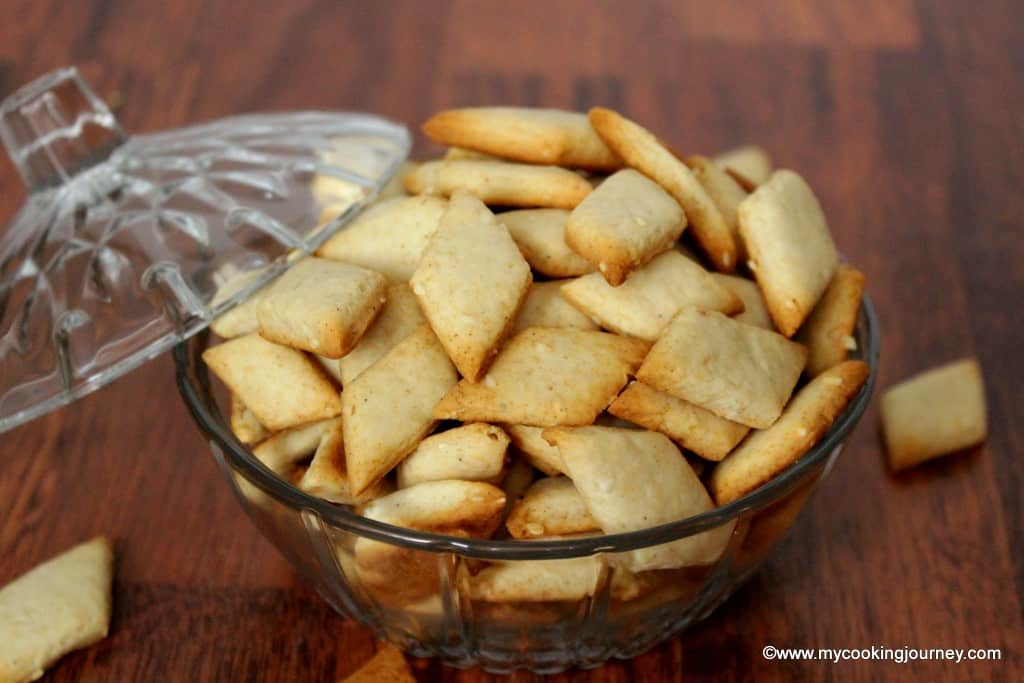 As a child, Sakarpara used to be one of my favorite snack. I have only tasted the deep fried version which is how it is commonly made. For the home baker's challenge, Mayuri had suggested some traditional sweets and savories but made in a healthy way. This version of the Sweet Diamond Biscuits , which I have adapted from her website, is baked instead of the traditional deep frying.
The baked cookies/biscuits were very crisp and had a wonderful melt in the mouth texture. The sugar is very moderate and if you want a slightly sweet sakarpara, increase the sugar slightly. Also I could not make this during Deepavali and made it after the festival. I am so happy I had this bookmarked and got to try it, because this is something that I will make often for my boys to snack on.
Previously, I have made the savory diamond biscuit and is something we love to snack. I have always made the savory version in the traditional way by deep frying them. Now that I have tried baking these, I am soon going to try to bake the savory recipe as well.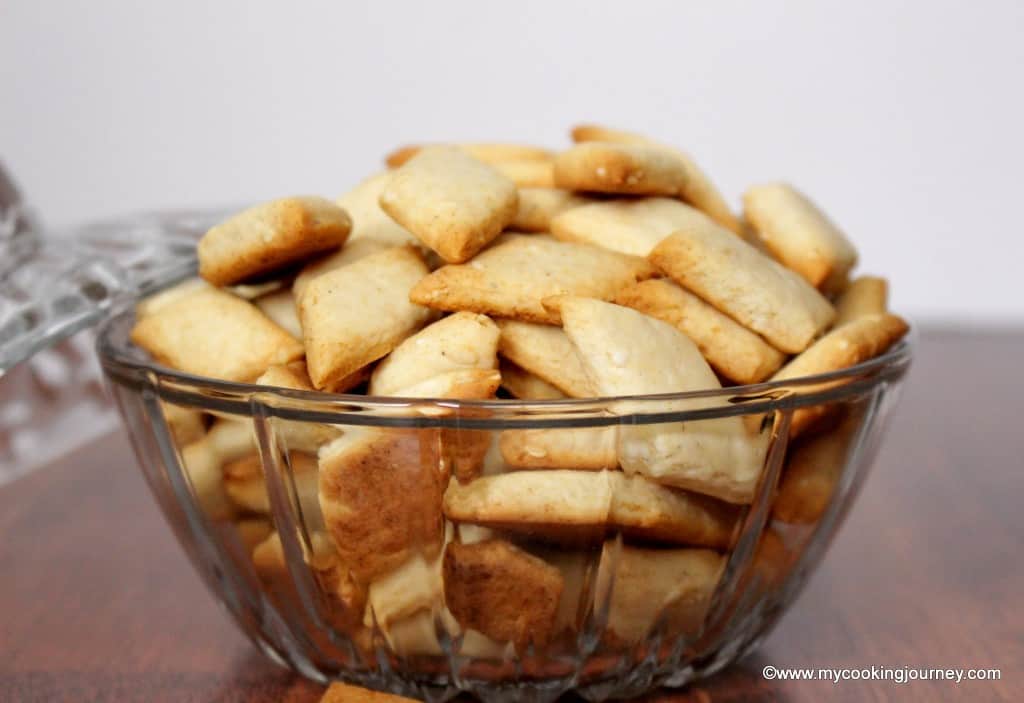 Preparation time – 10 minutes plus 30 minutes resting time
Baking time – 10-12 minutes per batch
Difficulty level – easy
Recipe adapted from – Mayuri's Jikoni
Ingredients to make Sweet Diamond Biscuits – Makes about 60 tiny biscuits
All purpose flour / Maida – 1 cup
Powdered sugar – 5 tbsp
Cardamom powder – 1/2 tsp
Baking powder – 1/2 tsp
butter – 2 tbsp plus a little more for greasing
Sesame seeds – 1 tbsp
Cold milk – 4 -5 tbsps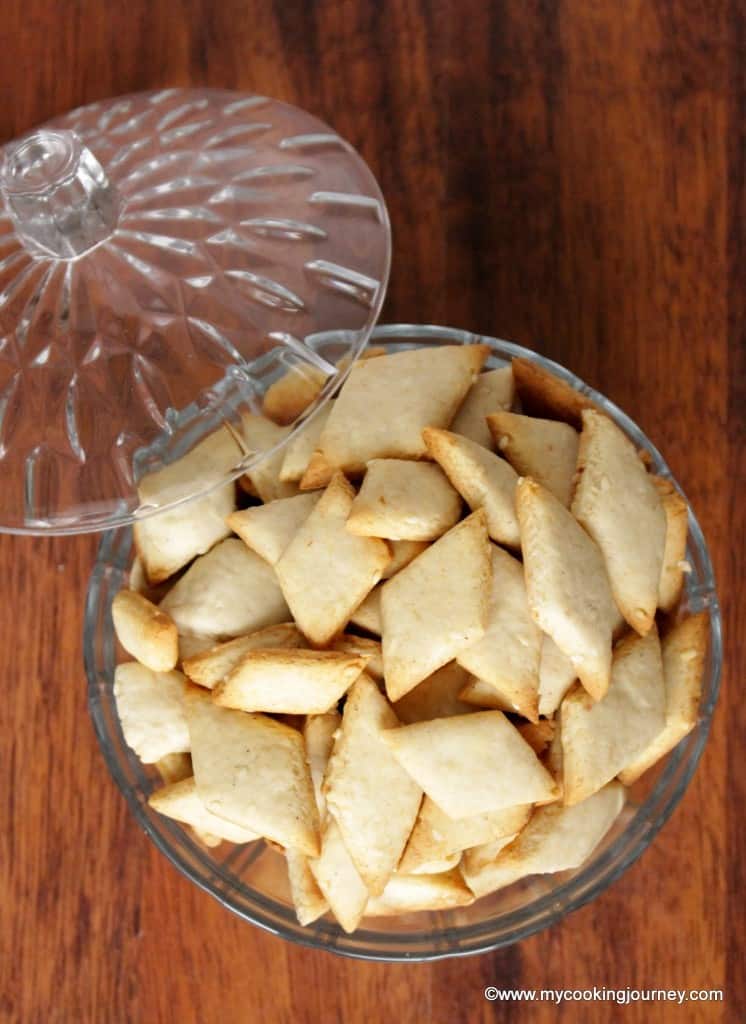 Procedure –
Sieve together the flour, sugar, baking powder and cardamom powder in a bowl.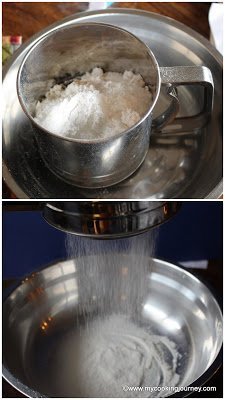 Add the sesame seeds to the flour mixture.
Cut the butter into tiny pieces and rub it into the flour using finger tips.
Now slowly add the milk, one tablespoon at time, to form a stiff dough. Make sure that the dough is not sticky.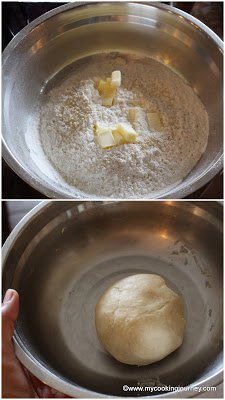 Cover the dough and let it rest for about 30 minutes.
Grease the baking tray with butter. Preheat the oven to 350 F.
Divide the dough into 4 parts and roll each part into a 1/2 mm thick circle using little flour for dusting the surface.
Using a pizza cutter or the special sakarpara cutter, cut the rolled out dough into diamonds. The edges of the rolled out dough will be cracked. Cut those out and roll them back again and then cut out the diamonds.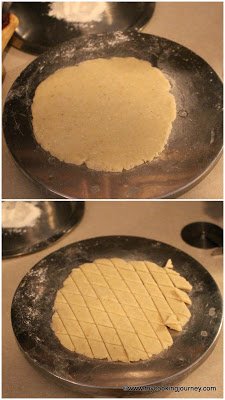 Place the cut out shapes on the greased tray and bake for about 10 – 12 minutes. Keep an eye on the sakarpara from about 10 minutes as they tend to brown quickly.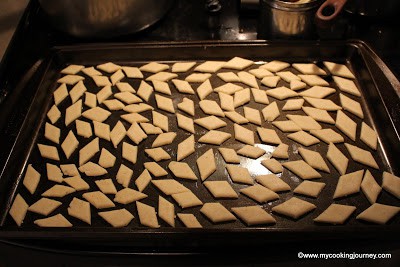 Remove the tray from oven and let it cool on cooling rack.
Once completely cool, store the Sweet Diamond Biscuits in an airtight container.