Spicy diamond biscuits got its name for the specific diamond shape they are cut into. These fried snacks are very traditional Diwali snack. These are the easiest savory snack that we can prepare and are very addictive. Made with very basic ingredients, these biscuits can be made within an hour.
I remember when I was young; making snacks was a ritual in every house hold. There were not too many varieties of snacks that were sold in the stores and hence every one made different snacks for the kids to eat when they came back after school or when they were traveling. Now because of the wide choices of snacks sold in the stores, I see the snack making trend disappear. I would still prefer to make the snacks at home whenever possible just because I know what goes into the recipe and it is definitely healthier and safer than the store bought ones.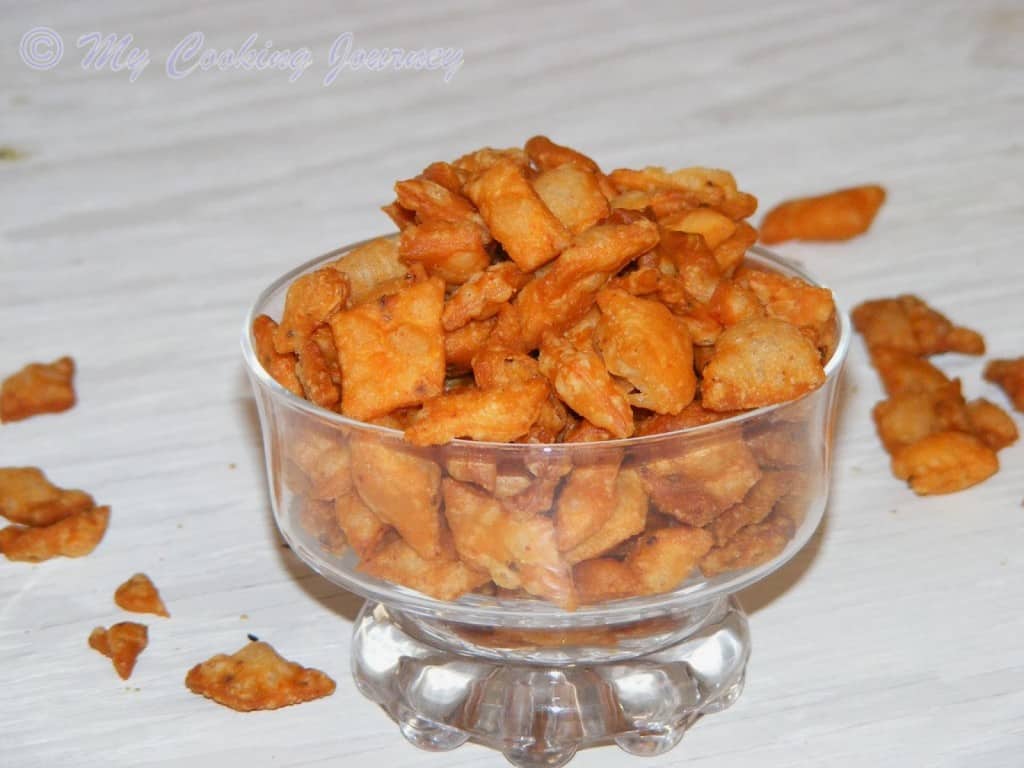 I personally like the sweet version of this biscuit, but since I have too many sweets in the house, I made the savory version of this biscuit. There is a special spoon with a roller attachment in the back to cut these biscuits, but I do not have it. So I just used my pizza cutter to cut. If using the traditional spoon, that would give a fancy design to these biscuits. This recipe is for the third day of my blogging marathon under the theme travel food snacks. If you are making these when traveling, make sure to double the recipe. These are so addictive that it will disappear right away.
Preparation time – 5 mins plus 30 mins to rest the dough
Cooking time – 30 mins
Difficulty level – easy
Ingredients to make Spicy Diamond Biscuits – makes about 2 cups of biscuits
Maida / All purpose flour – 1 cup
Oil – 1 tbsp plus more to deep fry
Red chili powder – ¾ tsp
Omam / Ajwain – ½ tsp
Salt – to taste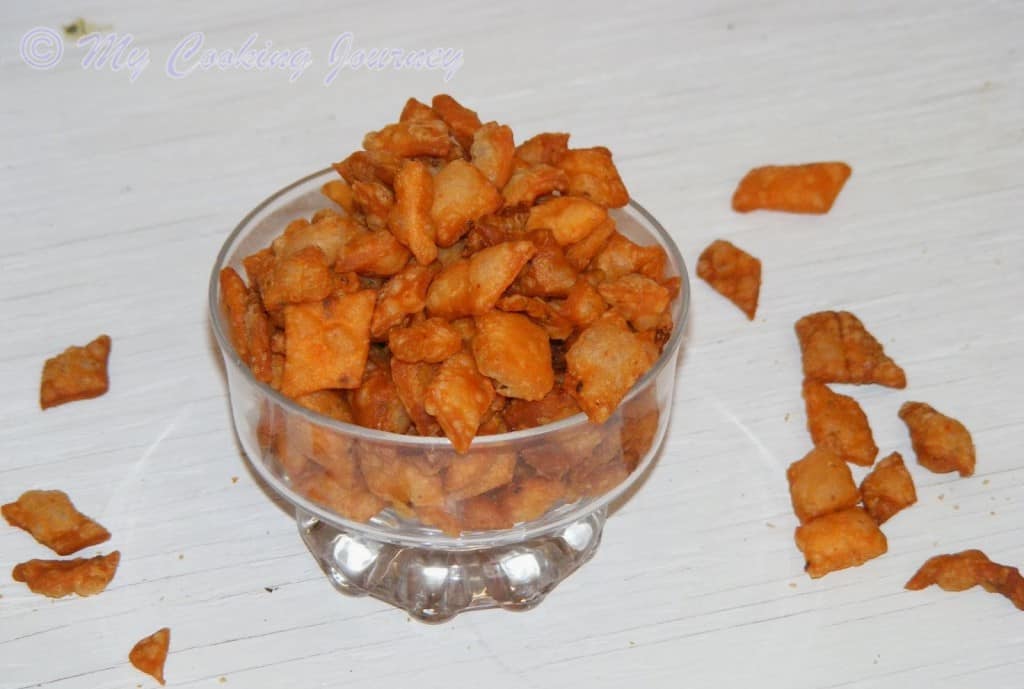 Procedure –
In a bowl, add the flour, red chili powder and the omam. Heat 1 tbsp of oil in a small pan and add the hot oil to the flour mixture. Now add water little by little and make it into stiff dough. Cover the dough with a moist cloth and let it rest for at least half an hour. It is very important to rest the dough, otherwise it will be hard to roll it out.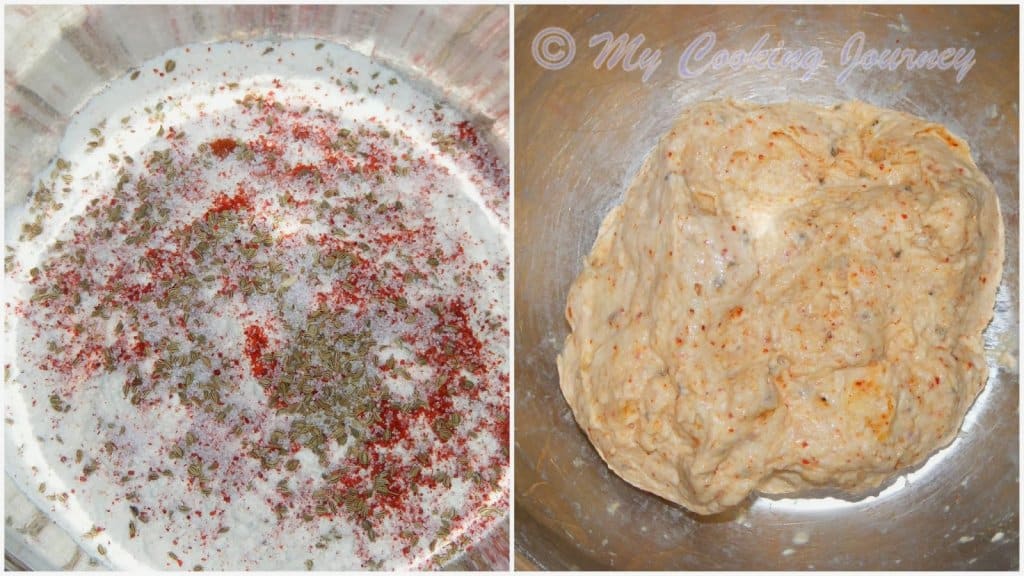 Once the dough has rested, divide it into or 3 equal portions. Dust the dough with flour and roll it out to form a thin circle.
Using the pizza cutter, cut the rolled out dough into thin strips about ½ inch wide. Now cut it horizontally to form a diamond shape.
Remove the cut pieces and lay it out on a paper towel lined plate. The dough scraper helps a lot to scoop out the cut pieces.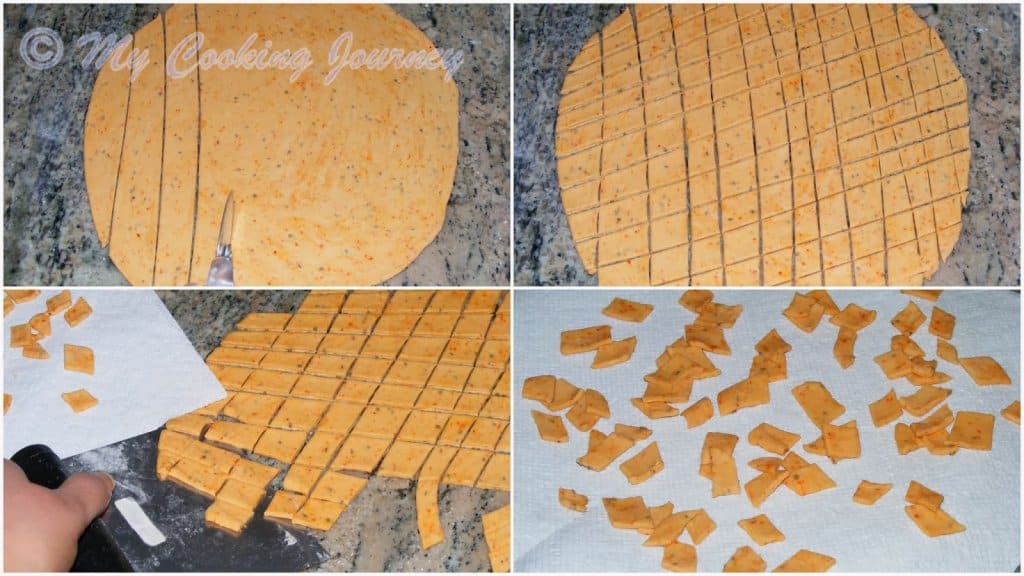 In the meantime heat the oil. Add the cut pieces to the oil and deep fry them until golden brown and crisp. Makes sure you fry these in medium flame, otherwise the outer will cook too quickly and the inside will still be soft. To get a crunchy texture, fry it in low to medium flame.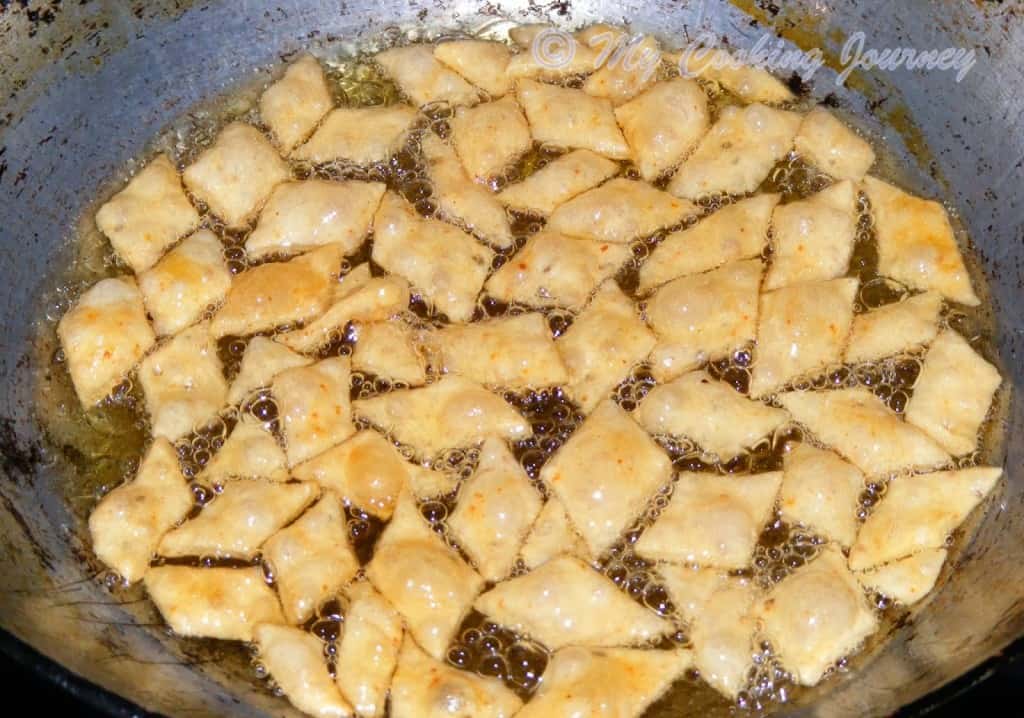 Drain it on a paper towel and once cooled, transfer it into an air tight container.