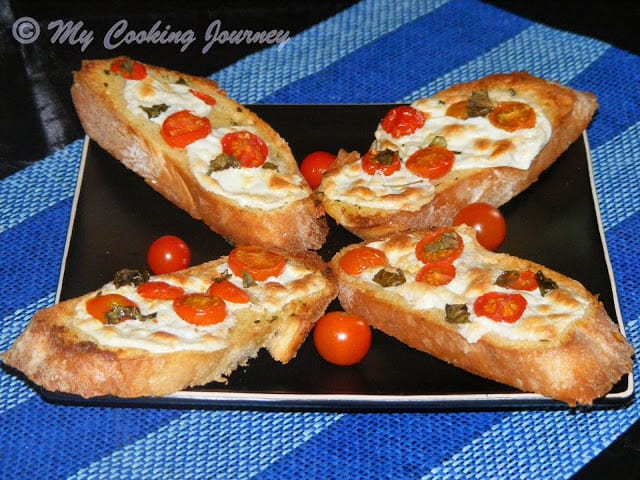 For the month of October, the International food challenge selected the cuisine of Campania, Italy. The recipes from this region were suggested by Priya Suresh. I chose to make this very famous appetizer from this region. Campania is a highly populated region in the Southern Italy. Campania's vast cuisine relies on the sun-kissed vegetables and herbs, dried pasta and fresh cheeses. The famous cheese here is the water Buffalo's Mozzarella. Campania is the home to over 80 percent of Italy's water buffaloes. Hence, this is one of the very largely used cheeses.
This Crostini with Cherry Tomatoes and Mozzarella, is a very simple yet highly flavorful appetizer made with very few ingredients. The key to making the best tasting crostini's depends on using fresh cheese and tomatoes. I happened to harvest the last batch of cherry tomatoes from my backyard and hence I made this recipe right away.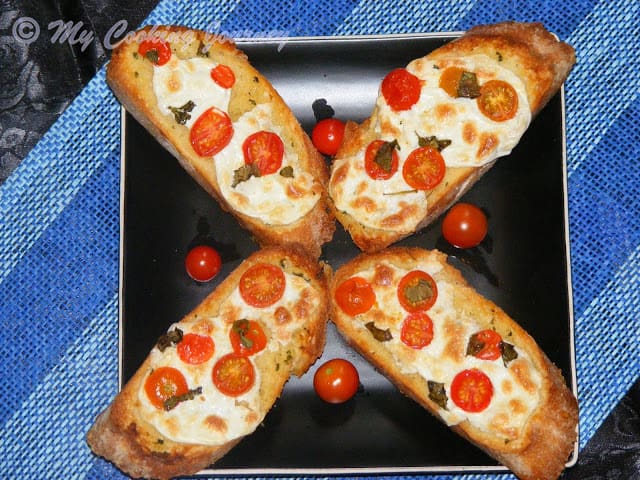 Preparation time – 15 mins
Cooking time – 15 mins
Difficulty level - easy
Ingredients to make Crostini with Cherry Tomatoes And Mozzarella – (to make around 16 slices of crostinis)
Italian bread or French bread – 1 loaf (I sliced 16 slices from it and had a little bit more remaining)
Cherry Tomatoes – about 20-24 (sliced twice or thrice)
Fresh mozzarella – 1 ball (sliced thinly)
Butter or any spread – ⅓ cup (softened and at room temperature)
Garlic – 1 or 2 cloves (minced finely)
Dried basil – 1 tsp
Fresh basil leaves – a handful (chopped)
Procedure –
Preheat the oven to 350 F.
Slice the cheese, tomatoes and bread and keep them ready.
Add the finely minced garlic and dry basil leaves to the butter or spread and mix it well.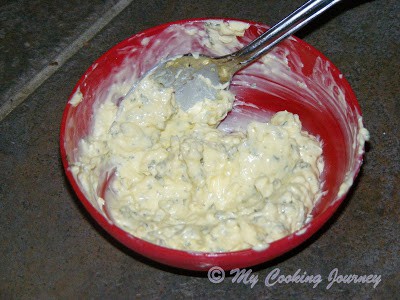 Now brush both the sides of the bread with this flavored butter/spread and line them in a baking sheet lined with aluminum foil.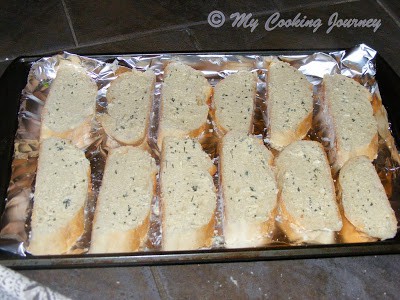 Top with sliced cheese, cherry tomatoes and fresh basil.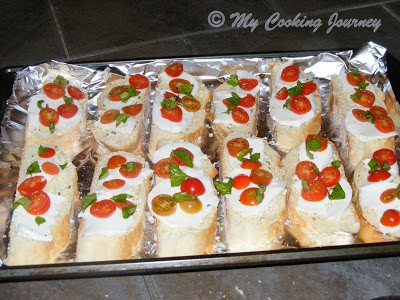 Bake for 10 to 15 mins until the bread is slightly crusty and the cheese is melted.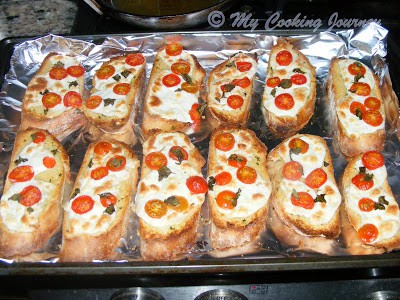 Serve the Crostini with Cherry Tomatoes And Mozzarella warm!