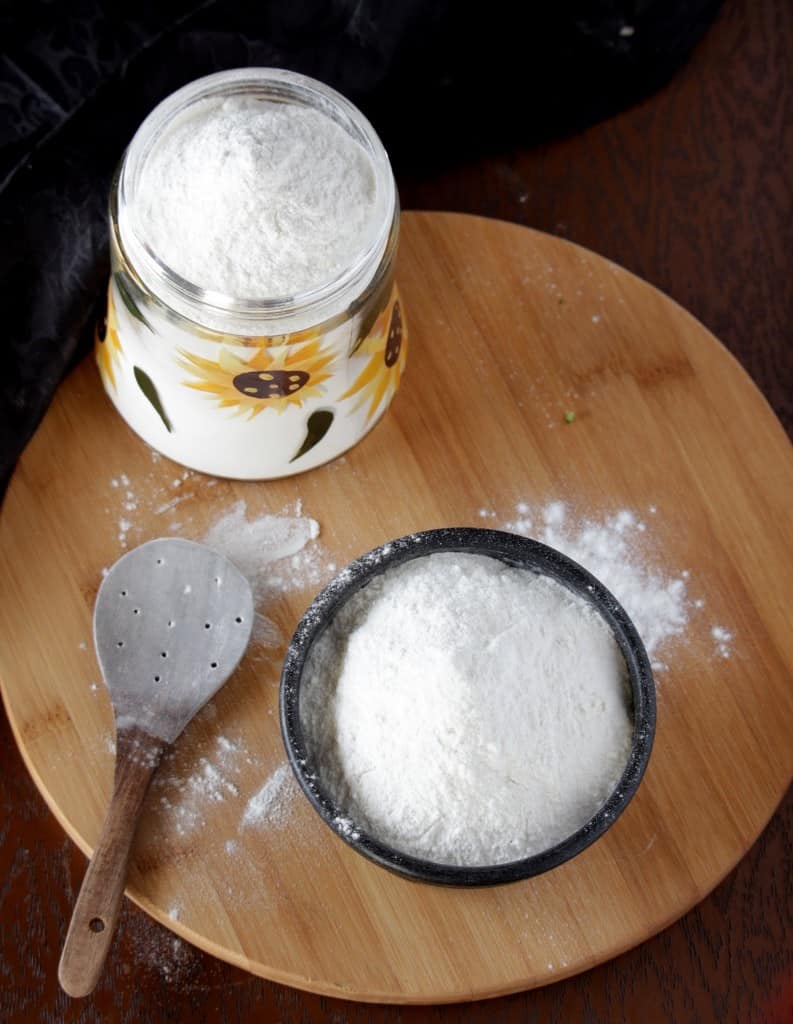 Rice flour is one of the very essential items in a South Indian kitchen. Homemade Rice flour is used for many snacks and sweets and there are certain preparations that require freshly made wet rice flour also known as Eera Arisi maavu.
Living in US, we are privileged to get very good quality of rice flour. There are certain recipes that require fresh rice flour can be very well substituted with the rice flour we get here. Amma always says that the rice flour available in the stores here is of very good quality. So, for many things like karadayan Nombu adai, I have used the store bought rice flour. The flavors are definitely different and the texture of the adais are great when we make it with freshly made rice flour.
I have never made the rice flour myself before and many times amma brings some when she comes from India. For this month's marathon, when I chose to make the Athirasam, attai told me that we need to make this freshly ground rice flour or eera arisi maavu. So, I made it for the first time and apart from being time consuming, it is a very easy process. I made a batch of it to make idiyappam for the alphabet I, but I have changed my mind and made something else. Tune in tomorrow to see what I made.
So I made the rice flour and I am glad I made a larger than needed quantity as I had needed to add a little bit more flour for my athirasam when they fell apart. I used sona Masoor rice to make the rice flour. If using the rice flour immediately, we could use it as is, but if you are storing it for future, it is advisable to fry the rice flour for few minutes until the moisture evaporates and then store it.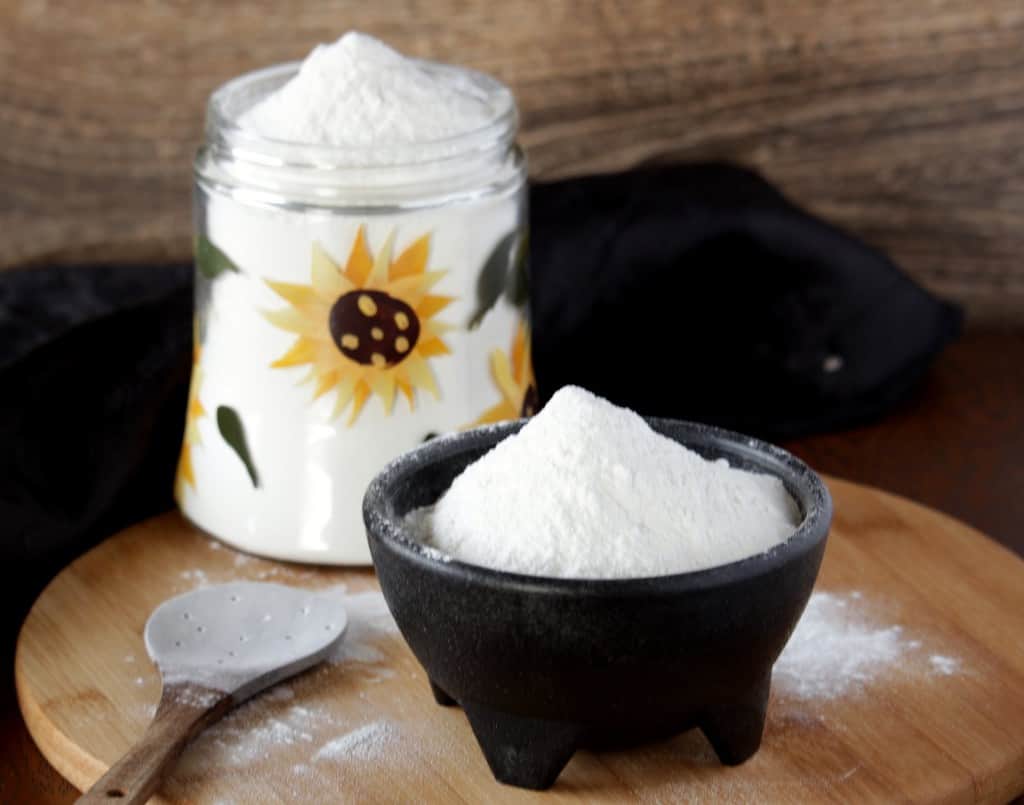 My other recipes from this series –
A – Athirasam
B – Badam Burfi
C – Chettinad Masala Cheeyam
D – Dosai Milagai Podi
E – Ellu Urundai
F – Fruit Kesari
G – Godhumai Rava Pidi Kozhukattai
Preparation time – 20 minutes plus 3 hours of soaking time
Cooking time – none
Difficulty level – easy
Ingredients to make Homemade Rice Flour– Makes 3 cups of rice flour
Rice – 2 cups (I used sona masoori)
Procedure –
Wash the rice well and soak it for about 2 to 3 hours. If needed the rice can be soaked for just about an hour, but the longer it soaks, the smoother flour it yields. Ideally about 3 hours would be perfect. For recipes such as athirasam, where it is alright to have slightly coarse rice flour, it is enough to soak for an hour.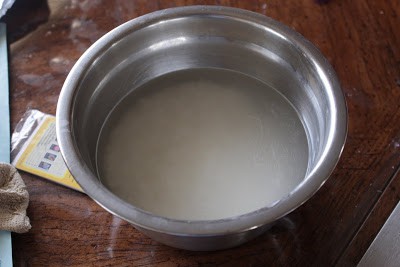 Drain the water entirely and then spread the rice on a clean kitchen cloth. Spread the rice with your hands so that it is in a thin layer.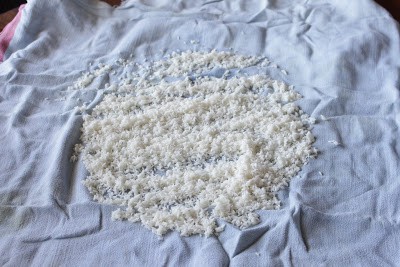 Let it remain like this for about 15 to 20 minutes. Make sure that the rice is drying in shade and not in sun. I left it on my kitchen table.
After about 15 minutes, check the rice with your hands. It should have lost all its moisture but still be a little wet to feel. Make sure you don't dry it entirely. The rice should have a hint of moisture in it.
Now transfer this to the blender jar and grind until smooth.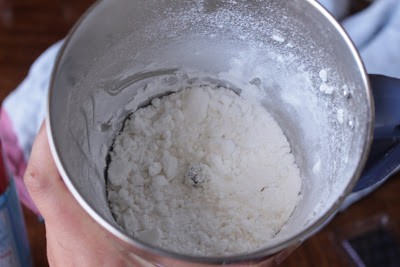 Use a jalada (flour sifter) and sift the flour. If there is a lot of coarse rice left, then transfer it to the blender again and grind. Sift once again.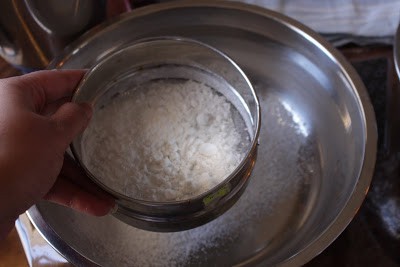 If using right away or in couple of days, then you don't have to do anything. If you are going to store it for few days, then it is advisable to roast the flour for a few minutes to dry it out. This helps increase its shelf life. Roast the rice flour for about 5 – 7 minutes. It need not change color, but just get warm.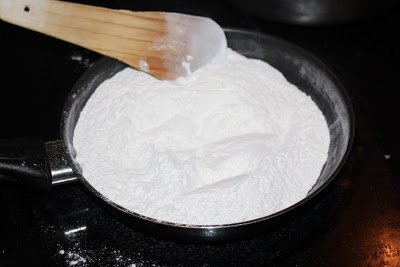 Let it cool down to room temperature and then store it in an air tight container.