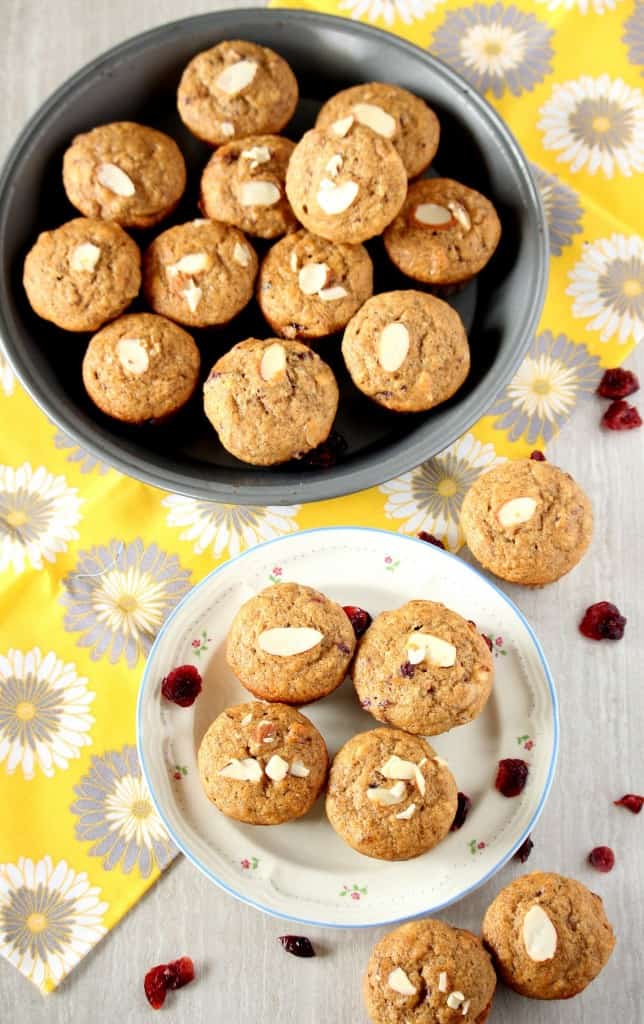 Desserts don't always have to be very sweet. Muffins made with whole grains with added dried fruits and nuts make a great desert alternative. My boys prefer this kind of desserts over ice creams or cakes. They do love the traditional sweets and if given a chance would always choose them over anything else. But other than that, they don't like overly sweet desserts. I make muffins very often with different fruit combinations and it always works great as after school snack or a dessert.
There are days when we are done with dinner very soon and they want something to eat before they get to bed. That is when these muffins with a glass of milk come in very handy. Lately, I have been involving my older one quite a bit when I am baking. This Whole Wheat Banana Cranberry Almond Muffins was entirely made by him with me just standing next to him and giving him instructions.
When baking egg less bakes, bananas are my best choice. They add a lot of moisture in the muffin and the texture comes out great. This batter would use a little more liquid than other muffins as it has wheat flour in it and wheat flour needs more moisture.
My other recipes this Marathon –
Soups
Appetizers / Snacks
Breads and Rolls
Entrees
Desserts

Preparation time - 10 minutes
Baking time - 15 - 18 minutes
Difficulty level - easy
Ingredients to make Whole Wheat Banana Cranberry Almond Muffins – Makes 24 small muffins
Whole wheat flour – 1 cup
All purpose flour – ½ cup
Flax meal – 3 tbsp
Baking soda – 1 tsp
Baking powder – 2 tsp
Brown sugar – 1 cup
Banana – 1 cup (mashed)
Milk – 1 cup
Butter – 4 tbsp (softened)
Vanilla – 1 tsp
Cranberries – ½ cup (I used dried cranberries)
Almond – ¼ cup (coarsely chopped)
Procedure to make Whole Wheat Banana Cranberry Almond Muffins –
In a large bowl, mash the bananas. I used about 2 large bananas. Overripe bananas work well for the recipe.
Add the softened butter and beat well.
Add the brown sugar, baking soda and baking powder and beat well until the mixture is creamy.
Now add the milk and mix well. The mixture will appear curdled, so don't worry.
In another bowl, combine the flours and the flax meal.
Add the flour mixture to the wet ingredients and gently mix. Don't over beat at this stage as it will make the muffins turn hard.
If preferred, coarsely chop the dried cranberries. Reserve some almonds to layer on top and then add them along with the cranberries to the batter and gently mix.
Prepare the muffin tins by lining them with liners and spraying them with oil.
Evenly distribute the batter into the tins. Add the reserved almonds on top of the batter.
Preheat the oven to 350 F and bake the muffins for 15 to 18 minutes or until the toothpick comes out clean.
Cool in the pan for about 5 minutes and then cool completely on a wire rack.