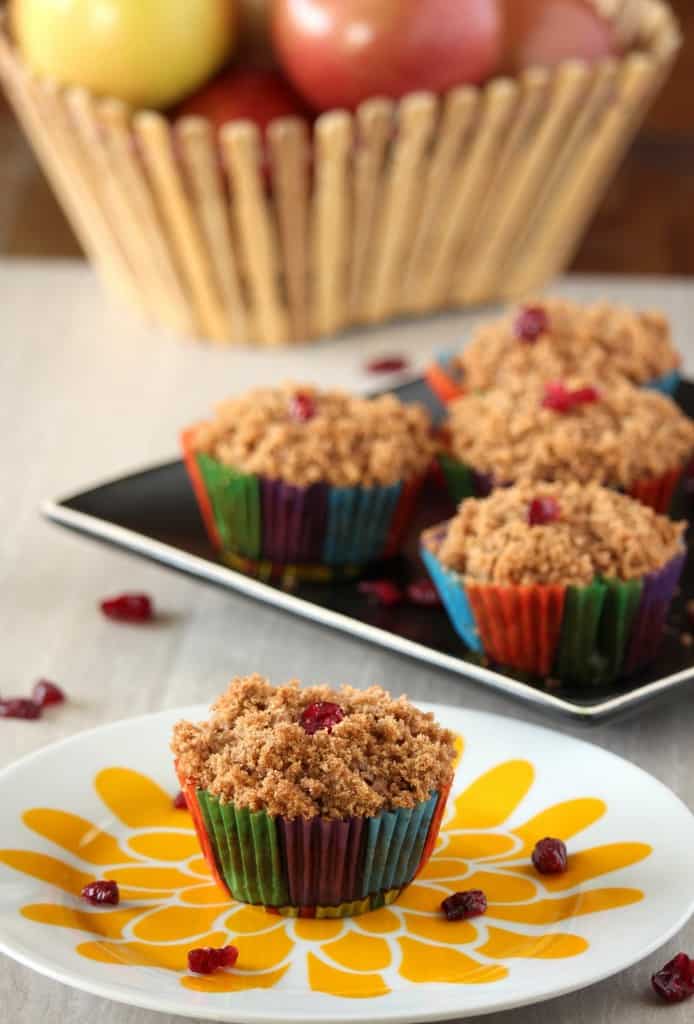 Baking with whole wheat is one of my favorite as I love the nuttiness of the whole grain. These whole grain Apple Cranberry Muffinsare my ever favorite. Anytime a recipe calls for all purpose flour, I try it once as is, then I try it with 50% wheat flour substitution and sometimes I completely replace the refined flour with whole wheat. I have to say though that not all recipes work great with whole wheat. There are some recipes that just needs the all purpose flour. But as a trend, I have noticed that whole wheat pastry flour works very well when substituted for all purpose flour like these Whole wheat Banana Pineapple muffins.
This recipe, I have not used the pastry flour, but have used the whole wheat flour that I bought in bulk from the local produce. I simply love shopping in that store as they have a wide variety of whole grains in bulk that I can pick as less or more as I want. This has highly reduced the wastage in the house. I usually just use the aata or the wheat flour that I buy from Indian stores, but this time I used the whole wheat flour from the local produce.
The muffins turned out absolutely moist and soft that I will never ever try out refined flour to make this again. Adding the spices in the muffin took the flavors to a different level and I was almost dreaming of fall season. Adding the streusel topping is entirely optional but I would highly recommend it as the muffins were very less sweet without the streusel. I also enjoyed the extra crunch that I got from the streusel.
If you are thinking of making the muffins without streusel, add a little bit more brown sugar or honey in the muffin mixture. I used Fuji apples to make the muffins and it added a little bit sweetness to the muffins. The cranberries added a lovely texture and a tinge of tartness to the muffins which worked great.
Preparation time – 10 minutes
Cooking / baking time – 18 – 20 minutes
Difficulty level – easy
Recipe adapted from – here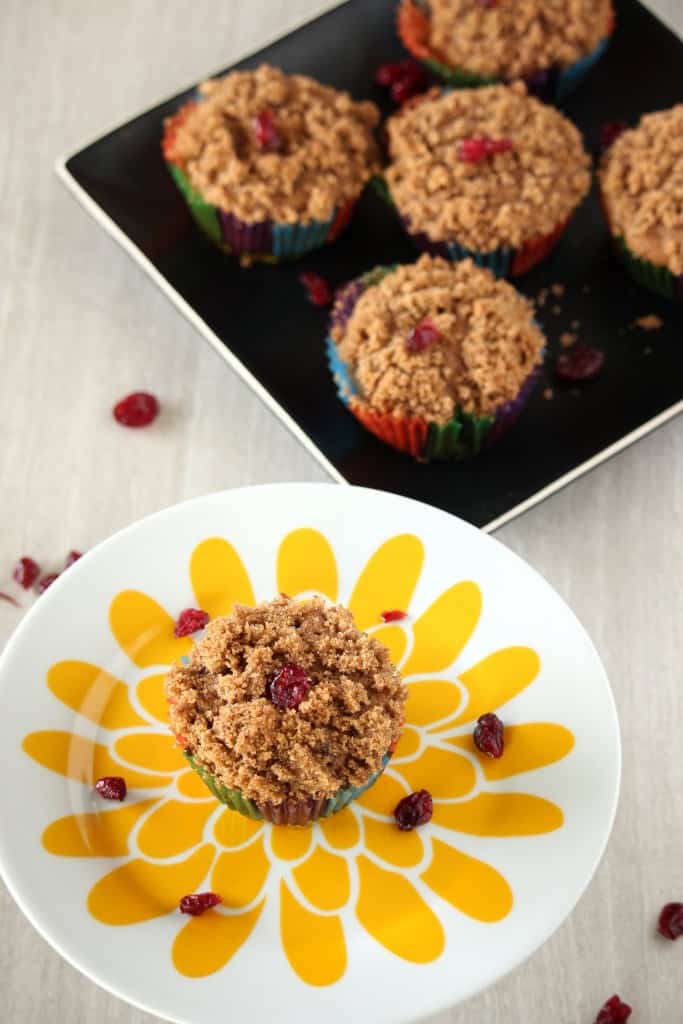 Ingredients to make Whole Wheat Apple Cranberry Muffins with Streusel Topping – Makes 12 muffins
Dry Ingredients –
Whole wheat flour – 1 cup
Baking powder – ½ tsp
Baking soda – ¾ tsp
Cinnamon – 1 tsp
Nutmeg – ¼ tsp
All spice – ¼ tsp
Wet Ingredients –
Honey – ⅓rd cup
Olive oil or Canola oil – ¼ cup
Yogurt – ½ cup
Vanilla extract – 1 tsp
Apple – 1 medium (peeled and chopped fine)
Cranberries (dried) – ¼ cup (roughly chopped)
Streusel ingredients –
Wheat flour – 3 tbsp
Brown sugar – ½ cup
Melted butter – 2 tbsp
Cinnamon – 1 ½ tsp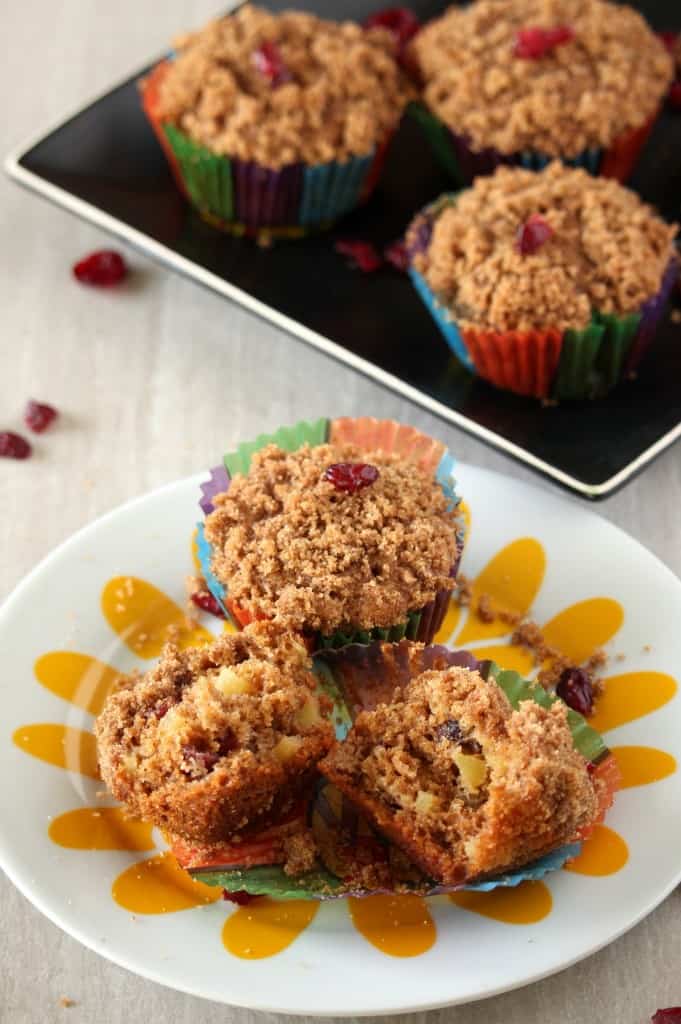 Procedure to make Whole Wheat Apple Cranberry Muffins with Streusel Topping –
In a bowl, combine all the dry ingredients and keep it aside.
In a larger bowl, whisk together the wet ingredients until well combined and smooth.
Now add the dry ingredients into the bowl and gently mix to combine. Do not beat at this stage as the muffins will turn out hard. Just mix to combine.
Add the chopped apples and cranberries and fold in gently.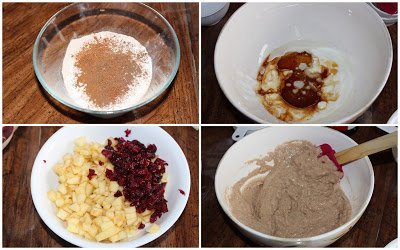 Preheat the oven to 350 F. Line the muffin tins with liners and gently spray with oil.
Combine all the ingredients mentioned under the streusel and keep it ready.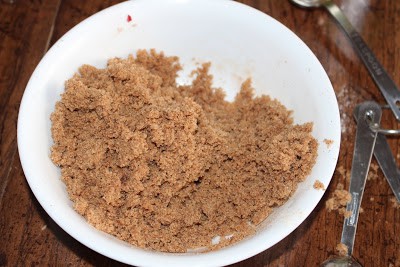 Fill the muffin tins about ¾th with the batter.
Evenly sprinkle the streusel topping on each muffin tin.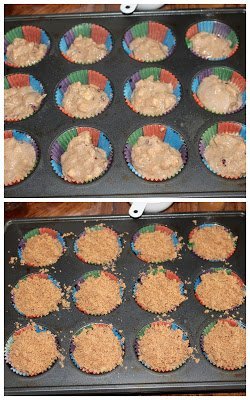 Bake for about 18 to 20 minutes or until the toothpick comes out clean when pricked. Leave it in the tin for about 5 minutes to set and then gently take them out and place them on cooling rack to cool.
Store in an airtight container when completely cool.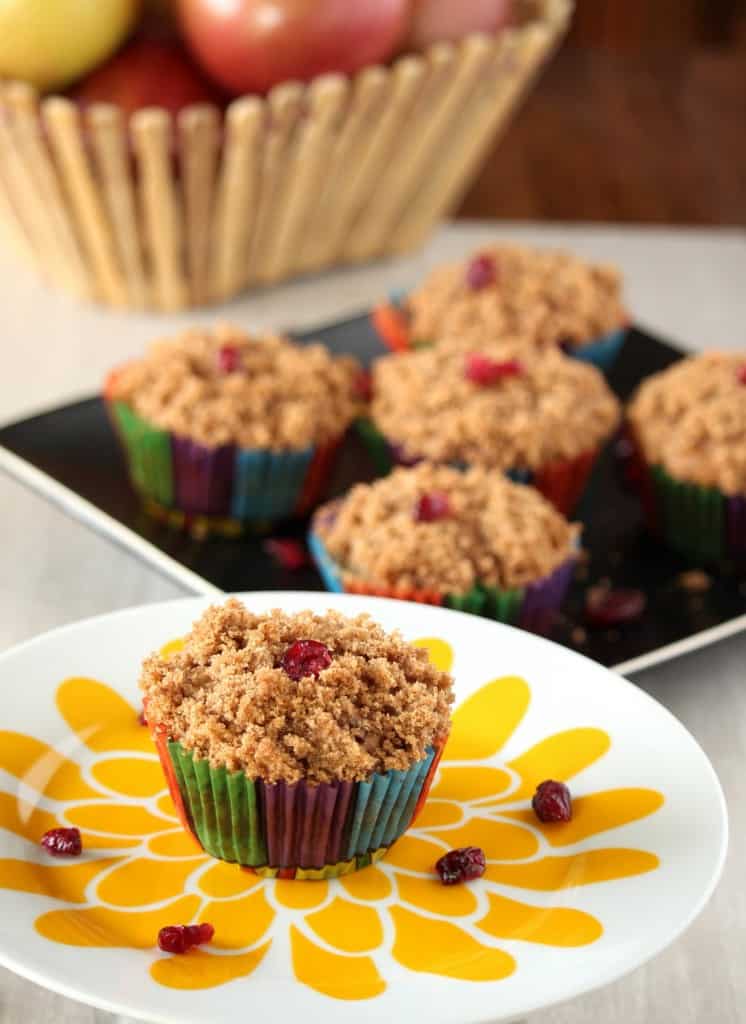 Pin the recipe here to save for later -