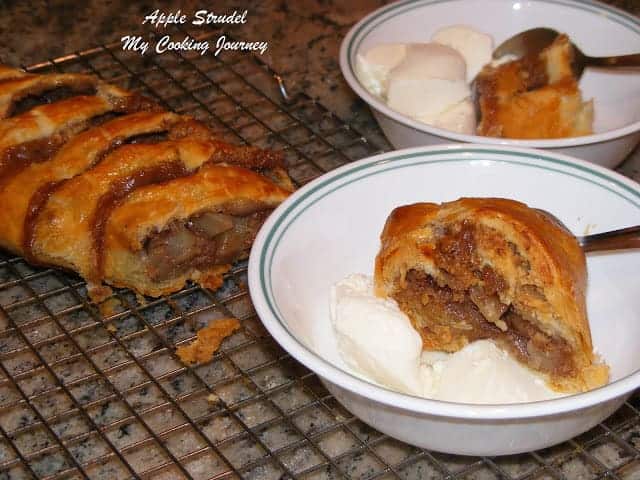 In the quest to conquer the abundance of apples in our house, this is yet another recipe that I turned towards. I made this Apple Strudel recipe taking the inspiration from this website which was slightly different from many other recipes that I saw online. The chef here used peaches and I used apples instead. The recipe I found here is a German method of making the Apple strudels. Adding the walnuts to the strudel gave the recipe a very nice layer of flavor. The procedure is very simple since we are using the store bought puff pastry sheet. Give it a try and let me know how it worked for you.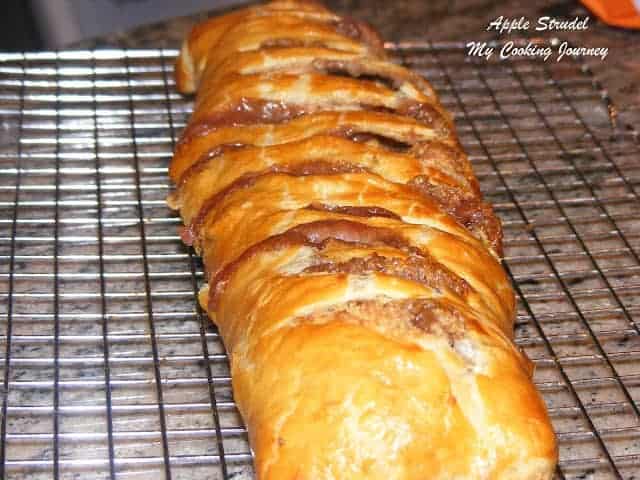 Preparation time – 15 mins
Cooking time – 45 mins
Difficulty level – medium
Ingredients to make Apple Strudel – serves 6
Apples (peeled and chopped) – about 1 ½ cups (2 apples)
Puff pastry sheet – 1 sheet (thawed to room temperature)
Cinnamon – ½ tsp
Sugar – 2 tbsp
All purpose flour – 1 tbsp
Egg - 1
For the nut layer
Walnuts – ¼th cup (chopped finely)
Brown sugar – 2 tbsp
Bread crumb – 1 tbsp
White sugar – 1 tbsp
Procedure to make Apple Strudel -
Preheat the oven to 375 F.
Peel, core and chop the apples to about ½ inch cubes. Place them in a bowl and add the cinnamon, sugar, and flour. Give it a good mix and keep it aside for about 30 mins so that all the flavors can come together.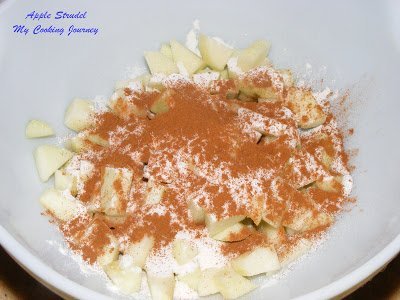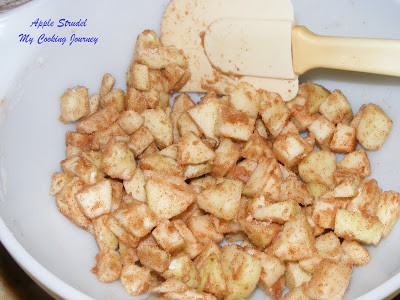 In another bowl combine all the ingredients for the nut layer and keep aside. I instead of chopping the nuts gave it a pulse in the mixer.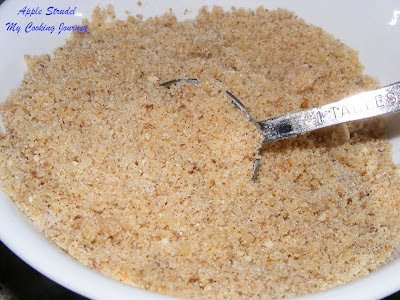 Thaw the pastry sheet to room temperature and roll it out on a well floured surface to about 12 x 14 inches.
Sprinkle the nut layer on the sheet covering one half of the sheet vertically. Be sure to leave about an inch on the sides.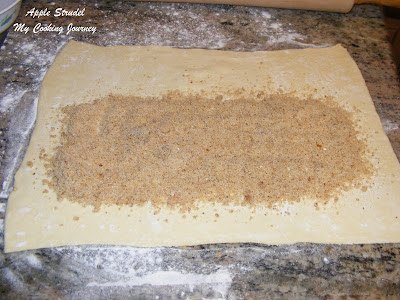 Then layer it with the prepared apple mixture.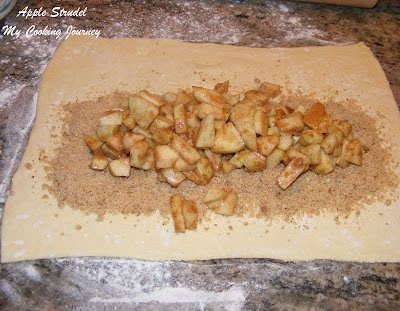 Life up one side of the pastry sheet and start rolling it into a log. Lay it on the baking sheet lined with parchment paper seam side down. Make sure to pinch the ends and tuck them under the log.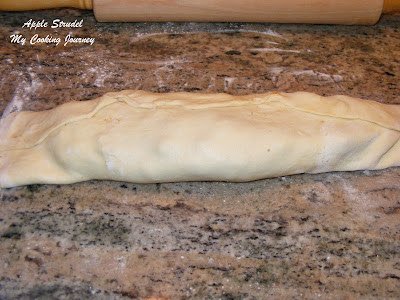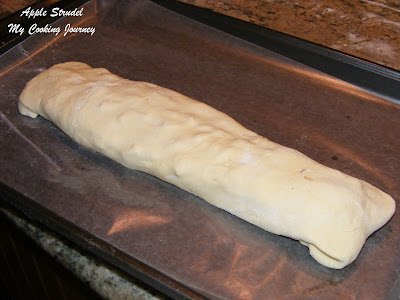 Brush the top with egg wash. (Break open one egg and add about a tsp of water. Mix well and the egg wash is ready). Look below for substitutions instead of egg wash.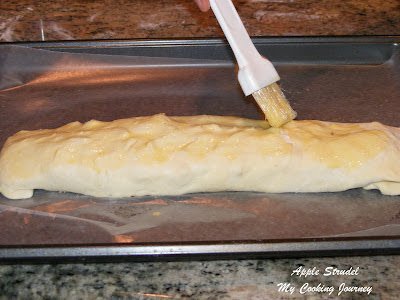 Make several slices on top with a sharp knife for all the steam to escape. (This is very important if you do not want an explosion inside your oven).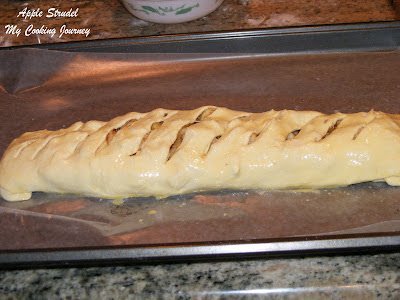 Put it in the oven and let it bake for about 40 to 45 mins or until golden brown.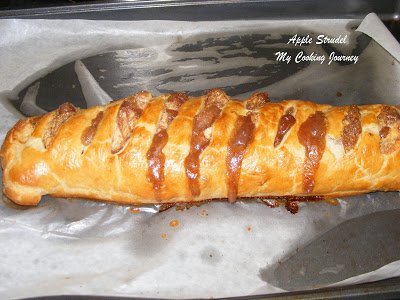 Cool it slightly on a wire rack.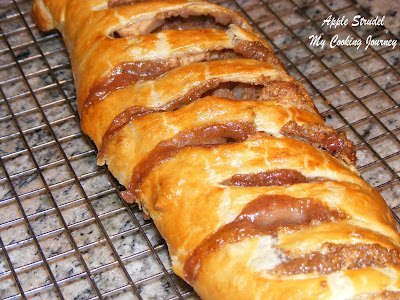 Serve the Apple Strudel warm with a dollop of vanilla ice cream or with whipped cream.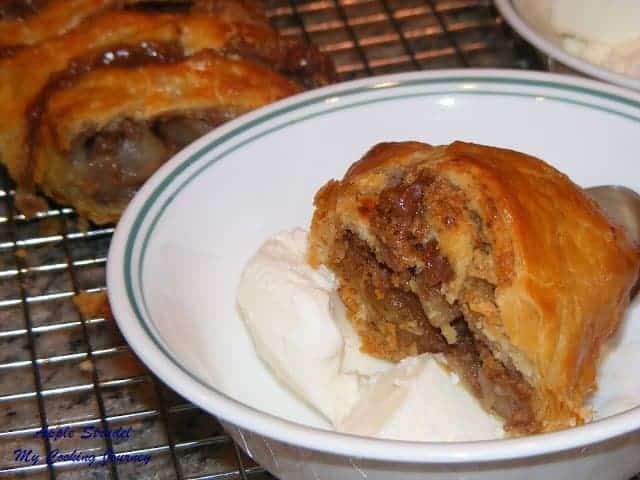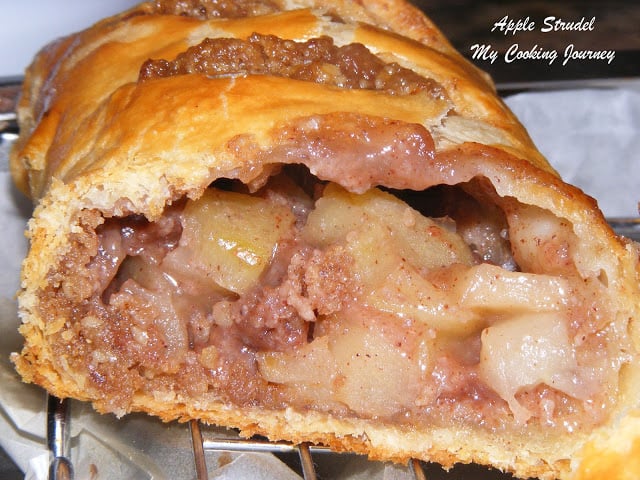 Notes and Variations -
This could be made with any fruits like peaches, mixed berries and so on. So whatever is in season use it.
This could be made egg less by using milk or melted butter as a glaze.
Happy Baking!!!