Crispy on the outside and gooey on the inside, these Mozzarella sticks made with puff pastry,
will be something the kids would love and would keep them coming back for more.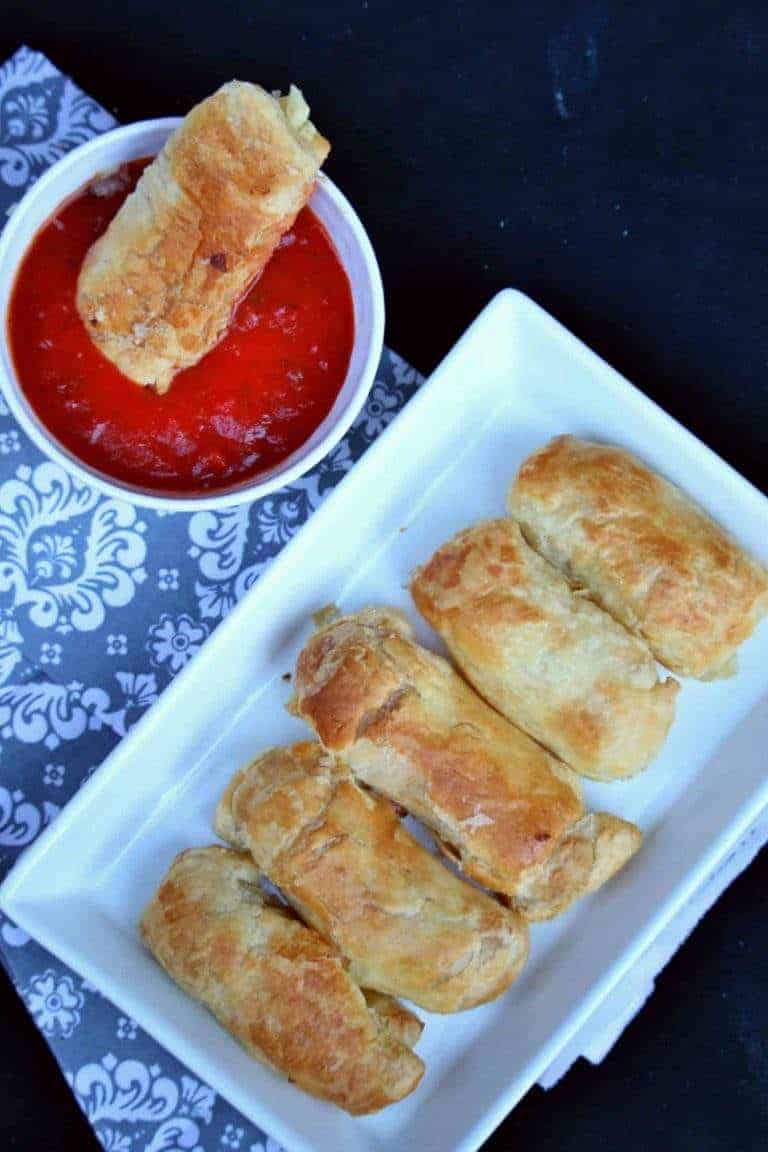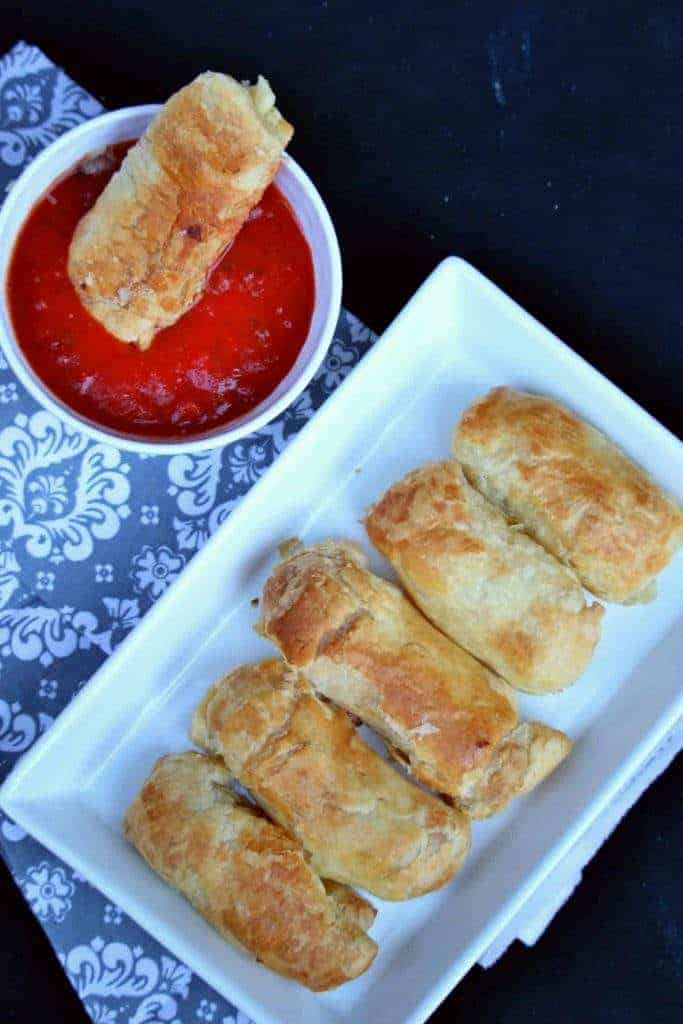 This week I am going to be making Kid's friendly bite size appetizers. This is one of my favorite theme to work on as I am always on look out to make some kid's friendly snacks. My BM friend Sapana is hosting this month's Kid's delight with the theme Bite size appetizers and I will be sending this recipe to her as a part of the theme.
My boys love Mozzarella sticks. I am not a big fan of frying the sticks and hence have made Egg less Baked Mozzarella sticks in the past. I had one sheet of puff pastry in the freezer for a while and I was looking to make something with it. That is when I got the idea to roll the string cheese in the puff pastry sheet and bake them.
My little one loves string cheese and I always have them in my refrigerator. This is by far the easiest appetizer / snack that I have made. All it needs is some string cheese and puff pastry sheet. I always mention when baking with puff pastry that how lucky we are to have those available in the stores. Puff pastry sheets are such a great vehicle for many different appetizers.
One of the most popular appetizer, Vegetable puff is made with the puff pastry sheets and that is something I make very often. Lately I have been baking many desserts with it and I am enjoying the ease and the flavor.
Few of my other recipes that I have made using puff pastry sheet –
Quesitos – Dessert from Puerto Rico
Strawberry Cream cheese Pastry
Pin the Recipe here –


Preparation time – 5 minutes
Baking time – 15 minutes
Difficulty level – easy
Ingredients to make Mozzarella Sticks Made With Puff Pastry – Makes 9
Mozzarella String cheese – 5
Puff pastry sheet – 1
egg wash or cream – to brush the top of the pastry
Procedure to make Mozzarella Sticks Made With Puff Pastry –
Preheat the oven to 400 F.
Cut the mozzarella sticks in half and keep them aside.
Thaw the puff pastry sheet according to package directions. I usually leave them out on the counter for about an hour and it thaws perfectly.
Roll the sheet lightly and then equally divide them into 9 pieces.
Place one half piece of mozzarella string cheese in each pastry sheet and wrap it into a log. Fold the edges and pinch to seal. Seal the seams as well to avoid the cheese oozing out of the shell when baking.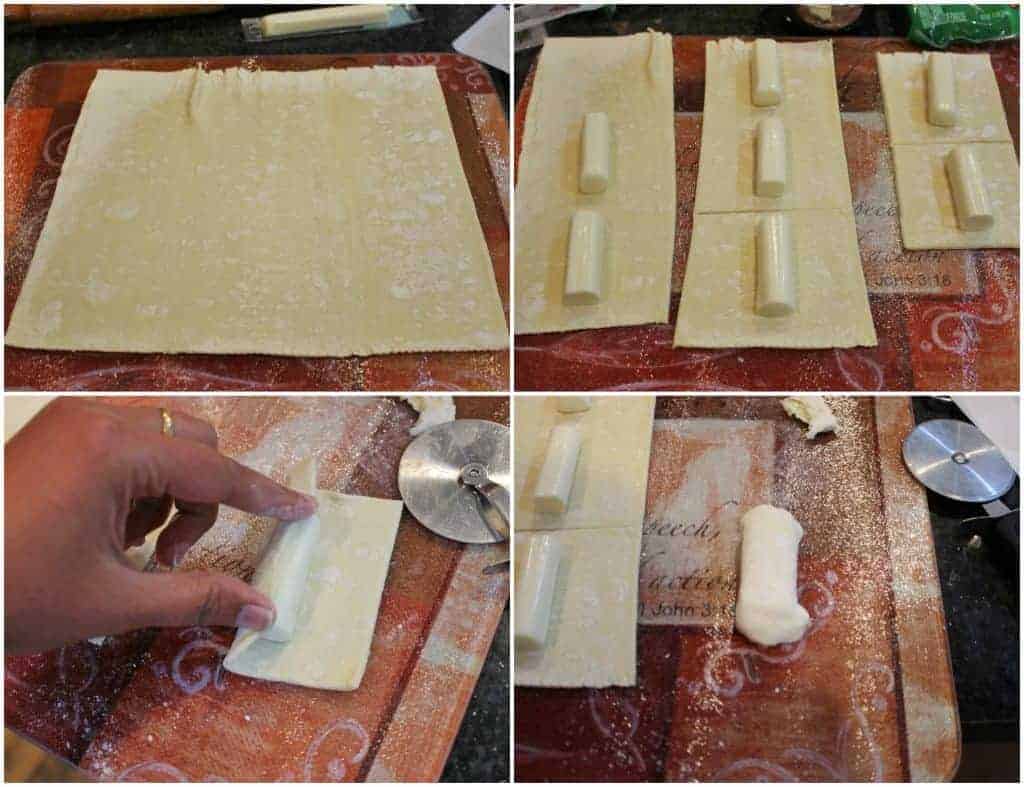 Place the prepared pastry on a baking sheet lined with parchment.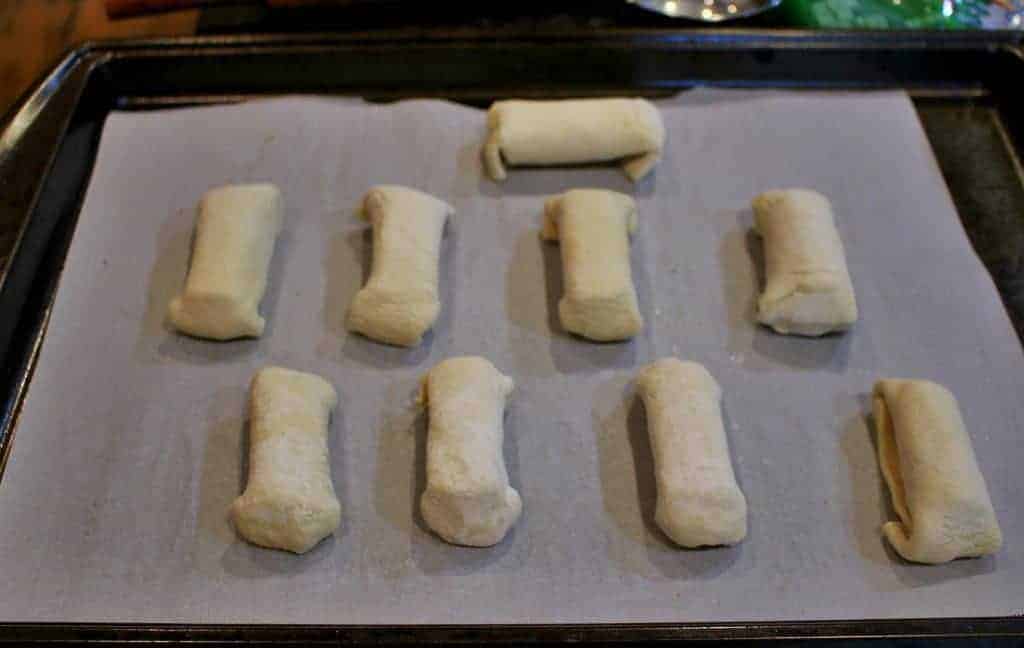 Using egg wash or heavy cream (even full fat milk would work), brush the pastry liberally.
Bake for about 15 minutes or until the mozzarella sticks are golden brown.
Remove from oven and let it cool for couple of minutes.
Serve the Mozzarella Sticks Made With Puff Pastry, warm with marinara sauce on the side.