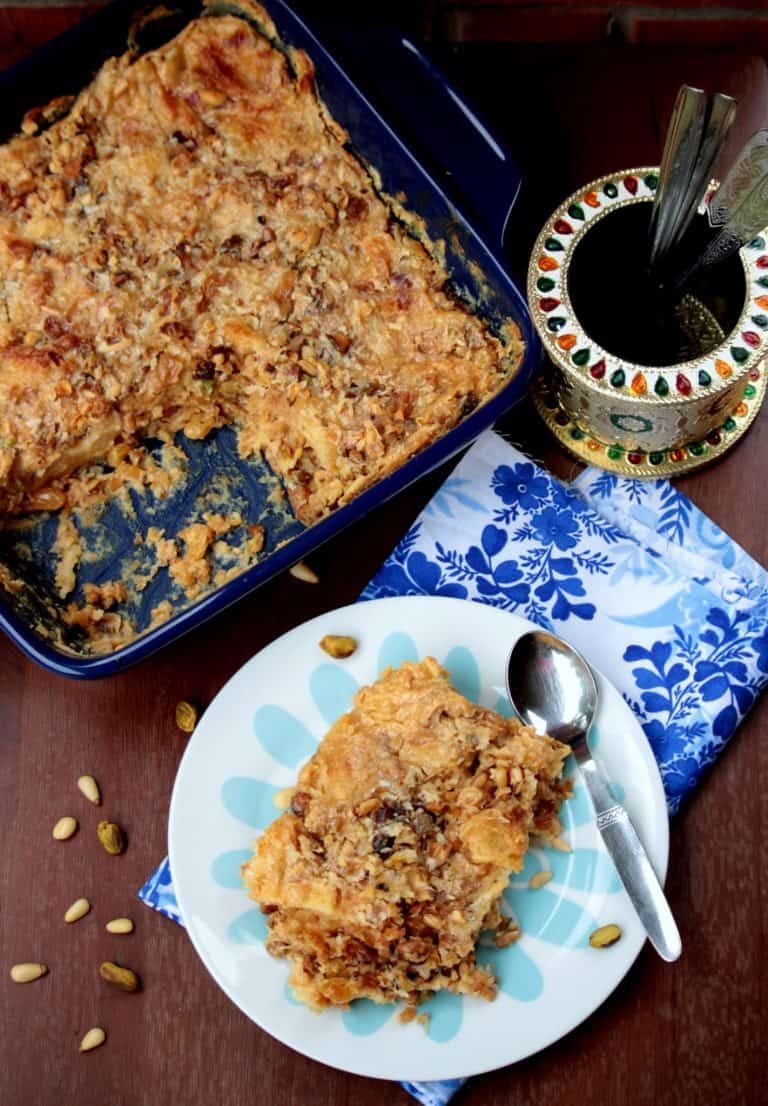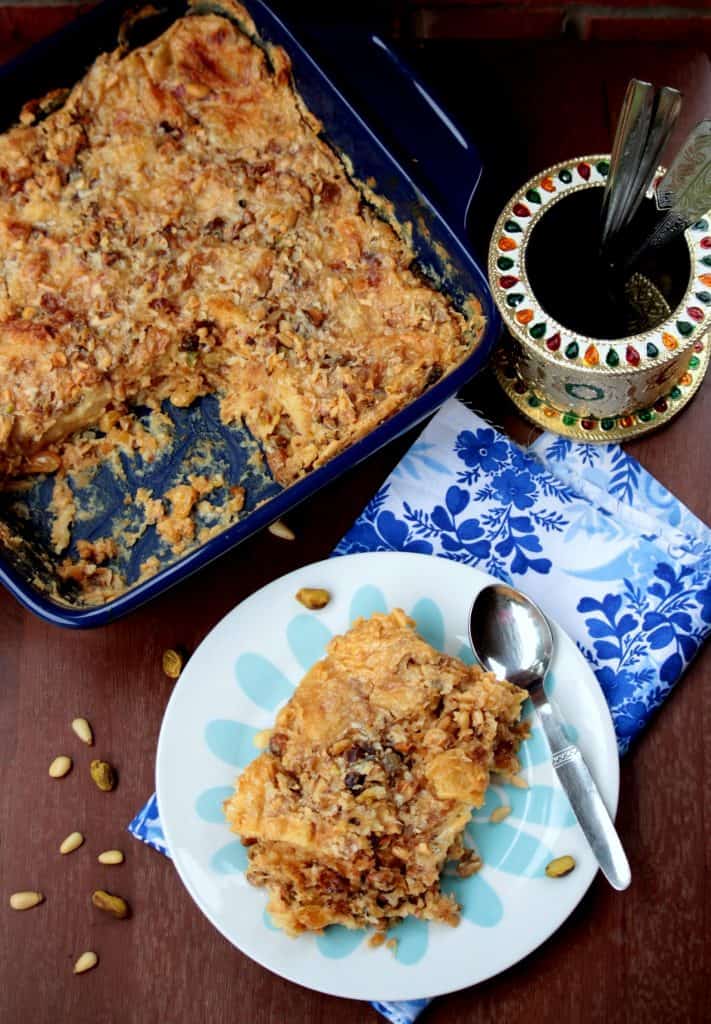 Umm Ali, the name of the dish was very different and that made me venture deeper into it. When I saw that it was an Egyptian dessert, I immediately decided that we would like it. My family has an affinity towards Mediterranean cuisine and that was the reason I really wanted to try this recipe for the alphabet U. When I saw that it was similar to American bread pudding, I was worried that it might have too many eggs and we may not like that.
That was not the case and this was a bread pudding with just milk mixture and dry fruits and absolutely no eggs. There are several ways we could make the Umm Ali. we could use Phyllo pastry sheets, puff pastry sheets, croissants, palmiers or just stale bread. Most of the recipes were though either made with puff pastry or croissants. I did not want to try the croissants as I knew that half of them would disappear just like that. I love the buttery croissants and there would be none left to make the Umm Ali and then I would end up feeling guilty for eating so mane of them.
So, it was decided that I was going to use the puff pastry sheets. This was yet another time, I realized how blessed we were to find the store bought puff pastry sheets. The process was a breeze once I assembled all the ingredients. There is never a shortage of nuts in the house (and I mean the edible ones) and I had no issues with that. I did have to buy a box of puff pastry sheet as the last one I had in stock was used up to make the Quesitos. I knew for sure that I had a tin of condensed milk in the pantry and hence came back home without buying one.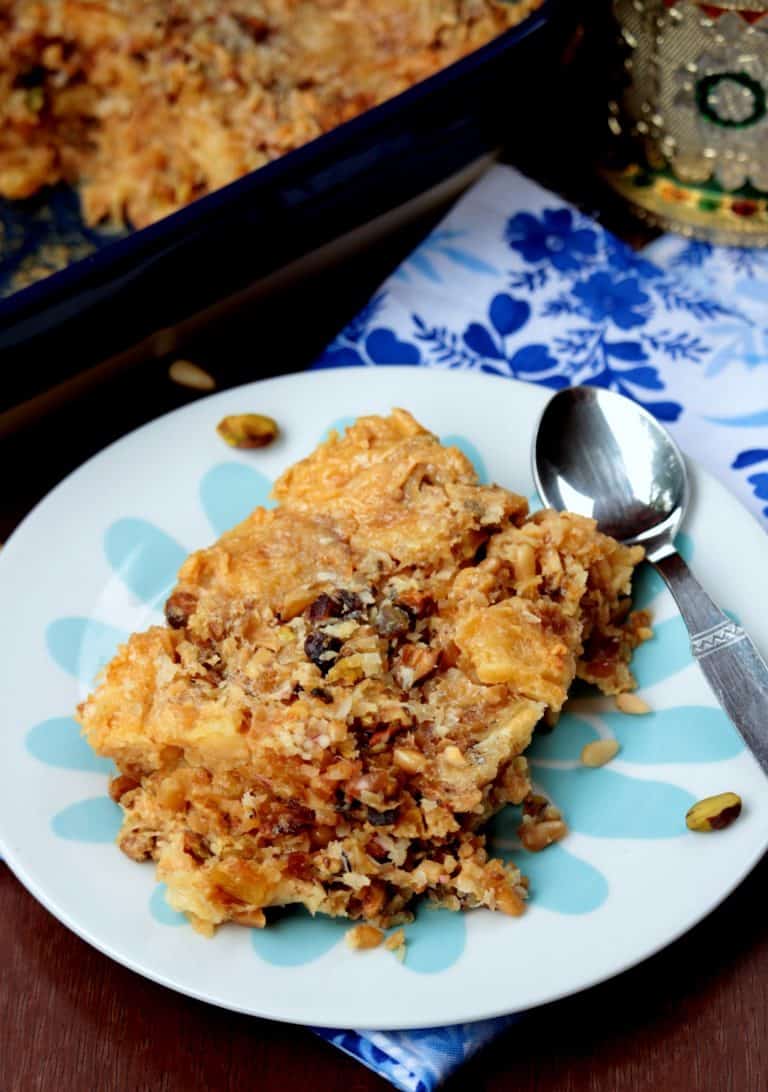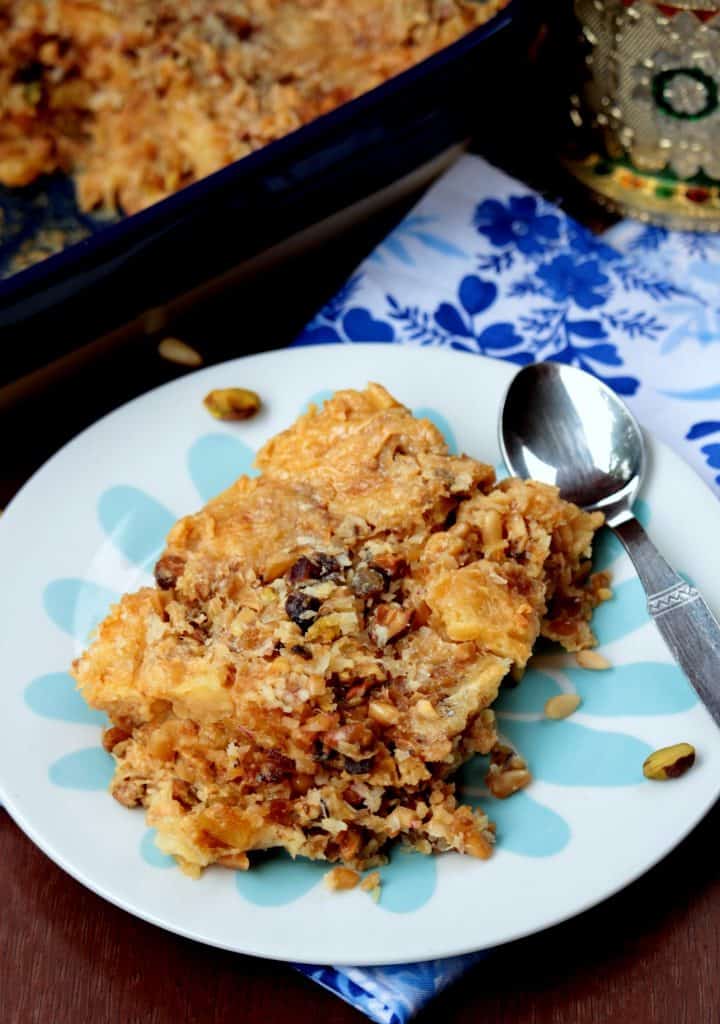 The morning of baking the dessert, i saw that there was no condensed milk. My oven was already preheating to toast the nuts and my pastry sheets had thawed. I did not want to go out in this stage to the stores and had to think of something else to use. I always have a large pack of evaporated milk as I buy them from whole sale stores and I decided to use it along with whole milk and sugar.
When heating the milk, the house sort of smelled like I was making one of my favorite Indian sweet, Paal Poli. Once I baked the Umm Ali and tasted it, I really want to call it the cousin of the Indian paal poli. It tasted a lot like it and if only was a little runny, it would have looked like it too. Umm Ali tastes best when warm, but you could refrigerate the leftovers and heat it up lightly in the microwave before serving. There are several stories on the internet about how the dessert got its name and so I am not going to repeat it. One thing I felt bad about was why had I not made this before. Everyone likes the Umm Ali and I would be making it often for parties and dinners.
My other bakes in the A – Z Baking around the World Marathon –
A for Almond cookies from China
B for Bretzel Rolls from Germany
C for Chocolate Cupcakes with Chocolate Buttercream Frosting from USA
D for Danish Cookies from Denmark
E for Empanada from Argentina
F for Franzbrötchen from Germany
G for Grissini from Italy
H for Hot Cross Buns from England
I for Irish Freckle Bread from Ireland
J for Jan Hagel Cookies from Netherlands
K for Kiffles / Kiflis from Hungary
L for Lagana Bread from Greece
M for Monkey Bread from USA
N for Nazook / Nazouk from Armenia
O for Obi Non from Uzbekistan
P for Peyniril Poğaça from Turkey
Q for Quesitos from Puerto Rico
R for Rice flour Cookies from Persia
S for Sheermal from India
T for Tijgerbrood / Tiger bread from Netherlands
Preparation time – 15 minutes
Baking time – 30 to 35 minutes
Difficulty level – Easy
Recipe adapted from – The Big Sweet Tooth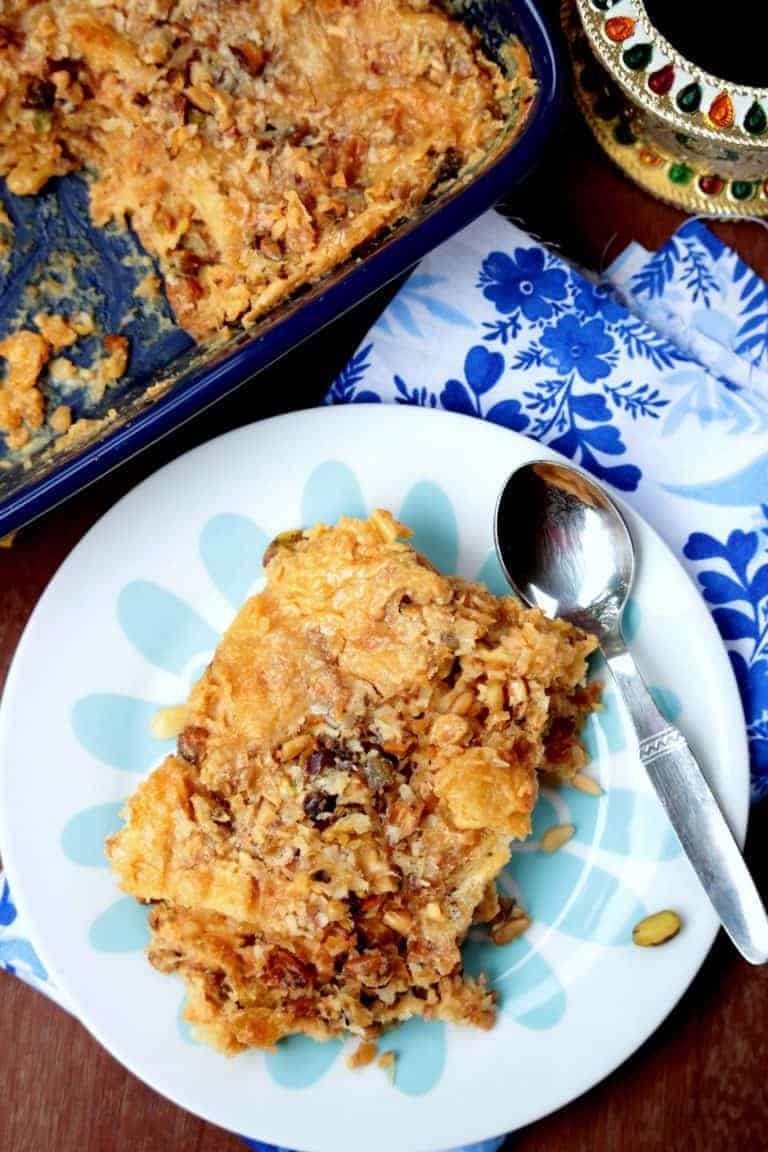 Ingredients to make Umm Ali – Serves 6 to 8
Puff pastry sheet – 1 sheet from the box (there are 2 in a box)
Evaporated milk – 1 can (350 ml)
Full fat milk – 350 ml
Sugar – 2/3 cup
Cardamom powder – from about 5 cardamom
Saffron – few strands
Slivered almonds – 1/4 cup
Pistachios – 1/4 cup
Pine nuts – 2 to 3 tbsp
Raisins / sultanas – 1/4 cup
Desiccated coconut – 1/4 cup
Whipped cream – 1/2 cup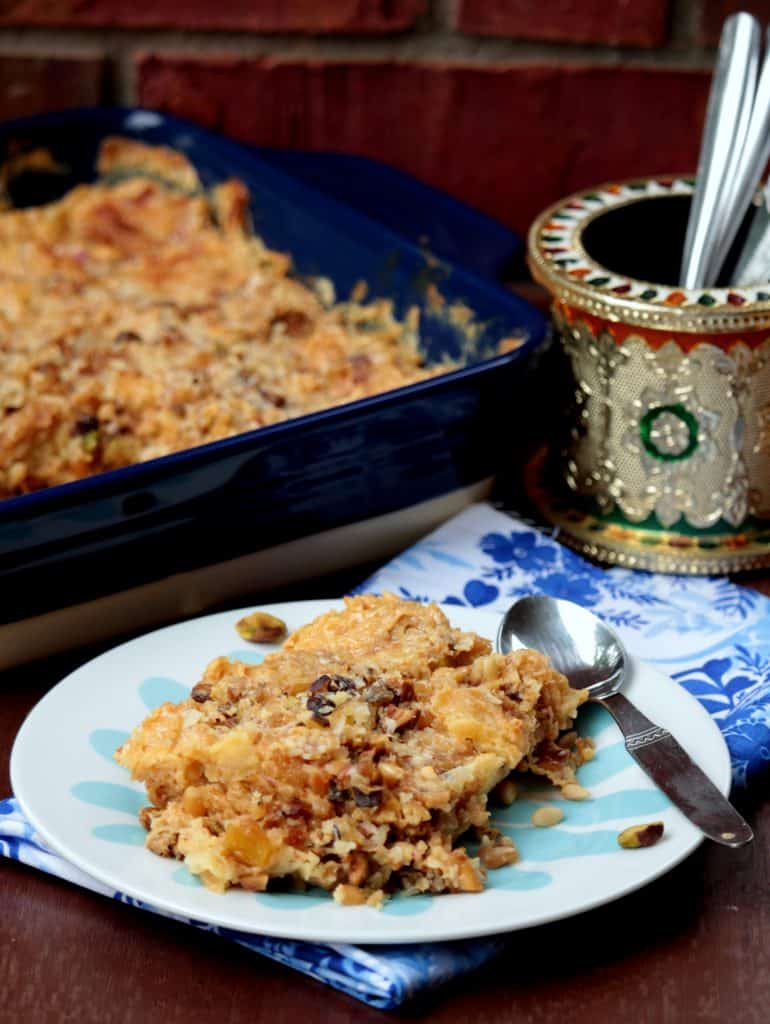 Procedure to make Umm Ali –
To prepare the puff pastry –
Thaw the puff pastry sheet according to the package instructions. Mine usually thaw in about 30 minutes when kept at room temperature.
Preheat the oven to 400 F.
Cut the puff pastry sheets into squares and place it in a baking sheet. Prick them with fork few times. Bake for about 15 minutes or until golden brown and puffed up.
Remove from the oven and let it cool a bit.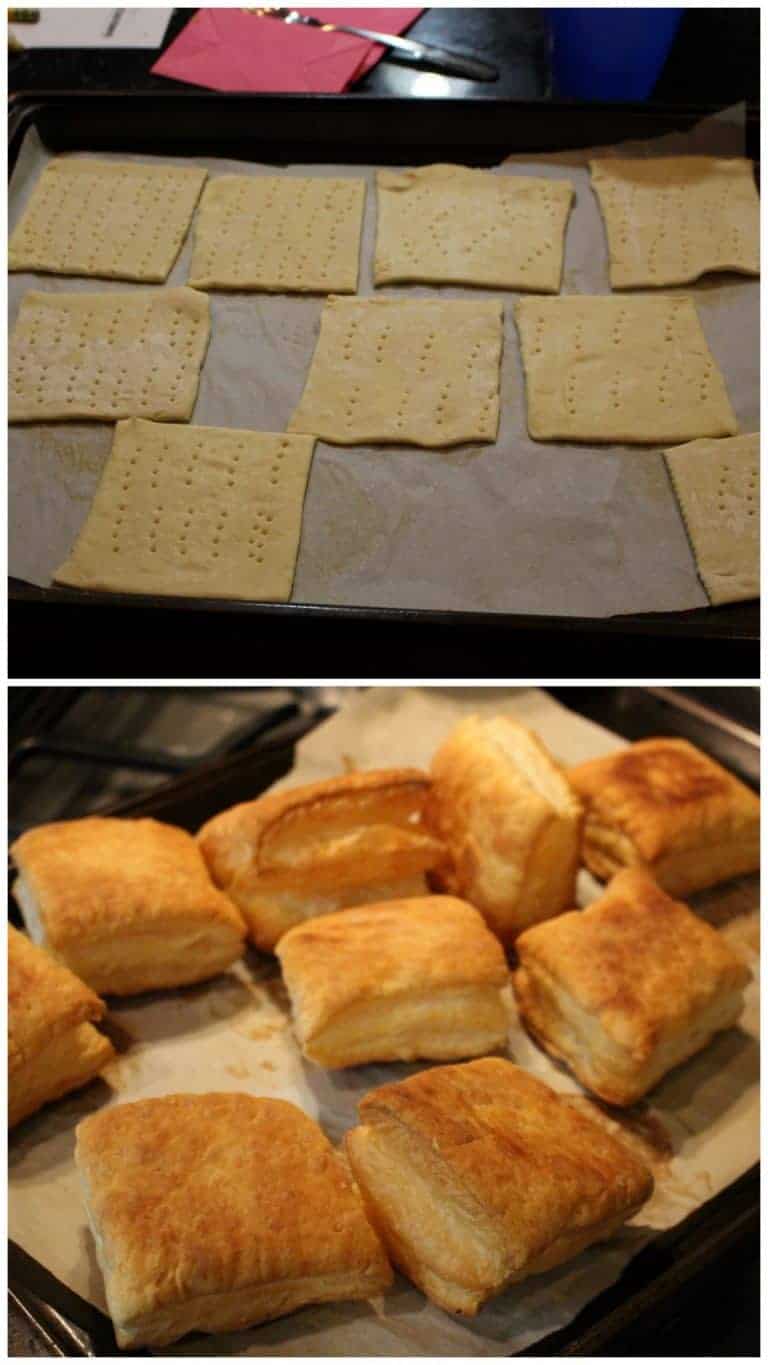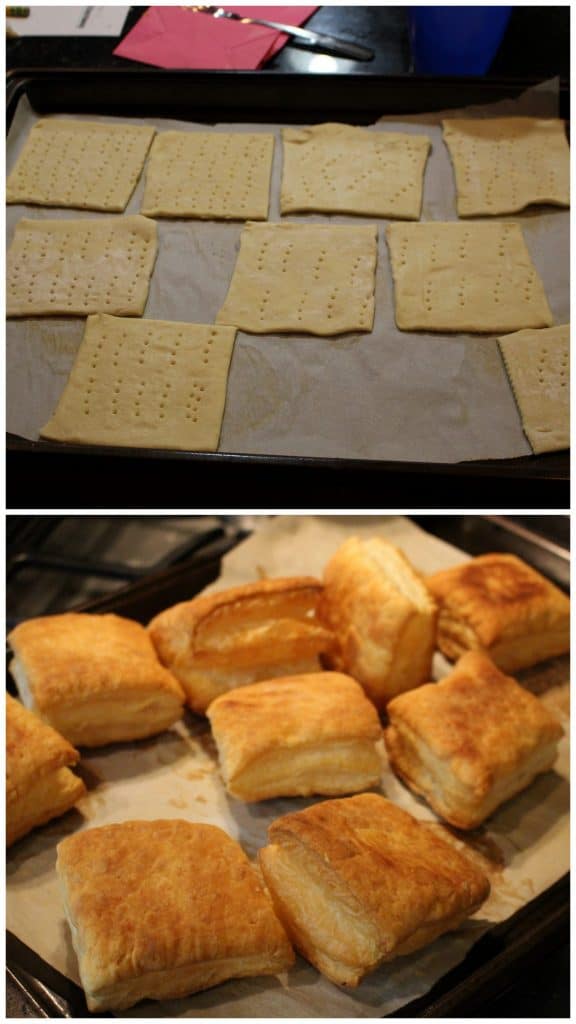 To prepare the nuts –
Reduce the oven temperature to 350 F.
In a baking sheet, place the almonds, pistachios and the pine nuts and toast them in the oven for 5 to 7 minutes or until aromatic and lightly brown.
Remove the nuts from the oven, let it cool down and then chop them into small pieces. Do not powder the nuts. We need the texture in the pudding and hence just chop them into smaller pieces. I just use my kitchen knife and run through the nuts few times.
Add the raisins and the desiccated coconut to the nuts and mix them well. This will be the dry fruits mixture.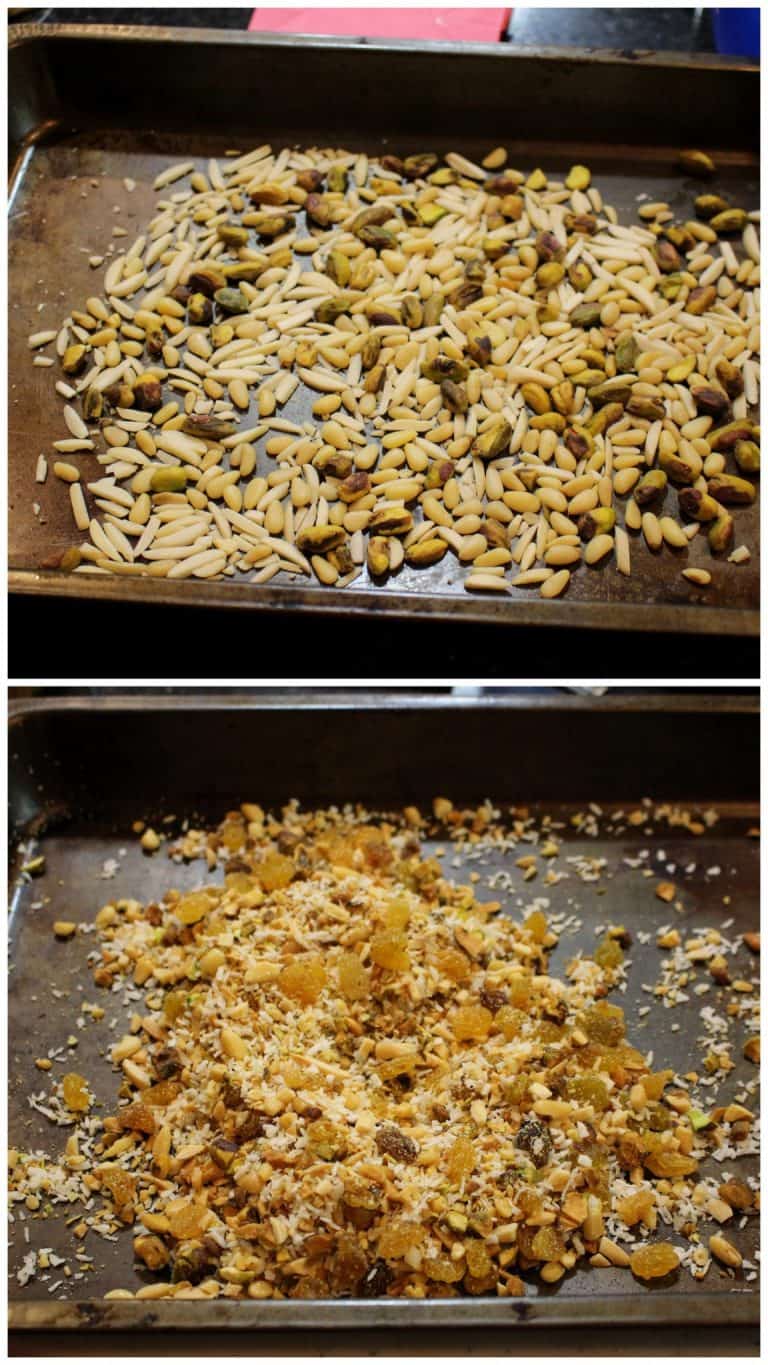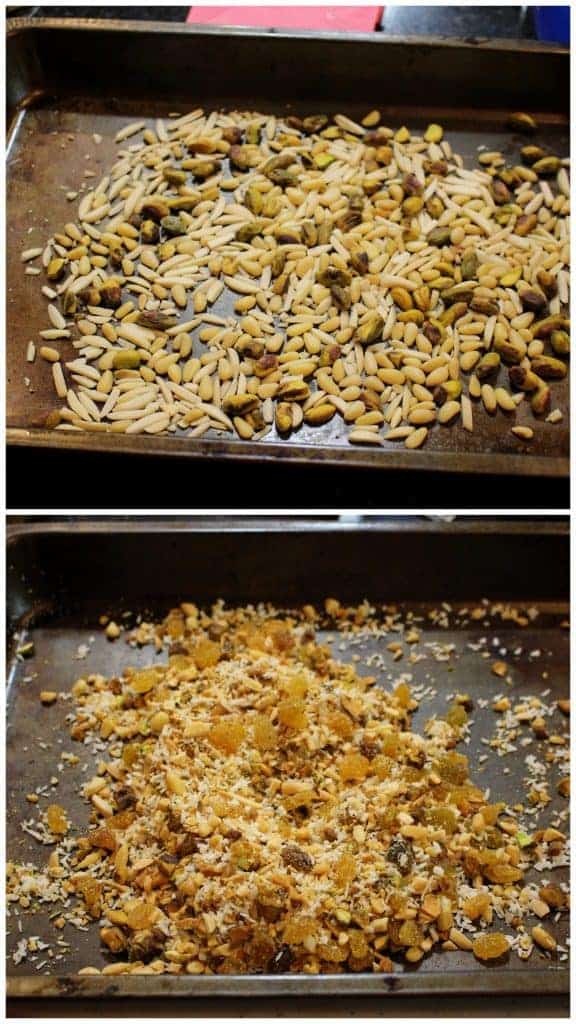 To make the milk mixture –
In a sauce pan, combine the evaporated milk, whole milk and sugar. Heat the mixture until the sugar melts and combines.
Add the cardamom powder and the saffron strands to the warm milk and mix. Turn off the flame.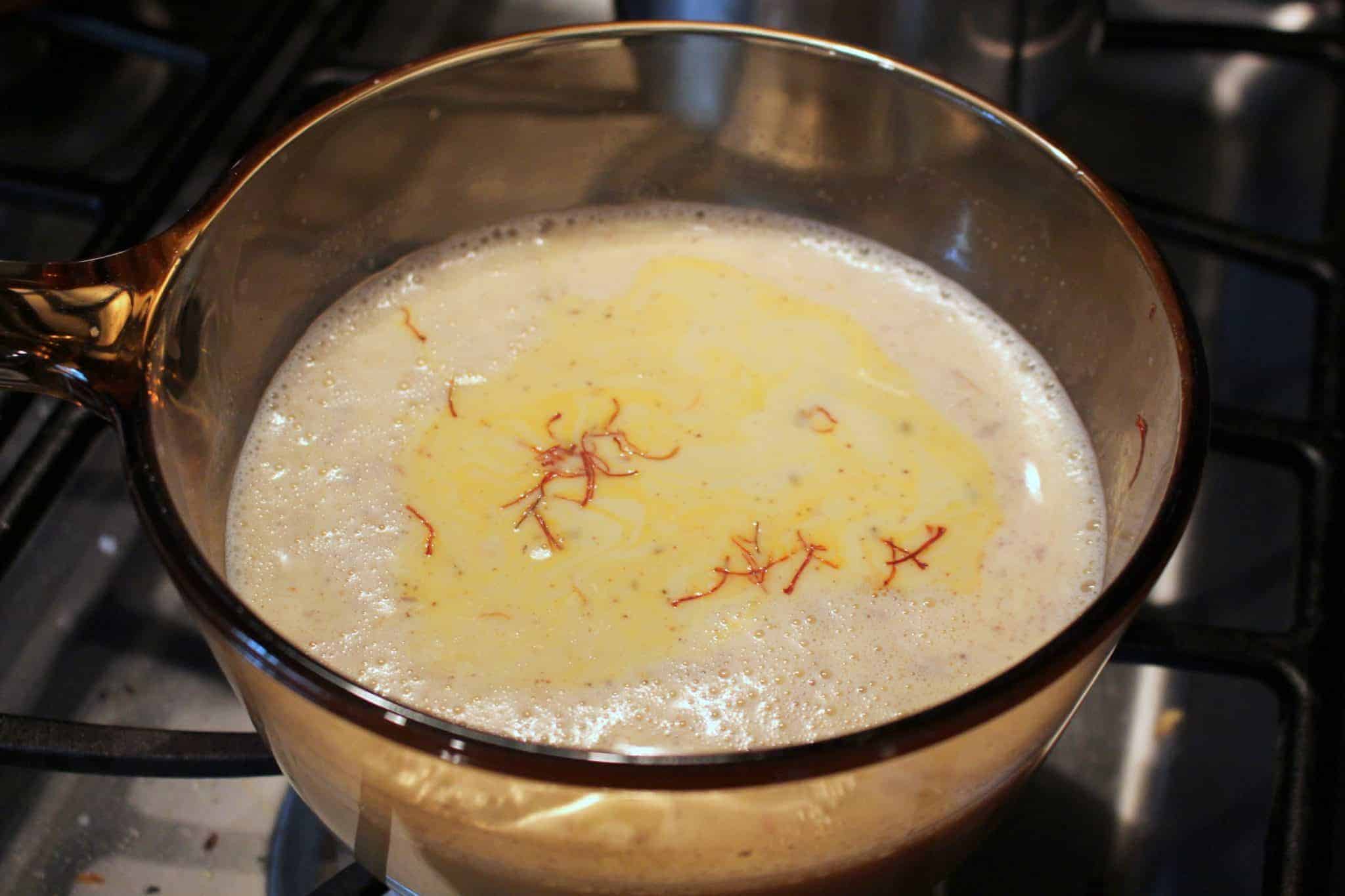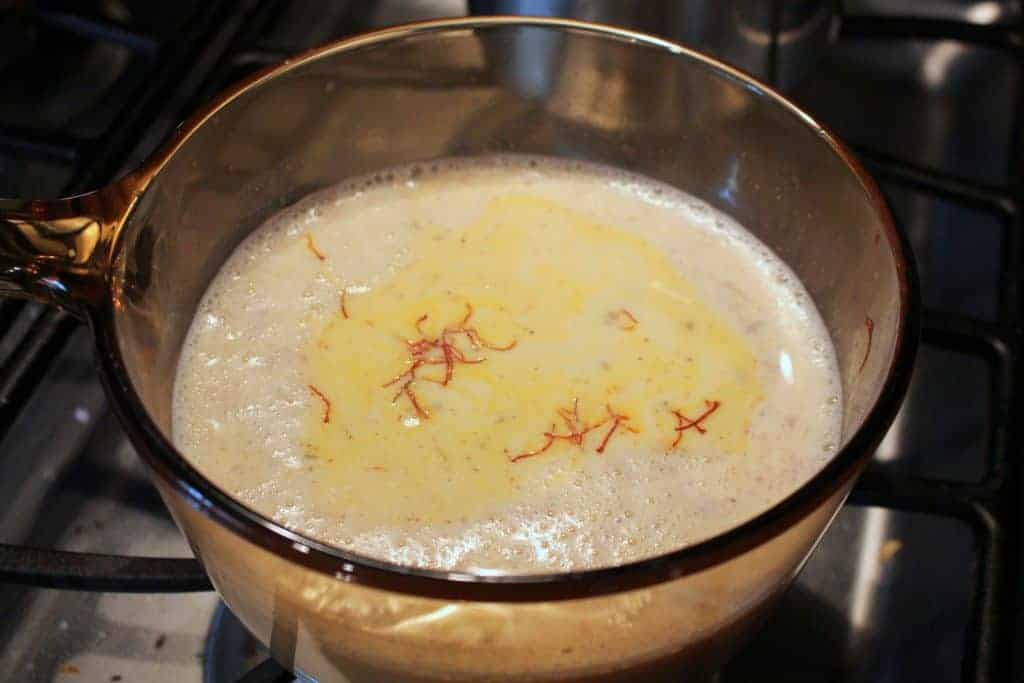 To assemble and bake the Umm Ali –
Lightly grease a 8 x 8 baking dish. Let the oven remain preheated at 350 F.
Tear half of the baked pastry sheets into small pieces and spread it on the baking dish.
Add half of the prepared dry fruits mixture as the next layer.
Pour half of the milk mixture to the baking dish. Ensure that the pastry sheets are soaked.
Now shred the remaining pastry sheets and spread it as the next layer.
Add the remaining dry fruits and then pour the remaining milk.
Spread the whipped cream as the last layer and bake in the oven for 30 to 35 minutes or until the top of the pudding is golden brown and bubbling.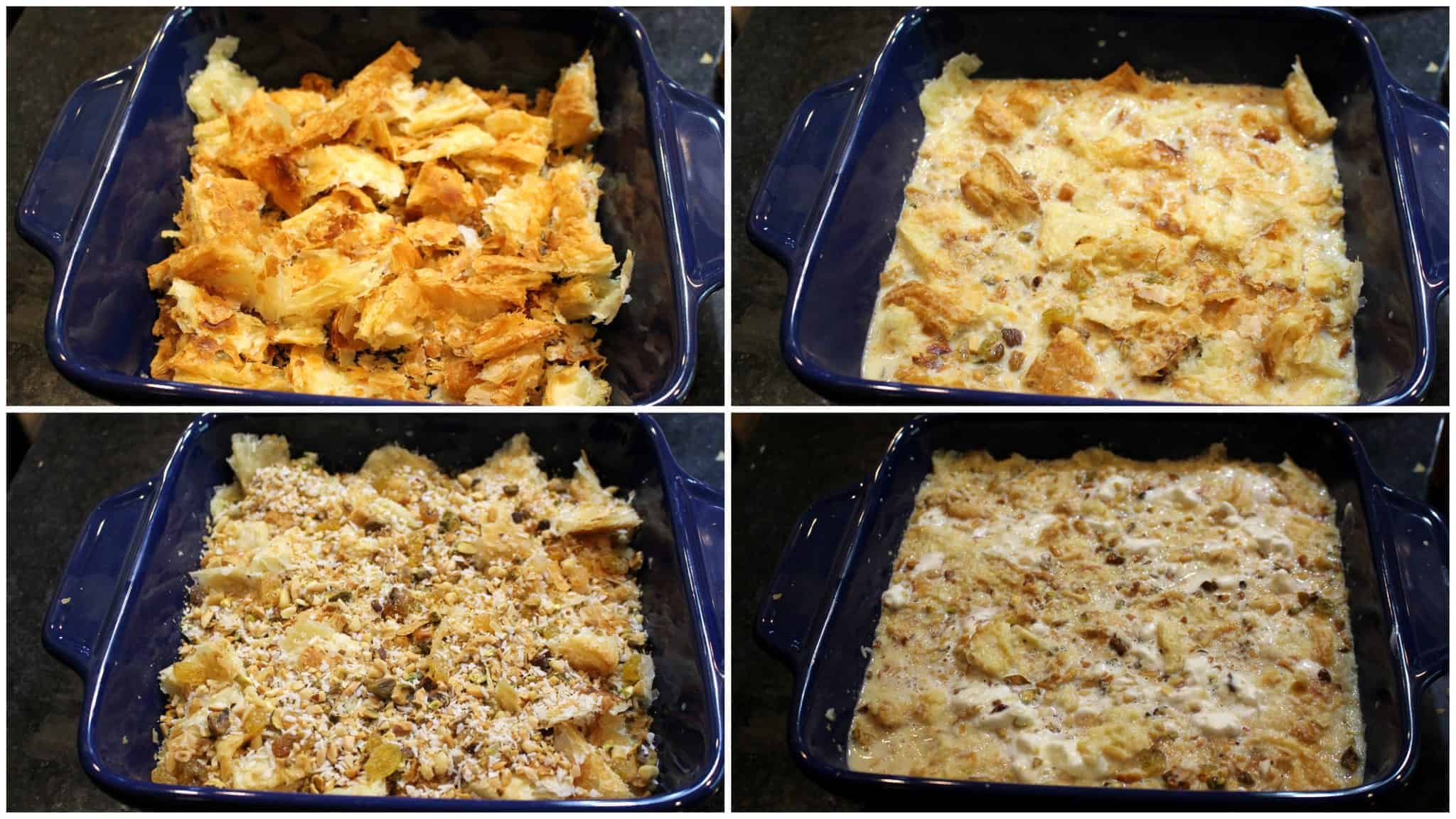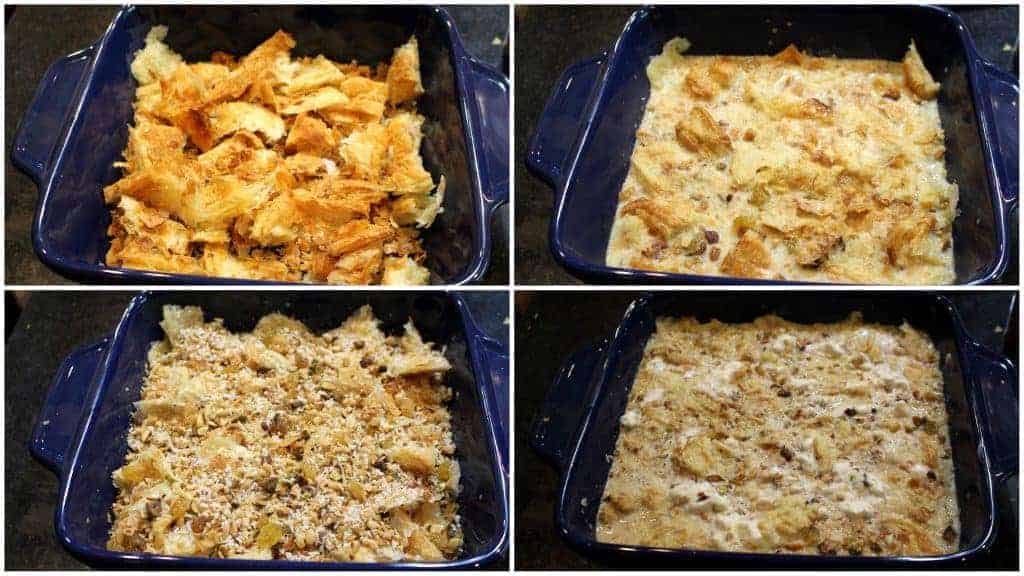 Remove the Umm Ali from the oven and let it cool down for 10 minutes.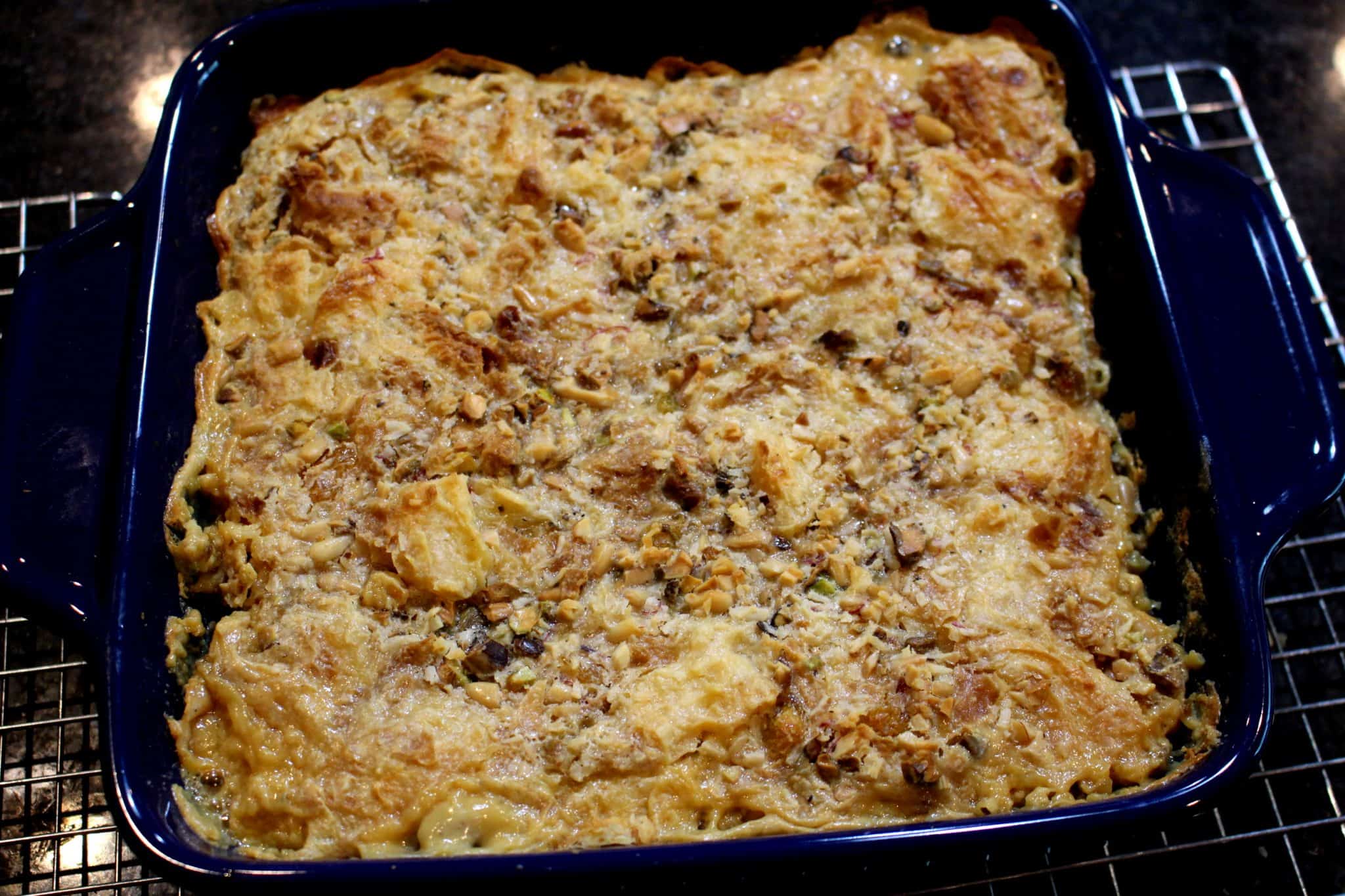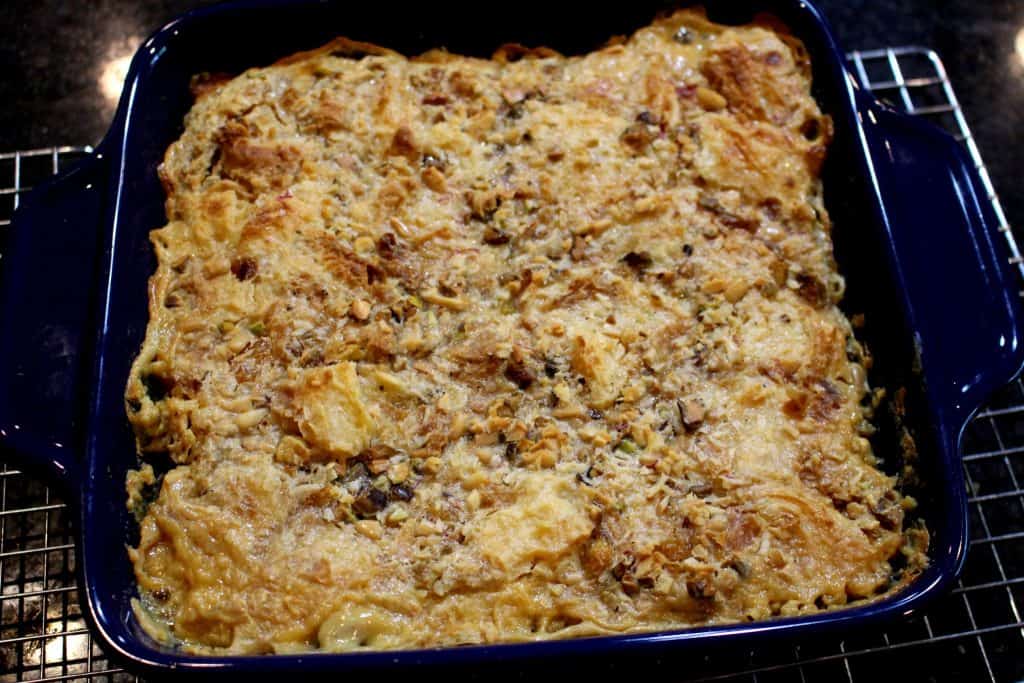 Serve it warm with more nuts if needed.