Poli is one of the dishes that is prepared during the Sankranthi festival. We prepare Poli on the Boghi day. Poli are of different varieties, like paruppu poli (Dal Poli), coconut poli etc. I love Paal Poli (taken after my dad). Since me and dad always wanted Paal poli, my mom was left with no option other than making this on the Boghi day. I am sharing this recipe with you and please pen in your comments.My mother always made this with Chiroti Rava. This is a much finer variety of Rava available in all major stores in India. If not available, this can be made with regular Rava.
Preparation time – 15 Mins
Cooking time – 30 Mins
Difficulty level – medium
Ingredients to make Paal Poli – Makes around 20 polis
Chiroti Rava/Rava – 1 cup
Milk – 4 cups
Cashew nuts – 10 soaked in warm milk
Almonds – 10 soaked and skin peeled
Sugar – 1 ½ cups
Saffron strands – few
Elaichi (cardamom) Powder – ½ tsp
Oil – for frying the puris
Salt – a pinch
Ghee – 2 tsps
Procedure –
Make stiff dough with the rawa adding a pinch of salt and enough water. Add a little bit of ghee when making the dough. Let it rest for 15 – 20 Mins.
Roll the dough into puris and deep fry in oil. We can either fry the puri as is or fold the puri into half and pinch the ends and fry them. The puris should be crisp.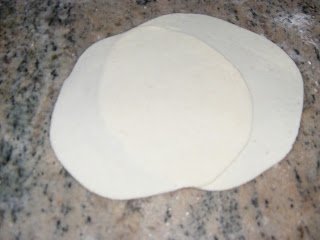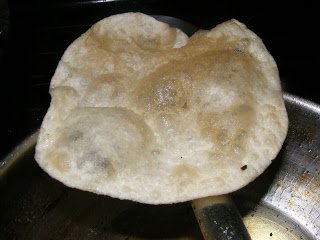 Grind the soaked almonds and cashews into a smooth paste. Boil the milk and add the ground paste and sugar and let it come to boil. Add the elaichi powder and saffron strands and simmer the milk.
Soak the puris one by one in the milk and press it gently. Add the next poli and gently remove the previous one and keep it in a flat container. Repeat this with all the puris and drain them. Do not layer them more than 2 on top of each other.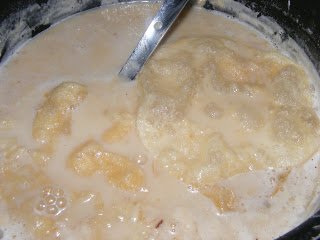 If the puris are taking a while to soak, you can add 3-4 puris and then remove the older ones from the bottom. Do not let them soak too long in the milk, since they could break easily.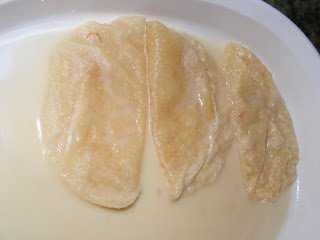 Once all the puris are done pour the remaining milk on the arranged puris. It is important not to have them too layered because then they will break when we try to take them out for serving.
Let them soak well for couple of hours and they are ready to serve. Tastes good at room temperature or when chilled.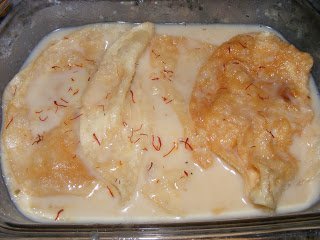 If the time is less on the day of preparing Paal poli, we could make the puris a day before and store them in an airtight container. It is important to keep the puris crisp.
Enjoy !!!