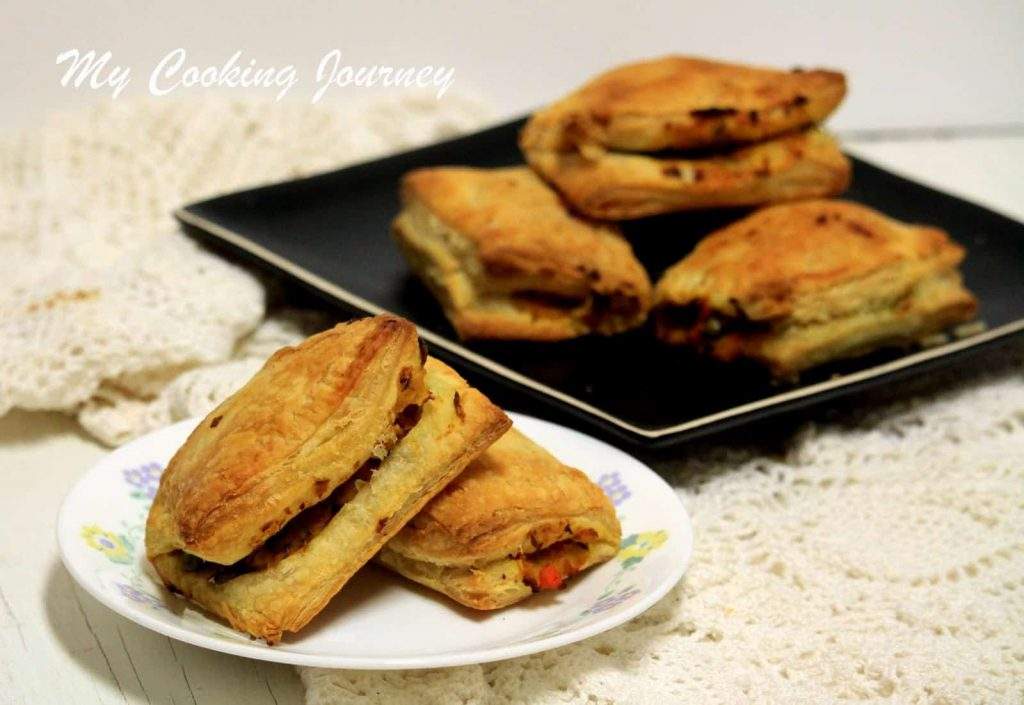 The vegetable puffs always reminds me of bakeries in India where I used to eat them every so often while growing up. Lately I feel like I am missing on lot of little delights in life and whenever I try to tell my boys about my growing up in India, they seem to be not able to relate to it. When we lived in New York, every so often we would go to New Jersey to do Indian grocery shopping and mainly to enjoy the treats in Hot Breads. We not only eat but also bring back home these vegetable puffs, paneer puffs, personal pizza and so on.
One of my best friends in New York made awesome vegetable puffs and I used to enjoy eating hers. Whenever I felt like eating puff, I just have to ask her and she would make a large batch of it for me. After we moved here to Oklahoma, one of our new friends had made the puffs and brought it to our house when we had a small gathering here. That is when I realized I realized that since I always had someone make puffs for me, I have never made it myself. It is so easy to make these puffs especially since we get the readymade puff pastry sheets available in market, but I never got around making them.
Since this was my first time making these, I stuck to the traditional potato and peas filled puffs. We enjoyed steaming hot puffs for dinner along with some stories of growing up and memories of New York. I always thought I was a very adaptable person, but I have been surprised myself about how much I miss New York and not to mention India.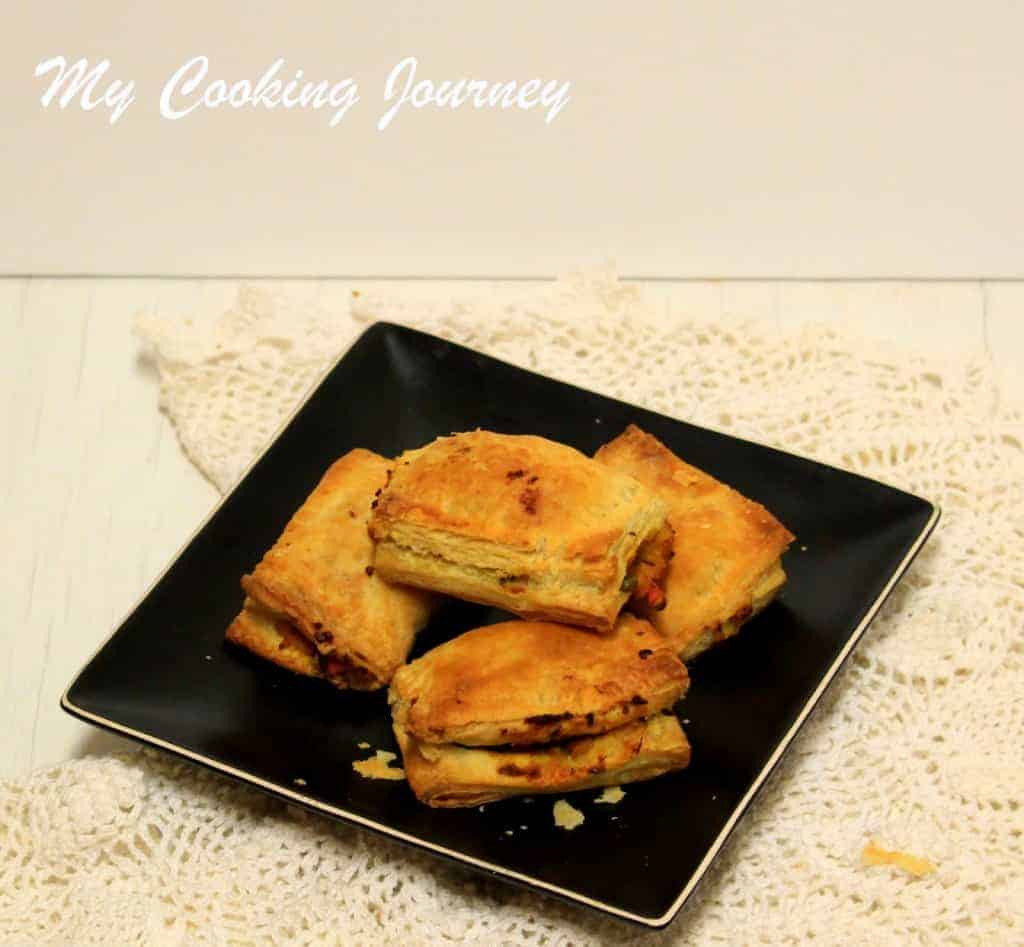 Preparation time – 15 minutes
Cooking time – 20 minutes plus about 20 minutes of baking time
Difficulty level – easy
Ingredients to make Vegetable Puffs – (Makes about 12 large puffs)
Puff pastry sheet – 1 package (2 sheets)
Potato – 3 large (cooked, peeled and mashed)
Onion – 1 medium (finely chopped)
Peas – ½ cup (I used frozen)
Oil – 1 tbsp
Cumin seeds – 1 tsp
Turmeric powder – ¼ tsp
Red chili powder – 1 tsp
Coriander powder – ½ tsp
Garam masala – ½ tsp
Amchur powder – 1 tsp
Salt – to taste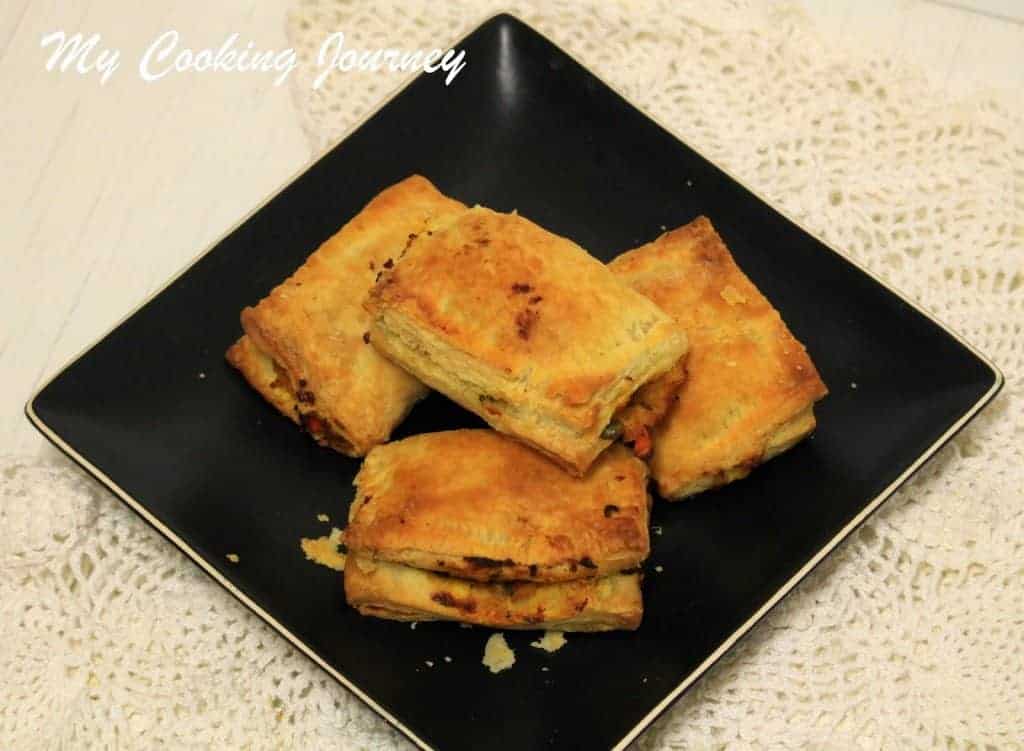 Procedure to make Vegetable Puffs–
To make the filling –
Wash, peel and cook the potatoes in the microwave until soft. Mash it up using a fork.
In a pan, heat the oil and then add the cumin seeds. Sauté the chopped onions until golden brown.
Add the frozen peas and all the spices along with the salt. Mix well and cook for 3-4 minutes.
Now add the cooked/mashed potatoes and mix well. Sprinkle some water, if needed and cook the masala in low flame for about 5 minutes. The filling should be dry. Keep it aside to cool.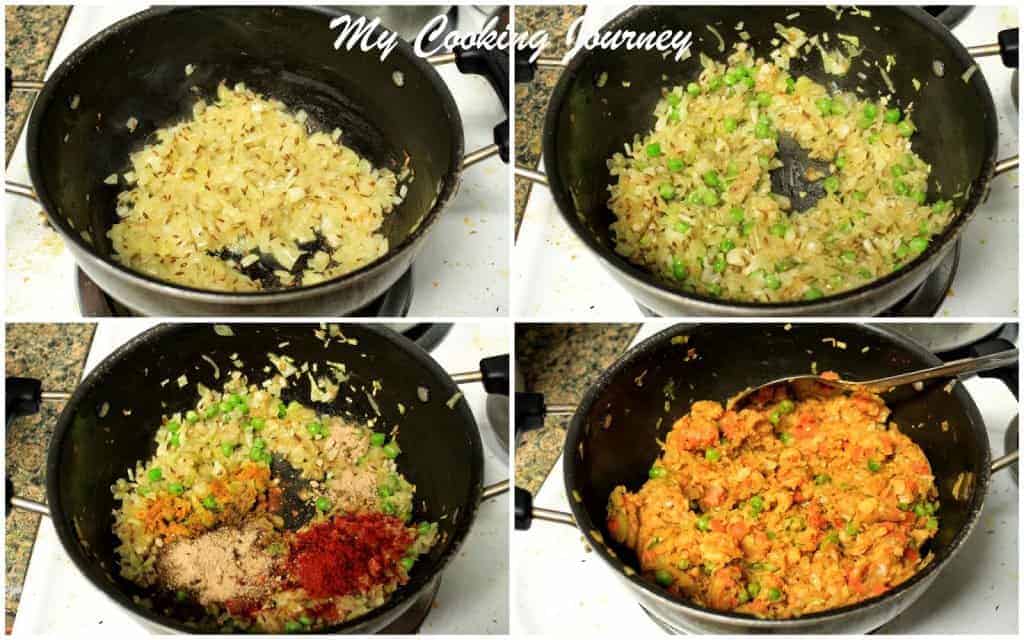 To make the puffs –
Preheat the oven to 425 F. Line 2 baking sheet with foil or parchment sheet.
Thaw the puff pastry sheets as per the instructions on the box.
Divide each sheet to 6 pieces. Place about a tablespoon of filling on one side of the pastry sheet and fold it over itself. Using a fork, seal the edges well.
Repeat the same with the remaining sheets.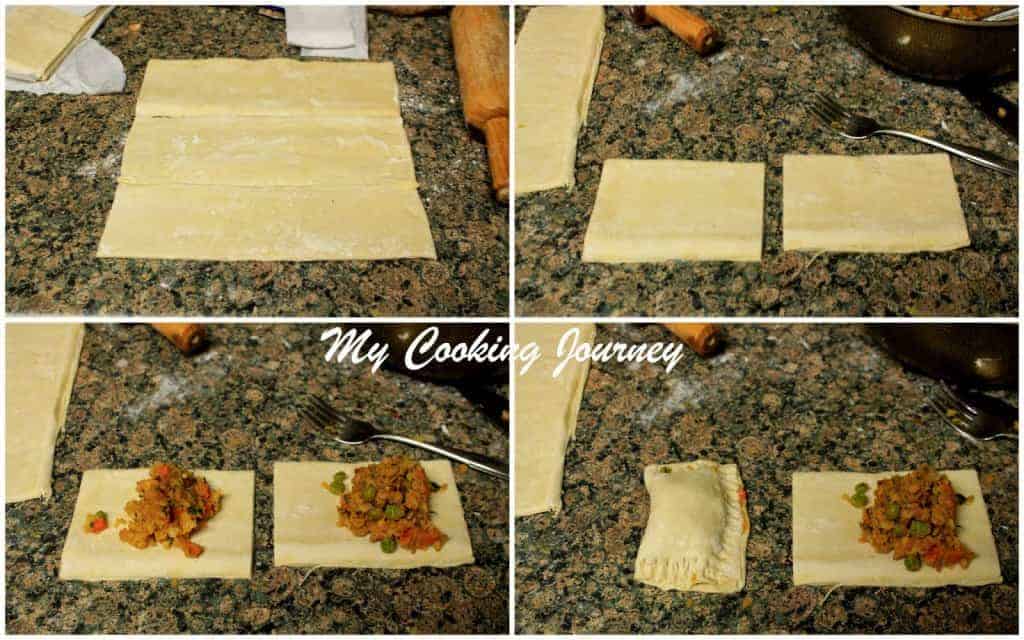 Bake in the preheated oven for about 20 minutes or until golden brown and puffed up.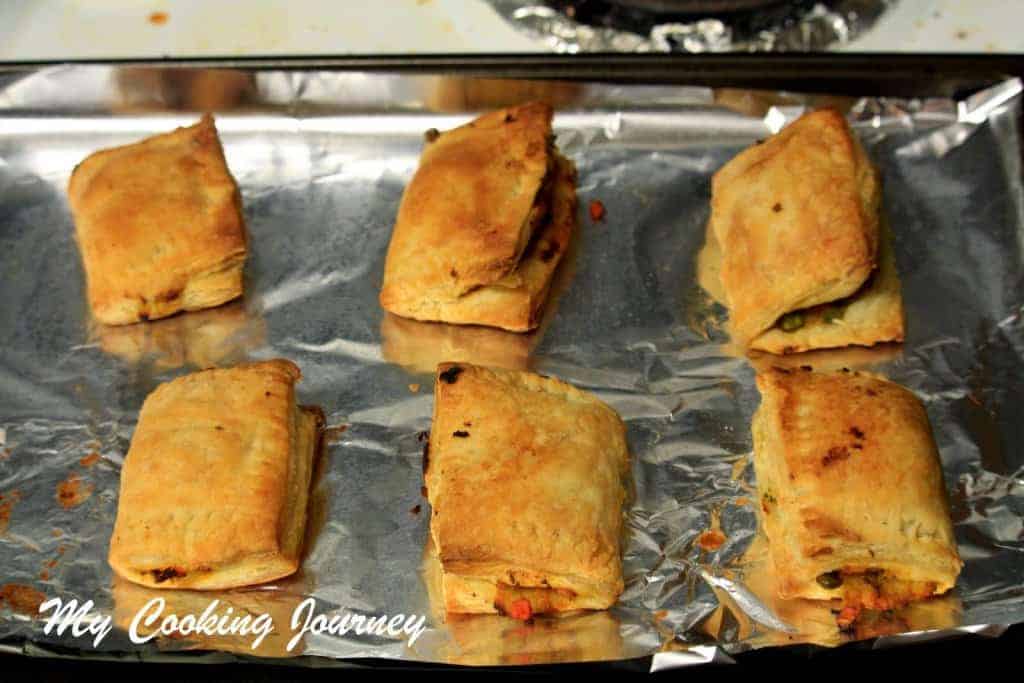 Serve warm with ketchup or Tomato sauce!