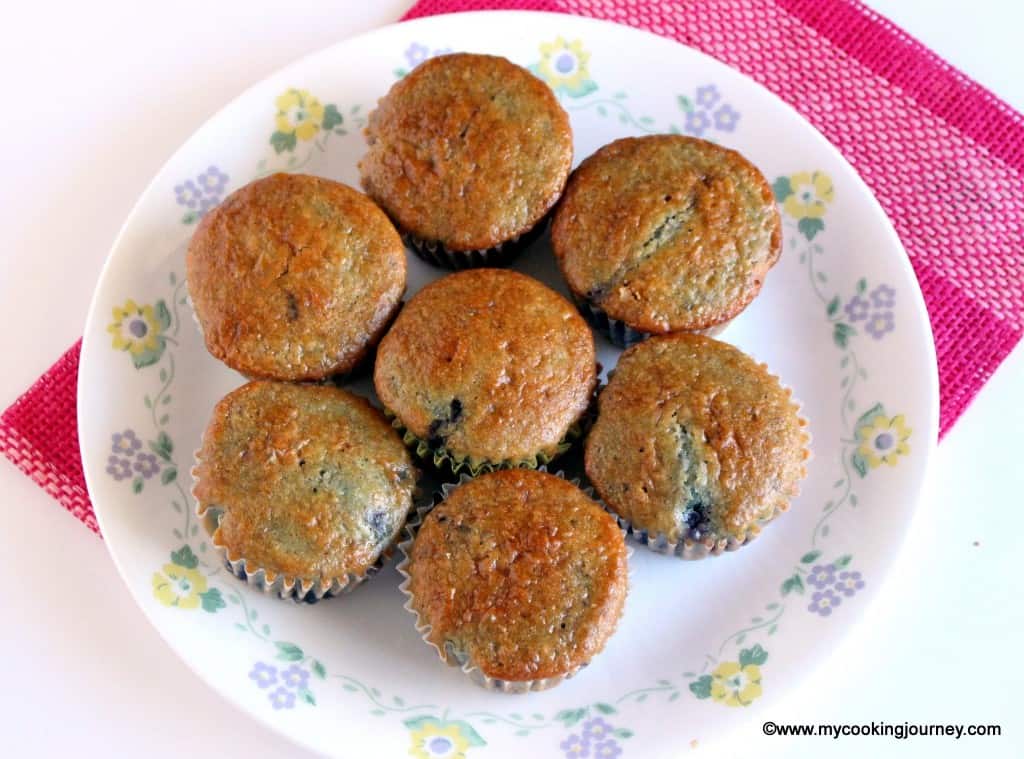 Muffins are something I make very often as they make for a wonderful evening snack and also keep the kids filled up. Adding different fruits to the muffins adds a layer of flavor and color and the kids really enjoy digging in through the muffins. I always have some kind of frozen fruit in the freezer as my older one loves to have some in his morning cereal. Blueberries are something that I could never resist and I always end up making these Blueberry Muffin before he gets to add some in his cereal.
I have a recipe for blueberry muffin in my blog, but that is a version with egg in it. Lately I have been making a lot of baking egg less recipes. This Blueberry Muffin recipe is adapted from Rak's kitchen. I have reduced the amount of oil from the original recipe and added milk instead. This recipe is eggless and also butter free. I have used a little bit of flax seeds in the recipe, as I always add some in any baking recipe. This is one wonderful way to use up flax seeds in our everyday diet.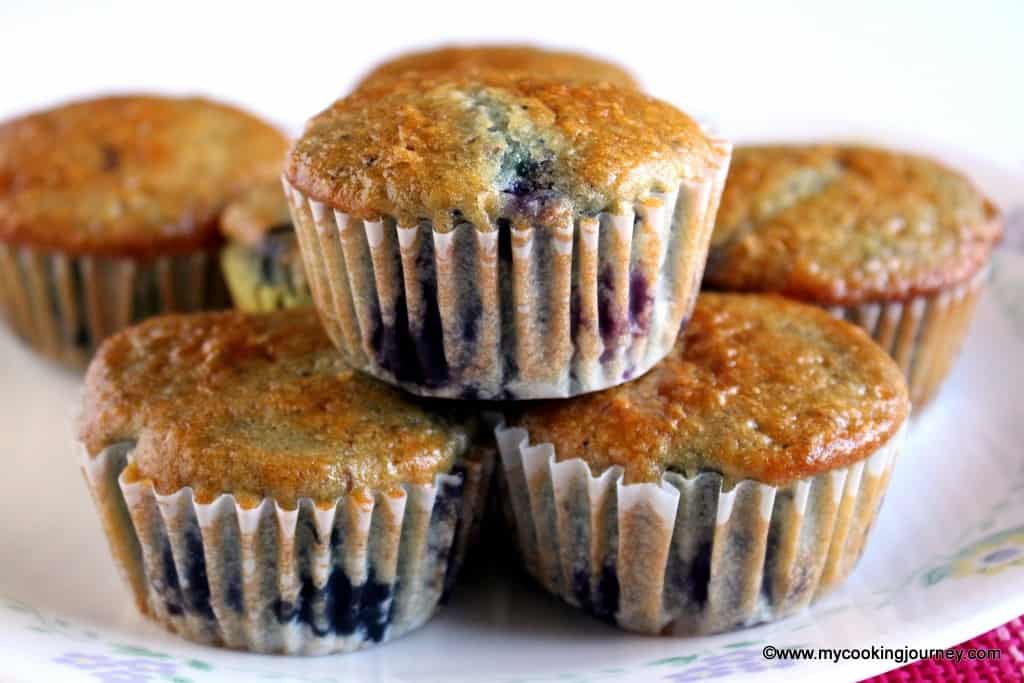 Preparation time – 10 minutes
Cooking time – about 20 minutes per batch
Difficulty level – easy
Recipe adapted from – Rak's Kitchen
Ingredients to make Blueberry Muffin – Makes 12
Cake flour – 1 ½ cups + 1 tbsp
Blueberries (frozen or fresh) – 1 cup
Flax seed powder – 3 tbsp
Plain yogurt – 1 cup (whisked lightly)
Vegetable oil – ¼ cup
Milk – ¼ cup (may need slightly more if the consistency of the batter is too thick)
Sugar – ¾ cup
Baking powder – 1 tsp
Baking soda – ½ tsp
Vanilla extract – 1 tsp
Procedure –
I have used cake flour in the recipe. If you do not have cake flour, you can make some at home using all purpose flour and corn flour. Use 3 tbsp of corn flour and then top it off with All purpose flour to measure 1 ½ cups together. Sieve this mixture couple of times so that the flours blend together.
Add the flax seed powder to the flour and mix to combine.
Add about a tbsp of flour to the blueberries and mix it. This step will ensure that the blueberries do not sink to the bottom of the mould when baking.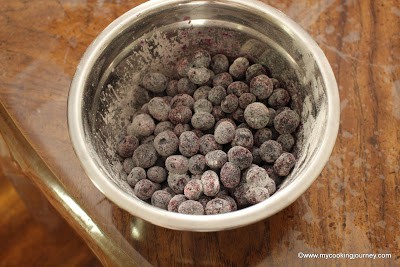 Preheat the oven to 350 F and grease the muffin tins. If using liners, place them in the tins and lightly spray.
In a wide bowl, whisk together the yogurt and the sugar. Now add the baking powder and baking soda to the mixture and whisk. Let this rest for about 2-3 minutes. You will notice that the yogurt mixture will become a little frothy.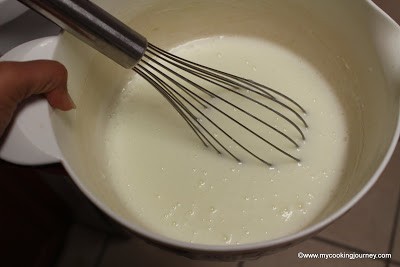 Now add the vanilla extract, oil and milk and whisk well.
Add the flour in 3 batches to the wet ingredients and mix gently after each addition. Check for the consistency and if it appears too dry add a tbsp or so of milk to bring it to pouring consistency.
Add the blueberries to the batter and mix gently to combine.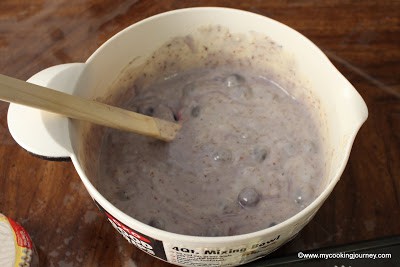 Scoop the batter and fill about ¾th of the muffin tin. Bake for 18 – 20 minutes or until the toothpick inserted in the middle comes out clean.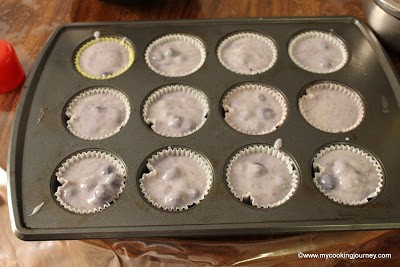 Cool the muffins on wire rack and enjoy with a glass of milk.