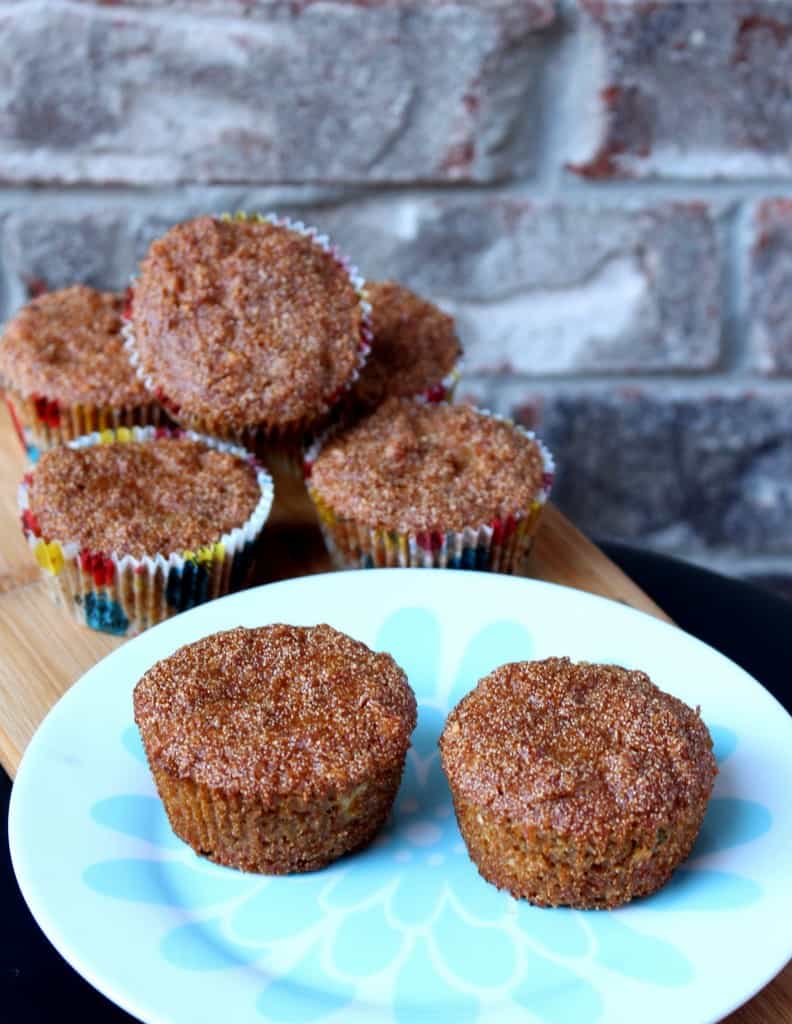 What do you do when you hear from someone that jackfruits are selling for 99 Cents a pound in a local Chinese store? Buy a tons of it….That is what we did even if it means we have to lug it all the way back from Dallas. Last weekend when we went to Dallas to drop my father off at the airport, we stayed back in our cousin's place for couple of days. We usually do our Indian store grocery when in Dallas. My cousin mentioned that one of her colleagues brought some jackfruit to work and they were so sweet. She mentioned the store and the temptation to buy some remained in the back of my head all the time I was shopping at the Indian stores.
I finally gave in and asked my husband to make a trip to the Asian store. This store turned out to be a large market place with their own bakery, crepe store along with the grocery store. I controlled my urge to start shopping a large deal as my van was overflowing with the Indian grocery. I stopped at the fruit section and they had these large jackfruits cut in half and wrapped in plastic. My husband picked the most ripe and ready to eat piece and we were ready to check out. This piece weighed over 20 lbs and we carried it back and placed it in a safe spot in the trunk of the van.
I almost hated the 3 ½ hours trip back to our home as it was a torture to smell the deliciousness of the jackfruit and not being able to eat it. We came back home, had a quick dinner and we were all ready to tackle the jackfruit. My husband is an expert in cutting the fruit and I am an expert in eating them as he cuts.
We ended up eating quite a bit of jackfruit as we were cutting it and still had quite a large amount left. If it was a little less ripe we could have just cut enough to eat and left the other piece to ripen, but the one we bought was very ripe and ready to eat the same day. By next day, the jackfruit started becoming over ripe and I had to come up with recipes to use them up quickly. I made the traditional Kerala Jackfruit jam – Chakka varati with one large batch and I still was left with ample amount of fruit.
That is when I decided to freeze the fruit. This was the best ever decision I have made in a while. After a week, today I decided to make this traditional Goa Jackfruit cake, but in a slightly different form. I made them as muffins instead of a cake and I used up half of my frozen jackfruit.
This Jackfruit Semolina Muffins recipe was something I wanted to make for a while and I was thinking of using canned jackfruits, Luckily, I found the fresh fruit and it worked great for my #Bread Bakers theme of the month. This is my first time I am participating in the #Bread Bakers challenge and the host for this month is Mayuri Patel. Her theme is to make bread or a quick bread without using any processed sugar and using only the natural sweetener.
This Jackfruit Semolina Muffins recipe uses the sweetness from the jackfruit along with some jaggery and is made with semolina and coconut. The flavors are just delicious and if you are a jackfruit lover like us you will know what I am talking about. I do have a jackfruit hater at home and another one who is sort of in between and does not know if he likes it or hates it. My older one just does not like the jackfruit and I have no clue why! My little one usually follows his brothers ideas and wants to say that he does not like it, but still would eat a few here and there. He loved the muffins and ate 2 of the 8 I baked right away!
Preparation time – 10 minutes
Cooking (baking) time – 22-25 minutes
Difficulty level – easy
Recipe adapted from – here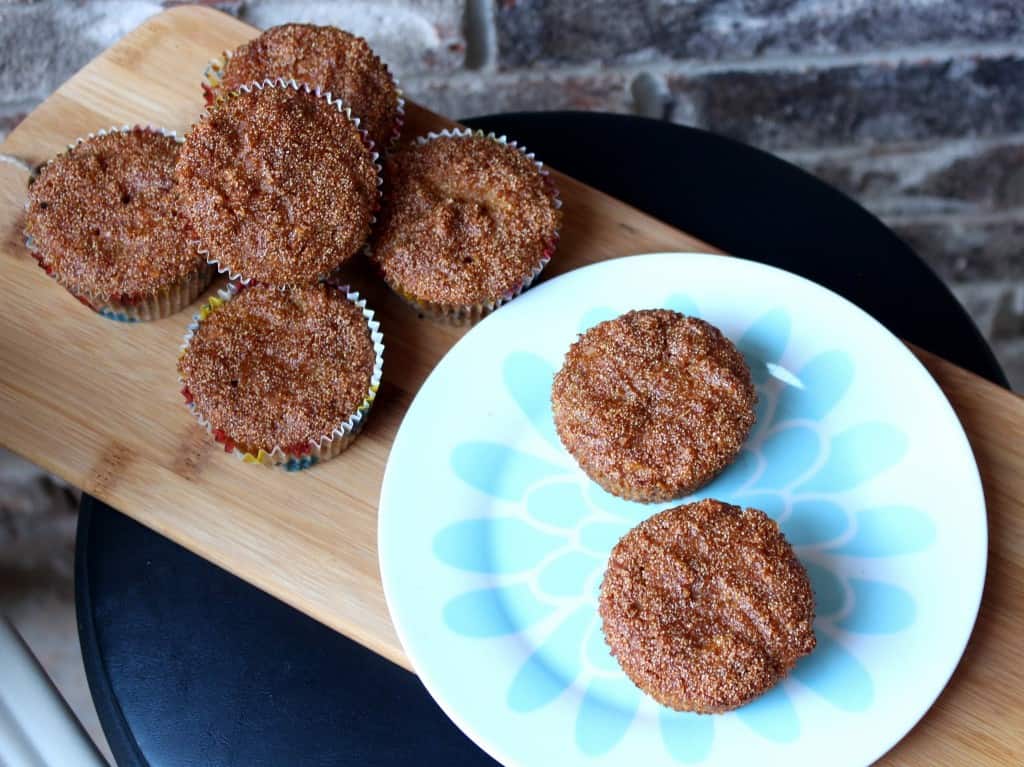 Ingredients to make Jackfruit Semolina Muffins – makes 8 muffins
Jackfruit pulp – 1 ¼ cup
Jaggery – ½ cup
Semolina / Rava – ¾ cup
Coconut (grated) – ½ cup
Raisins – 15
Baking powder – ½ tsp
Baking soda – ½ tsp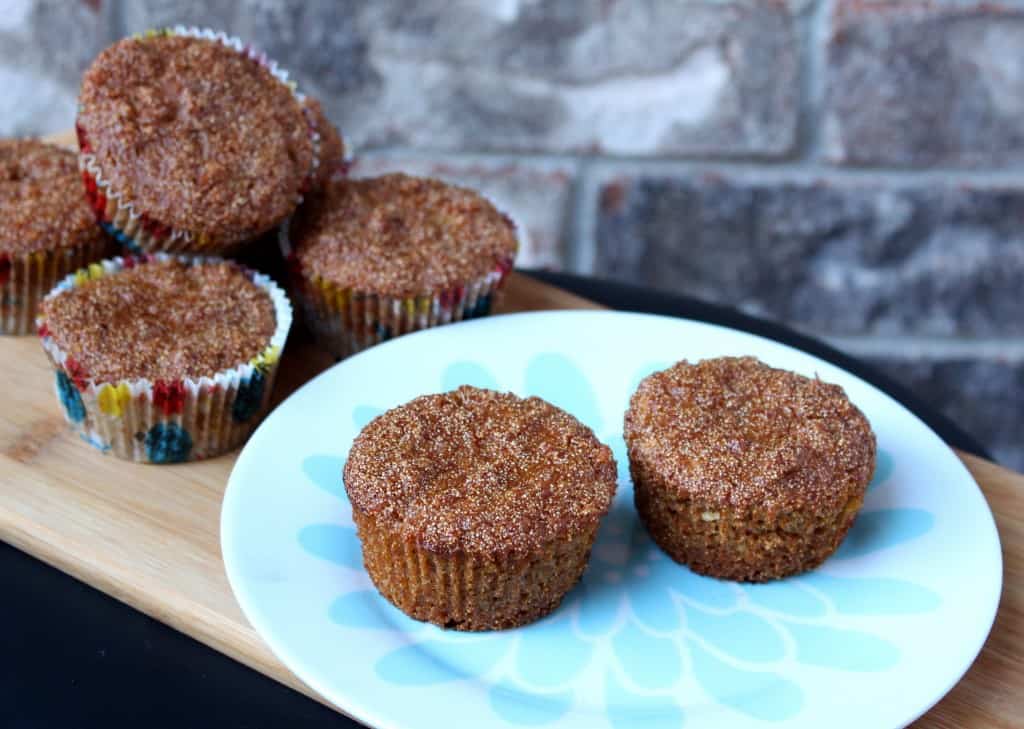 Procedure to make –
To make the Jack fruit pulp –
I used about 10 ripe large jackfruit and it yielded me 1 ¼ cups of pulp. Remove the seeds from the jackfruit and grind the fruit into a smooth pulp without adding any water. A little more or less would not hurt the recipe.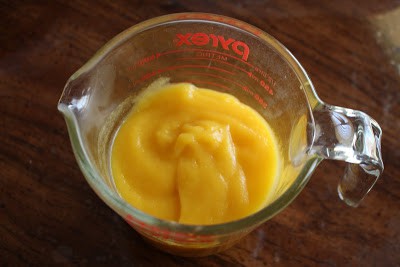 In a pan, roast the semolina over medium heat until it turns aromatic. It is not necessary that the semolina has to change color. It just needs to roast enough to turn aromatic.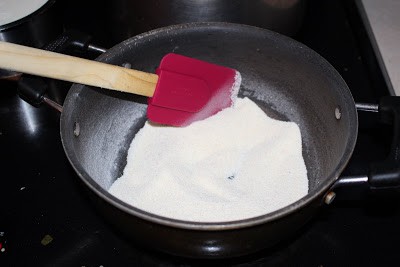 In the meantime, measure the jaggery in a sauce pan. Add the jackfruit pulp to the pan and heat it over low heat to dissolve the jaggery.
Let the semolina and the jackfruit mixture cool down to room temperature.
Now add the baking soda, baking powder and the grated coconut to the semolina. Add the jackfruit mixture along with raisins and mix gently.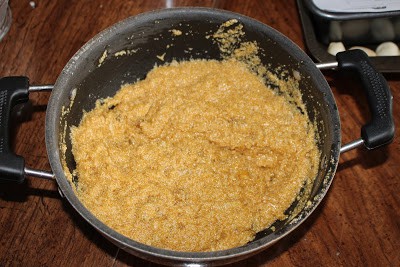 Line the muffin tins with liners or grease the pans. Fill the muffin tins until ¾th full.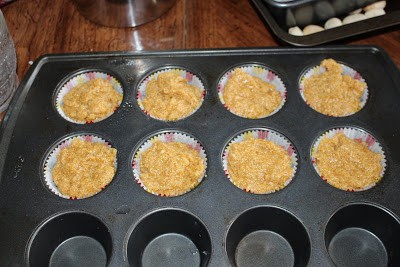 Bake in a preheated 350 F oven for about 22 to 24 minutes or until the toothpick inserted in the center of the muffin comes out clean.