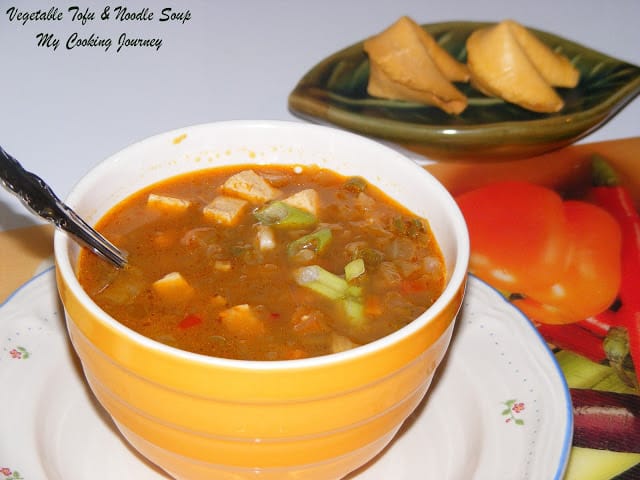 On a rainy, gloomy day, when your taste buds crave for something hot and soothing, nothing can be better than a steaming hot noodle soup. This Vegetable Tofu and Sotanghon Soup is an inspiration from Pinoy's Kitchenette. I modified the recipe a bit to suit our taste bud. When I was going through the recipe, couple of things caught my eye. First and foremost it was a vegetarian recipe and the second thing was the soup being a one pot meal.
Once I decided that I was going to make this soup this week, I researched on the Sotanghon and learnt that it is a noodle commonly called as cellophane noodle, made of Mung bean starch. For a protein fanatic like me, this was spot on. You could get these noodles in any of the Chinese stores around. You can substitute it with vermicelli rice noodles, if you are unable to find it in the stores near you.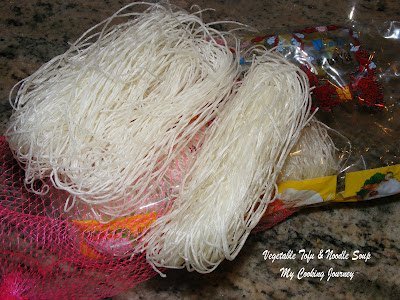 Preparation time – 15 mins
Cooking time – 40 mins
Difficulty level – easy
Ingredients to mak Vegetable Tofu and Sotanghon Soup –
Sotanghon noodles – 100 Gms
Tofu – 1 block
Vegetable stock – 1000 ml/1lt
Onion – 1 small (finely chopped)
Carrot – 1 medium (finely chopped)
Red Bell pepper – ½ (finely chopped)
String beans - 10(finely chopped)
Cabbage – ¾th cup (finely chopped)
Celery stalk – 1 (finely chopped)
Garlic – 2 cloves (finely chopped)
Ginger – 1 tbsp (finely grated)
Soy sauce – 1 tbsp
Spring onions – to garnish
Salt and pepper – to taste
Hot chili sauce – 1 tsp (optional)
Procedure –
Cut the tofu into tiny cubes and marinate them in the soy sauce.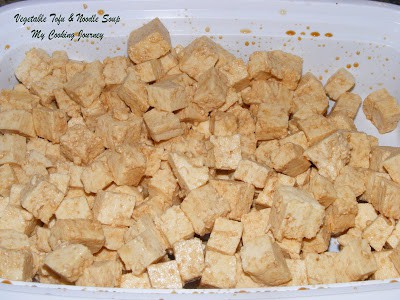 Heat the oil in a stock pot and add the onion and garlic to it. Sauté it until the onions are translucent.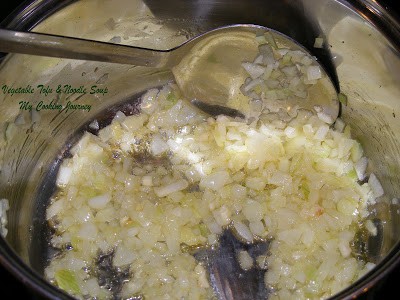 Now add all the chopped vegetables along with the grated ginger and cook them until the vegetables are slightly cooked and soft (about 10 mins).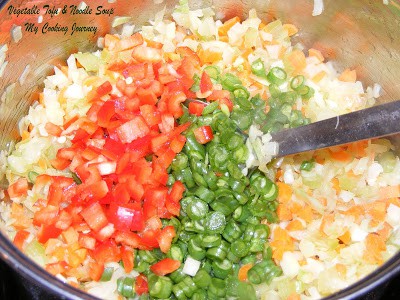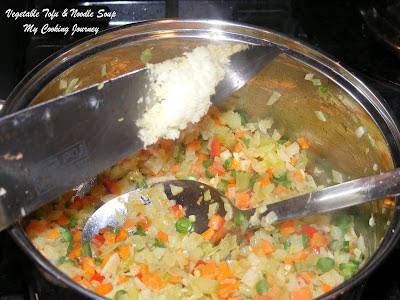 Now add the vegetable stock, salt and pepper and bring it boil. Simmer for about 5 mins.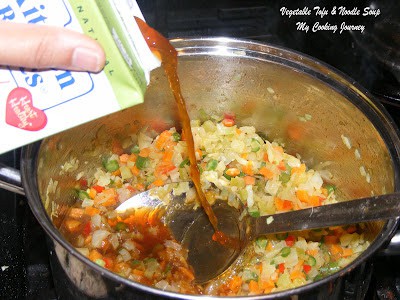 Add the marinated tofu and the sotanghon noodles and again simmer for about 10 mins. If adding the hot sauce add it at this stage and then simmer.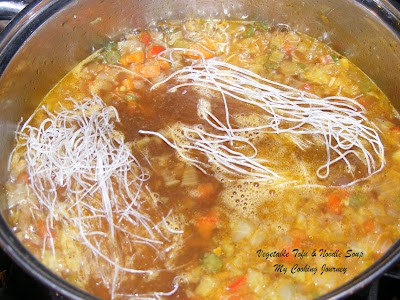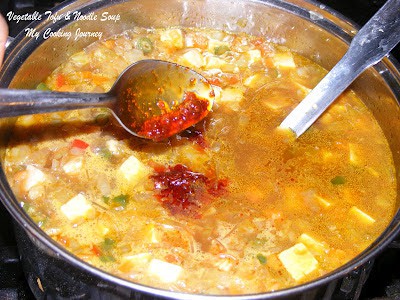 Garnish with the spring onions and serve the Vegetable Tofu and Sotanghon Soup hot.