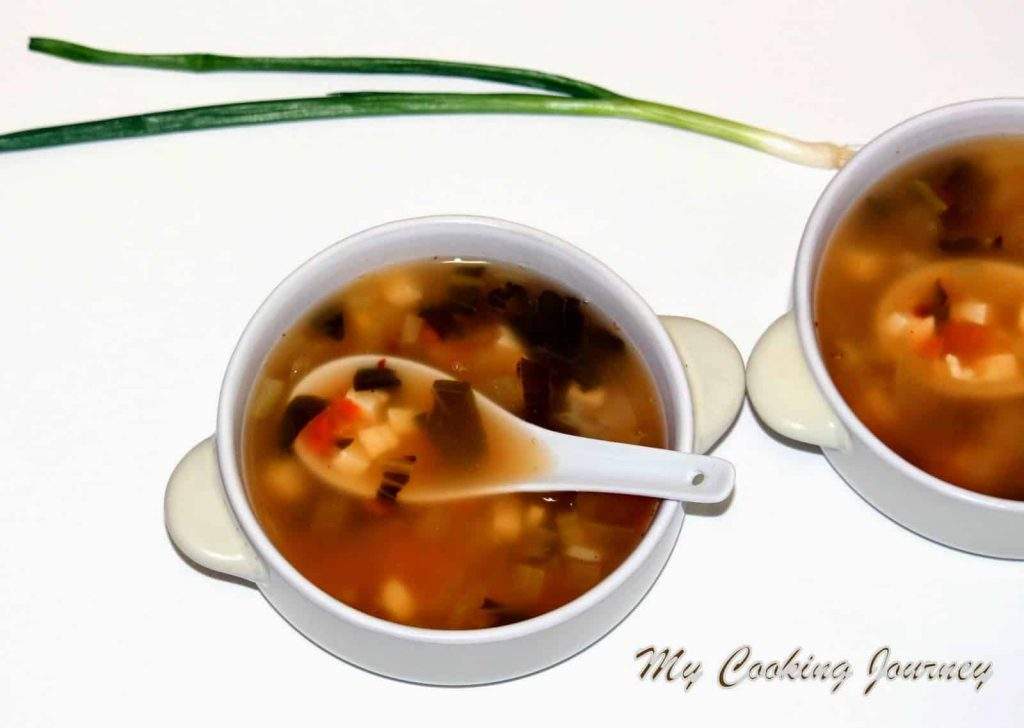 I cannot believe that January already sneaked by us and we are in the second month of the New Year. I am still referring to the year as New Year because I am yet to get a hang on writing 2015. The way days are passing by, I should soon be practicing to write 2016. This first week's theme for this month Blogging Marathon is accompaniments served in restaurants. We are going to be talking about some dishes that are usually served on the house tab when we are waiting for the food to arrive. Here is US, I find that Indian restaurants hardly serve anything as 'on the house'. You pay for anything and everything you order. Italian restaurants commonly have salads and breads served when waiting and I just love that.
The recipe I have today is something that they used to serve in one of the Thai restaurants we ate in New York. They used to serve a small bowl of this Tom Yum soup along with a tiny salad and I used to lick every bit of it. This soup is such a wonderful appetizer that I hope every Thai restaurant serves it as we might become quite hungry to order lot of food to eat later.
Being a vegetarian, we would be unable to eat this soup in many places, since they use chicken broth to flavor the soup. When reading about this soup I learned that traditionally this Tom Yum soup is made with plain water and is flavored exclusively with lemon grass, galangal and kefir lime leaves. Also the soup is made with mushrooms that lends to the flavor of the soup. We are not used to eating mushrooms and hence I left it out and added tofu and couple of vegetables and tofu.
Check out my other Thai dishes here!
Preparation time – 10 minutes
Cooking time – 30 minutes
Difficulty level – easy
Ingredients to make Tom Yum Soup – Makes 4 hearty servings
Water – 6 cups
Lemon grass – 2 stalks
Galangal – 1 inch piece (sliced)
Kefir lime leaves – 3 or 4 (I used lime peel)
Shallots – 2 (cut in halves)
Carrot – 1 (very finely chopped)
Baby Bok Choy – 2 (finely chopped)
Tofu – ½ cup (very finely chopped)
Thai Chili paste (I used homemade paste) – 1 tbsp (more or less depending on your taste)
Lemon juice – 2 tbsp
Salt – to taste
Sugar – 1 tsp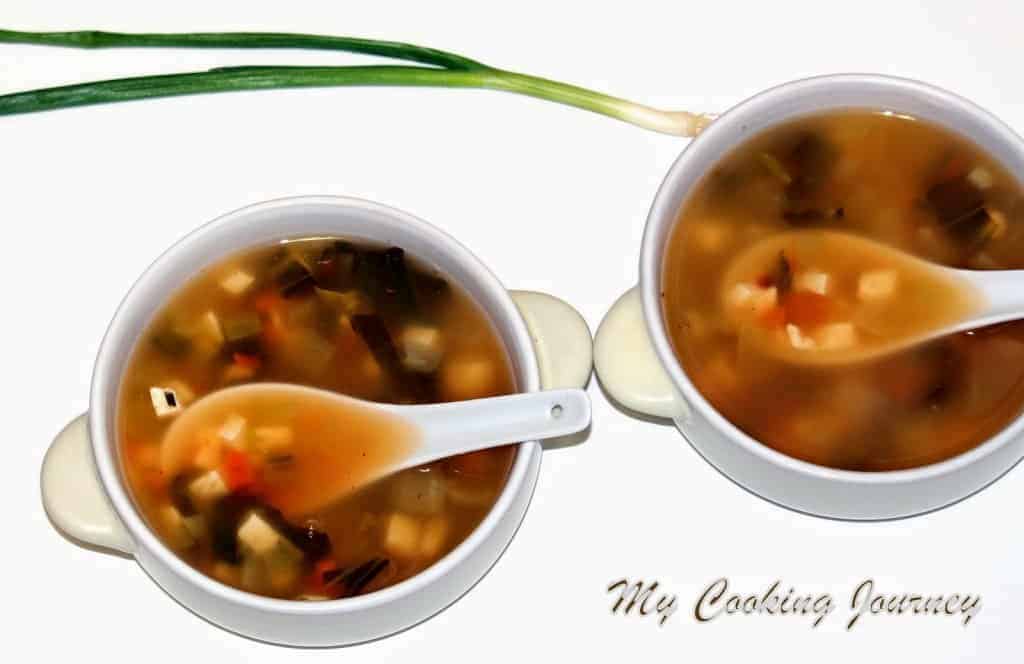 Cut the lemon grass into 1 inch pieces and then bruise it or make small cuts on it. Also prepare the galangal and shallots. I used lime peels in my soup since I could not find Kefir leaves. Place the lemongrass, shallots, lime peels and galangal in a cheese cloth and make a knot.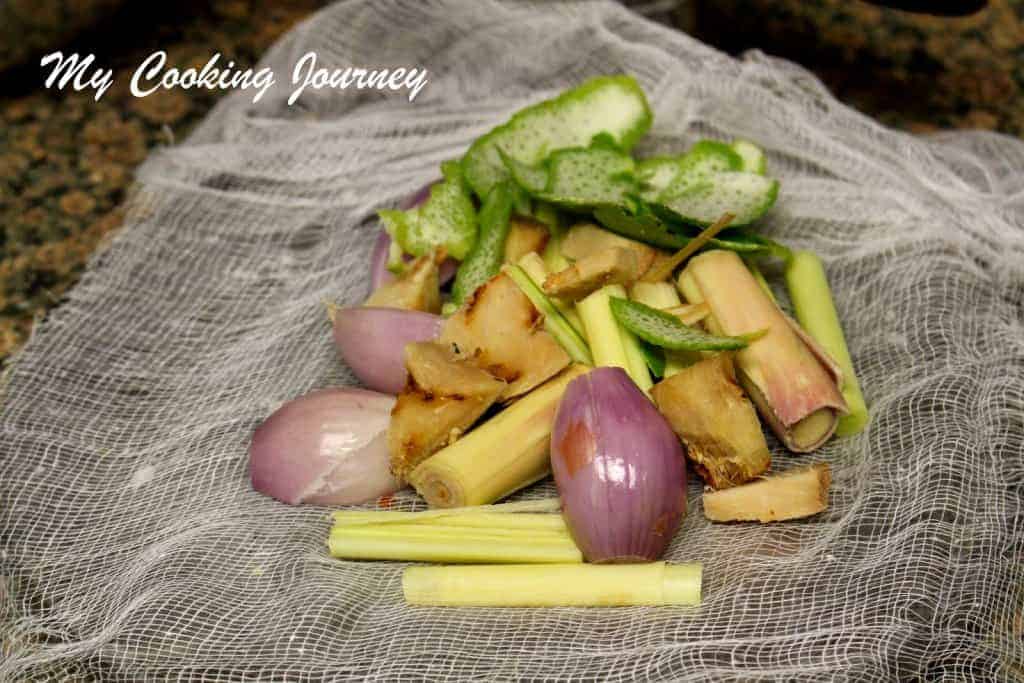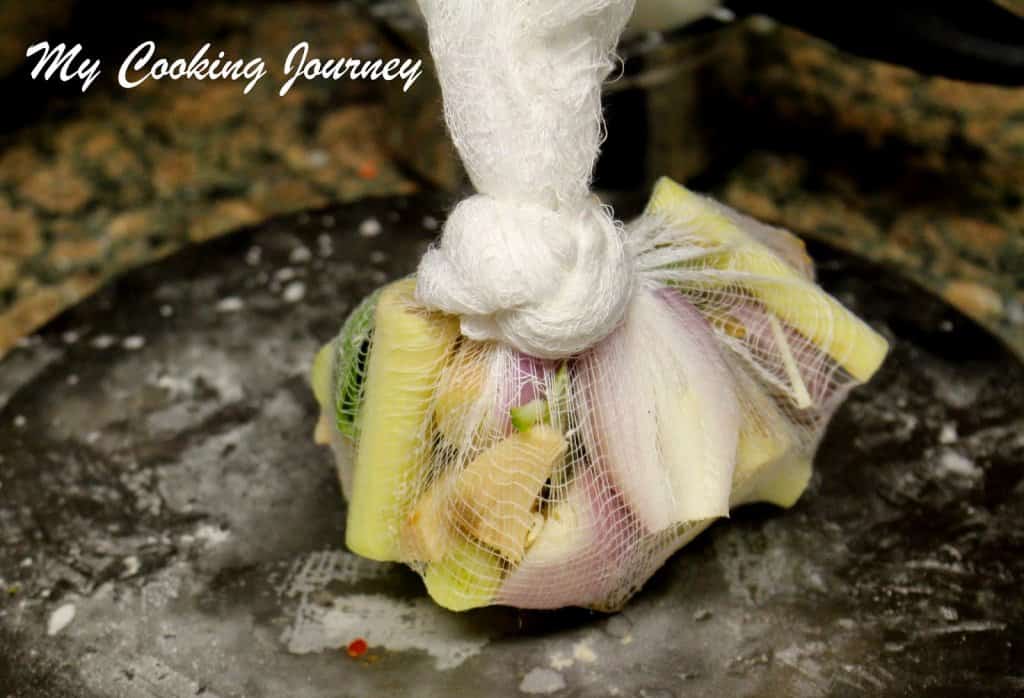 Place this pouch inside the stock pot with 6 cups of water and bring it to a boil. Let it simmer for about 10 minutes for all the flavors to infuse. You could also drop these ingredients directly in the pot, but make sure you remove it out before serving.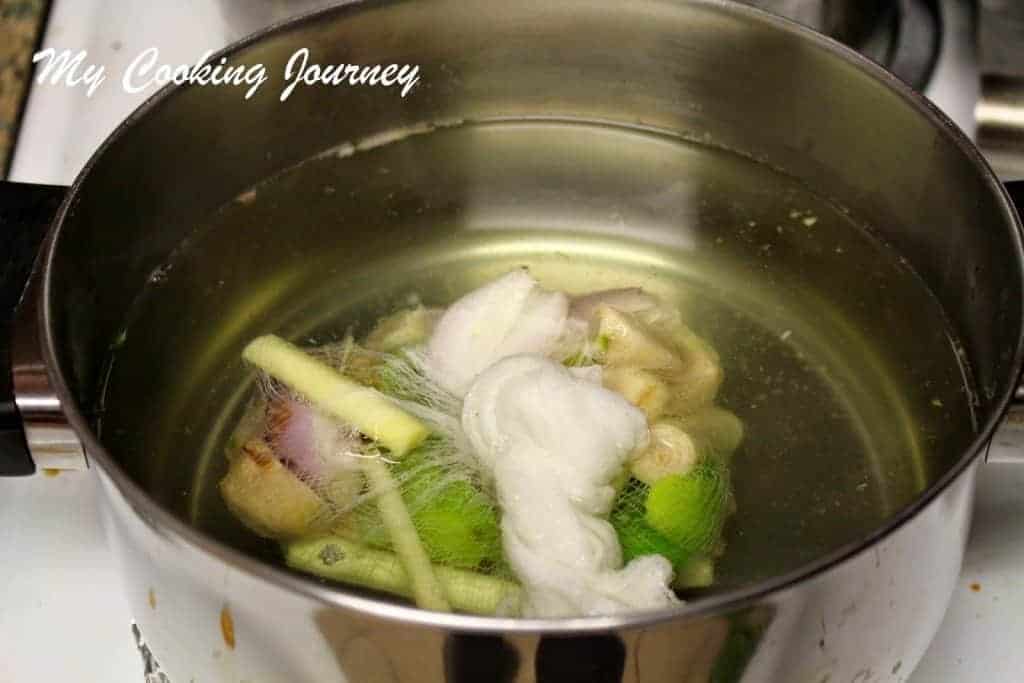 Once the Tom Yum soup boils, you will see that the broth looks light brown now and is very aromatic. Now add salt, sugar and the chili paste and mix well. Add the vegetables and tofu and mix.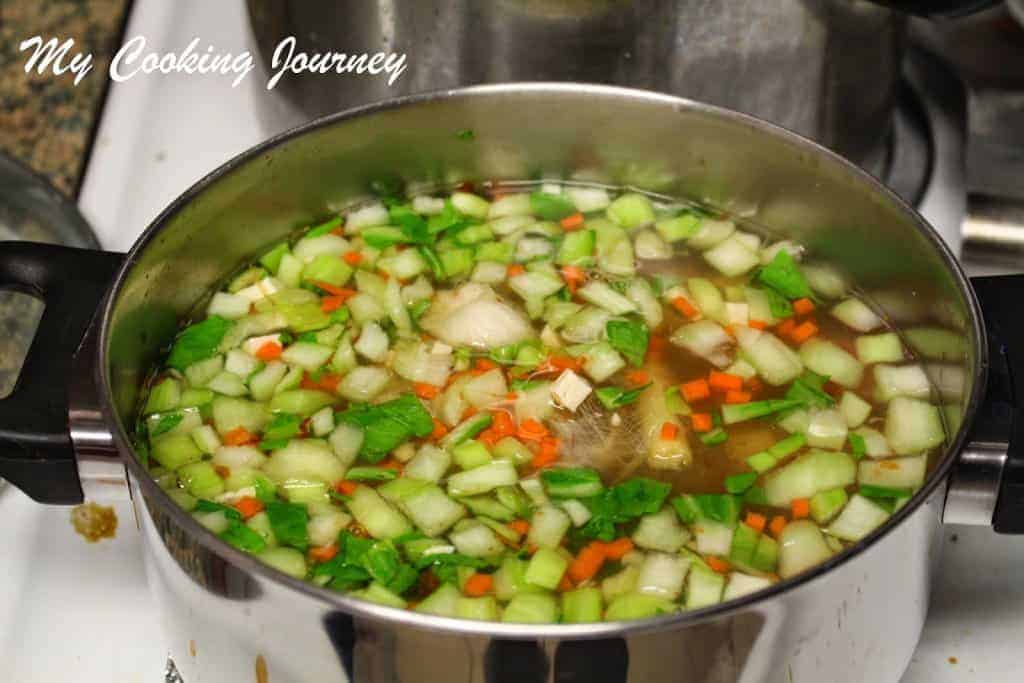 Let the soup simmer for about 10 more minutes until the carrots cook half way through. Make sure to leave a crunch in the vegetables.
Remove the pouch from the soup and drain it well.
Ladle the hot Tom Yum soup into bowls and serve!