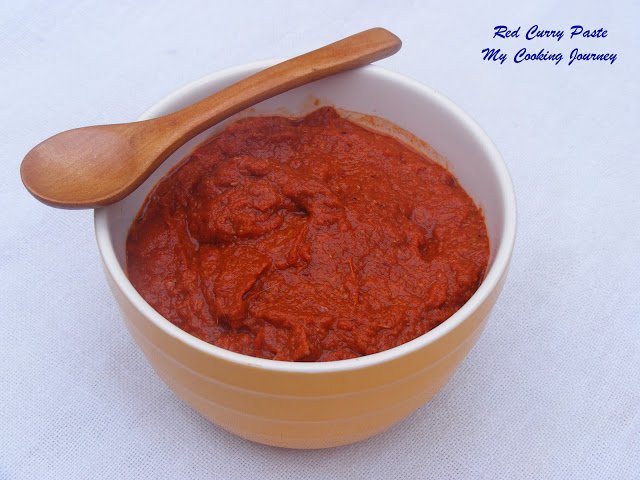 This aromatic curry Thai Red Curry paste is so easy to make and it makes such versatile gravy. Being a lover of Thai food, it has always been difficult for me to buy entirely vegetarian sauces or paste. I do see them slowly entering the market, but once I started making this paste, I have never had the need to buy it from the stores again.
The ingredients needed for this Thai Red Curry paste is not available everywhere, but is definitely available in many stores now a days. I will also include the substitutes that you could use wherever applicable.
Ingredients to make Thai Red Curry paste – Makes paste for about 2 times of entrees serving about 4-6 people
Cilantro roots/stem – 2 tbsp (I used the lower fourth from a bunch of cilantro)
Coriander seeds (dry roasted) – 1 tbsp
Cumin (dry roasted) – 1 tsp
Cardamom (dry roasted) - 2
Thai red chilies – 8-10
Galangal (Thai ginger) – 1 tbsp (substitute – regular ginger)
Garlic – 4 cloves
Shallot- 1 medium
Peppercorn – ½ tsp
Lemongrass – 5 tbsp
Kaffir lime (leaves or zest) – 1 tbsp (substitute zest of one regular lime)
Salt – 1 tsp
Procedure -
Deseed the red chilies and soak them in warm water for about 15 mins.
Roast the cumin, coriander and cardamom separately in a pan until brown and fragrant.
Drain the red chilies and get all the other ingredients in a blender and grind with very little or no water.
The Thai Red Curry paste could be refrigerated for about a month or frozen for up to a year.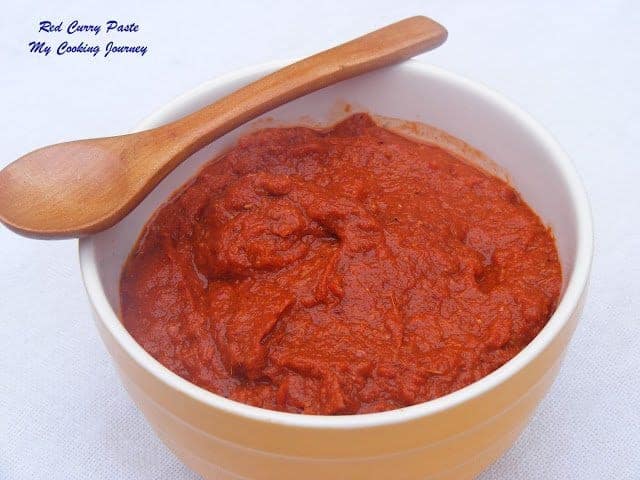 Tips and notes-
Be sure to use the Thai red chilies because it gives a very deep red color and is way less spicy than the regular red chilies
Lemongrass is an ingredient that cannot be substituted or omitted. The lemongrass can be bought in excess and can be chopped and frozen for future use. It still retains its flavor after freezing.