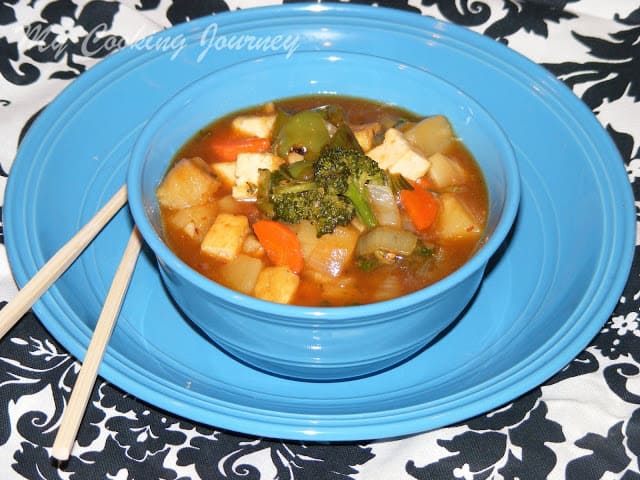 Sweet And Sour Vegetable With Tofu , a Chinese style curry usually served with rice is one of my husband's favorite curries. Whenever we ear out in a Chinese place, my husband tries to order it. It is very hard to get pure vegetarian version and even if we get it, to get the flavors right is very hard. I have tried making this recipe a couple of times before, but I was not quite able to achieve the flavors my husband likes. This time I made this recipe by mixing and matching few ingredients that I had readily in hand. It worked really well and so right away I am writing it in the blog to keep the recipe forever in my favorite list.
The base for this sauce is pineapple juice that I drained from the can of pineapple I used in the curry. If using fresh pineapples, you could either use store bought pineapple juice or orange juice. I used an assortment of vegetable that I had in hand. You could go ahead and add any vegetables that you prefer or have in hand.
I served this curry with brown rice. This could also be served with jasmine rice or any aromatic rice to make it authentic.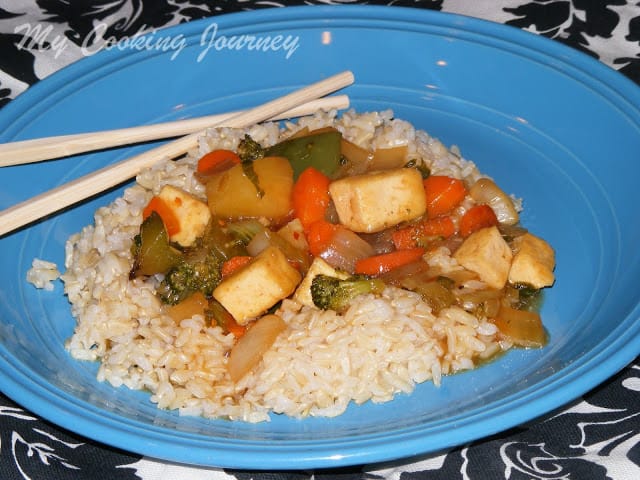 Preparation time - 15 mins
Cooking time – 30 mins
Difficulty level – easy
Ingredients to make Sweet And Sour Vegetable With Tofu – serves 6
Extra firm or firm tofu – 1 block (14 or 16 oz)
Pineapples – 1 (20 Oz can)
Carrot – 1 (cut into circles or small cubes)
Onion – 1 small (Sliced)
Bell pepper (any color of your choice) – 1 Cut into small cubes
Broccoli – 1 head (cut into florets)
Baby Bok Choy or cabbage - 2 (chopped) or if using cabbage 1 cup chopped
Ginger – 1 tsp (grated)
Garlic – 3 cloves (minced)
Vegetable oil – 3 tbsp
To make the sauce –
Pineapple juice (drained from the canned pineapple) – about ¾ cup
Rice vinegar – 4 tbsp
Cornstarch – 1 tbsp mixed with 4 tbsp of water
Brown sugar – 4 tbsp
Soy sauce – 2 tsp
Hot sauce – 2 tsp (depending on your spice level)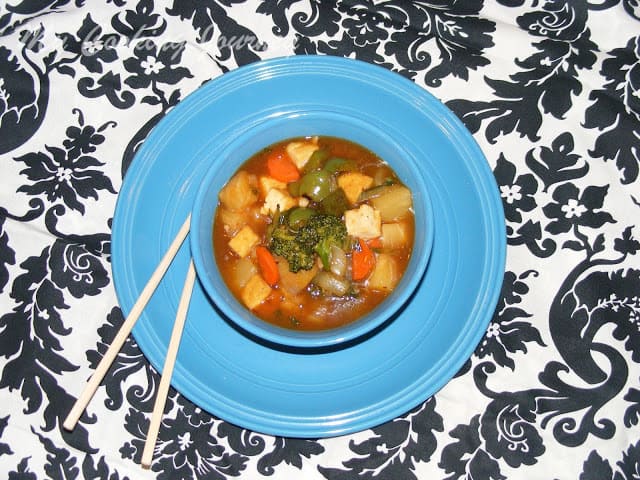 Procedure –
Drain the tofu and pat it dry. I generally wrap the drained tofu in between layers of paper towels or kitchen cloth and place some weight on it to drain all the water out of it. After about 15 mins, cut the tofu into 1 inch cubes.
Heat 1 tbsp of oil in a wok or a large pan and add the cut tofu. Shallow fry it until light golden brown, drain and keep aside.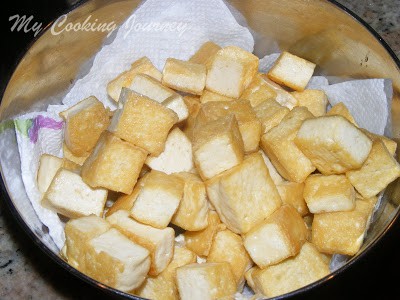 Meanwhile, mix all the ingredients listed under the sauce and keep aside.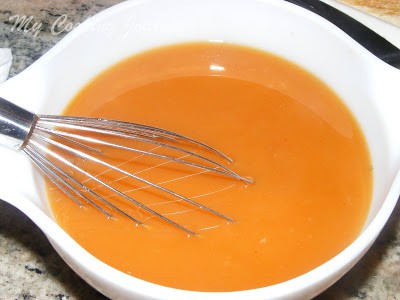 After removing the tofu from the wok, add the remaining 2 tbsp of oil in the same wok. Once the oil heats up add the sliced onions and sauté until light brown.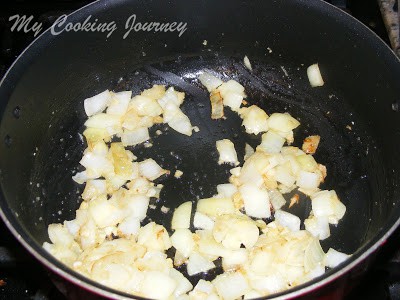 Then add the ginger and garlic and fry for a minute.
Now add all the chopped vegetables except the Bok Choy and stir fry on high heat until cooked but still has a crunch.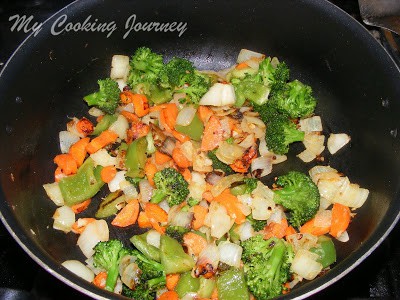 Now add the Bok Choy and cook for 3-4 more mins until the Bok Choy softens a bit.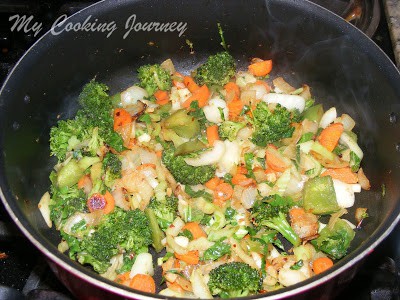 Mix the prepared sauce well and add it to the vegetables.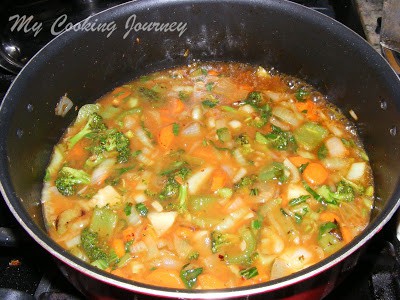 Let the sauce come to a boil and then add the pineapple chunks and the fried tofu to the curry.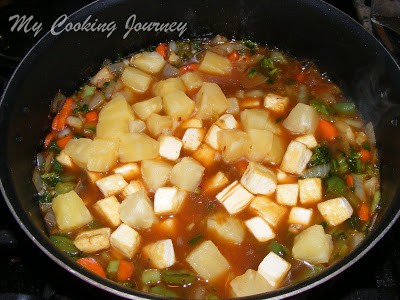 Let the curry simmer for 3-4 mins until it thickens to the desired consistency.
Serve hot over rice.