Noodles, fried rice, pasta; these are something that are perfect for weeknight dinners and in our family, they come under the comfort food category. If going Indian, my family would call Thayir saadham (yogurt and rice) or Ven Pongal, the comfort food. But when cooking something other than Indian, the first choice for my kids would be pasta.
Origin of Hakka Noodles -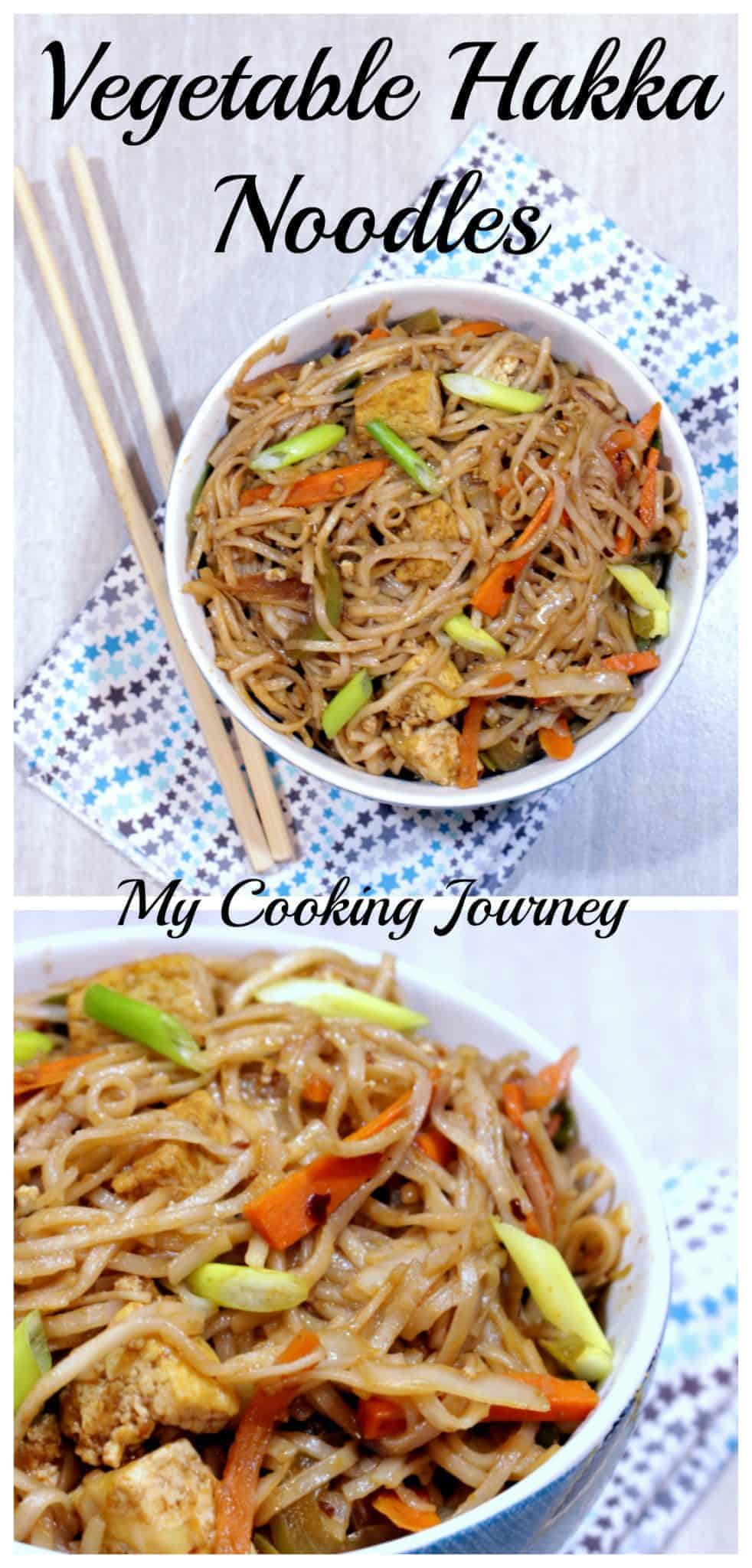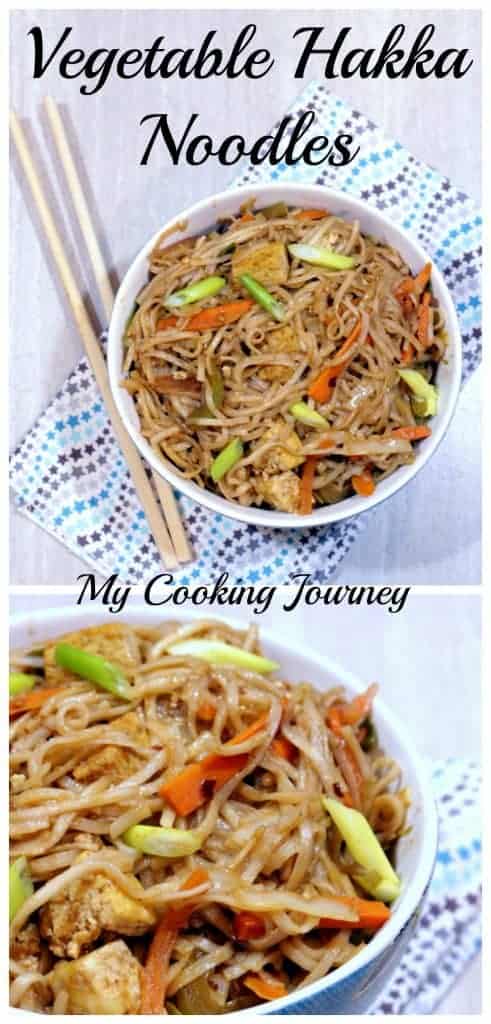 What we really liked about this dish is the smoky flavor of all the vegetables cooked in high flame. Also the sauce for the recipe was quite different and it had sesame seeds which is one of my favorite seeds in the sauce. I went with very common vegetables and of course tons of tofu. Tofu can be replaced with paneer or egg.
One thing I have learned from my many noodle making trials and errors is that making the recipe for everyone in the family (4 in my case), requires a very large wok, so that I can evenly cook all the vegetables in high heat. I do not have a very large wok and is something I am looking to buy soon. So I make my dish in batches. I pan fry the tofu in bulk, have all the vegetables chopped and the noodles cooked. I make the recipe just enough for the boys first, with their favorite vegetables and then go ahead and make ours. This way I am able to maintain the high heat without over crowding the pan, which could result in steaming the vegetables rather than keeping them crisp.
My other recipes this Marathon –
Soups
Appetizers / Snacks
Breads and Rolls
Entrees
Preparation time – 15 minutes
Cooking time – 15 minutes
Difficulty level – easy
Recipe adapted from – Cook's Hideout
Ingredients for Vegetable Hakka Noodles – serves 4 For the noodles –
Hakka Noodles – 250 gms
Onion – 1 small (thinly sliced)
Carrot – 1 large (julienned)
Bell pepper – 1 small (thinly sliced)
Cabbage – 1 cup (shredded)
Firm tofu – 1 package (cubed)
Green onions / scallion – 2 (sliced)
Sesame oil – 2 tbsp
Olive oil – 2 tbsp
Soy sauce – 3 tbsp
Vinegar – 1 tbsp
Red chili flakes – 1 tsp (more or less based on your preference)
Salt – to taste (if needed)
For the sauce –
Garlic – 4 cloves
Ginger – 1 inch piece
Chili sauce (red or green) – 1 tbsp
Ketchup – 2 tbsp
Sesame seeds – 1 tbsp
Procedure to make Vegetable Hakka Noodles –
Cook the noodles based on the package instructions and drain. Spread it on a wide tray and apply some oil to prevent sticking.
Prepare all the vegetables and have it ready as well.
To make the sauce –
Blend all the ingredients mentioned in a blender until smooth.
In a large wok or pan, heat 1 tbsp of sesame oil and 1 tbsp of olive oil. Pan fry the tofu until they golden brown and crispy. Remove it and keep it aside.
Wipe the wok and add the rest of the oil. When the oil is really hot, add the red chili flakes and onion and let it cook for 2 minutes.
Now add the ground sauce and cook in medium heat for 2 to 3 minutes. Add the soya sauce, chili sauce and vinegar and let it cook for a minute more.
Now increase the heat and add the vegetables. Cook them and make sure that they still maintain the crunch. It is very important to cook the vegetables in high heat and keep stirring the vegetables so they don't get burned.
Now add the cooked noodles and mix well to combine. Cook them together for about 3 to 4 minutes for the flavors to combine. Check the seasonings and add salt or heat to the dish now.
Garnish with spring onions and serve hot.