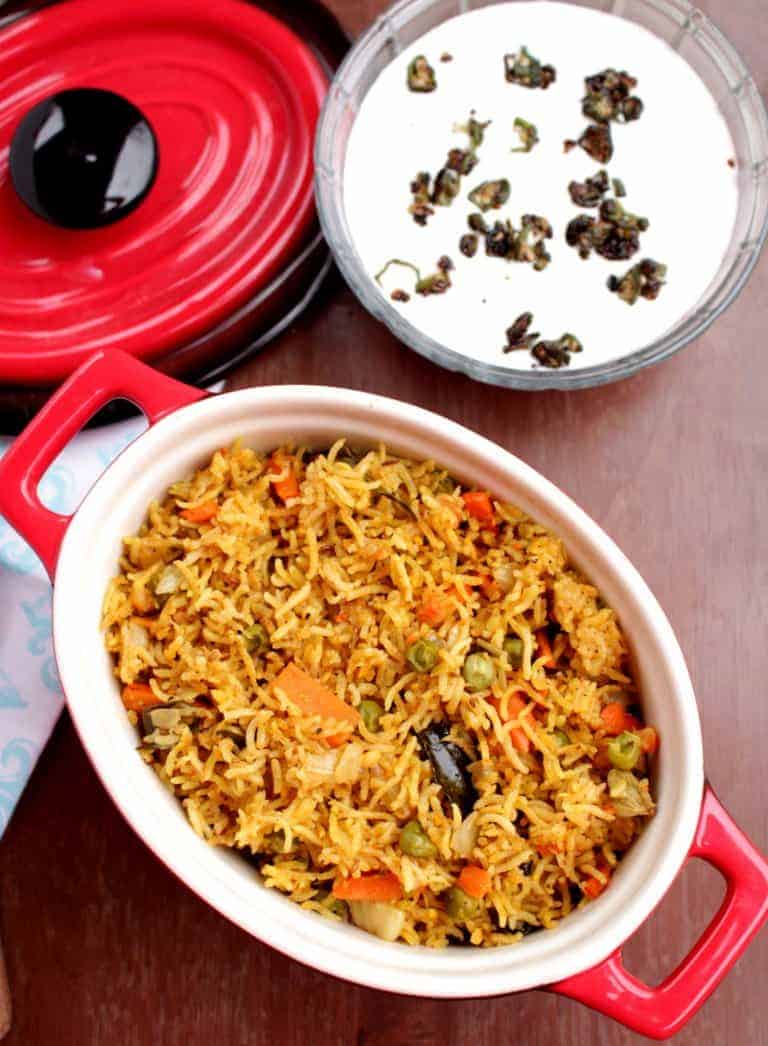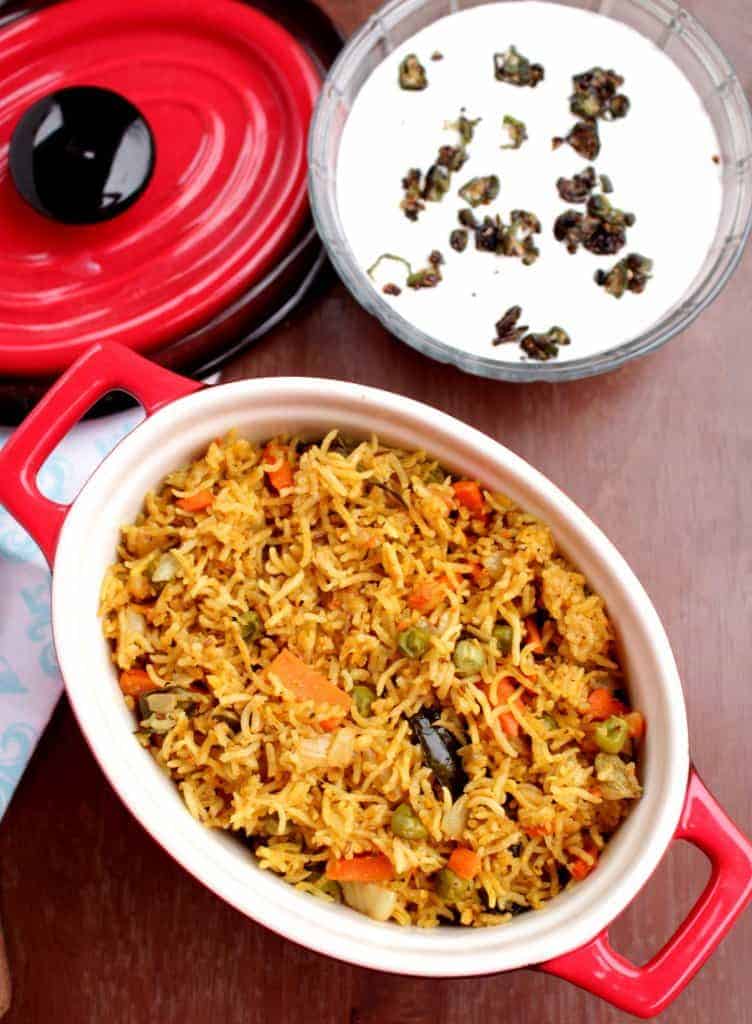 I got into the 'Instant Pot' madness during the holiday time and finally gave in and indulged myself in one. I have to say, I was pretty overwhelmed with it in spite of having cooked in pressure cooker for a long time. The first complete recipe that I have made in my instant pot is this vegetable masala bhaath. After a very long time, I am participating in the Cooking from a Cook Book challenge and this is my first post from Santhi Balaraman's book - Ungal Mansasukku Pudichadhu Mattum.
I have to admit I totally enjoyed making this one pot meal in my instant pot and I am so looking forward to making more in the coming days. Coming to the recipe, I have made it without onions and garlic and we did not miss the flavor a bit. Cabbage works as a great substitute for onion in many recipes and I have been using it quite a bit these days.
This time I have used just carrots and peas along with cabbage in the recipe, but feel free to use any vegetable of your choice. I would also suggest using a little less water than usual, as the vegetables let out some moisture. I made one of my favorite okra raita / pachadi on the side.
Preparation time - 10 minutes
Cooking time - 30 minutes
Difficulty level - easy
Ingredients to make Vegetable Masala Bhaath - Serves 4 to 6
Basmati Rice - 2 cups
Cabbage - ¾ cup (finely chopped)
Carrot - ½ cup (thinly sliced)
Peas - ¼ cup
Ginger - 1 inch (finely grated)
Green chilies - 3 (sliced)
Desiccated coconut - 3 tbsp
Cumin seeds - 1 tsp
Pepper - 1 tsp
Cardamom - 4
Cinnamon - 1 inch piece
Bay leaf - 1 small leaf
turmeric powder - ½ tsp
Chili powder - 1 teaspoon (adjust based on your spice level)
Coriander powder - 1 tsp
Curry leaves - few
Butter - 1 tbsp
Oil / ghee - 1 tbsp
Salt - as needed
Cilantro - to garnish
Procedure -
Wash and soak the rice for about 15 minutes. Crush the cumin and pepper in a mortar to a coarse powder
Heat oil or ghee or a combination of both in the instant pot container. Turn it on SAUTE MODE.
Add the crushed cumin and pepper, cinnamon, bay leaf, cardamom and curry leaves. Fry for about a minute.
Now add the chopped cabbage and saute until the cabbage is slightly softened (about 5 to 6 minutes).
Now add the grated ginger and green chilies and fry for a minute more.
Add the chopped carrots, green peas and desiccated coconut and saute for 2 to 3 minutes.
Add the turmeric powder, chili powder and coriander powder and mix well. Fry for a minute more.
Drain the soaked rice and add it to the pot. Add the salt required and also the tablespoon of butter and mix well.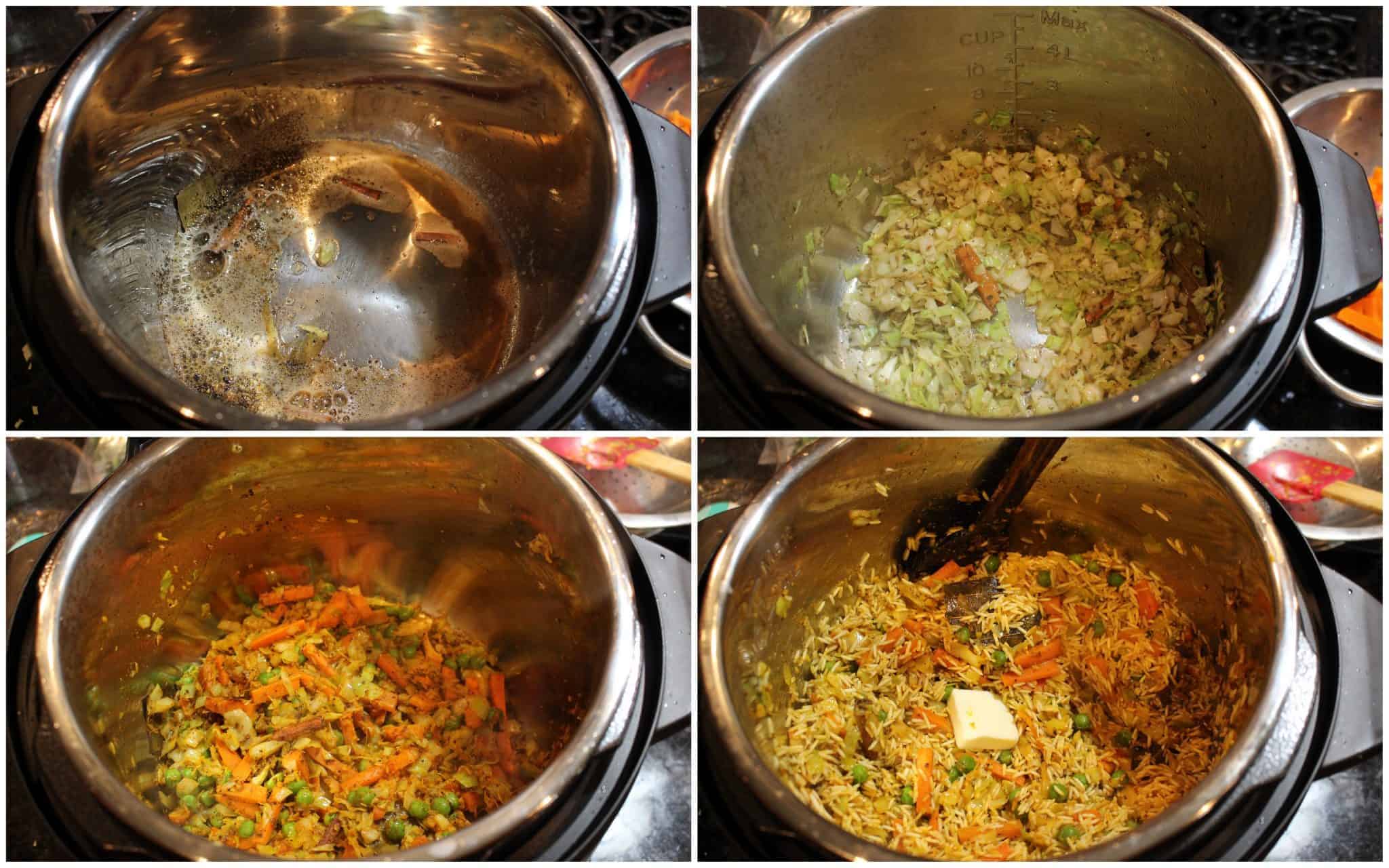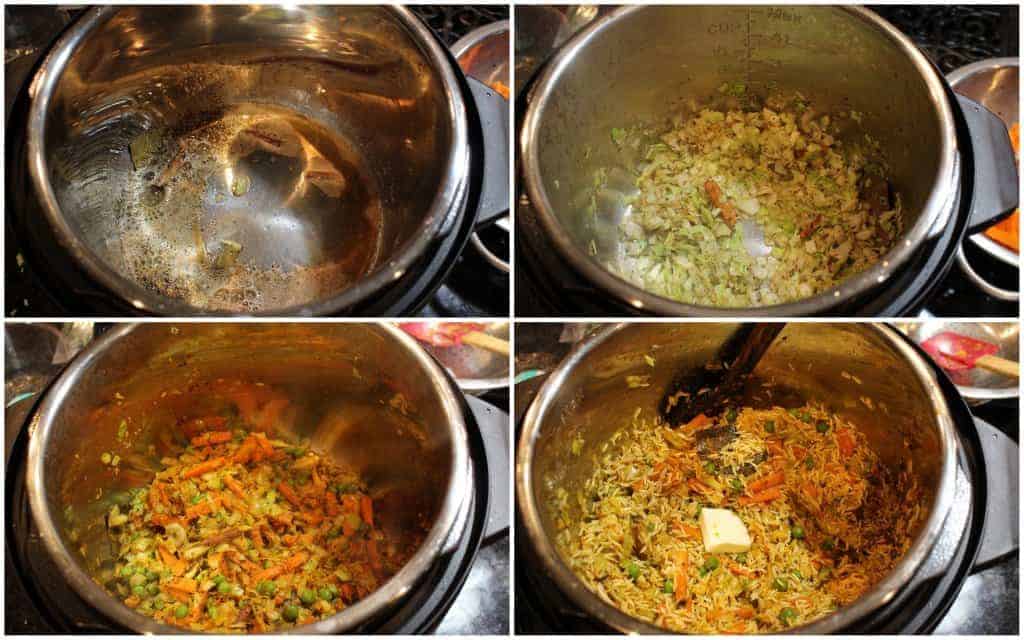 Add about 3 to 3 ½ cups of water and close the instant pot. Turn off the saute mode and switch the instant pot to MANUAL MODE. Set it for about 7 minutes and let it cook.
I let the pressure release naturally partially and then released it manually at the end.