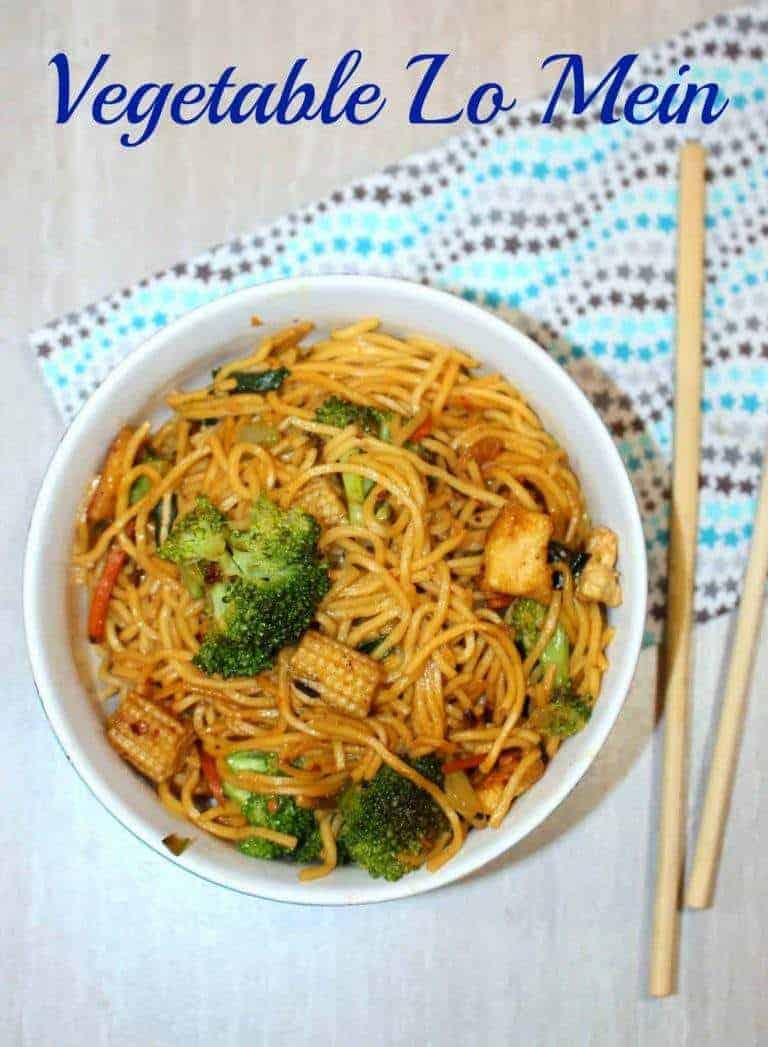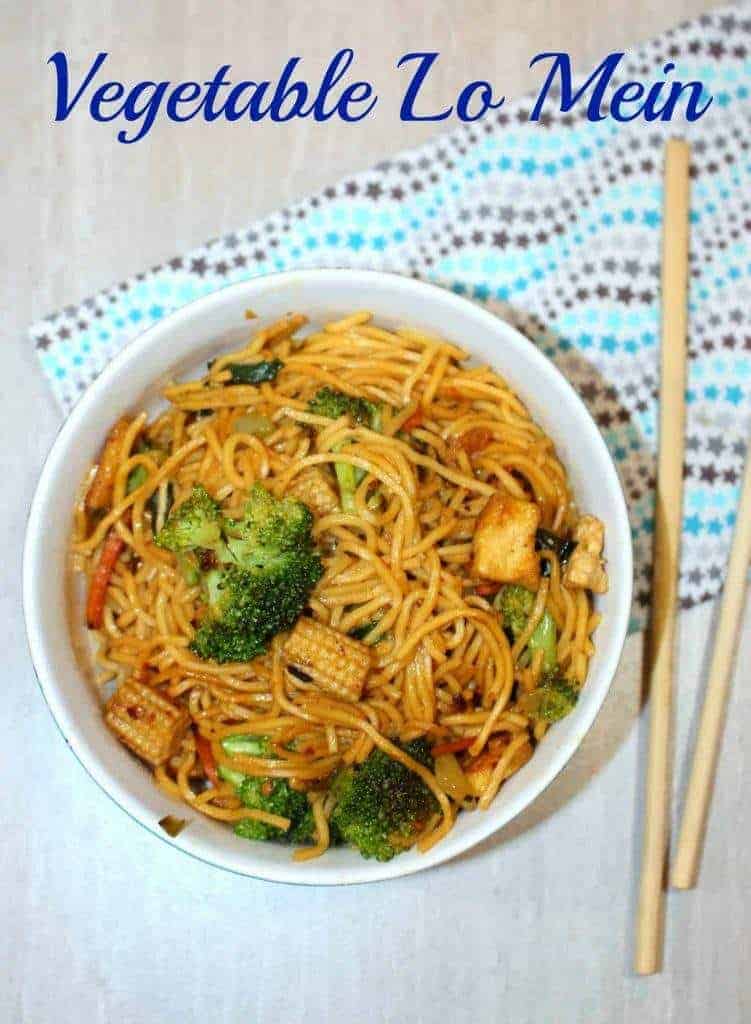 I can't talk enough about having a local Vietnamese market in Oklahoma city to shop for all my Asian needs. Every time I visit the store, I come back very happy after discovering one or two interesting items. This week's trip to the market, I was able to get fresh Lo Mein noodles. The noodles was really delicious and just took couple of minutes to cook. Once I got the noodles, I decided to make my ever favorite Chinese take out food, the Vegetable Lo Mein. I was very happy with the recipe as it closely resembled the take out flavors.
One of the other products that I really bought from the store is this Vegetarian Oyster sauce with mushroom flavor. I added this sauce along with soy sauce in the Lo Mein and also in the Hot and Sour Soup. The flavors were really kicked up a notch and a little goes a long way.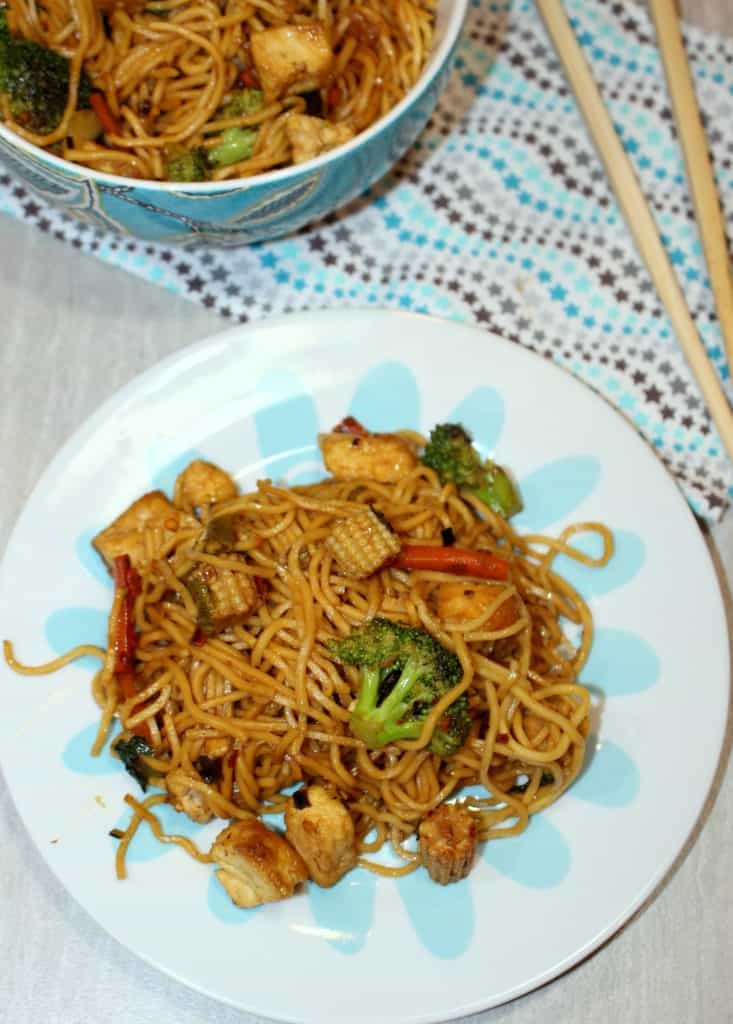 Vegetable Lo mein is a very simple recipe that can be altered based on our personal preference. It can have any vegetable of our choice. I used carrots, broccoli, snow peas, bok choy, baby corns and tofu. I made a large batch of vegetable, then used another pan to make individual serving of the noodles. Me and my husband like the lo mein a little spicier than the the kids and this way I was able to control the amount of sauce.
Once all the ingredients are chopped and prepped, it take only a few minutes to put the dish together. Also using fresh noodles saves on cooking time. If you didn't find fresh noodles, feel free to use dried ones. Soba noodles would work great for this recipe.
Preparation time - 20 minutes
Cooking time - 20 minutes
Difficulty level - easy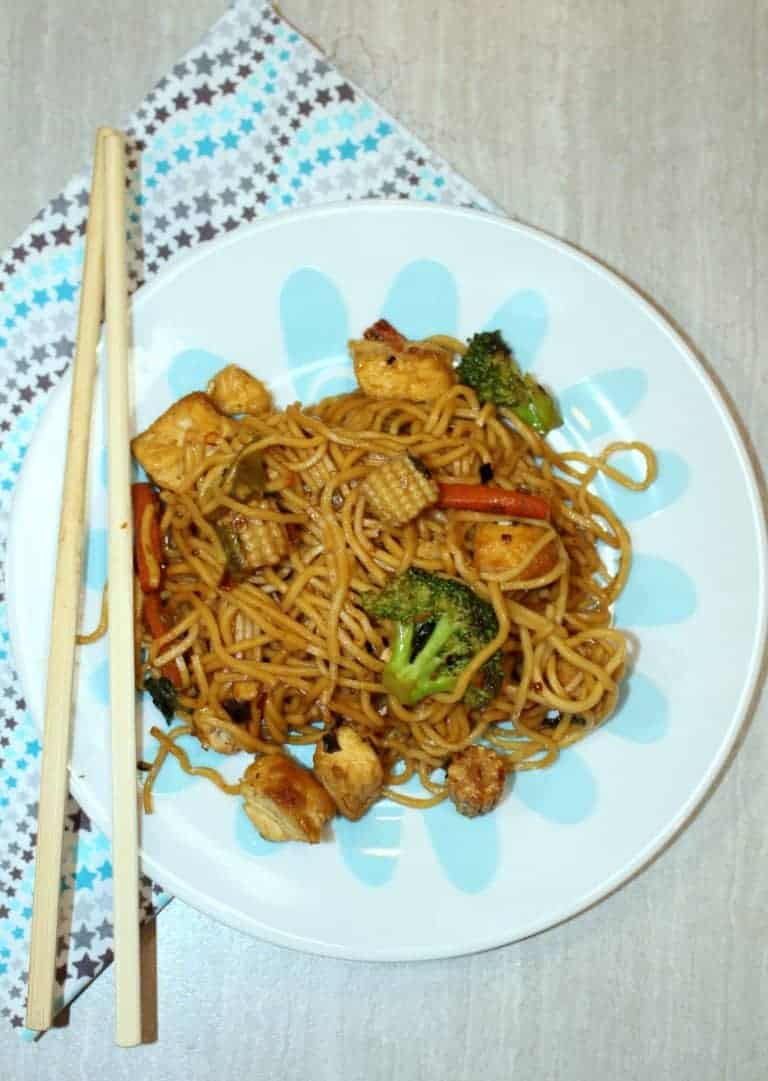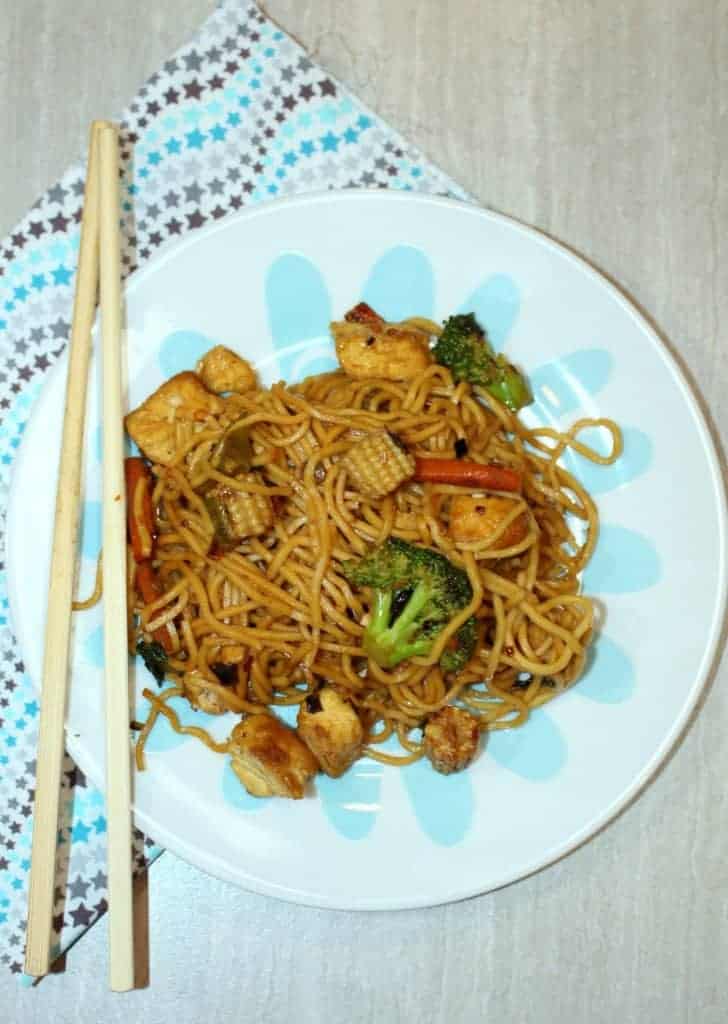 Ingredients to make Vegetable Lo Mein - Serves 4
Fresh or Dried Lo Mein Noodles - 14 oz
Firm Tofu - 1 package
Assorted vegetables - about 3 cups (I used Broccoli, Bok choy, carrot, baby corn and snow peas)
Spring onion - 4 (thinly sliced)
Garlic - 4 cloves (finely minced)
Ginger - 2 tsp (finely grated)
Corn starch - 2 tbsp
Soy sauce - 4 tbsp
Vegetarian Oyster sauce - 2 tbsp
Red chili sauce - 2 tbsp (use based on your spice level)
Sugar - 1 tbsp
Salt - to taste
Olive oil or any cooking oil - 2 tbsp + 2 tbsp
Procedure -
Cook the noodles based on the package directions. I used fresh noodles and hence it took me only couple of minutes to cook the noodles. Drain the cooked noodles and keep it aside.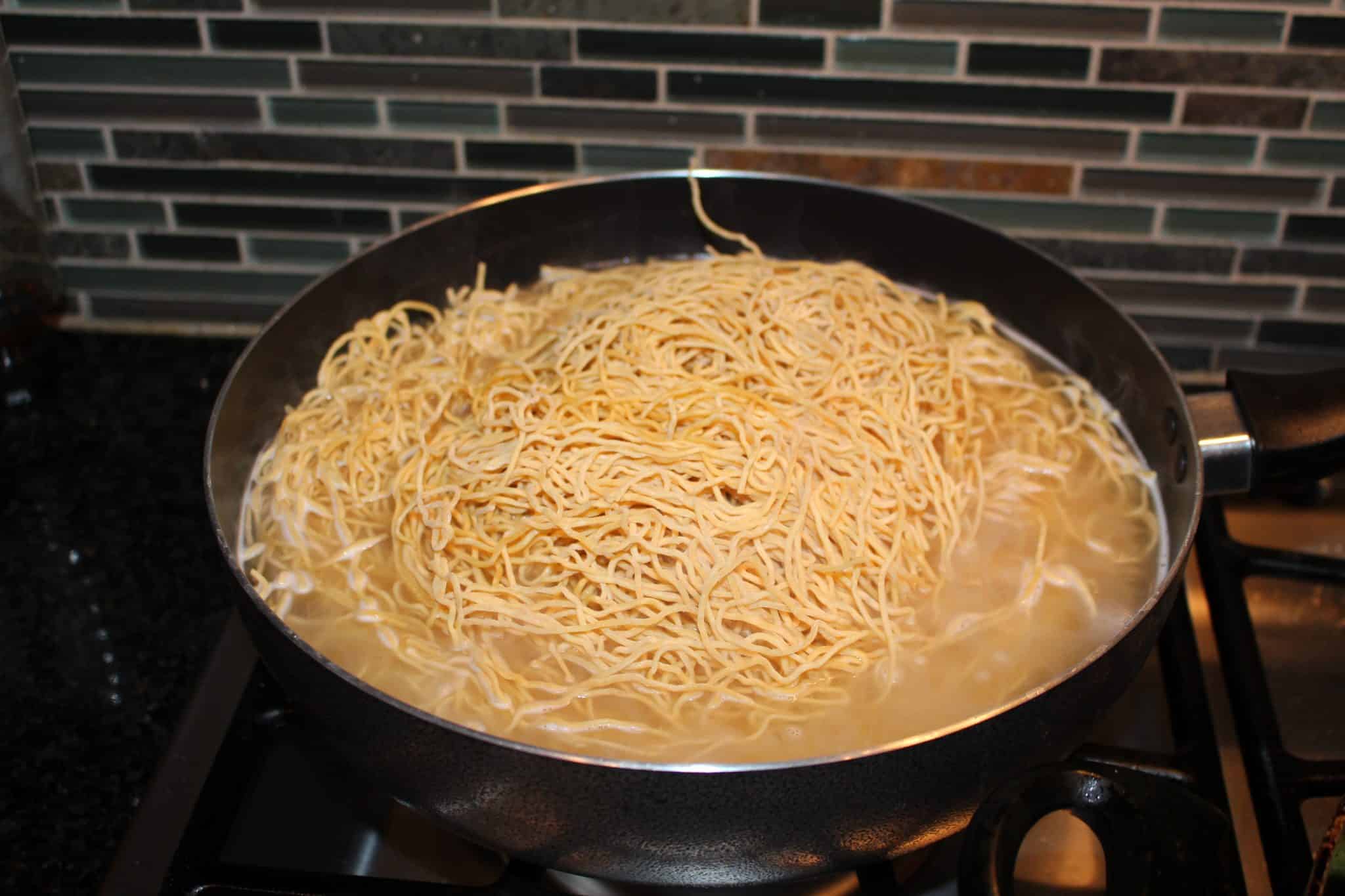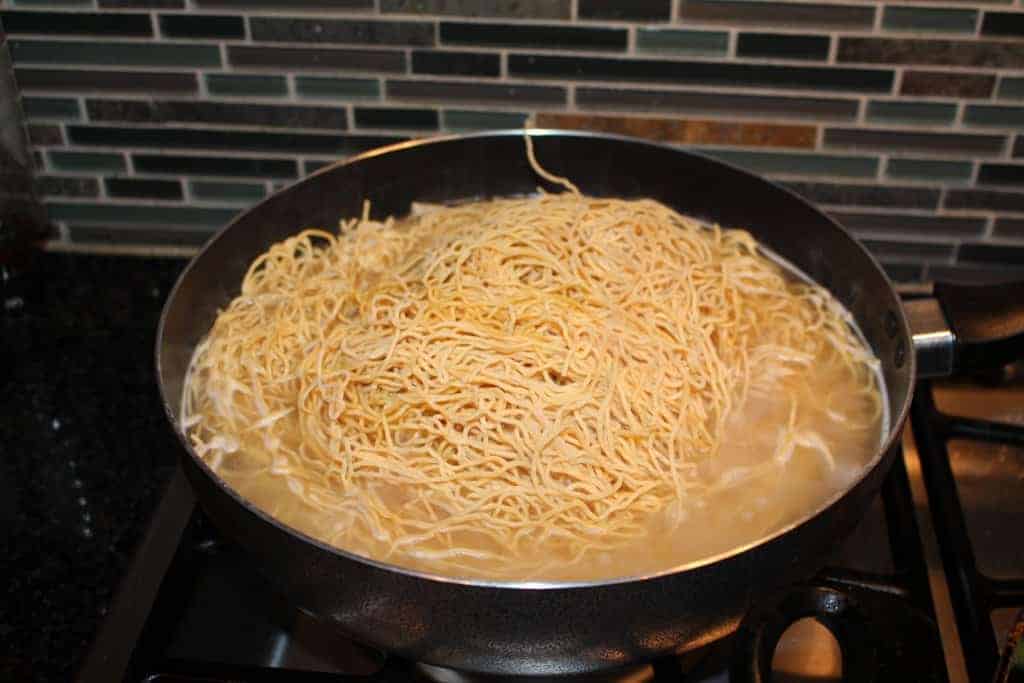 In a small bowl, combine the soy sauce, vegetarian oyster sauce, sugar and hot sauce and mix well.
Drain the tofu and pat it dry. Cube the tofu and place it in a bowl. Sprinkle corn starch over the tofu and toss it.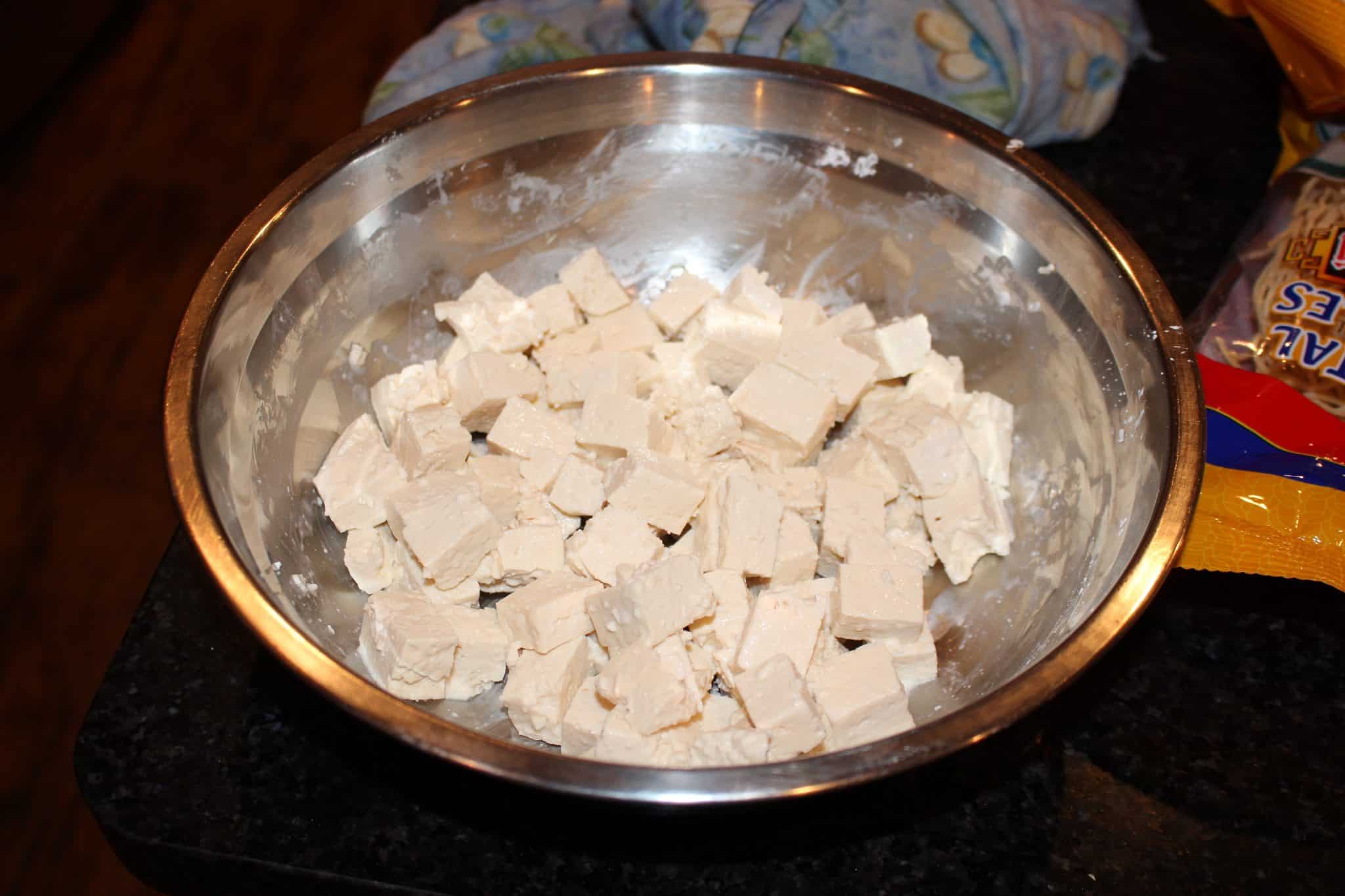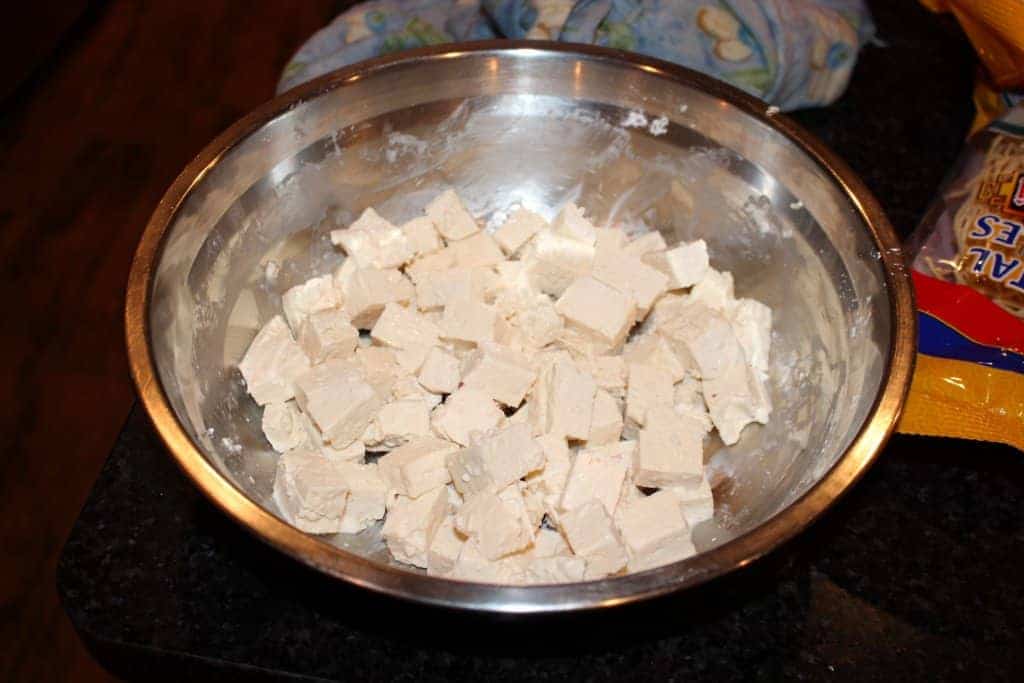 In a wok or a large pan, heat 2 tbsp of oil. Once the oil heats up, add the tofu pieces and fry them until golden brown on all sides. Remove it in a paper towel lined bowl.
In the same pan, heat the remaining oil. Add the spring onion, ginger and garlic and fry it on high heat for about 30 seconds.
Next add the vegetables and fry it on high heat for 3 to 4 minutes. Add the leafy vegetable at the end and saute for a minute. I added my bok choy at the end.