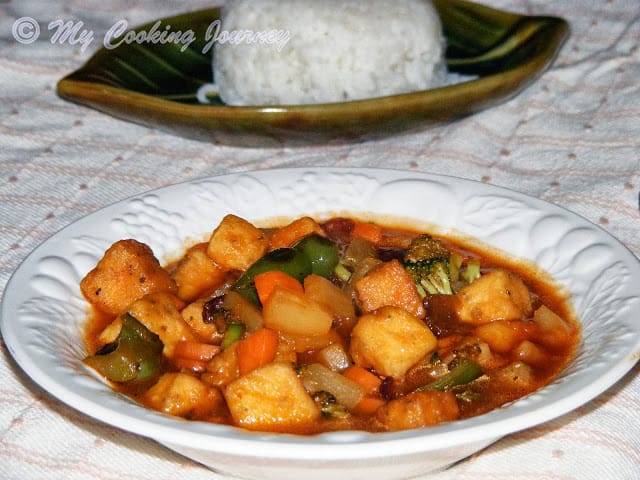 This is the first challenge for the group International food challenge and this month we are exploring the Cantonese Cuisine. The host for the month Saraswathi and Shobana had suggested four very unique dishes for us to try. Each and every dish was very tempting and I will be trying them in near future for sure, but for the month's challenge, I chose the sweet and sour stir fry. The original recipe was with pork, which the host had substitutes with chicken and I used tofu.
The sauce was very flavorful and we thoroughly enjoyed it for dinner with some sticky rice on the side. My husband is a big lover of sweet and sour and he has a hard time finding a vegetarian one when we eat out. I have made a sweet and sour before and this sauce was different from what I had made earlier.
Cantonese Cuisine, also named Yue Cuisine or Guangdong cuisine, is one of the main cuisine styles in China. It comes from Guangdong Province in southern China and it is one of among the eight great traditions of Chinese cuisine. The basic cooking techniques of Cantonese cuisine include roasting, stir-frying, sautéing, deep-frying, braising, stewing and steaming. Steaming and stir-frying are most commonly used to preserve the ingredients' natural flavors.
Preparation time – 20 mins
Cooking time – 30 mins
Difficulty level – easy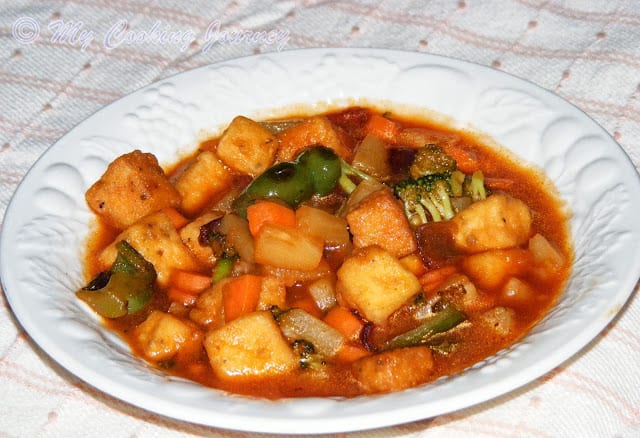 Ingredients – Serves 4
Tofu – 1 package (drained and squeezed dry)
Onion – 1 large (cubed)
Bell pepper – 1 (cubed)
Broccoli – 1 cup of florets
Carrot – 1 (cubed)
Pineapple – 1 cup
Red chili pepper – 3 (sliced lengthwise)
To marinate the tofu –

Corn flour – 1 tsp
Plain custard powder – 1 tsp
Salt – ½ tsp
Pepper powder – to taste
Water – about 2 tbsp (just enough to make a paste)
To dredge the marinated tofu –

All purpose flour – 3 tbsp
Corn flour – 3 tbsp
Rice flour – 2 tbsp
For the sauce –

Ketchup – 4 tbsp
Chili sauce – 3 tbsp
Plum sauce – 3 tbsp pr substitute with 1 tbsp ketchup, 2 tsp vinegar and 1 tsp brown sugar
Soy Sauce – 2 tsp
Sugar – 1 tsp
Water – 2 tbsp
Procedure –

To make the sauce

– Mix all the ingredients mentioned for the sauce in a small sauce pan and bring it to a boil stirring well. Remove from heat and keep it aside. I did not have plum sauce, so I used the substitutes mentioned and it tasted great.

To marinate the tofu

– Combine all the ingredients mentioned and make a smooth batter. The original recipe used one egg instead of water, but I used water to make the batter.

Drain the tofu and squeeze out all the excess water. Cut them into 1 inch cubes and then add it to the marinate batter. Use your hands and toss it well to combine. Keep it aside for at least 10 mins.

Heat oil in a frying pan to deep fry the tofu.
Combine all the ingredients mentioned under dredging the tofu. Add the marinated tofu to this mixture and toss it well. Shake off the excess flour and deep fry them until golden brown and crispy. Drain on a paper towel and keep it aside.

In a wok or a sauté pan, heat about 1 tbsp of oil. Sauté the onions and the chili pepper.

Now add the rest of the vegetables and sauté just until slightly tender.

Now add the prepared sauce and bring it to boil.

Add the fried tofu and pineapples and mix well. Add little water if needed to bring the sauce to required consistency. We like it a little bit on the runny side, so I added about a cup of water to give me enough gravy to serve with rice.

Simmer it for about 5 mins and then remove from flame.
Serve sweet and sour Stir fry hot with jasmine rice or any other fragrant rice of your choice.