We love to order Chinese take-outs and one of my favorite things about it is the broccoli. I just love the vibrant green, crunchy broccoli and it is something we all fight to eat. I usually end up loading the fried rice with different vegetables and hence broccoli takes a back seat. So this time, I decided to make exclusive broccoli fried rice.
All this week, I am going to be blogging about entrees and they all are kid approved and something we all like to eat as a family. There is no elaborate meal planning and almost all the recipes are one pot meals. This broccoli fried rice is Indo-Chinese inspired flavors with soy sauce, chili sauce and a little vinegar. Serve this as is or with Spicy fried tofu.
Brown rice would work great in this fried rice recipe, but since my boys find it a little hard to chew, I made it with white rice. I would definitely be choosing brown rice, if I was making it just for me and my husband. Broccoli is the star in this fried rice and hence I held myself back from adding any other vegetables.
My other recipes this Marathon –
Soups
Appetizers / Snacks
Breads and Rolls
Entrees
Preparation time – 10 minutes
Cooking time -30 minutes
Difficulty level – easy
Ingredients to make Broccoli Fried Rice– serves 4
Rice – 1 cup (uncooked)
Broccoli – about 3 cups (florets only)
Onion – 1 small (thinly sliced)
Garlic – 2 cloves (minced)
Ginger – ½ inch (finely grated)
Soy sauce – 2 to 3 tbsp
Green chili sauce – 2 tbsp (can use red chili sauce as well)
Vinegar -1 tbsp
Salt – to taste (if needed)
Pepper – 1 tsp
Spring onions – for garnish (optional)
Oil – 2 tbsp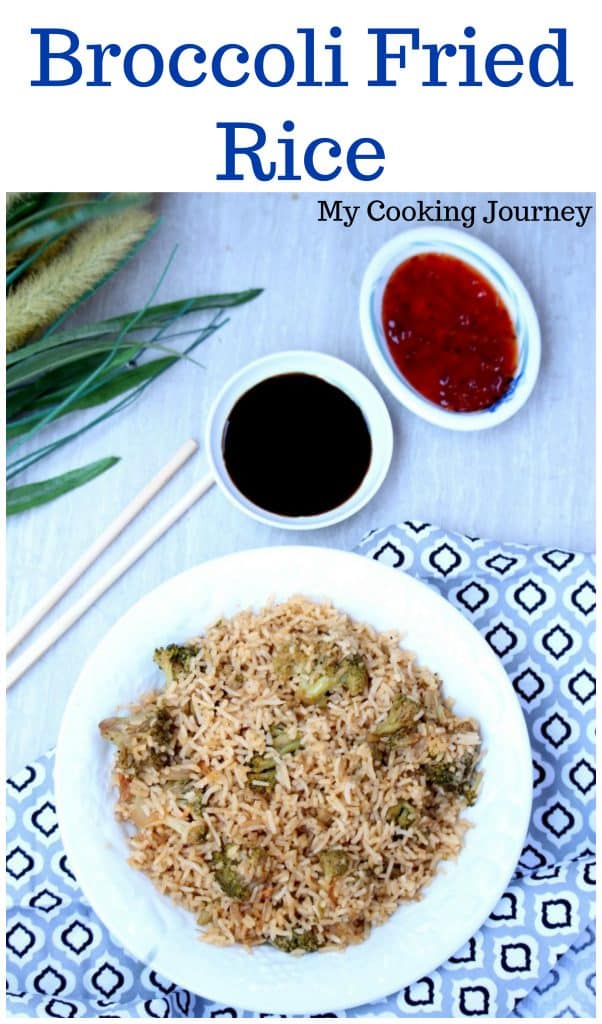 Procedure to make Broccoli Fried Rice –
Cook the rice and let it cool down. Add a little bit of oil to the rice to prevent it from sticking. I find that spreading the cooked rice on a baking tray helps cool it down quicker.
In a wok or a large pan, heat the oil. Add the sliced onions and sauté it on high heat until light brown.
Add the ginger and garlic and sauté for about 30 seconds.
Now add the broccoli and let it cook on high heat for 3 to 4 minutes. Remember that we want the broccoli to remain crunchy and hence it is important to not let the vegetable steam. So make sure you are cooking in high heat all the time.
Now add the soy sauce, chili sauce, vinegar, salt and pepper and give it a quick stir.
Add the rice and mix well.
Garnish with spring onions, if using and serve hot.