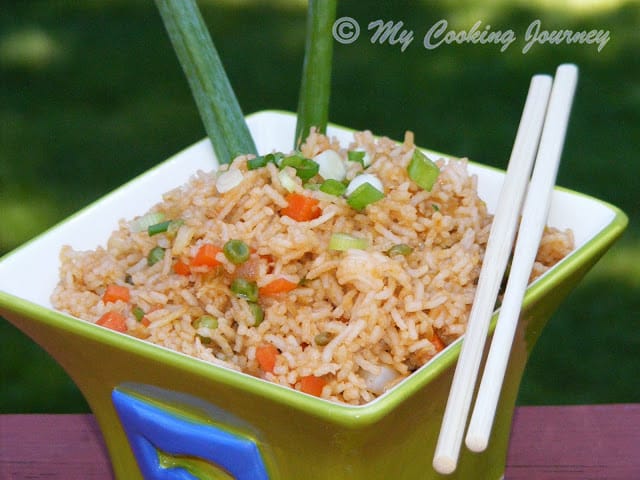 Under the street food category, this is another recipe that I love. When I make the Gobhi Manchurian, I always pair it up with this very simple fried rice. Most of the times, I miss eating it on the streets because they add egg to it. This fried rice could be made in a jiffy especially if you have some left over rice. This would be a lovely recipe to use up leftover rice. Based on your preference you could use any kind of rice you have in hand. I used the basmati rice for this recipe, but I also make it at times using brown rice.
I have used whatever vegetables I had I hand, but you could use any vegetable of your choice. Few of the vegetables that would work great (apart from the ones I have used) would be bell pepper, Brussels sprouts, green beans, baby corn, water chestnuts, bean sprouts and so one. Also adding tofu would be an excellent choice.



A-Z Marathon – Alphabet I
Category – Street food
Preparation time – 10 mins
Cooking time – 30 mins
Difficulty level – easy
Ingredients to make Indo-Chinese Fried Rice – (serves 4)
Basmati rice – 2 cup
Onion – 1 large (chopped fine)
Ginger garlic paste – 1 tbsp
Spring onions – 4 (chopped fine with the greens)
Cabbage -1 cup (chopped fine)
Carrot – 2 small or 1 large (chopped fine)
Green peas – ½ cup
Soy Sauce – 3 tbsp
Chili sauce – 1 tbsp (adjust based on your spice level)
Vinegar – 2 tbsp
Tomato ketchup – 1 tbsp
Oil – 2 tbsp
Salt – if needed
Procedure to make Indo-Chinese Fried Rice –
Cook the rice and let it cool down.
Heat oil in a wok or a wide pan and sauté the onions and spring onions along with ginger garlic paste. Let the onions turn translucent.
Now add the rest of the finely chopped vegetables and sauté it on high heat until half way cooked. Make sure that the vegetables still have a texture to them.
Add the soy sauce, chili sauce, vinegar and ketchup and cook for 2 minutes.
Now add the cooked rice and toss gently to combine. Taste and add more salt if needed.
Serve with Gobhi Manchurian or any other gravy!