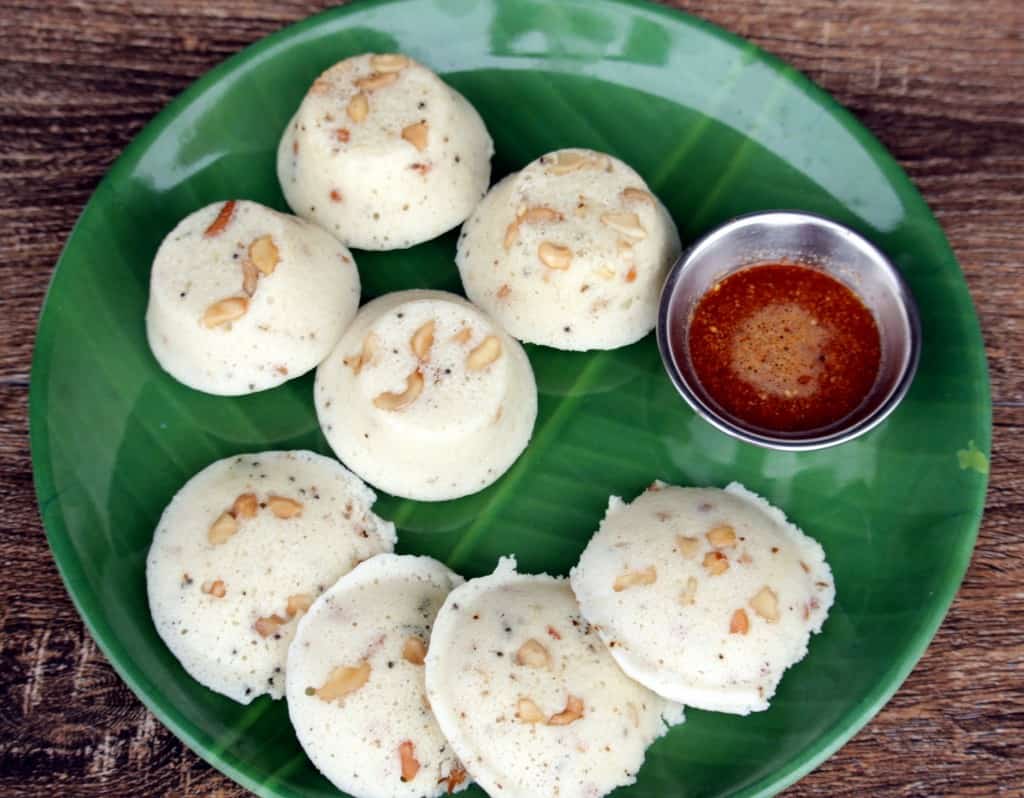 I did not need to think more than 5 minutes to decide that I was doing Kanchipuram Idli for K. I did not change this alphabet even once and made sure I was making it. This was something I wanted to try for a long time. I have never personally eaten these idlis but have heard a lot about how delicious it is from the temple.

When researching for the recipe, I landed on many different variations. Some had used only raw rice whereas some had used only idli rice. That is when I read this article in The Hindu newspaper where they had given the different recipes they use in the temple and the other restaurants in Kancheepuram which are famous for serving this idli.
In the temple, since it is used as prasadam for the god, they only use raw rice and not idli rice. In the restaurants though, they use the combination of both the rice. I also decided the same and hence used the recipe from the Rama's Café and Krishna Vilas, where they use equal quantities of raw rice and idli rice.
The seasoning ingredients though are almost similar and they all use pepper, cumin and ginger (either fresh or dry). The idli is very heavy when compared to regular idli as they are usually made much larger in size. I read that they make foot long idlis and then slice them and serve. I used small cups to make few idli and then made the remaining in the regular idli plate.
We loved the spiciness of the idli that came from the pepper and the ginger powder made it very aromatic. I added some yogurt in the batter to give it some sourness but that can be skipped if your batter ferments quite well.
My other recipes from this series –
A – Athirasam
B – Badam Burfi
C – Chettinad Masala Cheeyam
D – Dosai Milagai Podi
E – Ellu Urundai
F – Fruit Kesari
G – Godhumai Rava Pidi Kozhukattai
H – Homemade Rice flour
I – Inji Marappa
J – Jevvarisi Thengai Paal Payasam
Preparation time – 15 minutes plus 4 to 6 hours of soaking time and overnight (or more)fermenting time
Cooking time – about 15 to 18 minutes per batch
Difficulty level – easy
Recipe adapted from – The Hindu
Ingredients to make Kanchipuram Idli – Makes about 32 normal sized idlis
Raw Rice – 1 cup (I use Sona Masoori)
Idli Rice – 1 cup
Ullutham Paruppu / Urad dal – 1 cup
Vendhayam / Fenugreek seeds – 1 tsp
Sour yogurt – ½ cup
Salt – to taste
To season – (the quantity is for the whole batch of Idli batter)
Oil or ghee – 3 tbsp (preferably gingelly oil, if using oil)
Kadugu / mustard seeds – 2 tsp
Kadalai paruppu / Chana dal – 3 tsp
Jeeragam / cumin seeds – 4 tsp
Milagu / Black Pepper – 3 tsp (crushed coarsely)
Curry leaves – a handful
Sukku powder / Dry ginger powder – 1 tsp
Asafetida – ½ tsp
Cashew nuts – few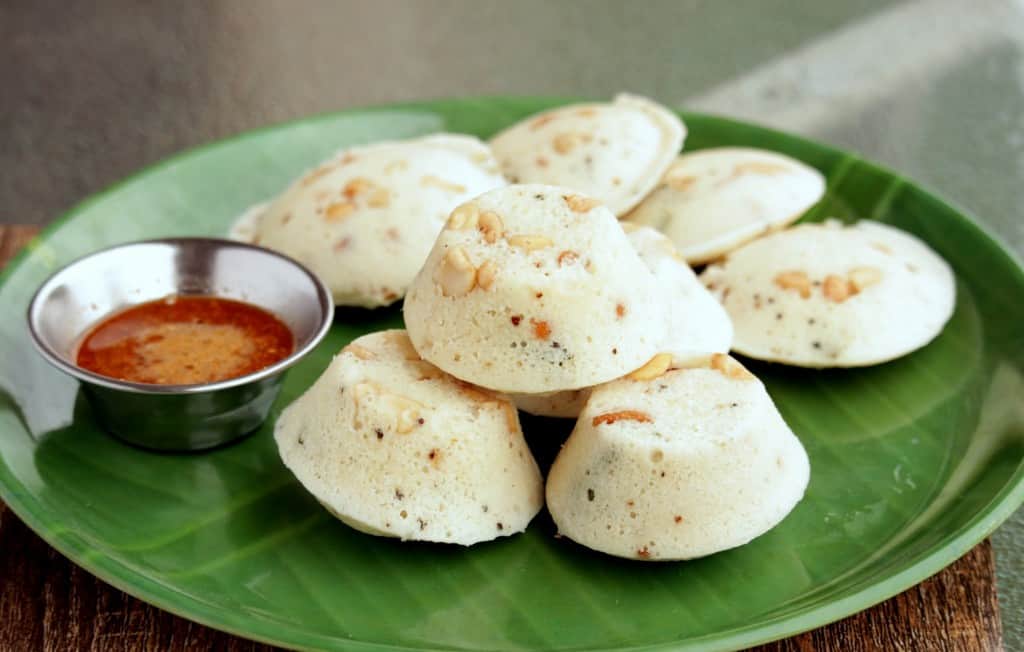 Procedure to make Kanchipuram Idli –
Wash and soak both the rice, urad dal and methi seeds together in water for about 4 hours.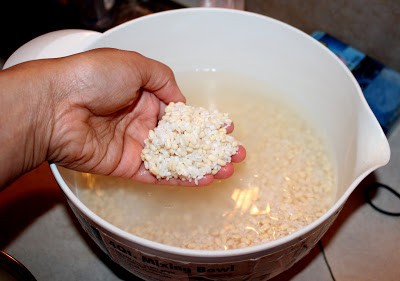 Using the wet grinder, grind the soaked rice and dal into a coarse batter. Add little water when grinding. The batter has to be thicker in consistency. Make sure you grind the batter coarser than you would for normal idli.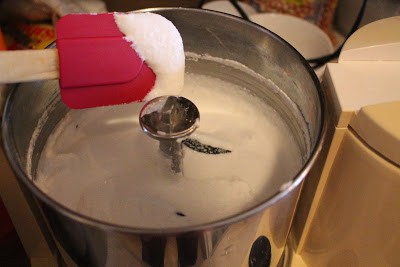 Transfer the batter into a large container and add salt. Using your hands mix the batter well. My mother says that using hands to mix the batter helps in fermenting it better and quicker.
Let the batter ferment until it has risen well (about double). It could take 8 to 24 hours depending on how cold it is. Mine took about 24 hours.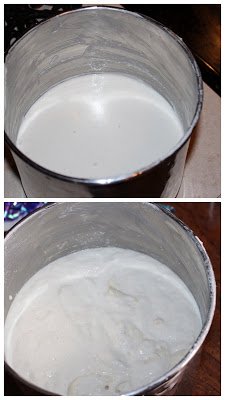 Once the batter has fermented, add the sour yogurt to it and mix. This just helps in getting an additional layer of sourness. This could be skipped if you don't have any.
In a pan, heat the ghee or oil. I used a combination of both. Fry all the ingredients mentioned under the seasoning. Add this to the batter and mix gently to combine.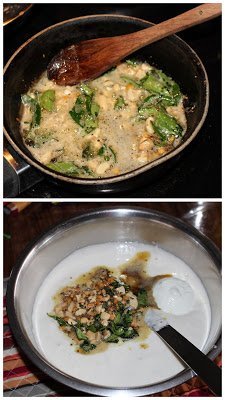 Grease the idli plates or moulds and pour the batter. I just added a few cashew pieces and then poured the batter. I used small cups/bowls for few and idli mould for few. You could also use a deep plate to make the idli and then slice them into wedges.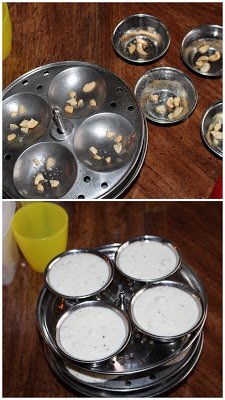 Steam the batter for about 15 to 18 minutes. The idli plates would be done in about 15 minutes, but the deeper the dish is, the longer it will take to cook. This idli takes longer than regular idlis to cook.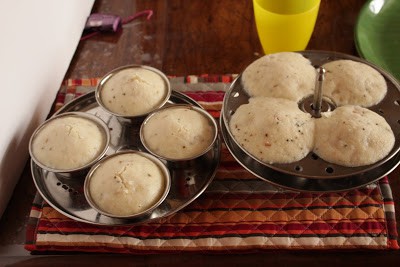 Serve the Kanchipuram Idli with milagai podi or chutney. The idli is quite spicy and flavorful and just the milagai podi was enough for us.