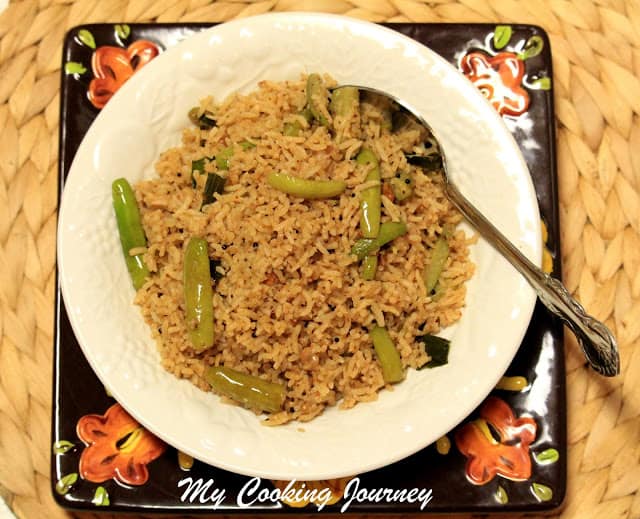 I love cooking one pot meals and that is often something I make when I run out of ideas. When I was going through all the amazing recipes that my blogging marathon partner Kalyani has, this recipe sounded really flavorful. I also happened to have some kovakkai (ivy gourd) in hand and so this was a perfect choice. I have only made curry / poriyal with kovakkai and when I saw that this rice had kovakkai in it, I wanted to try it out right away. So I made it for dinner and served it with raita / pachadi. Kids loved the crunch of kovakkai in the rice along with cashew nuts and came for seconds.
Also the masala powder used in the recipe is very flavorful. I am going to be making a batch of it and storing it to make vegetable rice in the future. Kalyani had garnished the rice with some freshly grated coconut which I omitted.
Preparation time – 20 minutes
Cooking time – 40 minutes
Difficulty level – easy
Recipe adapted from - Sizzling Tastebuds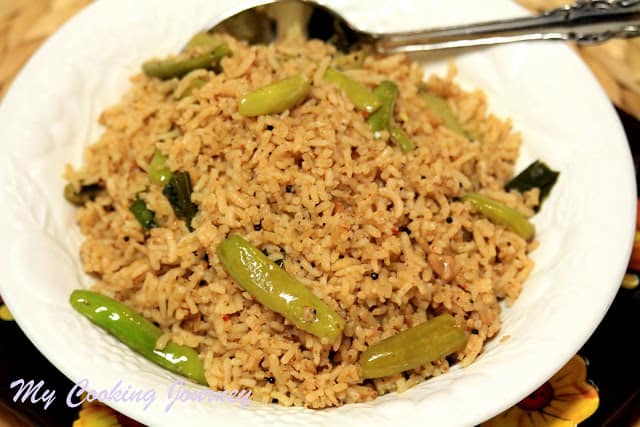 Ingredients to make Masala Bhaath – Serves 4 to 6
Basmati Rice – 2 cups
Kovakkai / Ivy Gourd – ½ lb (chopped thin, lengthwise)
Oil – 3 tbsp
Mustard seeds – 1 tsp
Cashew nuts – 2 tbsp
Asafetida – ¼ tsp
Curry leaves – few
Salt – to taste
Masala powder to make Masala Bhaath –
Krambu / Cloves – 9
Cinnamon – 2, inch stick
Red chilies – 4 or 5
Jeeragam / Jeera – 2 tsp
Coriander seeds – 2 tbsp
Sesame seeds – 1 tbsp
Desiccated coconut – ½ cup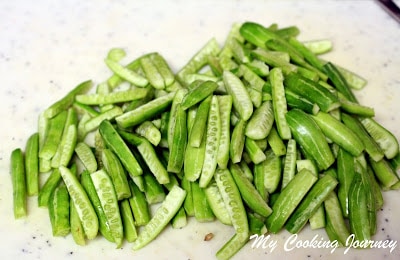 Procedure to make Masala Bhaath –
To Make the Masala powder –
In a small pan, fry the desiccated coconut until golden brown (without any oil) and keep it in a bowl.
Now fry the rest of the ingredients mentioned under the masala powder until aromatic and place it in the same bowl as the fried coconut.
Once the ingredients cool down to room temperature, grind it to a powder.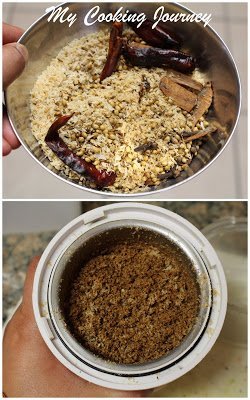 To make the Masala Bhath –
Wash and soak the rice for about 20 minutes. Then drain the rice and keep it aside until ready to use.
Either in a heavy bottom vessel or in the cooker, heat the oil. Add the mustard seeds, curry leaves, asafetida and the cashew nuts and let it fry for a minute.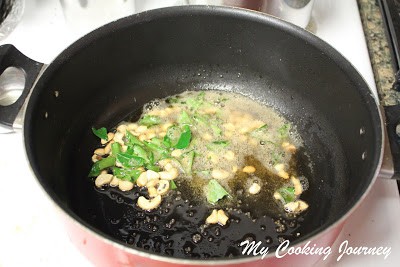 Now add the chopped kovakkai and let it fry for about 5 minutes.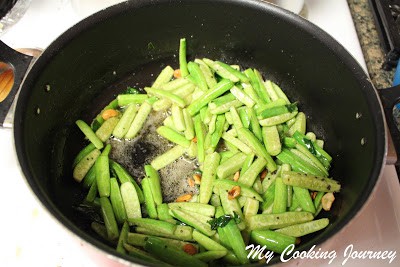 Add the masala powder, salt and the drained rice and mix gently taking care not to break the rice.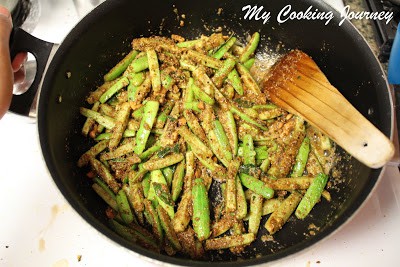 Add water needed to cook the rice (I used 4 cups of water) and cook until the rice and the vegetables are cooked.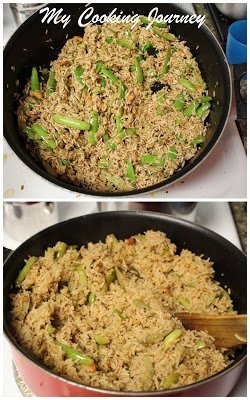 Garnish with cilantro and serve hot with Raita.