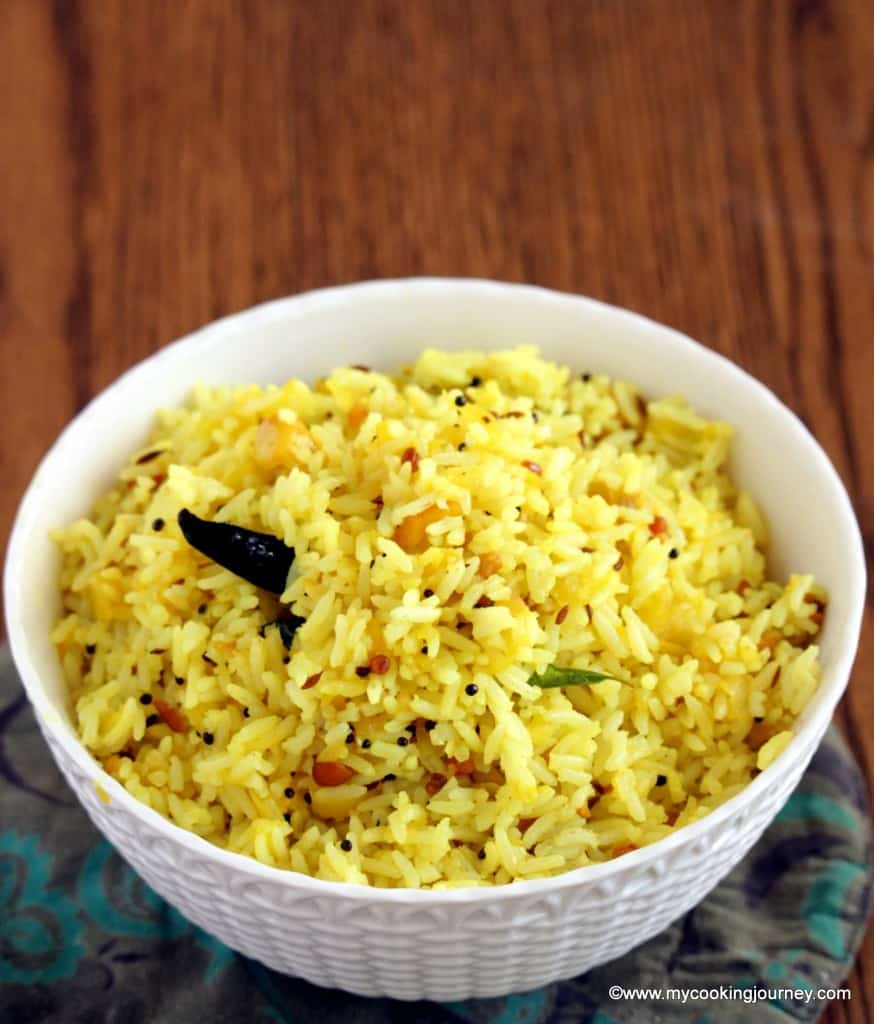 Prepared rice / Kalandha saadham is something I make when I have no clue what to make for lunch or dinner. Maangai Saadham | Raw Mango Rice was something I have always wanted to make but for some reason the right time never came. In fact for the past 2 months, our local Indian stores absolutely ran short of raw mangoes. My boys had been asking me to make mango pachadi, but every time I went to the Indian stores, they did not have raw mango.
Last week, just after Navarathri, when I had run short of just a few things, I asked my husband to make a quick stop at the Indian stores after work. He saw that they had raw mangoes and remembered my quest to find them. He bought couple of large ones and I made this rice with one of the mangoes. I am starting November's Blogging Marathon with the the theme, Bring your rice dishes. This is my first post under that.
This rice is very easy to make and tastes delicious with a slight undertone of mango. The mango I used was pretty sour and hence it added quite a bit of sourness to the rice, which we liked. If the mango is not very sour, add a teaspoon or so of lemon juice at the end. I have presented this rice in a bowl that was a gift for me from our dear friend, Ananthi and Masilamani, who had visited us for Navarathri golu. We really enjoyed having them over and the bowl is a lovely addition to my never ending props collection.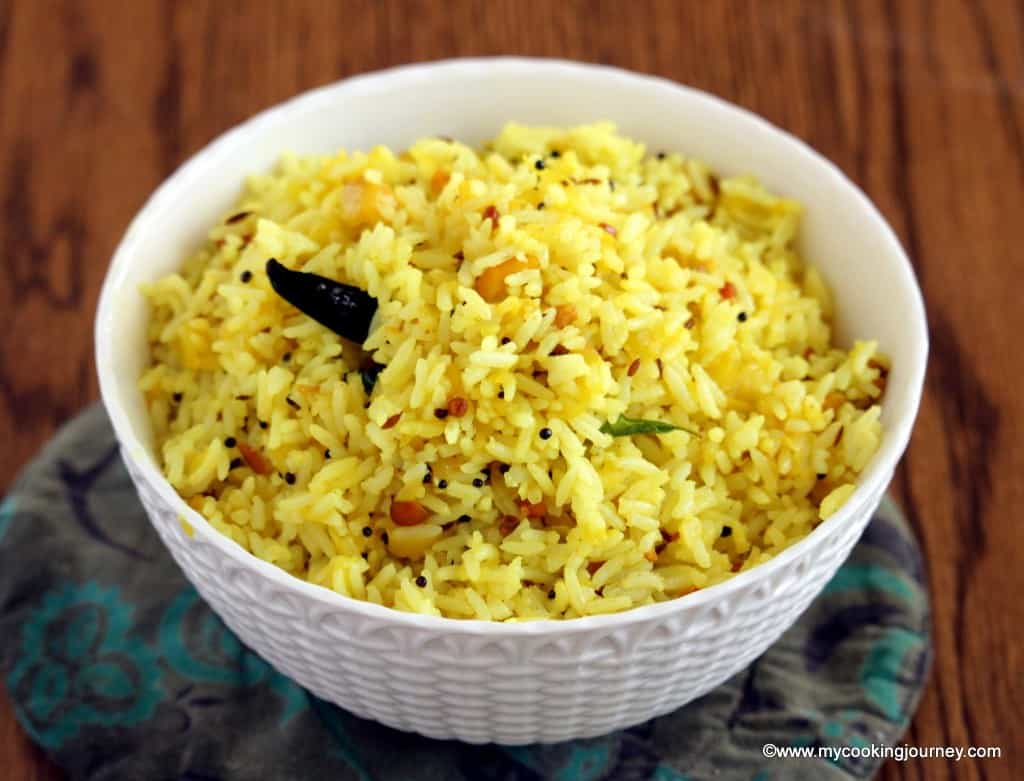 Preparation time – 10 minutes
Cooking time – 30 minutes
Difficulty level – easy
Ingredients to make Maangai Saadham | Raw Mango Rice – Serves 4
Rice – 1 cup
Raw mango – 1 large
Oil – 1 tbsp
Mustard seeds – 1 tsp
Cumin seeds – 1 tsp
Kadalai paruppu / Chana dal – 2 tsp
Turmeric powder – ½ tsp
Peanuts – a small handful
Green chilies – 2
Red chili – 1 or 2
Curry leaves – few
Asafetida – ¼ tsp
Salt – to taste
Procedure to make Maangai Saadham | Raw Mango Rice–
Cook the rice and let it cool down. Carefully separate the rice grains without breaking them too much.
Wash and peel the raw mango. Grate it using a box grater. Do not use the fine grater but instead use larger ones.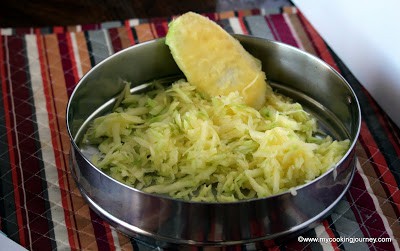 In a wide pan, heat the oil and add the mustard seeds and the cumin seeds. Once the seeds splutter, add the chana dal, asafetida, curry leaves, turmeric powder red chilies, green chilies and peanuts. Fry them in low flame until the peanuts are light brown.
Now add the grated mango along with the salt needed and fry in low flame until the mangoes cook a bit. Do not let it become too soft. Allow the mango to have a little crunch in it.
Now add the cooked and cooled rice and gently mix to combine.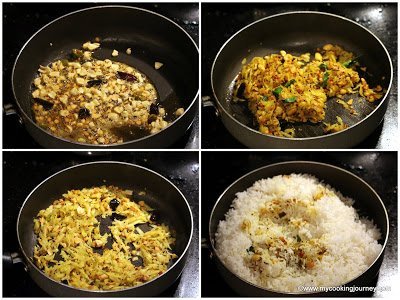 Serve with appalam or vadam on the side.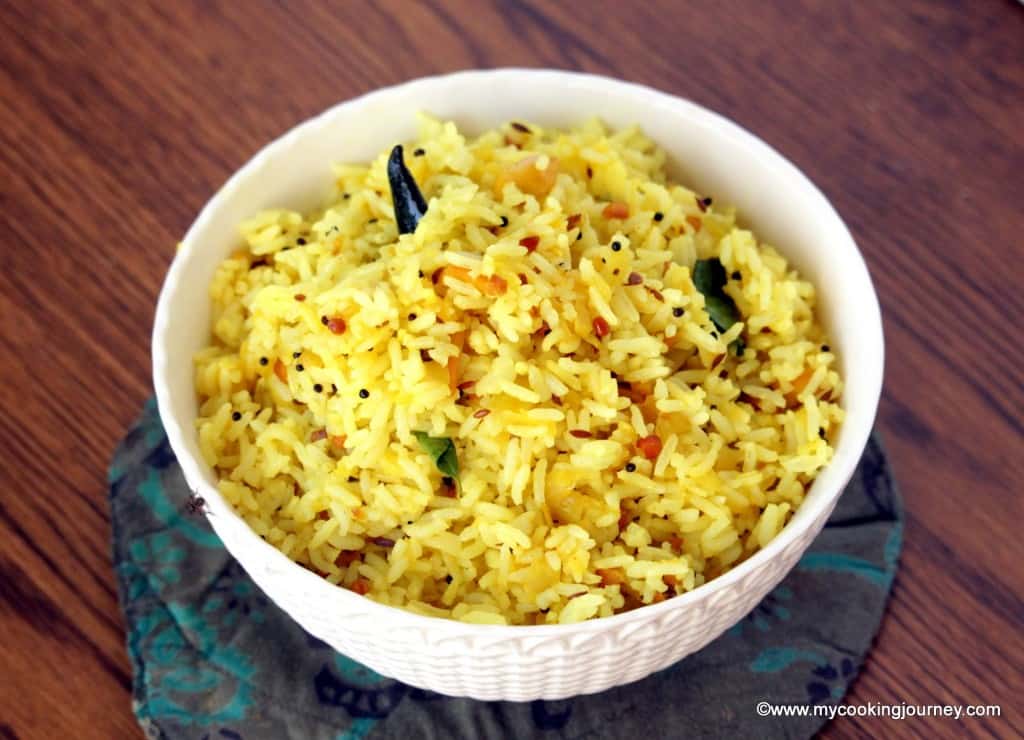 Pin it here –